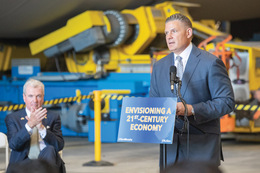 Looking Toward the Future
New Jersey unions gained power under a trio of bills pushed by Gov. Murphy last month, while clean energy and new industries also secured a win.
New Jersey has taken bold strides to secure its position as a pioneer in sustainability, economic growth and workforce development. Embracing the challenges of the 21st century, The Garden State has introduced a trio of forward-thinking bills, aimed at fostering clean-air initiatives, supporting a skilled-labor workforce and nurturing nascent industries. These legislative endeavors not only pave the way for a greener and healthier environment, but also provide a roadmap for economic prosperity and job creation in the state.
During a July 6 signing ceremony at the EEW AOS manufacturing plant in Paulsboro, Gov. Phil Murphy signed a trio of recently passed bills that both he and lawmakers say will generate good-paying union jobs while accelerating growth in sectors such as offshore wind, film and television production, and residential and commercial real estate.
"We're here today to sign not one, not two, but three major laws that will provide a significant and long-lasting boost to our 21st-century economy," said Murphy at the outset of his remarks. "At the risk of sounding a bit boastful, this is a monumental day for our state because we are creating the jobs of the future right now."
The three measures include bills A5651/S4019, which will enable New Jersey's first offshore wind project, Ocean Wind 1, to access federal tax credits and commit to supporting our state's growing offshore wind supply chain. Additionally, bills A5393/S3748 appropriate $30 million and bolster the state's film and digital media tax credit program, while A5644/S4023 makes critical changes to the Aspire Program, which brings new residential and commercial developments to under-resourced communities by helping to finance projects that would otherwise not be economically feasible for developers.
"When future generations look back on this pivotal moment in our state's history, we will be judged not only by our long-term economic vision for the Next New Jersey but by the concrete steps we took to create good-paying jobs for workers here and now," Gov. Murphy said during last month's announcement. "The future of tomorrow's industries begins today, and with it the promise of an inclusive 21st-century economy founded upon family-sustaining union jobs and continued growth in emerging sectors. Whether it's offshore wind, film production, or residential and commercial development, by bolstering our standing as a national leader in these industries, we will continue to build a stronger and fairer New Jersey for all."
Murphy continued: "I know that we are covering a lot of ground today, and each of these bills is significant in its own right, but I do not want folks to lose sight of the bigger picture. There is a cumulative effect here where one plus one equals three—meaning the sum is greater than each of the parts."
By implementing these bills, New Jersey aims to achieve a symbiotic relationship between clean-air initiatives, a skilled-labor workforce and nascent industries, all to begin paving the way to a brighter future today. The combination of union jobs, clean-energy initiatives and support for green industries creates a comprehensive approach to tackle both environmental and economic challenges. This can lead to increased job opportunities, a reduced carbon footprint and a more sustainable future for The Garden State.
"Under Gov. Murphy's leadership, New Jersey has made major investments to build and attract new, diverse, and innovative sectors to help create a stronger, more resilient economy," Tim Sullivan, chief executive officer of the New Jersey Economic Development Authority (NJEDA), said in a statement accompanying the announcement of the bills' passage. "With the stroke of a pen, Gov. Murphy is reaffirming his commitment to creating good-paying jobs, revitalizing communities, and improving New Jersey's environment. I thank Gov. Murphy, as well as the Legislature, for passing these critical bills, which will allow the NJEDA to continue developing these industries and move our economy forward."
By enacting these forward-looking legislations, The Garden State not only leads by example in environmental stewardship but also paves the way for robust economic growth and job creation. As the nation grapples with the challenges of the 21st century, New Jersey's approach serves as an inspiring blueprint for other states to follow. By balancing environmental consciousness with economic advancement, New Jersey demonstrates that clean air, skilled labor and emerging industries can harmoniously coexist, shaping a brighter future for generations to come while bolstering the workforce today.
Click here
to subscribe to the free digital editions of
South Jersey Biz.
To read the digital edition of
South Jersey Biz
,
click here.
Published (and copyrighted) in
South Jersey Biz
, Volume 13, Issue 8 (August 2023).
For more info on
South Jersey Biz
,
click here.
To subscribe to
South Jersey Biz
,
click here.
To advertise in
South Jersey Biz
,
click here.