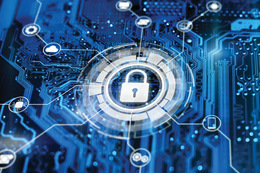 Navigating the Unknown
Businesses in 2023 are more susceptible to damaging or detrimental situations than ever before. Here is some advice from local experts about how to prepare for, how to protect from and how to recover from a disruptive event.
In methods previously unfathomable, companies are falling victim to disruptive events. But, conversely, preparing for the unexpected can be easier than ever—especially when armed with knowledge about different types of disruptive and disastrous events and how to handle them.
Disruptive events can be natural ones or a product of human fabrication. They can result in minimal or severe consequences, and can compromise not only company information, but also client information. It is also pertinent to prepare and to protect oneself and one's company as a consumer, particularly when it applies to financial or medical information.
"You shouldn't wait to call your banker. In fact, your banker can help navigate the issue and develop your strategic response plan. Having a strong relationship with your banker—in advance—ensures they are ready to support you, when needed," says Brad Skiles, Fulton Bank Commercial Banking Team Leader.
Sensitive files and records can be stolen from online hackers and data leaks, but they can also be at risk when physical copies of data such as papers or hard drives end up in the wrong hands. Simone Bryerman, President of ProShred Southern New Jersey, recommends that materials should be shredded as soon as they are no longer needed. In the most extreme scenario, jeopardized information can even lead to deadly consequences.
"Medical records are online and people will often steal medical identities because of the cost of treatment, and they can sell them cheap and someone can use the medical insurance to have treatment. And because it's medical records ... When you answer the question: do you have any allergies? 'No.' But what happens if the person it's stolen from does have, say, a penicillin allergy and they're in a car crash? They can't speak. They're in the hospital and someone consults the amended chart that says no penicillin allergy. Before they realize it, you can be dead … Every firm should have robust firewalls in place and good document destruction in place because the alternative could be scary," she explains.
The most common repercussions for a breach, however, are financial. In New Jersey, if a personal information breach occurs, companies can be fined for not notifying every affected person. Undoubtedly, the cost of mailing letters to a multitude of people, as well as the cost of their trust in the company, is a smaller price to pay than civil court proceedings and hefty fines—but avoiding critical situations altogether is a pertinent investment.
"Anticipation, planning and having appropriate protocols in place are crucial mechanisms for both being proactive and strengthening an organization's ability to respond to crises accordingly. An umbrella emergency management plan should be developed (and practiced) that includes responses for every possible crisis. Further, what-if crisis scenarios should be identified, and remedies should be outlined that become part of the crisis management plan.
This should be undertaken for both major and minor crises. The plan should be revisited regularly and updated based on the emergence of new crises that are both internally and externally driven. Employee communication and training are also essential to the process," says Jennifer Barr, professor of Business Studies & Marketing at Stockton University.
Cybersecurity threats aside, crisis events can also emerge from something beyond human control, such as disastrous weather or, most notably, a pandemic. At the beginning of COVID-19 in 2020, many businesses had to either close or find new ways to reach customers. It was initially disastrous as supply was low and the amount of products bought per customer was limited. It was an unprecedented economic climate that ultimately proved the resilience of companies in their ability to adapt. The pandemic also demonstrated that even if some events are out of one's control, anticipating the unexpected is key to a lasting business.
Inclement weather can also come as a surprise, but the methods of solving any problems caused by it are more definite and familiar. A power outage, for example, can cause a website that people count on to malfunction, causing angry customers or deleting important files that are not saved or backed up. Old-school paper files, too, can get wet in the event of a natural disaster and disintegrate. Perhaps, they can even blow away in strong winds and end up in someone's lawn—again, compromising company information.
Thankfully, the power failure can be solved by implementation of a back-up generator in case of an emergency, as well as a practice of making sure needed information is copied or saved securely. And for information that is no longer needed but still sensitive, threat prevention is once again handled through destruction of these documents and files. However, there is a different process of disposal when materials are brought in after inclement weather and have faced water damage.
"There are times when clients have a catastrophic event, be it a flood, where we cannot shred wet paper— it needs to dry first. But a lot of people don't realize that if it's documents that got damaged, they need to dry and then have them shredded if they cannot keep them. Because, there's still personal information out there. And we utilize a thing called 'pierce and tear.' So, literally, the paper is ripped apart into small pieces. Nobody is ever picking it up and putting it back together," says Bryerman.
Unfortunately, there are some things that one can never fully prepare for—so what is the protocol when one of those disruptive or disastrous events occurs? First, businesses should research state laws to avoid fines, such as the aforementioned legal disclosure of a breach. Companies should also be open with their employees and customers about the situation. Damage control can be a consuming undertaking, but it is important to issue an apology and explanation that will regain the trust of everyone involved.
"When a disruptive event occurs, you must promptly respond with transparency and a commitment to your stakeholders. It's about swiftly identifying the issue, understanding its impact and developing a strategic plan to navigate the situation," says Skiles.
In the plethora of the positive and negative effects of new technology and the internet lies another emerging disruptive event: social media controversy. In the modern age, many disgruntled customers and employees can turn to the internet to voice their grievances against a company, essentially reaching an audience of the entire world. And, as many know, once something is put online, it's there forever. Sticking to a moral high ground is always the answer when addressing these situations with a well-thought out response.
"The three credos of public relations are: act swiftly, tell the truth and do the right thing. They should be practiced and implemented consistently to minimize the damage from a major crisis. Also, the CEO or company spokesperson needs to get out in front of the issue immediately and there should be no cover-ups. Transparency and accountability are paramount. Also, maintaining a strong corporate reputation and high level of brand equity will help to minimize the fallout from a crisis that occurred due to an internal mistake," adds Barr.
Whether an event is disruptive or catastrophic, naturally caused or a result of human error, potential or ongoing; thorough planning of all of the stages and degrees of a disastrous event can save a company from the worst-case scenario. And the countless, ever-expanding resources and advancements in company security are there to streamline the preparation process.
Click here
to subscribe to the free digital editions of
South Jersey Biz.
To read the digital edition of
South Jersey Biz
,
click here.
Published (and copyrighted) in
South Jersey Biz
, Volume 13, Issue 8 (August 2023).
For more info on
South Jersey Biz
,
click here.
To subscribe to
South Jersey Biz
,
click here.
To advertise in
South Jersey Biz
,
click here.