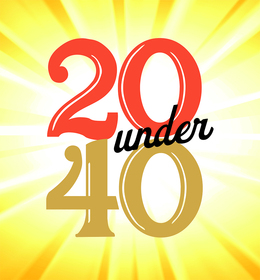 20 Under 40
We introduce some of the region's most notable young leaders making a positive impact with their professional success and personal passions. 
There is no shortage of hard-working talent and dedicated difference-makers going above and beyond to make South Jersey an even better place to live and work, and our annual 20 Under 40 list is unfailingly one of the best, most inspiring indicators that it's never too early to be that change you wish to see.

Michael Levy
VP of Internal Audit, Student Transportation of America
Age: 37
Levy chairs the NA Board of Directors of The Institute of Internal Auditors (IIA) and VP of Internal Audit for Student Transportation of America (STA). He also serves as a global board officer, leading more than 200,000 auditors across an estimated 117 countries. Additionally, he is the recipient of IIA's Thurston Award and co-authored Sawyer's Internal Auditing textbook. He has extensive experience in developing risk-based audits, process improvement, risk assessments, Sarbanes-Oxley compliance, corporate reporting, acquisition due diligence, cyber risk, and developing business and technology audits. Before joining STA, Levy was a sought-after consultant, providing risk-based programs to a broad range of Fortune 500 clients, leading global teams in the deployment of financial controls, operational audits, cost savings initiatives and complex technology assessments.

Trinity Jagdeo
CEO, From We Can't to We Can
Age: 22
Jagdeo is a Generation Z aspiring world-changer. A daring dreamer, she has been described as seeing the world for what it could be. She prides herself in wearing multiple hats: founder, author and motivational speaker. At 17 years old, she was inspired to create representation and inclusion for the disabled community, and founded the 501(c)(3) nonprofit organization From We Can't to We Can. A five-time published author, she creates books featuring children with disabilities as superheroes. Additionally, Jagdeo steps on stage to encourage the world around her to embrace differences while being the change the world wishes to see. An advocate for change, Jagdeo has been highlighted by the likes of Forbes and The Today Show, while her "heart-work" has been recognized with prestigious awards, including F4Y Humanitarian Award and New Jersey Heartland Hero.
Brittany Knapp, MBA, RCS
Assistant Vice President, AtlantiCare's Heart and Lung Institute
Age: 38
Since joining AtlantiCare in 2009 as a cardiac sonography student, Knapp has been dedicated to saving lives by improving the care of, and enhancing awareness about, heart, vascular, and thoracic diseases and conditions. She oversees cardiology and pulmonology services at AtlantiCare Regional Medical Center's Heart and Lung Institute and throughout AtlantiCare. While the tragedy of losing relatives to heart disease inspired her career, she leads by example, keeping a positive attitude. Knapp and her team focus on increasing access to quality care by growing innovative programs and services. She's especially passionate about—and a champion for—prevention, early diagnosis of and prompt care for heart, lung and vascular issues. Knapp earned her bachelor's of science in healthcare administration and MBA degrees at Purdue University.

Peter Wysocki
VP Asset Management, Conifer Realty LLC
Age: 32
Wysocki joined Conifer in 2022, bringing 10 years of industry experience with him. In his role, he drives portfolio and asset profitability, NOI and valuation growth, as well as develops multi-year strategic business plans for Conifer's portfolio and ensures annual budgets are aligned with strategic portfolio objectives. He also contributes to the analysis of new investment opportunities, including market research, revenue forecasting and financial analysis. Wysocki previously served as manager of finance and asset management for Balfour Beatty Investments, where he oversaw portfolio operations across multiple asset types, including multifamily, student and military housing. He holds a B.A. in economics and finance from the College of Charleston and is an active member of the Urban Land Institute (ULI) Philadelphia. He volunteers with the New Jersey and Pennsylvania Fish + Wildlife associations, mentoring youth outdoor activities.
Det. Aquasia Davis
Gloucester County Prosecutor's Office
Age: 33
Davis uses her passion and determination to advocate for South Jersey's youth. In 2009, she was accepted into Stockton University under the Equal Opportunity Fund Program. As a first-generation college student, she overcame hurdles both inside and outside the classroom, never letting them deter her from her goals. Under faculty, staff and administrator mentorship, Davis decided to create an organization to help first-generation students and those adjusting to higher education by founding H.O.P.E. (Helping Other People Excel), which also mentors at-risk Atlantic City youth. Her professional career began in 2013 as an investigative intern in Camden County Prosecutor's Office's juvenile unit; she was first hired as an agent, then promoted to a special victims unit detective. Davis is assistant treasurer for the Gloucester County NAACP Chapter, as well as a member of Gloucester County's Women in Law Enforcement Association and The National Organization of Black Law Enforcement Executives.
Kristina Vagen
VP of Development, The Michaels Organization
Age: 39
Vagen has always been passionate about responsible, sustainable development. She began her career serving the most vulnerable populations through the creation of permanent supportive housing. Upon joining Michaels in 2008, Vagen served as a developer and project manager for seven affordable, mixed finance redevelopments in Jersey City and Camden, which have been key to transforming those cities. She was promoted to vice president in 2013; since then, she's led teams developing new conventional and student-apartment communities throughout the country, completing oversight of just over $415 million in total development costs and 1.86 million square feet of residential and mixed-use housing. She is a role model and mentor at Michaels for both young developers and women. Vagen holds a master's degree in city planning from University of Pennsylvania and a bachelor's degree in urban studies from Rutgers University, New Brunswick.
Justin Deal
Vice President, PayDay Employer Solutions
Age: 36
Deal has been a crucial part of PayDay's success for the past 13 years, serving in roles such as sales manager, brand ambassador and director of fun. His outstanding contributions have been instrumental in the company's hypergrowth, enabling PayDay to both expand by over 300% in the past three years and become among the largest independently owned payroll providers in New Jersey. Deal prioritizes not only the business but also employees' wellbeing. He has helped numerous employees set health goals and coached them to successfully achieve them. His personal achievements are equally remarkable, as he actively participates in various charitable organizations such as Bancroft, Project Refit, and the Ronald McDonald House. Deal's greatest source of pride is his family, as he is a devoted husband and father of four who takes an active role in his family's lives.
William A Colarulo Jr.
Partner, Grungo Colarulo, LLC
Age: 39
A highly accomplished attorney and founding partner of the three-location law firm, Colarulo has played a pivotal role in the growth and success of Grungo Colarulo, which has expanded to include seven attorneys and over 30 dedicated team members since its inception in 2015 with just three individuals. He is also the host and digital creator of "Legal Hands To The Face," a popular Philadelphia Eagles podcast and social media channel. Colarulo will soon embark on a new venture as a consultant for law firms nationwide: Leveraging his extensive experience in building and expanding his own successful practice, he will assist other firms in achieving growth and prosperity. With a strong emphasis on fostering a positive organizational culture and enhancing the client experience, his services promise to revolutionize the way law firms operate and thrive in a highly competitive industry.
Colin J. Rafferty
Chief Marketing Officer, VP of Operations, McOmber McOmber & Luber, P.C.
Age: 22
Since joining McOmber McOmber & Luber in May 2019, Rafferty has developed the firm's in-house marketing team, constructed marketing strategies, led a creative vision, and assisted with business development and infrastructure updates. He oversees the marketing team and is responsible for brand, marketing and media relations, and plays a vital role in the firm's growth. He also manages all aspects of digital media campaigns, constructs a comprehensive marketing plan and identifies weaknesses in existing marketing strategies. Rafferty is also an accomplished entrepreneur who established his own LLC at the age of 13, won a seat on his local school board at 18 and serves as chairman of the Delran Township Recreational Advisory Committee.
Joseph Levine
Broker Executive, AmeriHealth
Age: 34
Since joining AmeriHealth in 2019, Levine has been instrumental in fostering meaningful relationships with both brokers and customers in an effort to generate new business opportunities. He has been recognized with corporate awards including the Exceeding Everest Award, which is given to associates who have provided senior leadership and inspired those around them to achieve a higher standard. Levine holds a B.A. in American studies from the University of Michigan and M.A. in sport administration from Ball State University. He holds both his life and health producer's license in New Jersey and is a member of the New Jersey Associate of Health Underwriters.

Kimberly Schieber
Business Development Manager, Radius 180
Age: 30
Schieber started her cybersecurity career in 2015, which led her into sales locally and internationally. Since 2016, she has received various professional honors, including the Benjamin Griffith Young Executive Award from the Gloucester County Chamber of Commerce and the Voice of Business Outstanding Young Professional Award from the Burlington County Regional Chamber of Commerce (BCRCC). She volunteers with a range of nonprofit organizations, including Garden State Council-Boy Scouts of America, YMCA and Project Refit. Schieber is an active ambassador for BCRCC and co-chair of its Emerging Leaders Network. She sits on the board of trustees for the Southern New Jersey Development Council and is co-chair of its Business Development Committee. From 2013-2016, Schieber served on the executive board of the Greater Washington Township Chamber of Commerce as membership ambassador and event coordinator.
Sofia Basich
Attorney, Lauletta Birnbaum
Age: 25
Basich joined Lauletta Birnbaum immediately after graduating from law school in 2022, having worked as a summer associate for the firm one year prior. She focuses on both general corporate and litigation matters in her role. During law school, she worked as a student-attorney in the Interdisciplinary Mental and Physical Health Law Clinic, where she advocated for low-income people in their struggle to obtain accessible, quality health care. Basich also used her strong writing, research and editing skills when she served as a staff writer and associate editor of the Jeffrey S. Moorad Sports Law Journal, acted as a research assistant and aided with the publication of an article, and when she spent a semester as a legal extern for Greenbaum Rowe Smith & Davis' health law department.
Maggie McHugh
Partner, Malamut & Associates
Age: 30
Focusing on both employment and municipal government law, McHugh has quickly become a key asset as a partner for Malamut & Associates. She assists local government clients with drafting personnel policies, advising on employee disciplinary issues, handling workplace investigations and ensuring compliance with leave and reasonable accommodation laws such as FMLA, ADA and the Earned Sick Leave Act. McHugh represents private- and public-sector clients in all aspects of federal, state and municipal civil litigation and in state administrative matters, including PERC, EEOC and DOL. She is licensed to practice in New Jersey and has appeared before the United States Court of Appeals for the Third Circuit and the United States District Court for the District of New Jersey.
Van McPherson III, Esq.
Assistant General Counsel, South Jersey Industries (SJI)
Age: 37
In his current role, McPherson provides legal counsel to the construction, environmental, engineering, procurement, IT, gas supply, insurance, governmental affairs, sales and customer service departments for South Jersey Gas Company and Elizabethtown Gas Company. He is an officer of the Southern New Jersey Chapter of the American Association of Blacks in Energy, SJI's employee resource group for African American employees. McPherson also serves as the Atlantic County representative of the New Jersey State Bar Association's Judicial Prosecutorial and Appointments Committee, the vice president of the Atlantic County Bar Association, and as a trustee for Faith Baptist Church. He has appeared on various panels for SJI, the Garden State Bar Association, the Association of Corporate Counsel and the National Bar Association.
Adam Del Preore
Vice President, Business Development Officer, 1st Colonial Community Bank
Age: 35
Del Preore has more than 10 years of banking industry experience, with stints at Republic Bank and WSFS Bank prior to joining 1st Colonial Community Bank in 2022. The various roles he has served throughout his career include product management, consumer lending and relationship management. He has succeeded in building relationships, focusing on deposits and lending growth. Del Preore is active in his local communities, including Moorestown, where he grew up and now lives with his wife, Jessica, and two children: Logan, 6, and Finley, 3. He graduated from Hobart College, where he played Division I lacrosse, in 2011, and is an avid fan of all sports, especially football and the New York Jets.
Cadie DiGiambattista
Government Relations and Public Affairs, Repauno Port and Rail Terminal
Age: 25
DiGiambattista is an experienced governmental affairs professional specializing in government relations, legislative and regulatory affairs, coalition building and labor relations with a focus on economic development initiatives. She has worked in the office of former Senate President Stephen Sweeney and in business development for CME Associates, and currently handles fundraising efforts for Assemblywoman Carol Murphy. DiGiambattista was recently hired for a newly created role in government relations and public affairs for the Repauno Port and Rail Terminal in Gloucester County, where she guides lobbying efforts and provides guidance on policy and legislative matters. To assist with the organization's growth, she oversees external affairs, advancing stakeholder relations and strategic partnerships. DiGiambattista has a bachelor's degree in communication studies and international relations and is pursuing a master's degree in public policy and administration.
Bill Webb
Vice President, Saratoga Benefit Services and Owner, Saratoga Medicare Advisors
Age: 30
A 2015 Elon University graduate, Webb's career began at Arthur J. Gallagher, working on the property and casualty side of the insurance industry. After two years in corporate America, he joined his family business, Saratoga Benefit Services, to learn the employee benefits sector, grow the company and elevate the client experience. In 2020, Webb identified a lack of resources for seniors in the Medicare space and started Saratoga Medicare Advisors, providing free consultation for individuals approaching Medicare eligibility and helping them determine their costs, timelines and options for health care after 65 and into retirement. Webb is a membership ambassador for the Chamber of Commerce of Southern New Jersey, serves on the advisory board for the Burlington County YMCA and is active in several local industry associations. He lives in Moorestown with his wife and their dog.
Sarah Graham
Creative Director, Healio
Age: 33
For more than a decade, Graham has excelled in her career, devoting her expertise to brands that change lives—for the better. She has worked to enrich brands such as The American Heart Association, Inspira Health and now Healio, a medical media company. Graham believes that focusing on the "why," the core of decision-making, leads to the most successful, impactful brand efforts. Achieving national acclaim as an award-winning creative director, her leadership across brand and integrated marketing strategy have earned top accolades from various associations for initiatives spanning women's and community health, health equity, direct to physician and more. Graham continues to be driven by the power of delivering a positive and memorable brand experience for audiences. She also serves as a mentor to marketing students at Widener University, her alma mater, believing tomorrow's leaders deserve to feel inspired today.
Jason Hoffman
Assistant Vice President, Retail Office Manager II, WSFS Bank
Age: 39
Hoffman manages WSFS's Riverton and Moorestown banking offices, leading teams of associates at each location, coaching them to help meet and exceed growth and service goals. He made the transition to the banking industry in 2018 and has advanced through the ranks at WSFS since. As someone who did not begin their career in banking, Hoffman is a big proponent of being flexible and adaptable to change in your career to achieve success. Over the past five years, he has managed four different banking offices, leveraging his adaptability to new technology, systems and ways of doing things to grow his career and WSFS. He is active in the community, volunteering each year with the Friends of the Burlington County Animal Shelter to help save the lives of homeless animals and promote their adoption.
Ryan Ackerman
Clinical Director, Strive Physical Therapy
Age: 32
Ackerman is a graduate of Drexel University with a doctorate in physical therapy and has a bachelor's degree in biology from Rutgers University. He has been practicing for eight years in outpatient orthopedics and currently serves as the clinical director of Strive Physical Therapy's Mullica Hill office. He helped Strive open the location in 2017 and has since grown it to a clinic with four physical therapists, adding providers who specialize in overhead athletes, vestibular conditions and Parkinson's treatment. He has taken continuing education to attain his McKenzie certification for advanced spine treatments, is certified in musculoskeletal dry needling and blood flow restriction training, and is a certified strength and conditioning specialist. Ackerman's passion for physical therapy allows him to provide high-quality care to allow his patients' return to full function.
Click here to subscribe to the free digital editions of South Jersey Biz.
To read the digital edition of South Jersey Biz, click here.

Published (and copyrighted) in South Jersey Biz, Volume 13, Issue 5 (May 2023).

For more info on South Jersey Biz, click here.
To subscribe to South Jersey Biz, click here.
To advertise in South Jersey Biz, click here.