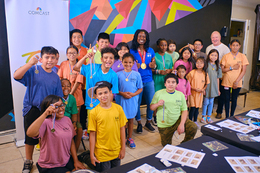 Good Neighbors, Strong Communities
Our annual Community Impact Awards recognize the businesses that walk the walk when it comes to being upstanding corporate citizens who go above and beyond to be a helping hand.
For five years, South Jersey Biz has presented its annual Community Impact Awards, and every year the challenge lies not in coming up with names of organizations that eagerly spring to action but rather narrowing down our annual roundup of nominees to honor—and this year was no exception. There are so many undertaking incredible efforts to support those in need that it's almost impossible to select just a dozen or so to highlight every year, but it's always a worthy effort we happily dedicate ourselves to.
From banks to developers, from law firms to financial professionals, from schools to utilities, we've covered a wide range of local organizations who are as dedicated to being good business partners as they are to being responsible, generous neighbors demonstrating exactly why South Jersey is a great place call home.
Malamut & Associates
The Malamut Cares Corporate Social Responsibility program provides much-needed financial relief and supplies to community nonprofits. Last fall, the group collected more than 500 pounds of food for the Food Bank of South Jersey and raised money with matching donations for 10 employee-selected charity organizations. The law firm is currently hosting a clothing drive to benefit Seton Hall Law's clothing boutique, which provides students looking to enter legal careers with professional attire for interviews, internships and more. But the firm's impact starts at home, providing employees with health incentives like gym-membership reimbursements, on-site vaccination clinics and recognition events. Malamut Cares keeps growing as it brings new talent to the firm and engages in the likes of CPR and first aid training, pro bono legal services and volunteer opportunities.
Bohler
Bohler's land development consultants are uniquely positioned to recognize and address local needs, such as advancing STEM education and supporting charitable causes through Bohler Cares. The team contributes thousands of volunteer hours annually to engage with kindergarten through collegiate students with mentorship programs including Girls Inc. and Breakthrough of Greater Philadelphia. They also partner with local charities to host fundraisers, clean up and repair communities, and actively support Feeding America, Autism Speaks, Alzheimer's Association, Kids for Kids, the Ronald McDonald House, Toys for Tots, the Breast Cancer Research Foundation and Red Cross. Bohler's upcoming Cornhole for a Cause tournament annually brings together more than 200 architectural engineering and construction professionals and has raised a total of $280,000 for local charities.
RTD Financial
The team's passion for community involvement led to developing the RTD Financial Charitable Fund, managed by The Philadelphia Foundation, where a percentage of yearly profits go to support employee-directed causes. Each quarter, employees may submit a grant proposal on behalf of an organization important to them, and a minimum of $1,500 is distributed to causes selected by RTD Financial's Corporate Social Responsibility committee. The fund has distributed more than $19,000 to 23 organizations since October 2018. In addition to its philanthropic fund, RTD Financial has committed to matching employees' charitable donations up to $100 per employee each year, and grants employees up to one full day to complete community service work.
Comcast
Comcast's Project UP strives to advance digital equity through its programs, which include Internet Essentials, Lift Zones, Comcast RISE and Digital Navigators. Internet Essentials has helped 348,000 low-income New Jersey residents connect to the internet since 2011, while Comcast's participation in the federal Affordable Connectivity Program allows eligible customers to receive free home internet through Internet Essentials once that credit is applied. In 2020, the creation of Comcast RISE helped small businesses affected by the pandemic; since then, the program continues to empower the small businesses that are vital to our community. Project UP believes that advancing digital equity can open doors for the next generation of creators, innovators, entrepreneurs and storytellers.
NJMEP
Through philanthropic initiatives, NJMEP has made a positive impact on the statewide community while assisting numerous families, as Manufacturing Cares paves the way for New Jersey's manufacturing industry and community partners to increase their impact together. Since February 2023, they have provided 1.76 million meals to New Jersey residents—a large majority of which fed children—with a goal of reaching 2 million meals by year's end. This year also marks the 10th anniversary of the Manufacturing Cares Food Drive. Team members also annually volunteer at the Community Food Bank of New Jersey, and are currently seeking donations for their Virtual Food Drive. In addition, Manufacturing Cares supports STEM education and contributes to scholarship funds, as well as supporting military families.
Freedom Mortgage Corporation
Through the mortgage company's philanthropic efforts, Team Freedom Cares has impacted local communities and helped finance customers' dreams with multiple annual campaigns that include Rucksacks to Backpacks, a holiday food drive and Project Gratitude. Additionally, call center employees raised more than $7,800 for the Juvenile Diabetes Research Foundation after learning two of their executives' daughters had Type 1 diabetes. In 2022 alone, Freedom Mortgage and its team members donated over $345,500 to numerous nonprofits throughout the region, while nearly 150 employees volunteered over 670 hours to support local nonprofits, including Habitat for Humanity of South Central Jersey's Women Build event.
Stockton University
The Stockton University Foundation has assisted students since 1972 and annually awards over $1 million in scholarships to more than 600 individuals; additional assistance through the Student Relief Fund helps those facing financial crises that could interfere with their education. The foundation—which receives community support through the Golf Classic, Scholarship Benefit Gala and Ospreys Give, a 24-hour fundraiser—also supplies resources to students to underwrite a variety of research opportunities, academic programs, student organizations and athletic programs. Generous donations from friends of the university, alumni, businesses and organizations allow these programs to thrive and continue providing student scholarships.
First Harvest Credit Union
First Harvest supports a number of charitable organizations all year long. Among them are the Gloucester County Habitat for Humanity, for which Daniel Sulpizio, its executive vice president/COO, served as president for 10 years; in 2021, Ronda Abbruzzese, First Harvest board of director secretary, took over as Habitat's president of the board. First Harvest serves as the financing agency for most of the Habitat homes, and the credit union has also served as the Whole House Sponsor for Gloucester County Habitat for Humanity's Build a House...Build a Dream golf outing. Additionally, First Harvest team members support the Food Bank of South Jersey's Pop-Up Pantry mobile food distribution events serving neighborhoods with high rates of food insecurity, volunteering their time at the Glassboro pantry.
AtlantiCare
Established in 1977, the AtlantiCare Foundation raises needed funds and offers the necessary programs to improve the Atlantic City region's health status. The foundation ensures that AtlantiCare lives its vision of building healthy communities through the following key programs: Healthy Schools, which addresses school-health needs like nutrition and mental health for students, staff and their families; Pantry at the Plex, which reduces food insecurity by ensuring the provision of healthy foods; Neighborhood Revitalization enhances Midtown Atlantic City with a focus on housing, placemaking and economic development; and Healing Arts' creation of serene, beautiful spaces inside and outside the health care system's facilities through local artists' talent. Beyond programming, in 2022, the foundation continued its $5 million campaign to support the construction of the new Medical Arts Pavilion, which addresses health disparities impacting Atlantic City's women, children and families.
Marcum LLP
Community is one of Marcum's core values, shaping the firm's culture with an emphasis on giving back. Its charitable giving arm, Marcum Foundation, strives to be a fully engaged partner, offering fundamental human services to the community's children and families through special events, associate giving and other initiatives, providing critical assistance needed for organizations that offer essential services in four main categories: health and safety, education and self-esteem, food and shelter, and family and well-being. Marcum's initiatives include the Day of Service, closing all offices the day before Thanksgiving so team associates can volunteer, with the Marlton office heading to the likes of Camden's Ronald McDonald House and Cathedral Kitchen, and Medford's Cedar Run Wildlife Refuge and Compassionate Friends Therapeutic Riding Center. Meanwhile, Marcum Gives matches 100% of donations made by partners and associates through a voluntary payroll contribution. This February, the foundation donated a significant amount to UNICEF to provide support and respond quickly to moments of crisis when children and families are in need.
Republic Bank
Republic Bank's Money Zone program is taught in four sessions: three in-class lessons, and a fourth session held at a local Republic Bank store, where students have the opportunity to meet tellers, step inside a vault, experience the Magic Money Machine and more. Hands-on activities teach them the importance of saving, creating a budget, understanding checking accounts and ATM transactions, while lesson plans teach children the basic principles of money, saving and banking, while giving teachers resources to tie this learning to the wider National Council of Teachers of Mathematics curriculum. Republic Bank also participates in the Future Bankers & Financial Professionals Camp by "adopting" high-achieving Camden students, and supports organizations like the Food Bank of South Jersey, Habit for Humanity South Central New Jersey, LEAP Academy, Rutgers University and Goodwill Industries South Jersey Philadelphia.
First Bank
First Bank sponsors empowering financial literacy programs at 10 K-12 schools throughout the region with partners at the interactive education program EVERFI. Students in Burlington and Gloucester counties are among those who enjoy the interactive programs throughout their school year: Some team members recently spent the morning with Woodbury students, engaging over 150 AVID Program participants in industry learning and career-exploration activities. In partnership with the Senior Housing Crime Prevention Foundation, First Bank employees sponsor the Senior Crimestoppers Program at two area senior housing facilities, providing residents with Cyber Savvy Senior workshops and fun rounds of fraud bingo. In 2022, the team contributed over $363,000 in donations and more than 800 hours of service.
Holtec
It is a tenet of Holtec International to support the communities it serves, and its Camden campus has developed a strong relationship with South Jersey through philanthropic and economic outreach efforts. Holtec International and its subsidiary, Holtec Decommissioning International, contribute to charities and service organizations in their communities, with many of those donations focusing on the holiday season. It has become a time-honored tradition for the Camden campus associates to open their hearts and participate in a variety of drives and campaigns, like 2022's holiday coat drive that garnered more than 2,500 warm winter coats, which were donated to the Camden City School District.
New Jersey Community Capital
New Jersey Community Capital (NJCC), the state's largest community development financial institution, provides financial products, programs and services to advance equity and opportunity in underserved communities. It supports preserving and developing affordable housing and sustainable community development that increase jobs, improve education and strengthen neighborhoods. In 2014, NJCC partnered with the Pascale Sykes Foundation to launch THRIVE South Jersey, addressing the challenges of poverty and unemployment in Gloucester and nearby counties. NJCC closed over $47 million in loans for fiscal year 2022—a record high. Currently, 55% of NJCC's loan balance is to minority-owned businesses and minority-led nonprofits. Its strategic consulting team helped secure $3.6 million in competitive tax credit funding for four low-income neighborhoods. Through Community Asset Preservation Corporation, 46 homes were completed in the past quarter.
Click here to subscribe to the free digital editions of South Jersey Biz.
To read the digital edition of South Jersey Biz, click here.

Published (and copyrighted) in South Jersey Biz, Volume 13, Issue 4 (April 2023).

For more info on South Jersey Biz, click here.
To subscribe to South Jersey Biz, click here.
To advertise in South Jersey Biz, click here.