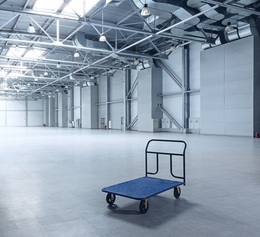 An Uneven Present
Building-and-construction experts aren't as optimistic about their industry's current incarnation as they have been in recent years—but there are still plenty of bright spots ahead, especially in the commercial sector and the demand for mixed-used projects.
Drive along Route 130 for a while, and you're bound to see evidence of warehouses being planned, popping up and taking shape all along the road's South Jersey route, a sight that's equally familiar to frequent travelers of routes 38 and 206, as well.
Those sprawling structures might not be as suddenly appearing as they were just a year or two ago, though, in a trend largely reflected throughout the entirety of a region that saw explosive new-construction growth in the recent past. The region largely benefitting from dovetailing trends like the pandemic-instigated southern migration as families sought South Jersey's comparative wider spaces and a maxed-out northern portion of the state, but all booming trends do eventually come to an end.
"I think there's definitely been a slowdown due to higher construction costs," observes Jonathan Klear, senior vice president of NAI Mertz, noting that those price spikes are the result of a number of industry, societal and national trends. "From my perspective as a broker, the challenge is really in finding a seller that has a price in mind to actually meet the current market, whereas I think a lot of sellers for buildings and land are still trying to get a price that was pre-interest-rate-increase."
These times of rising interest rates impact the legal side of the industry, too, according to construction, business and real estate attorney Robert J. Incollingo.
"There's sort of a reciprocal relationship between the transactional side of things and the litigation," Incollingo says. "What happens when the interest rates take a jump, the transactions trail off and the lawsuits—the lawsuits and the arbitration and other kinds of dispute-resolution—they start to rise because people stop paying each other."
Jeff Jones is the past president of New Jersey Realtors, the association serving as a statewide voice for real estate professionals and an ardent industry advocate. And while he considers himself a glass-half-full kind of guy, he's also a realist who sees how converging factors create challenging environments.
"I am not optimistic—and I'm an optimist at heart—but the truth is we are in a very, very bifurcated situation," he begins. "With interest-rate risks, liquidity risks, economic and tax policy, regulatory changes, the political environment, not to mention environmentally, we have a lot of headwinds. In my opinion, the residential market is already in a recession."
Jones adds that while the residential side is a "forward indicator" that's already in lockstep with ominous current trends, the more slowly paced commercial real estate sector is a lagging economic indicator defined by "methodical processes" like studies, calculations and community approval, shielding it from the full force of the current downturn and further exacerbating Jones' less-than-optimistic perspective of the industry's current state. For its companies that have managed to do well despite all signs pointing to rougher days ahead, he fears their days of relatively smooth sailing are coming to an abrupt end.
Part of what makes commercial real estate's sales and new builds so slow to reflecting today's trends is its conservative nature and the inherently more deliberate pace it moves at than residential, the latter being more immediately responsive to meeting market trends.
And commercial construction is not without some daunting present challenges of its own, especially as municipalities' residents are pushing back harder and more loudly against warehouses being erected in their towns. That darkening public opinion is dovetailing with other, more immediate complications like a surplus of inventory and a prevailing sense of waiting for the lease to be up to see what the current market is like before any speculative new developments become long-term commitments.
"I think a lot of hurdles are jurisdictions, townships and municipalities having a harder time allowing these uses," Klear explains. "You're seeing municipalities clamp down on the setbacks, making those buildings smaller and having a lot of opposition from the residents. We're finding a lot of that, and it's hurting development."
While Jones points out that "one of the positives" is industrial builds' tendency to bring jobs and distribution to an area while enhancing its economy, as far as office space goes, that is one facet of new-build and occupancy demands that has passed its prime for a number of reasons.
"The office market is devastated, and it's never coming all the way back," he says. "The office market is in dramatic transition: Companies now realize that certain sections of their employees can work from home and remotely, and the amount of space they need is far less than what they had. A company that's been around 25, 35, 45 years, they probably only need about 20 or 30% of the space that they occupy. So from a commercial standpoint, brokers and agents love it because there's going to be movement—but that movement is going to be a compression of the market."
Building and construction can also be divided into private and public jobs, especially when it comes to the actual labor it takes to get the job done. That's why it's important to consider the impact the industry trends have on the skilled workers who bring each project to life, and vice versa.
"The distinction between residential and commercial constriction in New Jersey, that's not a bad way to look at the market but, really, the laws that deal with what I do make the dividing line between public construction and privately owned projects—and that's the more interesting thing that's going on right now," says Incollingo. "What's happened in the last couple of years now is that [the Department of Labor and Workforce Development], which is not ordinarily concerned with the business aspects of construction, demonstrated a commitment to bringing apprenticeship back to the industry … they have been conditioning your renewal, or your first license or registration, as a public-works contractor on your company belonging to an approved apprenticeship program."
It's far from being all doom and gloom for those in the building and construction world, though.
"My world is in industrial and flex, so we're still seeing quite a heavy demand," Klear affirms. "Distribution, refrigerated uses are our common requirements … With regard to development, there have been several landlords and developers who have taken to buying single-story office buildings that are vacant to gut them out and redevelop them into flex industrial products: acquire the property, and then take out all the internal walls and add some docks. Some are [a complete tear-down], some are just revamping from an office to a flex. They need to retrofit it for the market's demand, and the market demand right now would be way more flex and industrial than it would be for office space in a 46,000-square-foot building. Sometimes the zoning's already there, sometimes it might need a variance."
The state's incredibly advantageous positioning does ensure that even a less-than-stellar current outlook means the work and demand for building and construction projects is far from drying up.
"From the commercial standpoint, the divisions that we look at are office space, retail space, industrial space and land, and the industrial market is booming—and that's primarily because of our strategic location and distribution facilities. New Jersey is strategically located between Washington, D.C., Philadelphia, New York and Boston; we have ports and we have rails and we have roads. The distribution we have north, south and west is one of the best locations in the world. That's why the industrial market is thriving, because they have built and will continue to build as much warehousing and manufacturing facilities as possible. … You're going to see major reconfigurations in the malls so they can accommodate not just retail use but residential uses, almost developing into communities."
"I think the market is still strong," adds Klear. "There's a lot of tenant demand still, and so I think with the micro-market of southern New Jersey, everyone's going to be watching to see how these other big developments and big-box distribution centers lease out. They'll probably continue to do speculative development—maybe not at the same pace as it was, but I think it's still ripe for growth."
Incollingo has noticed a few trends from his industry perspective, too.
"There's always a shifting ratio of how much I've got in my book of business that's related to dispute resolution, versus am I drawing up contracts or leases or things of that nature," he says. "Right now, things are coming in on both ends, so I would say that's reflective of a healthy market. If I were to get more transactional work, I'd start to think that things were on an upswing; if I got more dispute resolution, I'd say that I'm a lagging indicator for something that slowed down not too long ago and that people have given up their hope of an amicable resolution."
He also has his eyes on New Jersey's seaside construction industry and the impact of an evolving regulatory landscape that matches the literally shifting sands of the state's Shore towns.
"If I was going to say that any one trend surprises me, it's the optimism of property owners down at the Shore that are willing to invest in Shore construction," says Incollingo. "They're being forced to build higher and higher … They changed the construction code to accommodate the need to lift houses, and they've got a set of regulations that deal with home-elevation contractors, and it's becoming a recognized specialization distinct from home improvement but still part of it."
And despite not being as optimistic as he has been in the past, Jones knows that even the toughest markets and trends are just part of a natural cycle that will eventually yield to rosier days.
"The only constant is change, and you have to be attuned to what's going on economically, politically and with a focus on interest rates because that's what drives the commercial market," he says. "For the commercial practitioner, these are very exciting times because of the transitional market we are experiencing. The companies that are malleable are the ones that will survive."
Click here to subscribe to the free digital editions of South Jersey Biz.
To read the digital edition of South Jersey Biz, click here.

Published (and copyrighted) in South Jersey Biz, Volume 13, Issue 4 (April 2023).

For more info on South Jersey Biz, click here.
To subscribe to South Jersey Biz, click here.
To advertise in South Jersey Biz, click here.