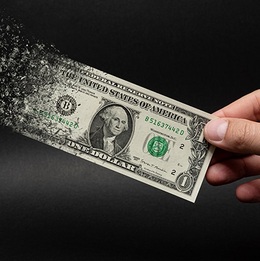 Weathering the Storm
As we get deeper into 2023, economic authorities continue to espouse prudence in these unpredictable times, but is the local picture as bleak as they'd have you believe?
Since the start of the year, stories of how inflation is squeezing the budgets of Americans have inundated the news cycle. People have taken to social media to share their shock at the latest prices on eggs, beef and butter, commiserating on this #newnormal. While the Fed has taken steps by raising interest rates, most economists say a recession is all but guaranteed eventually.
To further confuse matters were two positive reports: January's jobs report showed the U.S. economy added 517,000 jobs and unemployment fell to 3.4%—the lowest since 1969, according to CNN.com; and the Commerce Department reported a 3% increase in retail spending, well beyond the more conservative 1.3% that had been predicted. This activity may have stalled the nearing recession for now, and perhaps puts businesses on the receiving end of this spending in a better position.
We spoke with a couple of people who offered their perspectives on this historic moment and how businesses can set themselves up for success despite the challenges.
Lessons Learned
If history has taught us anything about inflation, it's that it's going to get worse before it gets better, says Richard A. Michelfelder, PhD, an associate professor of professional practice at Rutgers University–Camden.
Some may remember The Great Inflation of the early 1980s, when the inflation rate was 14%. Although caused by entirely different circumstances than what we're experiencing now, Michelfelder says it ultimately ended in a recession.
"When you have prices that rise up, but people slow down on buying in general, and therefore firms produce less, you have the perfect recipe for a recession," he says. "Any time there is a significant dip in the GDP, it's a signal of a recession. … We had a significant dip in GDP during the pandemic. This was self-inflicted because we shut the economy down to keep people separated and we're still trying to recover from that shock."
As for the interest rate hikes and legislation that is meant to provide relief, Michelfelder says the average person won't feel it for months, if not a year or more. "When the interest rates go up, you see it in the market the next day, but you really won't see it make a difference until someone says, 'Let me tune-up my current car at the shop as opposed to buying new,' or 'I should extend my property lease instead of getting a mortgage.' Those decisions will then have an impact on those industries," he says.
"If you're in new home construction, you probably see the writing on the wall. And this extends to real estate brokers. New home builds have already slowed, mortgage rates are up. These industries know how things cycle and prepare for things to shrink," Michelfelder continues. "Increased interest rates mean reduced output and that means some people won't be working as much or at all, and big companies may not offer as much in salary to attract the best talent, and so on it goes. This will all have to happen before things get better."
Local Perspective
For an insight into how South Jersey is faring, we called Janet Garraty, executive director of the Gloucester County Chamber of Commerce (GCCC). She says the county's unique business mix makes it hard to compare to others—not just nationally, but within New Jersey as well. However, she notes the diversity of businesses also adds to its resilience.
"We're right in the middle of the Eds and Meds corridor. We've got Rowan University and Rowan College of South Jersey, which are both building and expanding," she says. "Same thing with Jefferson, Inspira and Virtua. Then we've got the Paulsboro Monopile project, which is creating 500 direct jobs and upwards of 1,500 indirect jobs. We've also got some very cool agritourism here with the largest concentration of wine growers. There are plenty of pockets of opportunity in Gloucester County."
Garraty is even able to see other economic indicators with a glass-half-full mentality. "Yes, there are businesses having a tougher time than others and finding workers continues to be a challenge, but I see it as a good thing. They need employees to help meet the demand, and if there is still a demand for those goods and services, it's a healthy sign," she says.
Gloucester County also saw a boom of new residents during the pandemic—Garraty was one of them—and although house sales have slowed, she says firsthand accounts from realtors in the county demonstrate the market is still busy.
She's also heard supply chain issues are settling down and that borrowing is still strong with local banks. "I think businesses are being cautious about where they're spending their money, and small businesses will also be concerned about that—how much is coming in, how much is going out," says Garraty. "From what I gather, people are still seeking out commercial loans to start and grow businesses."
Suggestions for Success
No matter what industry they serve, businesses can implement some tried-and-true measures to ensure they're on solid footing through this economic slowdown.
Michelfelder's first suggestion is to delay any major investments. "If you own a pizza shop with three locations and you want to open a fourth, I would hold off on that. It could be a risk if the location fails and you end up needing cash, and in business, cash is like blood to the brain, and when you need it most during a recession, it's hard to get," he says. "So I would hold onto the cash you have until there are some strong indicators of things going in a better direction."
Next, he suggests reviewing profit and loss statements in detail. Michelfelder, who was once the CEO and president of a consulting firm in Berkeley, California, recalls a time he reviewed his company's P&L and one number kept standing out to him. "We were paying over a half-million dollars in rent just to say we had an office in downtown Berkeley," he says. The company started encouraging people to work from home and was able to cut down on office space.
"You can't wait until you have a problem. Address it proactively," he says.
Michelfelder says to review checking accounts and see where money is going out. "Look at small leakages. Are you still paying any utilities for things you don't own anymore? Are you paying for one or more toll-free 800-numbers? Do your due diligence to see where you can save," he says.
Don't be afraid to negotiate with suppliers, either, he continues. "If you've been doing business with a supplier for a long time, push them to make sure you're getting the best price because your competitor across town is probably doing that and it puts them at an advantage. Or perhaps you want to vet another supplier to shield against disruptions, even if it costs more you're making sure you have the product you need to continue to operate," Michelfelder says.
Seeking help and partnerships externally will also bolster your business, says Garraty. Local chambers of commerce offer built-in networking. "We help create strategic alliances. When you start to meet people, the business grows. We have close to 500 members so if you're looking for visibility, the chamber is a great place to start," she says. "And inside the chamber, there's no competition. We work together to help each other."
There are also perks that come with chamber membership. In GCCC specifically, there are two tuition discount programs: Rowan College of South Jersey (RCSJ) offers a one-third tuition discount for credit programs, and Widener University offers a 20% discount on graduate programs for members and their employees.
Workforce development has been a huge investment for RCSJ and Rowan, she continues. "Both college presidents have been committed to training people not only at the beginning of their career, but even those in the middle of it, so we can keep them here in the region," Garraty says.
RCSJ has introduced an entrepreneurship program for students interested in starting a business or expanding one and will have involvement from the local business community. Another new program announced in 2022 will also allow RCSJ allied nursing and health students to study and train at two Inspira campuses. "This funnels students directly into jobs at Inspira and ensures we retain that talent," Garraty says.
Rutgers–Camden's Small Business Development Center is another valuable resource available to local businesses. Michelfelder says one of the best things the center can assist with is a business plan.
"A lot of companies suffer because they don't have a business plan, or they don't have an updated one," he says. "Every business owner should be able to answer where they want to be in five years, 10 years, etc. The Small Business Development Center will help you with some of these essentials to make sure you're prepared for different scenarios."
Despite the sometimes-mixed economic news, there's little doubt that South Jersey has the support systems available to set local businesses up for success—as long as they access them