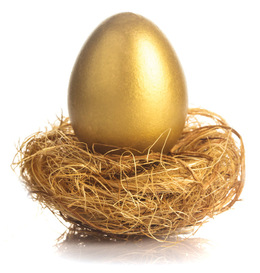 A Sound Strategy
When it comes to investing your funds and long-term growth, proper guidance is key.
When it comes to investing your money, because you are planning for long-term growth, it can be difficult to navigate what strategy would work best for you. For instance, maybe your focal point is making sure you are putting enough money away for your child's education while still creating a large enough nest egg that you won't be working into your 70s. Or perhaps you are already on the cusp of retiring and need to know the best way to approach matters as you transition to this new phase of your life.
Whatever your needs, wants and desires are, having a financial advisor who can serve your best interests can make a world of difference in helping you manage the ups and downs of the marketplace while also helping your continuously grow your portfolio. We spoke with two of South Jersey's leading financial experts to get a sense on the approach investors should take both in the near and distant future and how they can help investors feel confident that they are making their money work for them.
How might one's investment strategies differ if closer to retirement? Conversely, if you are still in the midst of your career, can you afford to be less risk-averse and be more aggressive or is that not wise?
Historically, stocks almost always outperform all other assets over longer periods of time. If you are not retiring within the next several years, statistics would show that having 100% of your assets invested in stocks will outperform a mix of stocks and bonds. However, if seeing your account value decline significantly periodically or you are within 10 years of retirement, having some bonds in your portfolio will serve to smooth the ups and downs. – John Torrence, managing partner, Masso Torrence Wealth Management
The closer you get to your retirement point, realistically and logically, the more conservative you should be. You are not adding any more to the pile sort of speak. You have to be sure that pile is going to prepare you for doing all the things you want to do [in retirement]. The great thing about today is there are so many opportunities and options that you didn't have in years past, so as long as your open to suggestion, whoever you are dealing with as a financial advisor has options to present all these different things to you. – Stan Molotsky, president and CEO, SHM Financial Group
What's the best plan for emergencies, like the pandemic or even the loss of employment, to help weather the storm without suffering too much damage?
We advise on always having enough funds available that can take care of whatever needs to be taken care of for anywhere from a six-to-18-month period. That way, if you lose a job, it gives you opportunity and time to look for something that really want. Or it allows you to leave your portfolio alone if that's what you want to do. And then it's a matter of redirecting that, based on your age, your risk tolerance and what the money is really going to be used for and then structure things accordingly. – Stan Molotsky
How do you confidently invest for retirement while juggling other large expenses like a child's education?
When weighing the priority of saving for one's own retirement versus say saving for your children's college education, it is important to remember that only one of those goals has alternate financing options. Though you may not want to see your children burdened with a student loan for their education, you must consider that you cannot "borrow" money to fund your retirement. – John Torrence
The marketplace is very fluid and often cyclical, and so while no one can predict the future exactly, how are you still able to reassure clients that even during a downturn that history shows there will be a bounce back?
All that is true, but I say forget all that. Nothing is always the same, things are always different. You have to look at it and say to yourself, I'm going to feel that things will be better and I hope that they will be better, but I'm going to prepare for the worst. That way you're covering your bases and as you move closer to that retirement time, you want to make sure you've set aside at least six months to two years' worth of income needs from wherever it's going to come from—whether it's your pension, whether it's a combination of Social Security, dividend income, interest income, etc.—so you can leave the corpus of the investment things alone and not have to disturb them if the market goes into a continued deterioration. – Stan Molotsky
The key is to take short-term emotions out of making long-term investment strategy decisions. There are numerous charts and graphs we share with clients that show the growth of stocks throughout even the most tumultuous of times like the credit crisis of 2008 or COVID in 2020. Both instances appeared to be unprecedented and especially dire, but the economy and stocks remain resilient. – John Torrence