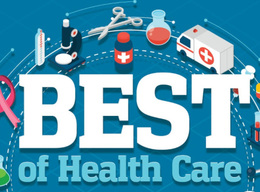 Best of Health Care 2023
You don't have to leave South Jersey to find innovative, individualized care and dedicated professionals improving their neighbors' quality of life every single day.
From head to toe, from the inside out, South Jersey's medical professionals are here to help. They're not only delivering that treatment in world-class facilities staffed by the top talent in their field all right in our backyard, but also doing so with technologically assisted precision—and sometimes even right from the comfort of home—for better results, through less invasion and with faster recovery times. This year's Best of Health Care round-up showcases some of the cutting-edge technology, life-changing services and dedicated professionals who are helping the region get better, stay better and live the lives they deserve.
OB/GYN SERVICES
Axia Women's Health

To further its mission of providing a more progressive women's healthcare experience, Axia Women's Health opened its Sewell-based AccessNow care clinic. The clinic is fully dedicated to women's health and has been offering walk-in, same-day, weekend and evening care for a full suite of OB/GYN services in one location since last March.
AccessNow provides South Jersey's women a convenient option for addressing an array of urgent healthcare needs, including: vaginal disorders; urinary problems, including urinary tract infection testing and treatment; sexually transmitted infection testing and treatment; pregnancy testing; on-site ultrasounds; and contraception counseling.
"Our new clinic breaks down the most common barriers to care for women—access and cost—and makes treating urgent concerns not only possible, but convenient," says Dr. Leisa O'Flynn, vice president of medical affairs for Axia Women's Health in New Jersey, adding that the clinic accepts most insurances, Medicaid plans and self-pay options. "Previously, women may have been burdened by costly ER or Urgent Care visits for their urgent OB/GYN needs, or even avoided seeking care altogether due to cost. With our walk-in clinic, we aim to make care more affordable and accessible, especially for women who may have been underserved before."
The state-of-the-art facility offers the latest technologies as well as highly skilled and specialized women's health providers, a standard patients expect from Axia Women's Health care centers.
TRAUMA CARE
Cooper University Health Care
From its beginning as a "demonstration project" assessing the region's need for dedicated trauma services in 1982, the Level I trauma center at Cooper University Health Care is now one of only three state-designated Level 1 trauma centers in New Jersey and the busiest in the region, providing life-saving services to nearly 4,000 patients annually.
Cooper serves as both the South Jersey regional trauma center and a resource for nearby Level II trauma centers, and is the only Level II pediatric trauma center (the highest level) verified by the American College of Surgeons.
"Cooper Trauma is known throughout the region for excellence and innovation. I am really proud of our entire multidisciplinary team and especially all of our unique trauma nurses and techs who are ready to serve at a moment's notice," said John M. Porter, MD, head of the division of trauma surgery and director for the Center of Trauma Services at Cooper, on the occasion of the center's 40th anniversary this past fall. "Not only do we provide the highest level care as soon as the patient arrives, but we also have a comprehensive range of services to support that patient and their family through discharge and beyond."
Those services include: specialized trauma-admitting units adjacent to the emergency department; a 28-bed trauma/surgical ICU and a nine-bed intermediate trauma step down unit; an air medical transport service with two helicopters to provide rapid transfer to the trauma center; and support groups and community outreach programs.
Cooper is the country's only health system providing trauma training to every military branch through the Military, Diplomatic, and Field Surgical Affairs Department. It also educates numerous local, state, and federal government agencies, including Project Cadence, a new program with the Department of Homeland Security.
COMMUNITY OUTREACH & ADVOCACY
Dr. Kristy Davies and Speech Language Associates
"Your journey is your journey," says Dr. Kristy Davies, founder of Speech Language Associates (SLA).
It's a philosophy that meets anyone who reaches out to her and the "small team with big hearts" comprising the speech language pathologists, occupational therapists, communication aides and other talented professionals all helping patients of all ages reclaim their voices and reach their communication goals, no matter where they are in life.
"In our practice, we've realized that people really just need connectedness, that we need to consider everybody's needs, the family's needs, the child's needs, or the caregivers' and spouse's needs," Dr. Davies explains.
That's why programming at SLA is going beyond sessions with specialists. It has been shaped by the support groups that give any individual touched by communication challenges an opportunity to connect with others whose own journeys help them relate and empathize with what can feel like an isolating situation.
"They really just need to know that families and kids are supported, they can get together and feel safe and not judged. The families are going through all these things, so we started creating community events for anybody," says Dr. Davies. "But in doing that, I felt like it wasn't enough, so we started some social groups."
"We're trying to make sure that parents feel like they can come and socialize with other parents in a safe space for their kids," she continues. "We're here to help, and we're here to facilitate children's socialization and growth and development—but I think the parents almost get more out of if than the kids because they feel like it's such a welcoming community!"
CARDIAC MAPPING
Deborah Heart and Lung Center
Deborah Heart and Lung Center is the first cardiac center in New Jersey performing procedures with the innovative VIVO™ System.
The sophisticated technology is designed for patients with ventricular tachycardia—an abnormal rhythm in the heart's lower chambers—and provides GPS-like mapping that pinpoints exactly where the heart arrhythmia is located. That precise navigation aids Deborah's electrophysiology specialists who use cardiac ablation (radiofrequency energy) to treat the arrhythmia.
"This noninvasive procedure, done under light sedation, provides us with a highly detailed three-dimensional image of the heart with a superimposed activation map that is unique to each patient," says Raffaele Corbisiero, MD, Deborah's chair of electrophysiology. "With this precise mapping, we are then able to use our Stereotaxis remote navigation system to 'ablate' the arrhythmia, blocking the irregular signals that are coming from the lower chambers of the heart."
Patients with ventricular tachycardia often have a pounding heart rate, chest pain, lightheadedness and shortness of breath. "This is a very serious cardiac abnormality that can lead to stroke, heart failure and sudden cardiac arrest. It absolutely requires treatment. Ablation does an excellent job at treating this, but making sure we focus the remote energy to the exact spot is critical for the procedure to be successful. VIVO is a new tool that gives us that precision, and ensures that patients will not have to return for a redo of their procedure if we miss the mark," explains Dr. Corbisiero.

He continues: "Probably 10-15% of the heart arrhythmia patients we see have a ventricular problem. That is a significant population that will benefit from this mapping, which not only ensures precise placement of the radiofrequency energy, but saves us procedure time, improves our patient safety, and most importantly, improves our patient outcomes."


HOSPITAL-AT-HOME CARE
Virtua Health

Virtua Health's Hospital at Home program enables qualifying patients to receive hospital-level care in the comfort of their home. Virtua is the first health system in the Greater Philadelphia area to offer hospital-at-home care, the region's largest program now marking its first anniversary.
The program is available through all five Virtua hospitals and has already cared for nearly 500 people. To date, patients have been treated for 40 different conditions, from congestive heart failure to COPD, urinary tract infections to COVID-19.
Studies show important advantages of this groundbreaking model, compared to traditional inpatient care, include a shorter average length of hospital stay (including in-hospital and at home), higher levels of patient and family satisfaction, and decreased chance of hospital readmission.
"We receive glowing feedback from our Hospital at Home patients," said Michael Capriotti, Virtua's senior vice president of integration and strategic operations. "People enjoy being in their own homes; it is familiar and comforting. I'm so pleased Virtua is able to care for our community in this innovative way."
While each person's care plan is individualized, every Hospital at Home participant receives: In-person visits twice a day from Hospital at Home staff; remote monitoring using a variety of Virtua-issued devices; routine remote consultations with a physician or other licensed provider; around-the-clock support at the touch of a button from the Hospital at Home Command Center; easy-to-heat nutritious meals, if requested; and clinical and ancillary services that would otherwise be provided in the hospital, such as imaging, pharmacy, lab work, and physical therapy.
"The technology that empowers Hospital at Home did not exist five years ago," said Capriotti. "Now, we have the ability to safely provide high-acuity care remotely. Even though the patients are not within our walls, we are just as connected."
GASTROESOPHAGEAL REFLUX DISEASE CARE
AtlantiCare
You can't—and shouldn't—just keep extinguishing the burn. That's the message AtlantiCare's team used in sounding the alarm about the importance of addressing gastroesophageal reflux disease (GERD). They identified a trend of patients being told nothing could be done about their heartburn, that they should just take medication or that they could put their diagnosis on the backburner. AtlantiCare Physician Group Surgical Services created a new Heartburn Program to prevent painful and life-threatening long- term consequences.
"Treating GERD appropriately and timely can prevent physical complications, including difficulty swallowing, asthma-like symptoms, chronic cough, or changes in the lining of the esophagus that could then lead to esophageal cancer," says Samir Patel, M.D., AtlantiCare surgeon.
Heartburn sufferers often have an underlying hiatal hernia that causes their symptoms. An abnormality that prevents the esophagus from relaxing properly could also cause heartburn. It can come from diet, stress, obesity, certain medications, or other factors.
Patel says making traditional and advanced testing and treatment convenient for patients—both in the office and hospital setting—is key to helping patients get a diagnosis and the right treatment.
MATERNITY CARE
Jefferson Health – New Jersey
Jefferson Health – New Jersey has created a comprehensive, patient-focused program for women and children's services. This summer, two birthing rooms will be added to the maternity suite based at Jefferson Washington Township Hospital, becoming the first in-hospital type setting that will offer the feel of a "home birth within a hospital setting." There have also been renovations made to patient post-birth areas.
"Our birthing patients will be able to experience a birth based on their own preferences," says Director of Women & Children's Services Marilyn Mapp. "We truly offer a 'one-stop shopping' experience." With a patient-focused team of board-certified obstetricians/gynecologists and specially trained midwives, expectant parents can be partners in their own care.
The health system has also launched a community-based doula training program, which allows specially trained community members to offer non-clinical support to people giving birth. Funded by Jefferson, the three-month training program also includes a one-year mentorship. Jefferson Washington Township Hospital also houses Gloucester County's only neonatal intensive care unit for newborns needing extra care.
The hospital also has a maternal-fetal medicine department, accredited by the American Institute of Ultrasound in Medicine (AIUM). The team comprises board-certified perinatologists, registered nurses and certified diagnostic medical sonographers trained in high-risk pregnancies. In addition to ultrasounds and fetal monitoring, preconception counseling and genetic counseling are also offered.
Jefferson also offers CenteringPregnancy®, which helps improve pregnancy outcomes in a supportive and educational environment. Centering Healthcare Institute Inc. studies have shown that expectant parents who participate in CenteringPregnancy® have healthier babies, fewer preterm deliveries and improved pregnancy outcomes.