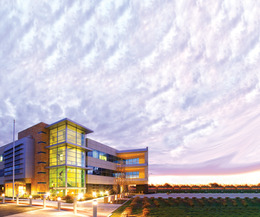 A Trending Market
The drastic impact of COVID-19 on the economy continues to linger throughout the commercial real estate market.
The height of the COVID-19 pandemic has subsided and, despite the threat of a recession, much appears to be tentatively trending in an optimistic direction. However, the nation continues to feel the repercussions of the global emergency in all aspects of life, and the commercial real estate market is no exception.
Whether it means working from home or doing shopping almost exclusively online, the ways that Americans earn and spend their money have changed drastically over the past few years. This has taken a massive toll on the commercial real estate market and more specifically, its four major classifications comprising retail, multifamily rentals, industrial and office space.
South Jersey Biz magazine talked to local experts about the current trends in the region's commercial real estate, how they took shape, how they are impacting other markets and local residents, and what the future holds for the ever-changing market.
Trending Upward
Experts agree that the remarkable impact COVID-19 had on the economy is continuing to deliver both adverse and beneficial side effects on the multifaceted industry. Of all the classes, industrial builds such as warehouses and assembly and manufacturing buildings were undoubtedly dealt the best hand.
Nick Manis is the president of New Jersey Realtors, a trade association bringing together the state's real estate professionals, and says that The Garden State has topped California as the No. 1 port in the country, crediting the state's recent booming success to the pandemic.
"When it comes to the different asset classes in commercial real estate, industrial was one of the darlings and continues to be even to this day," Manis says. "What happened [for New Jersey] to overtake [California] was obviously COVID: People stayed home and were ordering online versus traditionally going out to the store, so we needed more warehouses."
Since the pandemic came on extremely abruptly and affected so many people, the desire for online goods came in surpluses, creating a dire need for industrial buildings to keep pace with that new demand.
New Jersey proved to be the ideal location for many new major corporation warehouses, assembly and manufacturing buildings. Being near two major cities and multiple ports of transportation allows local industrial operations to efficiently manufacture and distribute goods while limiting costs and delivery times.
Anne Koons, owner of Anne Koons Real Estate, emphasizes the importance of location when it comes to industrial buildings.
"You're in between two big metropolitan areas. There's the port in New York and in Philadelphia and the Camden port," Koons points out.
New Jersey's physical location and the convenience it brings to industrial builds are far beyond the only thing driving the state's commercial real estate trends. Other perks and amenities nudge residents to the area and have significantly impacted the multifamily market. For example, the state also has some of the best public school systems in the country and has remained a top educational competitor for years, making it an ideal place for families to settle down and raise their children.
Manis recognizes this accomplishment and adds there are even more things that New Jersey offers that make it a great place to live, thus increasing the demand for multifamily residences like apartments and townhomes.
"Aside from the school districts," Manis says, "New Jersey is a small enough state to enjoy a lot of benefits within a short travel distance. So you can go to Atlantic City, you can go to New York and Philadelphia. You have the whole Shore area so you can go to the beach, there are mountain areas so you can go skiing nearby, you have farms so you can ride horses. There's a lot of different things New Jersey can offer families."
The public's obvious desire to move here also garners a lot of attention from investors and real estate professionals.
"That's what entices developers and big corporations and even smaller developers and investors. They say 'OK, let's go to New Jersey' because they have the 'develop something and if you build it, they will come' mentality," Manis explains.
At the same time, the industrial builds dotting South Jersey could also easily deter current and potential residents. Common complaints from residents in these situations include the traffic, noise and air pollution, and overall eyesores that warehouses bring to communities.
As the owner of commercial and residential real estate businesses, Koons knows the importance of seamlessly integrating an industrial building and its surrounding property into a community.
"I feel like both the people building these industrial buildings and the neighborhoods surrounding them need to have better communication, and then something can be worked out to be compatible for everyone," she observes.
Koons, who's also the third-generation owner of Vineland Construction Co., outlined a recent industrial build the company did. Along with warehouses, Vineland Construction incorporated a park, walking trails, benches, lighting and other features that made the space more appealing and welcoming to nearby residents.
Thoughtful industrial designs such as this can ultimately circumvent the negative backlash that many commercial real estate projects, specifically industrial, face when building in the area.
Just one example of this occurred in late 2022 when Gloucester County residents took action to stop an industrial project in Mullica Hill. Residents fought back against the project, which would occupy two million square feet of a vacant, 150-acre piece of farmland, by speaking to the Harrison Township Joint Land Use Board at a meeting this past December.
While the board unanimously voted against the project, the developer, Russo Development, plans on taking their case to court.
Going Down
According to the United States Census Bureau, following the onset of the pandemic, the number of people primarily working from home went from 5.7% to 17.9%, or 9 million people to 27.6 million. In fact, 2021 marked the highest recorded number and percentage of Americans working from home since the American Community Survey began in 2005.
Many experts attribute the increased stock in the multifamily facet of commercial real estate to the pandemic. Professionals working from home are taking their new situation as an opportunity to move wherever they want, and New Jersey seems to be many people's top destination.
Adversely, this proves to have a negative impact on the sales, builds and rentals of office spaces in the area.
Vice President of Business Development and Marketing at Vineland Construction Robert Powell says that the company has seen movement in office spaces but not in new builds.
"We've had some recent success and new office leasing from smaller tenants, but that's still lagging behind in terms of people looking for space or actually wanting to expand or grow their businesses," Powell says.
While Vineland Construction hasn't been busy with new office builds, he says that they've done a lot of projects involving drive-thrus at quick-service restaurants (QSR).
"We have numerous retail tenants that, post-COVID, especially in QSR and food, are really looking to establish new spots with drive-thrus. This is particularly because of the demand from COVID and where they saw people looking to go out and grab food and access it quickly," Powell says.
Moving Forward
Most of today's trends are the direct results of yesterday's unprecedented circumstances. However, looking ahead, experts estimate that the trends are shifting in a different direction that will change the game for all branches of commercial real estate.
Manis expects industrial real estate to continue to do well because people are still doing a large part of their shopping online but not to the extent that they have been.
"As inflation continues to come down with the rates going up from the Federal Reserve, I think people are going to continue to buy online. So I think industrial is still going to be fairly strong. Is it going to accelerate as it has in the past? No, it's because it skyrocketed in the last few years, but I see it increasing at a slower pace year after year" Manis explains. He expects the multifamily real estate market to have a similar slow-but-steady growth in the coming years.
Powell agrees that industrial still has a short-term window to work with, but expects that market to slow down as retail ramps back up.
"I don't think it [industrial] can continue at the current rate. It was just so many new developments. There are still a ton of new developments coming up as we speak. … So I don't think you can sustain the same pace for the long term. I think in the near term, definitely," Powell says. "You're definitely going to have some new development for retail. Mostly high-traffic areas. And I think, again, QSR demand for drive-thrus is not stopping anytime soon."
As for the development of and interest in office spaces, experts agree that it's going to take some time.
The light at the end of the tunnel in the form of economic stability and comforting consistency is certainly in sight as the country continues to recover from the financial burdens left behind by the pandemic. Until then, the commercial real estate market is fluid and constantly adapting.
"[COVID] just changed everything," Powell says. "Even now."