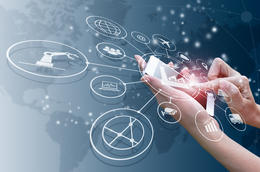 Leveling the Playing Field
Small and medium-sized businesses are using technology to increase productivity and get on more equal footing with their larger competitors.
While adjusting to new technology in the workplace can sometimes be a challenge, especially for older employees who may not relate as well as their younger counterparts, there is no question that it can have a positive impact on day-to-day operations. Whether it can be implemented to free workers up from mundane tasks, improve collaboration and communication among team members or provide more safety and security of company information, these advancements pave the way for increases in efficiency and overall productivity at all levels.
Perhaps the most important advantage tech can bring is allowing small to medium-sized businesses to get on a more even playing field with large corporations and to do more with less while not sacrificing quality.
"The mission statement for our company is to bring cost-effective IT and cybersecurity solutions to small and medium-sized businesses," says Vincent Spinelli, CEO of VSpine Networks & Advisors. "Through automation and machine learning, we can keep the costs down to give the small and medium-sized businesses the same sort of capabilities that have traditionally only been afforded by much larger companies."
South Jersey Biz spoke to Spinelli and Art Leiby, president of The Lerepco Group, to learn more about the ways in which businesses can utilize technology to meet customer demand and improve employee satisfaction.
The pandemic of course made remote working more prevalent than ever before. Do you continue to see companies moving in that direction and is providing that capability a common request you receive from clients?
Art Leiby: "We are now in what I would describe as a hybrid mode and I don't know that it will change. I think owners discovered that their workers can still be productive at home, given that they have the discipline to work with animals and children and distractions, etc., as opposed to being in the office where they were closely supervised. … We've always been able to do that if the business owners were willing to pay for the technology, and we were prompted to accelerate it because of the advent of COVID."
Vincent Spinelli: "We have a number of capabilities in our toolbox that we provide clients who have a work-from-home strategy or who are mobile. Traditionally, when employees have gone into offices, those offices' networks were protected. Given the fact that many people are either mobile or working from home, they're basically accessing the cloud applications and the server applications over an untrusted network. So we provide a cloud-based security solution that protects them in untrusted places like they would be protected in a trusted place like the work environment. The key to this is to get people to work as efficiently as possible and as securely as possible."
How have cloud-based collaborative software and data-sharing applications changed the workplace?
AL: "The biggest advent that you saw during COVID, and it's going to continue, is the advancement of Microsoft Teams and Zoom and products like those. Anything where you can improve productivity through collaboration is going to continue to thrive and evolve. Teams is one big one where they continue to advance and place additional functionality into it. The simple part is just having a video call, but there is so much more in Teams today. Instead of sending all of this stuff through email and cluttering up [your inbox], now you can build channels in these products, have chats among your team members and share files very easily."
Does CRM (customer relationship management) software play a big role in a lot of businesses?
VS: "Yes. CRM plays an important role in any business. Knowing your customers and their buying habits is an important element to doing business today. But it really differs among industries as far as CRM requirements."
Are there specific industries you work with closely to advance technology?
AL: "What's important with our medical clients is their hosted EMR (electronic medical record) systems. How are we managing patient data, how are we dealing with prescriptions, how are we doing the billing—all of those functions are important components in a good, hosted EMR system. In the legal industry, their systems are hosted as well. Whether you're dealing with Clip or NetDocuments, these are hosted systems and document management systems containing all the records regarding client matters."
Has analytics been made easier by technology? Is market research more affordable for companies to learn more about their customer base and their employee productivity?
VS: "Absolutely. That's one of the hottest trends right now: using machine learning and artificial intelligence solutions. There's a whole gamut of things you can do, and we offer solutions like people counting if you're in retail, integrative Bluetooth advertising and geofencing. We use machine learning to keep our clients' computers running smoothly. There are all sorts of machine learning and analytic applications depending on the industry. It's the hottest trend and we use a lot of it in our own practice for security reasons, to identify abnormal behavior and things like that."