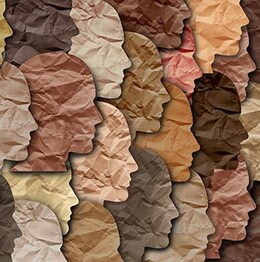 Open to Change
While there is still much progress to be made, diversity, equity and inclusion initiatives are gaining traction in businesses of all sizes.
In her "day job" as the managing principal of consulting firm HRComputes, Kristina Kohl assists a wide range of clients in becoming diverse organizations by gathering data and implementing sound strategies and programs based on that data. But she also teaches a course on the subject at the Bard College MBA and Sustainability Program, and in that role, she was having a hard time finding a book to utilize in the curriculum that focused on what she feels are the most important aspects of diversity, equity and inclusion (DEI) initiatives. So she decided to write one herself.
Driving Justice, Equity, Diversity, and Inclusion was published in January 2022, and, in addition to teaching students, provides a roadmap for employers to effect significant change at the systemic level. Since its release, Kohl has continued to speak frequently on the topic locally, and also presented at the SHRM Inclusion Conference in San Diego last year. She emphasizes that in order to be effective, DEI must extend beyond training and compliance and become part of the fabric of a company.
"My focus is that this needs to be a strategic initiative that needs to cross the organization," she says. "It's not just one person's job, it's really something that has to be the focus of the board and the leadership team, and you have to look into each and every area of your organization and decide how you're creating a culture that promotes justice, equity, diversity and inclusion."
More and more in recent years, companies of various sizes seem to be heeding that advice. DEI strategies have not only gained traction in corporate America, but have also been the center of government efforts, private-public partnerships, new educational programs, and the mission of business groups, with all of these entities dedicated to fostering better representation from traditionally marginalized segments of the population and increasing opportunities for leadership positions.
There are several reasons for the push, starting with the demands for diversity from a majority of today's workforce in the Gen Z and millennial generations.
"They want to work in an environment that they feel is just and equitable, and they want the work they do to focus on driving impact and driving these initiatives around environmental and social justice," Kohl says. "But if you step back and look at the big picture, I think organizations … realize that having an effective DEI strategy really drives business value and it creates opportunities, especially in a global economy. Having people who think differently, who have different lived experiences, different histories and different educations, creates a whole new way of approaching challenges that exist in the marketplace or even entry into new markets. Having a more diverse representation in the decision-making process drives better outcomes, and there's a lot of stats on that."
Kohl notes that federal contracts often dictate that a certain percentage of work goes to women-, minority- or veteran-owned companies, and major corporations are following suit in those requirements, leading to DEI becoming important for midsized and smaller companies to adopt. But what are the first steps in such a move?
"I would say definitely start with a culture assessment," says Stacey Zielke, director of human resources at Workplace HCM. "Align your DEI initiatives with your organizational goals, mission and vision. Be transparent where necessary and walk the walk. Create standards and practices that ensure success. Having a DEI committee is beneficial to enable employers to be prepared to coach and manage change."
Zielke has seen more of a commitment from corporate leaders and their employees across the board in creating an inclusive environment, and in her own company believes DEI strategies have enriched the culture by broadening the talent pool, allowing for new and fresh voices to help shape policy and direction, and building better morale among the staff.
"Having different background perspectives and sharing them helps shape and strengthen our culture," she says. "We believe it does increase morale by employees wanting to contribute more and having the satisfaction of feeling heard."
Christina Renna believes strongly in the benefits of diversity and set out, with the rest of the leadership team for the Chamber of Commerce of Southern New Jersey, to fix what she saw as an issue with an otherwise-thriving organization when she was named CEO in 2019. Becoming more representative in membership, on the board of directors and executive committee, and with guest speakers at its many in-person events throughout the year became a priority.
While Renna did not make these initiatives public at first—she didn't think it was right to promote them before anything was accomplished—she recently started sharing the news because she is proud of the progress the organization has made. As the chamber celebrates its 150th anniversary this year, Deborah Hays of Archer recently took over as the third female chair of the board in its history, and Robin Walton of Inspira Health assumed the role of vice chair. In 2025, Walton will become the fourth female chair and the first African American in the position.
"If we're not reflecting our membership in totality, and if our membership doesn't look like the makeup of South Jersey, then we're missing the mark all around," Renna says. "How do we call ourselves the South Jersey Chamber of Commerce if we only look like one part of South Jersey, or one part of the South Jersey business community? We don't. Of course there's still work to do, but I think we're taking steps in the right direction to make it known that this is a priority and that everyone is welcome and is going to feel a sense of belonging when they walk in the door of a chamber event or they meet with a chamber member."
Renna stresses that the work is ongoing and must never stop, but she hopes the chamber can be a model for similar organizations and is happy to see businesses of all sizes in South Jersey, especially the larger ones, making DEI top of mind on a daily basis.
"Now, when I ask for sponsorship of an event, corporations here in South Jersey are asking me: How is this going to impact underserved communities? How is this going to impact or aid Black- and brown-owned businesses? What percentage of the membership is diverse? Organizations like mine are not going to get fine partners in the South Jersey institutions unless we have the stats and the story to tell to back up the fact that we have the same values as they do. To me, that in itself shows that South Jersey businesses are evolving, especially as it relates to diversity, equity and inclusion."
Renna is also encouraged by government initiatives like Executive Order 295, signed by Gov. Phil Murphy last May, which directed the Department of the Treasury to implement a state-backed certification program for LGBTQIA+-owned businesses, with the goal of opening doors to contracting opportunities for those enterprises at the local, state and federal level, along with the private sector.
Paving the way for more diversity in fields dominated by white males is another endeavor gaining steam. In her time as president of the Associated Builders and Contractors New Jersey chapter, Samantha DeAlmeida has made it her mission to make careers in the construction industry more available and appealing to both minorities and women. While she calls it an uphill battle, she is pleased with the progress.
"Speaking to populations where perhaps they're not afforded opportunities in the same way that others are, I like to be able to extend resources where I can, and that includes free apprenticeship training, getting them hired by some of our members and putting them on a path to earn while they learn," she says. "They can get this great education where after they complete their training, they can potentially go on to create their own business one day, be successful, support their families and thrive within their communities.
"From a woman's standpoint, it's a field I was never exposed to that I would have loved to been exposed to as a young girl. So we're offering up those opportunities and showing women that there is a place for them in the field. It's not always wielding a hammer; it could be administrative work, project managing, architecture, building design—all of those things encompass construction and there's definitely enough room for women and minorities in the field."
DeAlmeida emphasizes that the trades are a wonderful option for those who either aren't interested in or can't afford a college education, but for those who do move on to college to continue their education, it can be the perfect place to grow individually and become more open to other races and cultures, says Dr. Monika Williams Shealey, senior vice president for Rowan University's Division of Diversity, Equity and Inclusion.
She has dedicated much of her career to researching the experiences of traditionally marginalized groups, inspired in part by growing up in the South as a Black woman, but also by her time in the classroom as a special education teacher. She finds it important to remind people that diversity does not just encompass skin color, gender identity or sexuality, but also neurodiversity, all of which went into establishing the Division of Diversity, Equity and Inclusion in 2019 as a model for higher education.
With feedback from a number of group discussions, Rowan began the department with the goals of forging a more equitable and inclusive campus community; recruiting and retaining diverse students, faculty and staff; and supporting inclusive teaching and professional development. Williams Shealey is encouraged by the early signs of progress and the younger generation's interest in diversity, and when it comes to businesses, she believes DEI makes sense on a number of levels.
"I work with the South Jersey Chamber of Commerce, and when we do our DEI sessions I say to those organizations—small, medium and large businesses—don't you want to be the best you can be? Don't you want to lead in your field? The only way you can do that is if you have the best talent in the room, and that talent is going to come from people that don't look like each other, don't think the same way, don't have the same background and experiences," she says.
In 10 years, Williams Shealey hopes to be able to look back at the impact of Rowan's efforts and see even more strides. She is simultaneously hopeful and cautious.
"I go back and forth because if I look globally, if I look across the country, then I'm disheartened because there are places where we can't even say diversity, equity and inclusion without getting attacked," she says. "But I also feel optimistic that we've gotten to a point where at least corporate entities—and certainly educational organizations and nonprofits, many of which have been trying to take on these issues for years—are thinking about how DEI needs to be incorporated into their everyday operations. I'm optimistic that it has at least gotten us to a new level of discussion, and that's important. I just don't want us to lose momentum."