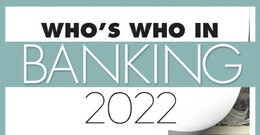 Who's Who in Banking 2022
Sixteen names to know in South Jersey's financial-services world
It's no secret that banking is a significant part of our local economy, but just as important as protecting the monetary assets of South Jersey's individuals and institutions is the client relationships they foster, customer service they deliver and community development they champion. This year's Who's Who in Banking honorees spoke with us about how they, their teams and their organizations adapt to modern demands to ensure that they keep delivering the high-quality services the region expects while sharing their own stories and insights.

Tina Vega
Regional Director, Chase Bank
Vega's region encompasses 622 employees and 72 branches across seven South Jersey, Pennsylvania and Delaware markets—and is ranked No. 1 in both the Network Expansion Division for overall scorecard and nationally in customer experience. She has over 20 years of experience in retail banking, and joined Chase in 2006. In her previous role, she was National Achiever for four years and her market consistently performed in the top tier under her leadership.
Fun fact: Vega loves traveling, citing Puerto Rico as her favorite destination. She also loves taking on home-improvement projects and indulging in retail therapy.
What drew you to the banking industry?
I grew up poor. Watching my parents work multiple jobs after we emigrated from Korea, I understood the importance of financial security. Financial education is a passion of mine, and many don't know how to build their financial future. I love the opportunity to help our clients and employees.

Joseph Ball
VP/Regional Branch Manager, First Bank
In Ball's role, he serves First Bank's Southern New Jersey/Pennsylvania region, and is responsible for developing his branch team and building both business and relationships throughout the area. Ball came to First Bank from Citizens Bank, where he managed branches in the BuxMont region, and brings more than 20 years of banking experience to his current position. He is also a member of the Lower Bucks County Chamber of Commerce.
Fun fact: Ball coaches softball and baseball for the Hatboro Little League, where his passion is to help those young players become better athletes and, ultimately, responsible adults.
Why is it important for clients to have a strong relationship with their banking team?
Financial stability is one of life's greatest stressors. Building trust and knowing your clients helps ease their pain when they ask for help. I feel that bankers should have a close relationship with all of their clients.

Rich Campbell
Regional Director of Business Banking, Citizens Bank
In his 41 years of banking, Campbell has established himself as an engaged, knowledgeable and respected leader in the banking community, and has been recognized as a top performer 17 times throughout his career. He and his team oversee business banking up and down the East Coast, working with small businesses with annual revenues of $500,000 to $5 million and actively managing over 4,000 business customers. Campbell is on the board of directors for the nonprofit True Access Capital.
Fun fact: Campbell loves spending time with his friends, family and grandsons. The Philadelphia native is a huge four-sport Philly fan who also enjoys escaping to the Jersey shore.
How do local banks support area businesses and their communities?
I saw this come to life when the pandemic started and we worked feverishly to provide PPP loans to our business customers. They were so appreciative of our efforts, which helped them pay their employees and keep the lights on.
Daniel Sulpizio
Executive VP and COO, First Harvest Credit Union
Sulpizio's held numerous leadership positions across his nearly four decades in the banking industry, as his career has seen him working at several area financial institutions. No matter where he is, Sulpizio is dedicated to leading teams to success in areas ranging from consumer and commercial lending to sales and marketing. As an active community member, he is part of numerous charitable and business development boards and served as president of Gloucester County Habitat for Humanity for 10 years.
Fun fact: Sulpizio enjoys traveling to the Caribbean, and describes himself as such a big Jimmy Buffet fan that he was a guest DJ on SiriusXM Radio's Margaritaville station.
What's the biggest change in banking you've seen during your career?
Besides all of the consolidation that has taken place, the technological advancements are amazing—when I started, we didn't even have fax machines. However, the downside to the speed and convenience of all of this new technology is the increased opportunity for fraud.

Matthew J. Haines
Senior Vice President/Operating Officer, First National Bank of Elmer
In his position at The First National Bank of Elmer, Haines is responsible for managing several departments, including retail banking, compliance, deposit operations, IT and facilities. With more than 20 years of experience, he continues to enhance each of these areas of the bank. He is currently attending the Stonier Graduate School of Banking. Haines resides in Atlantic County with his wife and two children and is an avid golf enthusiast.
Fun fact: Haines lives in "a fantastic neighborhood" where everyone comes together to celebrate different holidays, and loves having such good friends as his neighbors.
Why is it important for clients to have a strong relationship with their banking team?
There are a lot of firsts in life: opening your first checking account, purchasing your first home, starting your first small business. Those conversations are hard to have with someone you don't know or trust. Being able to sit comfortably with your banker and discuss your goals is invaluable.

Kim Cruz
SVP-IT & Administration Officer, Franklin Bank
A proud graduate of Cumberland County College, Cruz has been working in the financial industry for 36 years. In addition to overseeing information technology at Franklin Bank, she also utilizes her knowledge of the banking world to serve as the institution's HR officer and marketing coordinator. As an advocate for leadership education, Cruz has trained and mentored many individuals throughout her career, and takes great joy in seeing them develop into successful professionals.
Fun fact: Cruz co-founded the 501c(3) non-profit organization Love through Laces. Through this organization, she and her daughter provide new shoes for local children living below the poverty level.
How do local banks support area businesses and their communities?
I work for one of the few remaining community banks, and one way we show support is by spotlighting our local businesses and organizations. Through our social media and In the Spotlight displays at each branch, we provide free ways for them to get their messages out.

Mike Dinneen
Senior Vice President of Marketing, American Heritage Credit Union
Dinneen oversees the advertising, public relations, business development and branding of the $4.5 billion American Heritage Credit Union, which serves more than 275,000 members across South Jersey and the greater Philadelphia region. Previously, Dinneen was senior vice president of marketing and investor relations for South Jersey-based Sun National Bank for nine years. He holds an MBA from DeSales University, a BSJ from West Virginia University, and a certificate in strategy and digital marketing from Cornell University.
Fun fact: Dinneen gives his time to many children's-based charities in Burlington County, including the Mount Holly-based Sacred Heart CYO and the Lumberton Township Education Foundation.
How do local banks support area businesses and their communities?
Our credit union recognizes that good banking goes beyond value-based banking products. We invest in food, health care and sustainability initiatives in our communities, and we provide free financial literacy programs and seminars to residents, as well.
Andrew Agger
Senior Vice President/Commercial Market Executive, Fulton Bank
With more than 34 years in banking, Agger serves Fulton Bank's Southern New Jersey market in his current role, where he is responsible for managing commercial banking personnel and relationships. He is co-chairman of the southeast Pennsylvania/New Jersey loan committee and is a member of the senior loan committee. He also serves on the board of the Southern New Jersey Chamber of Commerce and as vice president of the South Jersey Bankers Association.
Fun fact: Agger is an avid runner who is passionate about helping to raise money for various causes that affect our local communities.
Why is it important for clients to have a strong relationship with their banking team?
Banking is about relationships: understanding a client's wants, needs and goals, and helping to achieve them. I started working with one customer over 25 years ago and we went through every stage together, from start-up to selling the business. They trusted us because they knew us.
Monica L. Burch
Senior Vice President and Market Manager, Community Development Banking, PNC Bank
Burch brings more than 15 years of banking experience with PNC to its clients and prospects in South Jersey, Philadelphia and Delaware. She spent most of her financial career as a corporate credit underwriter with PNC, where she received her commercial credit training. Her primary focus was middle-market companies and nonprofits with $5 million to $29 million in net assets. Burch is also active in a range of organizations, including the Camden Community Partnership.
Fun fact: During the holidays, Burch makes about 60 dozen chocolate chip and oatmeal raisin and cinnamon chip cookies, which her loved ones always encourage her to sell.
What drew you to the banking industry?
I became interested in it while attending Spelman College: I was in a corporate partners program and had access to mentors in finance, including a senior leader from PNC. I remain in the industry because I have worked with great people and clients in a variety of industries.
Sharon Hammel
EVP, Chief Retail Officer, Republic Bank
When Hammel joined Republic Bank in 2012, she came armed with more than 25 years of experience in the retail banking sector. Her primary duties in her current role include overseeing the bank's retail network, and she is also responsible for deposit growth, leading consumer lending, marketing, store administration, customer service center and treasury management departments. No matter what she's doing, though, Hammel's key focus is on customer experience. Previously, she was Commerce Bank's senior retail market manager.
Fun fact: Hammel happily maintains a quiet personal life, and cites skiing, spending time with family and friends, and relaxing at home as some of her favorite things to do.
What's the biggest change in banking you've seen during your career?
The shift from in-person to online and mobile banking. While we still have customers who visit our stores every day, we proudly offer excellent, secure digital platforms. The emphasis on digital has created new jobs, reimagined seven-day banking and what customers want.
Kevin R. Gibala
SVP, Regional Vice President, Commercial Lending Team in Gloucester, Cumberland, Salem, Atlantic and Cape May counties, TD Bank
Gibala has been working in and dedicated to commercial banking for over 20 years. He currently manages the commercial lending teams in Gloucester, Cumberland, Salem, Atlantic and Cape May counties. Gibala has also served on many community boards and committees throughout the South Jersey region, including Habitat for Humanity of Salem County, Inspira Health Foundation, Greater Vineland Chamber of Commerce, Vineland Chamber Hispanic Business Alliance Group, Walter Rand Institute and the Cumberland County Planning Board.
Fun fact: In 2020, Gibala and his family purchased a 30-acre hobby farm in Cumberland County, where they have a number of farm animals and raise Black Angus cattle.
What drew you to the banking industry?
It found me! I graduated with a human resource management degree and started in HR at Commerce Bank's commercial division, which I enjoyed. I eventually moved into the relationship management side of commercial banking, and have formed solid relationships with so many great customers.

Daniel Cuneo
Market President, Truist Bank
A South Jersey native, Cuneo has been with Truist for 17 years and has held a variety of leadership positions throughout his career. He is currently responsible for Southern New Jersey's commercial sales and service operations, offering each client a distinctive experience while serving the overall region. He enjoys connecting with the market and leveraging his local knowledge to support the bank's prevailing mission of inspiring others while building better lives and communities.
Fun fact: Cuneo is so dedicated to coaching youth basketball that he jokes about spending as much time on the court as he does in the office from October to March.
What's the biggest change in banking you've seen during your career?
The biggest change has been how clients utilize our branches. Fewer and fewer clients come in each month, so effectively engaging them on a regular basis has been challenging. Fintech will continue to play an increased role in this relationship as we move forward.
Denise DiPaola
Vice President, Business Development Officer, Parke Bank
DiPaola leverages her extensive experience to develop new client relationships both in commercial and cannabis banking. She provides exceptional customer service through long-lasting relationships and gaining an in-depth knowledge of her business customers, their companies or organizations, clients and products. She's passionate about offering solutions that support their vision and business needs, and works alongside her customers to help them increase revenue, cut costs and achieve success. DiPaola's memberships include the National Association of Women Business Owners.
Fun fact: One of DiPaola's favorite hobbies is restoring and repurposing old furniture. DiPaola loves the transformation as she turns outdated, drab pieces into chic new treasures.
Why is it important for clients to have a strong relationship with their banking team?
A strong working relationship with my customers is key to their businesses' long-term success. The more I know about my customers, the better I can help them succeed by providing answers to specific questions, finding potential solutions and services, and navigating complex financial situations.
Kenneth J. Stephon
Chariman, President & CEO, William Penn Bank
Stephon joined William Penn Bank, a community bank with assets of about $850 million and 12 Delaware Valley offices, in July 2018 through its merger with Audubon Savings Bank, where he had been president and CEO since 2013. Stephon's career began at Yardville National Bank in 1977, and he's held numerous banking industry executive roles since then, including CEO at Pennsauken's Clover Bank. He earned his bachelor's degree from Trenton State College and MBA from Rider University.
Fun fact: Stephon has been on stage in a number of theatrical productions, and is a member of the Town & Country Players Theater in Bucks County, Pennsylvania.
How do local banks support area businesses and their communities?
As a locally focused bank, William Penn is dedicated to providing both human and financial resources supporting a good quality of life within our communities, such as the William Penn Bank Summer Movie Series at Audubon Family Park and the William Penn Bank Summer Music Fest.
Hugh Arbuthnot
Senior Vice President, Sr. Relationship Manager, WSFS Bank
In 2005, Arbuthnot graduated from Rutgers-Camden Business School and landed his first job as a credit analyst; he joined WSFS when it was still Beneficial Bank in 2016. Additionally, Arbuthnot is treasurer for South Jersey Bankers, an organization bringing financial service representatives together to generate working relationships. He also serves as vice president of the Southern New Jersey chapter of the RMA and was honored as 40 under 40 in 2014 by the South Jersey Bankers and NJ Bankers Association.
Fun fact: When Arbuthnot isn't at work, one of his favorite pastimes is being an avid golfer, and is currently a member at the Medford Village Country Club.
What's the biggest change in banking you've seen during your career?
The technology. It relates to many aspects of banking, from clients not going into branches, to not writing as many checks, to their account officers moving from around the corner to sometimes in different parts of the country. Technology's protective measures have dramatically grown over the past decade.

Alycia Banks
Senior Vice President & Learning and Diversity Officer, Columbia Bank
Banks has been managing, designing and facilitating leadership training since 1998, and joined Columbia in 2016 as its training and development officer. Since then, she has developed and enhanced many of its training programs, including those promoting diversity and inclusion (D&I) throughout all business lines. Banks also strategically identifies and develops training needs and act as a thought leader for Columbia's D&I initiatives. She also sits on New Jersey Bankers' Diversity, Equity and Inclusion Council.
Fun fact: Banks is a lover of the performing arts. In her spare time, she can be found enjoying a Broadway show, live concert or dance recital.

Why is it important for clients to have a strong relationship with their banking team?
It's essential to successful money management. Clients have a plethora of ways to manage their money; however, the banker/client relationship offers the ability to move beyond transactional so clients have a partner who can identify patterns, opportunities and money-saving solutions, as well as protect them from fraud.