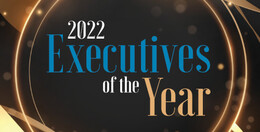 Executives of the Year 2022
Teamwork makes the dream work, but every team needs a leader guiding the way as they find innovative ways to serve customers and the community alike.
Every good leader is the sum of their experiences and lessons they've learned along the way, and the individuals comprising this year's Executives of the Year roster are no exception. Our 2022 list isn't just filled with their professional milestones, leadership philosophies, personal accomplishments, community volunteerism, lived-in advice and even early examples from childhood that have forever shaped their executive journeys: It showcases the humanity they bring to their roles, as well as some of most important insights they're eager to share to help be the rising tide that raises all ships.
Lori Leonard
Chief Executive Officer, Habitat For Humanity of South Central New Jersey
Leonard joined Habitat in 2011, quickly rising to director of development, then CEO. She spearheaded the merger with three neighboring affiliates over three years to serve over 1.1 million residents in 77 municipalities and four counties. Her guidance has led to housing production tripling, implementing a neighborhood revitalization program and the Maple Shade Habitat for Humanity ReStore becoming a top-five store in the country. Her leadership elevates all facets of the organization, furthering their mission with insight, decisiveness, and by balancing grit with compassion—and, above all else, being a fierce advocate for what is right and social justice.
How do you put a rough day behind you?
I ask myself these questions: Did I make the best decision for the organization? Would I do anything differently next time and, if so, what? Then I grab a glass of wine, pet my dogs and know there's always tomorrow to do better.
Robert B. White
President & CEO, 1st Colonial Community Bank
White joined 1st Colonial in February 2020. He has spent 33 years in the banking and commercial finance industry, most recently serving as chief risk officer at Customers Bank, an $11.5 billion asset bank headquartered in Wyomissing, Pennsylvania. During his nine-and half-year tenure there, he also served as president of special assets and director of corporate development. He serves on the advisory board of the Fischer-Shain Center for Financial Services, Fox School of Business and Management at Temple University. White has been married to his wife Kimberly for 36 years, has two adult children and one granddaughter.
What leadership lessons have you taken to heart?
Trust your team and don't fear mistakes. Everyone learns through different experiences and methods; our experience, informed by data and facts, empowers leaders to make the best decisions with imperfect information. Hesitancy costs far more than mistakes: The right people and agile teams can navigate any challenge.

Jason Gabrieli
COO/CCO, HFM Investment Advisors
If Gabrieli had a superpower, it would be helping people achieve financial security and peace of mind. He's passionate about educating and empowering clients while motivating them to reach their goals. Gabrieli aims to inspire tomorrow's advisors to, in the words of Vanguard founder John Bogle, "make it a better business than it is today" by mentoring young talent and helping HFM create meaningful, multi-generational client relationships. A recipient of Gloucester County Chamber of Commerce's Benjamin T. Griffith Young Executive of the Year Award, Gabrieli also volunteers at Angels Community Outreach, Kids Alley, and the Boys and Girls Club.
What should tomorrow's executives know?
Focus on progress, not perfection. If you strive for perfection, it's easy to get stuck in paralysis by analysis, and then nothing gets done. Sometimes you get it to 80%, try it out and tweak as you go. This took me a long time to learn—I still have to actively remind myself sometimes!

Fran Turchi
President/Co-Owner, National Integrity Title Agency
A title industry expert with nearly 40 years of experience, Turchi began her career in the settlement department, soon advancing into an examining role where she sharpened her skills and became an authority in the core functions of title agency operations. As a leader, Turchi recognizes the importance of NITA's team in ensuring all clients are served at the highest caliber. She is a hands-on leader, illustrating that no task is too routine, no challenge is too difficult, no employee is too experienced. Turchi champions peer mentoring and believes strongly in empowering those at every level of every department.
How do you put a rough day behind you?
I first ask myself: Did I contribute to the rough day? For those beyond my control, I put it aside easily; however, if I might have acted or responded differently, I look to learn from it. In the end, I shift this rough day into a positive experience through growth.
Marcus Sibley, MSW
President, Southern Burlington County NAACP
The environmental and social-justice activist has a deep, profound commitment to equity and progress. After receiving his social work undergraduate and graduate degrees from Rutgers University, Sibley's career began as a family therapist; today, his commitment to community and change are actualized in his roles as Southern Burlington County NAACP president, New Jersey Progressive Equitable Energy Coalition chairman, NAACP NJSC environmental and climate justice chairman, and National Wildlife Federation NY/NJ/CT director of conservation partnerships. A consummate proponent of education and outreach, and multiple award winner for environmental advocacy and social justice, Sibley believes in everyone being the change they want to see.
What leadership lessons have you taken to heart?
Consult, include and delegate to your teammates whenever possible. The spotlight and attention leaders receive, even the devout ones who fight and sacrifice regularly for the advancements of others, can cause divisions with some members. Being more collaborative is a leadership lesson I continue to learn throughout my career.
Bruce Main
Founder & Executive Director, UrbanPromise
Main established UrbanPromise's first summer camp in Camden in 1988. His many roles at the Camden-based nonprofit have included camp director and executive director, as well as the visionary creator of UrbanPromise's 30+ affiliate locations in four continents. Main is an in-demand national and international speaker at everything from mission conferences to colleges, from churches to corporate gatherings. Both he and UrbanPromise are featured regularly in various media outlets, including Diane Sawyer's 20/20 special, "Waiting on the World to Change." He earned his doctorate of ministry from Princeton Theological Seminary, and has authored a number of books.
How do you encourage your team's community dedication?
Start with people who have the heart, passion and vision for this kind of work. Find a place in the organization where they can best utilize their gifts and find joy in their work. Joy is powerful, infecting the whole team in a life-giving way. Keep the mission real and concrete.
Alice Gens
COO/CFO, NJ Business and Industry Association
Gens brings 25 years of both nonprofit and for-profit experience to her current roles at the NJ Business & Industry Association—one of the nation's largest statewide employer organizations, which provides the strategic vision, leadership and management necessary to ensure the proper processes and people are in place—which includes her time as senior director of finance and administration for Soroptimist International of the Americas, an organization supporting women and girls in 20 countries. Gens is a member and audit committee chair of the board of directors of Family Service Association of Bucks County, a social-service agency providing extensive counseling and treatment programs.
What should tomorrow's executives know?
In an increasingly thought-based economy, you'll need to invest in your people. Seek out talent, and provide opportunities for exposure and development. You should be supporting and encouraging the next set of leaders. Be comfortable enough in your own skin to let others share the limelight.
Jennifer N. Nevins, CMCA
Vice President/COO, PS&S
Prior to joining the PS&S team in 2019, Nevins was a principal of DW Smith Associates, where she successfully created the Community Association Services division to offer enhanced professional services to the industry. She is an active business partner of multiple Community Associations Institute chapters and has immersed herself in the industry, participating in events, attending networking functions and delivering presentations to property managers. Nevins is also a staunch advocate for women's leadership, which extends to advising and mentoring businesswomen and female students through the Rutgers Institute for Women's
Leadership and the Wall High School Business and Finance Academy.
How do you encourage your team's community dedication?
We built a culture that honors and respects our employees and communities. We foster a collaborative environment focused on purpose-driven causes that matter to our teams. They're engaged and recognize our responsibility as corporate citizens and neighbors because we're involved in our communities to strengthen them in meaningful ways.
John Cimino
Chief Strategy Officer, T&M Associates
Cimino brings 20+ years of experience to the 350-person T&M Associates, a nationally leading consulting, environmental, engineering and construction management company. In 2018, he returned to T&M, working his way up to his current role. He joined the company's board of directors, which benefited from his strategic insight, energy and growth strategy. Cimino spearheads the marketing, growth and strategic position of the firm's core practices to both the public and private sectors, and develops and implements sales strategies supporting T&M's vision while managing outside consultants and business-development representatives. He is also a member of the Mercer County Board of County Commissioners.
What leadership lessons have you taken to heart?
They include the importance of attracting and retaining employees who represent and demonstrate T&M's core values and vision. In addition, I meet regularly with our leaders, always celebrate their successes, really listen to what they have to say and incorporate that feedback to foster a culture of equality and accountability.
Philip Corradino
South Jersey Market Regional Manager, WSFS Bank
In Corradino's role serving WSFS's South Jersey market, he oversees 13 banking offices and more than 90 associates. Those branches for which Corradino is responsible currently hold more than $1.43 billion in assets, and rank among WSFS' largest and busiest locations. He is an alumnus of Rutgers University, a resident of Delran, a devoted husband to his wife Mary, and father of two children, Anna and John. Corradino and his family travel regularly to Florida to visit his daughter, who is a character performer at Walt Disney World. In his free time, he also enjoys golfing, ice hockey and bowling.
What was the first career you wanted to have?
I originally went to school for performing arts to be a musician; though my career path changed, I still lean on my creativity and performing background. When I present, it's my job to speak to my topic while keeping everyone entertained as if I were playing for an audience.
Edmund M. DeVeaux
President, New Jersey CannaBusiness Association (NJCBA)
DeVeaux was immediately named policy advisor when the NJCBA formed as the state's first and largest cannabis trade organization, then elected president. He brings extensive experience in public policy, diversity and economic development to "The Cannabis Chamber of Commerce" helping to form a responsible, sustainable, diverse and profitable industry. Recognized as NJ's leading professional African-American cannabis lobbyist, DeVeaux has made public and podcast appearances with numerous advocacy organizations to discuss cannabis and its business opportunities. He also attained the rank of U.S. Army captain and serves on the boards of the Civic League of Greater New Brunswick and Elijah's Promise Community Kitchen.
What leadership lessons have you taken to heart?
You will have bad days: Do not embrace the frustration or anger that accompanies them. Anger and frustration are weights that will hold you down and immobilize you. Do not embrace others' frustration or anger, which will also weigh you down. Seek higher, thoughtful responses to your dilemmas.
Jennifer French
President and CEO, Ronald McDonald House Southern New Jersey
French began as a 14-year-old Ronald McDonald House volunteer, and has since held marketing and PR roles at McDonald's. As the American Club of Madrid's president, she partnered with the U.S. Embassy for the first-ever overseas Rock the Vote before setting her sights on opening La Casa Ronald McDonald in Madrid. French has always led by example alongside her direct reports, and she believes it is our duty to be active participants where we live, work and play. French also serves on the boards of Theatre N and Safe Haven Healing, and is a member of the CHIEF network.
What should tomorrow's executives know?
Passion should center your journey. Grace and class go a long way, and showing strength is appropriate. Use a firm hand with a velvet glove and be kind to all support staff, who are the backbone of your organization. You never know who you'll meet! Consistency in representing yourself and your mission is imperative.
Dr. Harvey Kesselman
President, Stockton University
Dr. Harvey Kesselman has been president of Stockton University since 2015 and is the only sitting university president to have been in the inaugural class of the very institution he serves. Over nearly five decades, Kesselman has successfully held leadership positions within virtually every division of the university, including provost and executive vice president, interim vice president for administration and finance, vice president for student affairs, and dean of the school of education. He has successfully advocated for increased state appropriations, opened a new campus in Atlantic City, advanced university recognition and reputation, increased institutional giving and strengthened community relationships.
How do you encourage your team's community dedication?
Community engagement and service are part of the fabric of Stockton's community. When serving as provost, I established the Stockton Center for Community Engagement, which has partnerships with nearly 300 groups in South Jersey and has created dozens of community-enhancing programs. Our purpose is to do just that.
Renee Fiorelli
President, Peterson Service Company
Fiorelli is a second-generation owner of Peterson Service Company (PSC), a commercial HVAC and smart-building controls company operating out of Medford. PSC is a Women's Business Enterprise with customers including health care, schools, municipalities and industrial sites in the New Jersey and Philadelphia marketplace. Fiorelli began her career at PSC in 1997 as an application engineer after graduating from the University of Delaware with a degree in mechanical engineering. She took over as president in 2007 from her father, Samuel Peterson. Fiorelli is active in the mechanical contracting industry, and was the Mechanical Contractors Association of NJ's first female president.
How do you put a rough day behind you?
After a tough day, I like to reflect on what has occurred and see what kind of lessons I can learn from it. I am definitely more of a positive person, and you have to look at those tough times as opportunities for personal growth and improvement.
Timothy Guim
President & CEO, PCH Technologies
Immediately after receiving his computer-science degree from Drexel University, Guim founded PCH Technologies in 1997. He has grown the business from a one-man operation to an award-winning IT and cybersecurity firm that serves clients locally, nationally and internationally. Earlier this year, Guim announced the expansion of the business with satellite offices in Delaware and South Florida. He oversees all the company's operations, collaborating closely with the executive team to provide high-quality services while protecting clients from today's advanced cybersecurity threats. Guim is passionate about motorsports, traveling and adventure, and races his BMW on tracks around the country.
What leadership lessons have you taken to heart?
There is a vast difference between managing people and actually being a leader. Management is defined by metrics and meeting objectives. Everyone is motivated differently, and a leader needs to understand what will best help each individual person and entire team to be successful together.
Raymond M. Giunta
Managing Partner, Baratz & Associates
A founder and the managing partner of Baratz & Associates, Giunta excels in financial planning, tax, estate and investment planning, and lifestyle issues. His in-depth knowledge and attentive service has earned the trust of the many closely held companies and individual clients he serves. Giunta is also a licensed CPA in New Jersey and holds a Personal Financial Planning Specialist designation from the American Institute of Certified Public Accountants. He is a registered representative with FINRA Series 6, 63 and 65 licenses, and holds life, accident and health, and variable insurance licenses with the state's division of banking and insurance.
What should tomorrow's executives know?
The world has changed so much over the past three years and leaders are faced with issues not seen before. Employees' attitudes have changed, and work/life balance has become a top priority. Leaders need to think outside the box and create a workplace environment that adapts to changing attitudes to attract talent.
Judi London
Chief Strategy Officer, Bancroft
In her current role at Bancroft, London has been instrumental in not only steering the 140-year-old nonprofit through the opening of the transformative Welsh Campus but also for realizing unprecedented growth. She is a highly strategic leader with more than 30 years of experience in working with corporations and organizations to meet their goals and grow their businesses. Her work spans a wide variety of industries, including health care and hospitals, economic and real estate development, transportation and infrastructure, and tourism and attractions, including serving as founder and president of the South Jersey Tourism Corporation and Camden Waterfront Marketing Bureau.
What was the first career you wanted to have?
A broadcast journalist—just like Jessica Savitch. I interned at KYW Newsradio in high school and Channel 3 in college, and worked for cable news stations at the Shore for a chance at that seat. Life intervened and I found a sensational marketing career filled with amazing experiences, like making a difference at Bancroft.


Joe Sulpizio
Principal, Katz/Pierz
In his role, Sulpizio is the Katz/Pierz "numbers guy" who is passionate and relentless when it comes to finding and implementing the best solutions for not only their clients but also their employees. Whether self-funded or fully insured, he looks for every opportunity to solve the health care puzzle. Sulpizio is a highly respected advisor possessing 30 years of experience. He is also a Drexel University graduate with a BS in business administration and a concentration in finance and economics, His insurance career began in earnest with a five-year stint at Horizon BCBSNJ before joining the Katz/Pierz team in 1996.
What should tomorrow's executives know?
In our fast-paced, technologically overloaded world, leaders need to remember to slow down and carefully digest what is important and disregard what is just noise. Most people today focus on headlines without reading the whole story. Reading, listening and being present are three qualities that I think every leader should practice.
Suzanne Martinelli
Founder and CEO, NJ Health Hospice and Palliative Care
A visionary leader in the health and beauty industry, the founder of New Jersey Health Hospice and Palliative Care leads a resolute team providing the best level of quality care to the South Jersey community. Martinelli's passion is transforming healthcare through innovation solutions. She is also the founder of Bombshell Beauty, which specializes in revolutionary hair styling tools and accessories, which are now being sold worldwide. As an inventor, she holds three U.S. patents and two U.S. trademarks. Prior to her launches, Martinelli was an executive in the broadcast industry and is a pioneer in company mascot marketing.
What leadership lessons have you taken to heart?
My father worked two jobs to support eight children; numerous mentors reinforced the determination, stamina and passion to succeed I learned from him. There are no shortcuts to success, quitting is not an option, work more hours than your competitors and always be eager to learn. Hard work beats talent when talent doesn't work hard!
David D'Onofrio
President, Stanker & Galetto
D'Onofrio has grown up in both construction and Stanker & Galetto, the company his grandfather Peter Galetto Sr. founded. He is the third generation of the Galetto family to hold the title of company president. D'Onofrio previously spent two years in Chicago working for Collins Engineers and currently serves on the boards of Dun-Rite Sand & Gravel and Cumberland Cape Atlantic YMCA in Vineland. He is proud to have worked with his father Mark and uncle Peter Galetto Jr. since joining Stanker & Galetto in 2010 and looks forward to continuing the family legacy with his brother-in-law Ethan Byler.
What was the first career you wanted to have?
I've been a part of the family business since I was young, going to job sites with my grandfather while wearing a small red S&G hardhat, so you might say what I wanted to be was predetermined. I did always want to experience other things, so I spent a few years in Chicago working in a similar industry.
Michael Fishette
CEO, Concord Engineering Group
Since 1989, Fischette has been CEO of Concord Engineering, a full-service engineering, energy consulting, commissioning and construction management firm employing 100 engineers and designers. It enjoys a national reputation for hospitality and gaming-facility design and military microgrid design. Fischette specializes in new construction and creative energy-efficiency solutions. He has provided innovative mechanical and electrical solutions to support architects, owners and contractors in a range of facility markets. His background in energy helped him both spearhead new technologies and market-test them. A transition team member for two governors, Fischette is a trusted energy and infrastructure advisor and in-demand speaker.
What should tomorrow's executives know?
Be immune to volatility—this is the new normal in our world. What you thought was your path upward most likely will be completely different. Rigidity is your worst enemy. Always communicate, whether it's your boss, your subordinates or your clients: You can't succeed unless you can effectively let others know what you can offer.