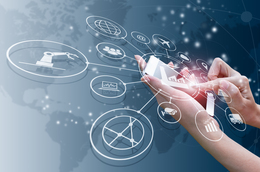 Is Automation the Answer?
As companies move ahead with both a diminished workforce and shrinking talent pools, many are turning to automated processes to relieve their overworked staff—while others question its long-term viability.
South Jersey is far from alone in feeling the nationwide crunch of overwhelmed workers, hiring freezes, demand for specialized work outpacing its availability and every other employment frustration dotting today's economic landscape.
As doing more with less becomes an increasingly normalized way of doing business, it comes with its own set of consequences. Most immediately, dividing seemingly simpler, more repetitive tasks among a remaining team impacts those workers filling in for unfilled roles, who are being taken away from the specialized skills they were hired to perform. That extra workload, being both an addition to and distraction from their typical responsibilities, risks the compromised quality, human errors and abrupt departures that tend to signal a workforce that has reached its limits.
Solutions range from tagging in supplementary workers to adopting more high-tech approaches—namely, implementing automated processes that delegate a human role to a machine.
"Automation creates efficiency and streamlines work flow, and frees up an intelligent employee to tackle a more pressing task," explains Dan Pacifico, an IT educator at Gloucester County Institute of Technology. "I think when someone can automate a task and identify somewhere else in the business that they can improve, it's a win for everybody."
If you've ever used a self-checkout lane, interacted with a phone menu, submitted a loan for processing or withdrawn cash at an ATM, you've dealt with automation. It's harnessed to perform a range of repetitive though precise functions, like compile sensitive financial data by sidestepping the potential for human error, organize patient information in medical offices or ensure 24-hour response times to supplement a troubleshooting and customer-care staff.
"TESU [Thomas Edison State University] embraces automated tasks in a plethora of different ways and stages of communication throughout the student lifecycle with the use of two CRM systems," says Chip Stoll, senior director, Management Information Systems Enterprise Applications at TESU, who uses the example of following up with prospective students. "We reach out through a series of automated information emails with the intention of encouraging the student to apply. These automated informational emails come directly from different staff members who serve as front-facing counselors, and the content is automated based on the information a prospective student has provided."
Thomas Grahm, owner of tmaVoIP, adds that with so many offices still being remote, something like cloud-based phone systems that aren't tied to one location can be an elegant solution that both frees up busy professionals and keeps customers happy.
"We deal with a lot of doctor offices and nonprofits, and in both cases—and, really, in any business—they get a lot of voicemail because they're understaffed," he says. "Being understaffed affects your company's image: If someone calls, they want to talk to somebody, and customers don't like it when they can't."
While automation in some form has been applied to repetitive tasks for decades now, recent history has intervened to hasten its prominent usage. Factors like rising operational costs, a diminished talent pool and a global health crisis instigating a worldwide shift toward more end-user-controlled options have all influenced its increasing visibility as a cost-effective, streamlined solution.
"Automation sure isn't going to cease," says Art Leiby, president of The Lerepco Group, an IT support and service provider. "You'll continue to see things like a proliferation of apps on cell phones, because it's all about 'How do I make things faster and more efficient with less steps to save time?'"
Leiby notes that, when he got started in the tech field in '80s, there were no "vertical applications to make our lives easier," which led to the creation of those custom programs for a range of end users, like newspapers and police departments. "Today, we have a Microsoft vertical app for almost anything and everything we do: The obvious ones are accounting systems and electronical health records."
And since automation, like every other technological advancement, will continually adapt and evolve as influences like demand, capabilities, applications and talent voids necessitate, those who are developing it have to consider not only consider today's needs but also tomorrow's progress.
"The current business environment is characterized by constant, rapid and, in many cases, disruptive technological changes," notes John O. Aje, D.Sc., TESU's dean of Heavin School of Arts, Sciences, and Technology. "Forecasting and preparing for these changes is a big challenge for businesses that need to remain competitive and for educational institutions, which have the responsibility of preparing students not just for the current but also for the future needs of the workforce. A critical aspect of meeting this challenge is the articulation of job skills and knowledge to shape curriculum. TESU actively seeks out opportunities for partnership with private and public organizations so that we can develop programs that meet their workforce needs. Our goal is to develop programs that are demand driven and are flexible."
While automation does present workforce benefits, it comes with consequences, too. Leiby has found that the older generation is resistant at best and hostile at worst to its adoption, often citing a proven track record of a lower-tech approach yielding perfectly successful results to justify an "if it ain't broke, don't fix it" mindset.
"It might be a psychological thing, it might be a lifestyle thing, but, like anything else, [automation] tends to be more difficult for older people to adopt and embrace," he explains. "If you assume that everyone is going to adapt to technology at the same rate of speed, it's just an incorrect assumption. Technology is much more intuitive for younger folks because it's part of their lives and they grow up using it. … That's why it's very important to go over your technology with everyone you hire. These tools weren't always readily available so not everyone is equally familiar or comfortable with them."
Sam Ferraino, president of UFCW Local 360, points to a further generational divide. As the world becomes more and more reliant on technology and implements it to modernize ordinary daily tasks, automation's inherently advanced interface presents a barrier to usage in those who prefer more analog interfaces.
But the biggest issue, he says, is how automation is rendering job after job obsolete. Rather than lightening a workforce's load, it's putting people out of work, either by parceling their jobs out to a combination of processes and the end user or by introducing a technological solution instead of hiring a human being.
"Automation is actually hurting our workforce," Ferraino confirms. "My biggest fear is that I don't know how people are going to live because, if you keep automating, there's no jobs left. It's such a seismic shift in the workforce. They say tech will create jobs, but that takes time. There's going to be a lag, and that lag, I think, is going to be detrimental to the economy as people lose work. … Even in the packing industry, we lost workers in one place that went fully automated—just 50 jobs off the bat, boom, gone."
Ferraino's concerns aren't just for the workers who have been automated out of job security. Using the example of self-checkout, he can't help but wonder how tenable a model is that "subcontracts the work out to the consumers," who are suddenly performing extra tasks without any benefit.
"Now you've got to ring yourself up and bag your own groceries—there's a cost built into the price of goods when a grocery store provides you with a cashier and a bagger," he explains. "I don't see any discounts for ringing up and bagging my own groceries. That's a big issue we hear about from customers all the time."
Pacifico concedes that "there is definitely a skills gap" to contend with, which is a problem that GCIT endeavors to resolve to helpfully bring automation into the future—and create jobs in the process.
"I know a lot of employers don't have enough skilled employees," says Pacifico. "What we're doing [is providing] a comprehensive, future-ready program that will evolve as the industry evolves. I think a lot of educational institutions are going to tackle this problem because they know students are interested in it, employers want to pay for it, and there could be a career at the end of it for students.