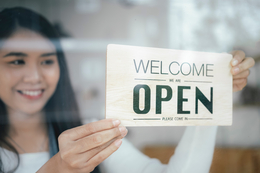 Stronger Together
Small businesses throughout the South Jersey area are supporting one another to ensure that they all bounce back tenfold from the devastating financial impacts since COVID-19's onset.
The COVID-19 pandemic has taken a toll on everyone in some way or another, whether mentally, emotionally, physically or financially—or a combination of the four. However, it's safe to say that no businesses suffered more financially than Main Street's small mom-and-pop shops.
Unlike widely supported corporations and enterprises, local businesses relied heavily on their reputations in their respective communities and the support of their small-quantity, local clientele.
Unfortunately, many of these businesses were unable to survive off such limited support when a number of once-loyal customers themselves were struggling to make ends meet, forcing them to close their doors either temporarily or permanently. According to Opportunity Insights Economic Tracker, the number of New Jersey small businesses open in mid-April 2020 was 37.2% less than it was in January 2020. In February of 2022, that gap decreased to put the Garden State 13.8% in the red.
State and National Support
For the few small businesses that did make it, there is a lot of work to be done, but they aren't doing it alone. The New Jersey Business Action Center (NJBAC) has initiatives in place to help small, independent shops overcome the daunting task of not only recovering from but also thriving after a pandemic.
Through the NJBAC, the Office of Small Business Advocacy hosts "Resource for Growth events," which allow small business owners to connect with state and county representatives, lenders and community partners like the New Jersey Economic Development Authority and the New Jersey Small Business Development Center.
Along with providing owners with networking opportunities, the New Jersey Business Action Center offers small business consulting services, mentoring assistance, financial resources and many other fruitful services.
The United States Small Business Administration (SBA) is also available to and at the disposal of New Jersey business owners. The independent agency of the federal government was formed to assist, aid, counsel and protect small businesses.
It recognizes that all businesses are unique and has multiple financial programs designed to cater to the specific needs of each one. For instance, the agency provides specific loans for small businesses in the nation's underserved communities while providing other programs for businesses that are majority owned by veterans. And, for owners who are unable to attain conventional commercial loans, the SBA offers multiple financial assistance programs like debt and equity financing and surety bonds, to ensure that small businesses have the freedom to grow without a financial restriction holding them back.
Local Supporting Local
There are many additional initiatives that local governments, banks and businesses provide to support them, including small business loans and buy-local initiatives.
Liberty Bell Bank is one of many local banks that has supported small businesses in South Jersey recovering from COVID-19 aftershocks. John Herring, Liberty Bank's New Jersey Market President, says that the bank offers multiple different products to its customers as well as a personal, communal support system.
"The vast majority of our small business customers are on a first-name basis with their loan officer and branch manager, both of whom are always happy to meet, answer questions or provide advice. Our Customer Service Team can assist in most matters if certain individuals are not available when an answer is needed," Herring says, adding that small business relationships are a crucial part of the work that Liberty Bell Bank does.
While the monetary support of a small business loan is oftentimes critical to the success of struggling small businesses, banks aren't the only ones helping mom-and-pop shops keep their doors open.
Many other local organizations have created networks of small businesses to strengthen their growing power. This includes the Garden State Wine Growers Association (GSWGA), a non-profit that serves as an information repository for and comprises New Jersey-based wineries, vineyards and allied businesses.
While the GSWGA has served the local wine industry since 1987, Executive Director Devon Perry says its contributions have been more important than ever in the past couple of years.
"The Garden State Wine Growers Association supported our industry and continues to do so by marketing our mom-and-pop businesses to allow them to recover substantially since the COVID-19 pandemic," Perry says. This effort is emphasized in the organization's marketing for this year's New Jersey Wine Week, annually held in the third week of November, which Perry says highlights "how wineries are the 'shop local' of wine experiences and gifts. In the gift-giving season, there is no better way to give back to small businesses in need than by shopping locally."
GSWGA also developed a Growers Ambassador Program, which builds community throughout the state and increases networking for local businesses by fostering involvement in the public and private sectors.
Kevin Dimedio, the owner of Dimedio Law, says that efficiency and effectiveness are two of the most important things for a business to keep up with its competitors. Dimedio and his team are committed to providing counseling to small business owners to ensure that these qualities are present to give each client's business a chance to flourish to its full potential.
"I serve as outside general counsel and try and be as efficient and effective as possible with service to my clients. Because at the end of the day, they want to be working in the business most of the time to generate revenue versus working on the business," he says. "But sometimes, as counsel to my clients, I'm like, 'You need to work on the business, so when you're working in the business, it can become that much more efficient.'"
The law firm also emphasizes the importance of understanding new and everchanging technologies and figuring out how to use these resources to their advantage while also avoiding changes that may negatively impact them.
The Importance
The relationships that have formed to benefit and rejuvenate small businesses are much more mutualistic than they appear on the surface.
According to Herring, the absence of small businesses would be a devastating loss to the overarching economy.
"It would be a domino effect on the community at large. If small businesses fail, many local residents could lose jobs and have less spending power as a result, impacting other business operations that could then lose those folks as customers," Herring explains.
Small businesses' importance in the grand scheme of things and their exigency to their owners and local residents are not things that Herring takes lightly.
"Small business relationships have always been the lifeblood of a community bank like Liberty Bell and a critical component of our success. It is a market to which we have always been dedicated, and this will never change."
For organizations like the Garden State Wine Growers Association, small businesses that rise together, fall together. If one winery shuts down, it results in one less partner for the rest of the local businesses involved in GSWGA. One less partner means less networking, less collaboration and less interest in events like the recent New Jersey Wine Week.
The Current Climate
Right now, New Jersey is fortunate enough to still have a large number of small businesses dotting the state, adding to its individualistic charm and ever-changing economy.
According to the New Jersey Business Action Center, the state ranks 11th in the country for the number of small businesses, despite ranking 47th in size. Over 861,000 locally-owned businesses make up this Garden State statistic, and, with so many different resources and reliable partners available locally and nationally, this number should continue to trend onwards and upwards.