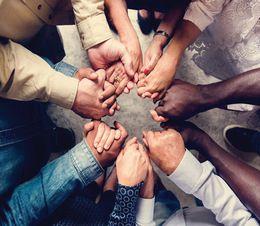 Take a Bow
The 22 organizations making up our annual list of Nonprofit Stars deserve to be recognized for the incredible impact they are making in New Jersey and beyond.
The men and women who form the backbone of a nonprofit do not commit to causes and volunteer their time for riches or recognition. They do so because they believe wholeheartedly in the mission, whether that is protecting victims of domestic violence or sexual assault, looking to end racial inequality, supporting individuals with autism and their families, rescuing and finding permanent homes for animals, or protecting the natural beauty of New Jersey. While these individuals usually shy away from the spotlight for themselves, each year we like to bring attention to their organizations and the difference they are making across the region. South Jersey Biz is proud to present our Nonprofit Stars for 2022.
Bullock Garden Project
Sonya Harris is passionate about education and sustainability, and she was able to combine both concepts when she founded Bullock Garden Project. Originally started by the former special education teacher as a school initiative in 2017, it has evolved into a nonprofit that assists schools, organizations and local governments with sustainable garden programs. Bullock Garden Project also provides fresh produce to low-income communities and aims to empower individuals and groups to learn more about healthy eating. One of Harris' ultimate goals is to raise awareness about sustainable practices and inspire future leaders to think and make decisions based on supporting the environment.
Contact of Burlington County
Contact strives to help individuals experiencing a wide range of problems by offering emotional support and connecting them to resources in the community. It is the designated provider for sexual violence services in Burlington County, and whether an assault took place yesterday or years ago, staff can meet victims at the hospital, police station or in court and help them navigate their best options. Contact is also the designated 9-8-8 answering center for Burlington and Ocean counties, a national suicide hotline launched this past summer for individuals contemplating suicide or loved ones concerned about a family member. Finally, the organization has a helpline that can assist individuals facing ongoing emotional needs or provide support for people grieving the loss of a pet.
Community Rocks
The team at Community Rocks strongly believes in the idea that it is healthy to do something creative every day, and encourages those it engages with to do the same. Founded in 2006, the nonprofit in Oaklyn uses music, art and wellness to celebrate, educate and empower people of all ages, especially kids. It offers camps, classes, afterschool programs, indoor/outdoor space for events and parties, and sells music-related merchandise. Not even the pandemic could slow down Community Rocks' efforts, as its staff simply moved its classroom outside and developed new programming to adapt to the times.
D&R Greenway Land Trust
With all of the development in New Jersey, it can sometimes be difficult to remember that this is the Garden State, and the people behind D&R Greenway Land Trust aim to keep it that way. Started in the 1980s by four concerned citizens—Jim Amon, Rosemary Blair, Bob Johnston and Sam Hamill—and originally called Delaware & Raritan Greenway, the organization was founded to preserve local farms and open space, and since 1989 it has been successful in protecting 22,000 acres of land in the central part of the state. Its work has helped to combat climate change, protect birds and wildlife, produce locally sourced organic food for those in need, and create public trails for residents to enjoy Mother Nature.
DEON
With the goal of breaking harmful cycles of racial inequality, DEON—Diversity & Equal Opportunity Network—is led by a group of diverse women and seeks to effect change by connecting people in underserved communities with educators, politicians and other leaders to start important conversations and build collaborative efforts. Headquartered in Marlton, It advocates for social and economic equity within public education and the community at large and engages in youth programs, adult workshops, and cultural and racial awareness initiatives.
Famcare
Comprised of a team of board-certified OB/GYN physicians, women's health care nurse practitioners, health educators, licensed social workers, nurses and counselors, Famcare has been providing reproductive health services to residents of Gloucester, Cumberland and Salem counties for more than 50 years. Its confidential and affordable treatment spans a wide range of services, including preventive testing, planning for a healthy pregnancy, birth control instruction, infertility education and much more.
Food Bank of South Jersey (FBSJ)
The largest provider of emergency food assistance in South Jersey, FBSJ was founded 37 years ago and serves residents in Burlington, Camden, Gloucester and Salem counties. The current demand for food assistance is rivaling the height of the pandemic, and FBSJ has been serving more than 90,000 people per month since March, with that number escalating to 110,000 since the beginning of the summer. Rising costs and inflation are taking a toll on many families in the region, who often have to decide between paying bills or putting food on the table. FBSJ has felt the strain as well, but the organization remains committed to the idea that nobody should go to bed hungry, and through its relationships with retail chains and the donations it generates, it continues to provide food and household items to those in need.
Garden State Council, Boy Scouts of America
Garden State Council serves thousands of children and their families across six New Jersey counties, from Burlington to Cape May. All youth between the ages of 5 and 20 are welcome to discover the many enjoyable aspects of scouting, where they can have fun adventures with other boys and girls while learning important life lessons, developing strong character traits and building leadership skills. In scouting, kids start with their best "right-now" selves and grow into their best future selves through hands-on learning, achievement and giving back to the community.
Homeward Bound
Originally founded in 1997 as the Camden County Animal Shelter, this nonprofit was renamed Homeward Bound Pet Adoption Center in 2018 after a significant expansion project that increased its capacity and created more living and recreational space for its animals. Committed to the mission of ending companion animal homelessness in the county, the organization endeavors to raise awareness about the issue and advocates for responsible pet ownership. Homeward Bound has the highest intake in the region—approximately 5,000 animals per year from 18 municipalities—and also the highest save rates, reaching 96% in 2021.
Kaleidoscope Therapeutic Riding Program
Kelly Coile fell in love with horses from a young age, a passion she inherited from her grandparents, and as a middle school special education teacher she has long used the lessons she learned from these animals in the classroom. In 2009, she and co-founder Kim Pouhubka decided to take things to the next level by starting Kaleidoscope, which helps individuals with disabilities develop independence, strength and growth through equine-assisted activities. The program is beneficial for children with physical, cognitive or emotional disabilities and can greatly impact their core strength, balance and self-esteem while they enjoy time outdoors at Coile's family farm in Medford.
Kiwanis Club of Greater Swedesboro
Part of Kiwanis International, which was founded in 1915 and represents more than 80 countries, Kiwanis of Greater Swedesboro consists of 37 club members who meet once a month to discuss ways they can support the local community through a wide variety of service and fundraising projects. The club recently received an International Bronze Award for its annual 08085 Run/Walk event, and other initiatives it is involved in include food and clothing drives, providing back-to-school supplies for kids and offering scholarships. Kiwanis of Greater Swedesboro regularly participates in community cleanup days, special events such as Police Community Day, and Toys for Tots campaigns.
Lutheran Social Ministries of New Jersey (LSMNJ)
For more than a century, LSMNJ's mission has been to help some of the state's most underserved populations, including many who may have limited access to the assistance they need. It provides programs and services throughout New Jersey to people of all faiths, backgrounds and ages, with a large emphasis on folks 55 and older. Some of those areas of assistance are affordable family and senior housing, senior living and health care, hospice and home care, and immigration legal services. LSMNJ's far-reaching influence on more than 2,700 people each year can be supported through financial contributions, in-kind donations and volunteering.
Old Pine Farm Natural Lands Trust
Situated on more than 45 acres in Deptford, Old Pine Farm is one of the few remaining natural areas along the highly developed tidal portion of Big Timber Creek. The property includes a variety of terrain, including a meadow, woodlands and wetlands, and once served as inspiration for Walt Whitman during his visit in the late 1800s. The Old Pine Farm Natural Lands Trust is committed to protecting and caring for the land, acquiring additional lots to extend its trail network, and also welcomes guests to respectfully enjoy the area or take part in special events.
Operation Yellow Ribbon
Determined to let the men and women who are bravely serving our country know they are loved and respected, Operation Yellow Ribbon of South Jersey is a group of volunteers who support members of the United States Military. The team collects and organizes donated supplies and goodies to send to troops overseas with the goal of giving them a slice of home. Operation Yellow Ribbon also partners with other patriotic organizations to plan and promote special events for veterans returning to South Jersey so they can receive the warm welcome they deserve.
POAC Autism Services
Inspired by the mantra, "Making lives better every day," POAC finds a number of ways to positively influence children and adults with autism and their families. One of the most important is through in-person or virtual training opportunities for parents, teachers, administrators, police officers and first responders that help attendees educate individuals with autism, keep them safe and allow them to reach their full potential. POAC also holds recreational events throughout the year where children with autism can feel accepted and build lifelong friendships, and the organizations supports ongoing research and advocates on the legislative level for policies that affect those with autism and their families.
Providence House
Part of Catholic Charities in the Diocese of Trenton, Providence House has been providing free and confidential domestic violence services in Burlington County since 1978. It is a fully inclusive nonprofit, assisting people of all genders, ages, religions and races, and while probably best known in the community for its emergency safe house, it is a continuum of care looking to assist clients on the journey from crisis to independence and a life free of violence. That may be through legal advocacy, domestic violence education, one-on-one counseling or meeting basic needs like food and toiletries. There are multiple ways to access these services, including a 24-hour hotline at (609) 871-7551.
RISE Travel Institute
Seeing different parts of the world and experiencing new cultures brings great joy to many, and the team at RISE Travel Institute supports the practice—as long as it's done responsibly. Unsustainable tourism can have many negative effects on a community, from overcrowding and traffic congestion to exploitation of resources, disrespect for local customs and residents, animal cruelty and environmental damage. RISE seeks to educate travelers about their destination: the social justice issues and racial dynamics, eco-friendly tips for the trip, their impact on the economy, and how to treat animals they encounter. RISE offers online programs for travelers of all ages, as well as study tours and travel scholarships.
Saddler's Woods Conservation Association (SWCA)
A 25-acre urban forest located in Haddon Township, Saddler's Woods is known for its diverse mix of ecological features and is visited by thousands of guests each year for recreation or to take in nature's beauty. SWCA was founded in 2004 by residents Maggi Downham, David Jacobs and Janet Goehner to protect the land from threats of development, and in the nearly 20 years since, the nonprofit has led restoration efforts and offered tours, special events and educational programs.
SisterHood, Inc.
What started out as a group of women from a Sunday school class helping a local mother in need has grown into a widely recognized, full-fledged social services organization that has been impacting Burlington County for more than 25 years. Led by Dr. Hilda Covington, an ordained minister who is the founder and executive director, SisterHood assists over 5,000 people a month from underserved populations with counseling, mentoring, emergent services, a food pantry and more. Covington says the community's investment in SisterHood has been the root of its sustainability, and in return she makes it a point to listen to local residents and determine how best to serve them.
South Jersey Wildlife Rehabilitation
It is quite common for people to come across what appear to be sick, injured or orphaned wildlife, and the natural response is to try to help the animal. But even those with the best intentions of saving the animal may have a negative impact. That's where organizations like this wildlife sanctuary and animal rescue service can step in. Licensed as wildlife rehabilitators by the New Jersey Division of Fish & Wildlife, Angelique Gorham and Victoria Schmidt are based in Gloucester County and have extensive experience treating birds and rodents of various sizes.
Viola's Place
Since 2018, Viola's Place has acted as a resource center for women and children suffering through domestic violence, helping to keep them safe and give them a fresh start. It serves residents in Camden, Gloucester and Salem counties, and other areas if needed, providing the necessary tools for victims to escape danger and not only survive, but thrive as they transition from abusive relationships to independence. Raising awareness in the community is a priority for the nonprofit, which was named after Viola White, the late mother of founder Darlene Keith-Battle, who was a supporter of women and a pillar in her community until her death in 1993.
Voorhees Animal Orphanage
This nonprofit provides shelter, food and medical care to stray or unwanted animals from 29 municipalities in South Jersey until a permanent home can be found. It also serves as an adoption center, working with local, regional and national rescue groups to save cats and dogs from overcrowded, high-kill shelters. Voorhees Animal Orphanage does not discriminate against any breed or turn animals away due to medical conditions or age, and since its inception in 1988, it has saved the lives of more than 36,000 animals.