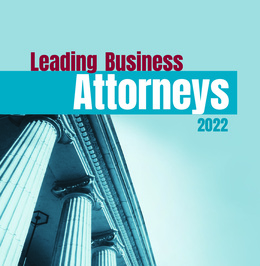 Leading Business Attorneys 2022
60 of the region's leading business attorneys.
Whether you need the services of a keen legal mind well-acquainted with your industry, require the counsel of a trusted lawyer or are looking for a highly regarded business advocate, we've tasked our readers and a few of South Jersey's top law firms to identify some of the best local legal professionals. The result is this year's round up of 60 of the region's leading business attorneys.
BANKING AND FINANCE
Harold G. Cohen
Cherry Hill
Terence Fox
Voorhees
BANKRUPTCY
Arthur Abramowitz
Moorestown
Richard S. Hoffman Jr.
Woodbury
Ellen McDowell
Maple Shade
Georgette A. Miller
Cherry Hill
BUSINESS LAW
Ronald J. Cappuccio
Cherry Hill
Dan Posternock
Moorestown
Howard Sobel
Voorhees
Jacqueline Vigilante
Mullica Hill
BUSINESS LITIGATION
Jeffrey P. Resnick
Moorestown
Ahmed Soliman
Cherry Hill
BUSINESS SUCCESSION PLANNING
Yasmeen S. Khaleel
Capehart Scatchard
Mount Laurel
(856) 234-6800
Capehart.com
Khaleel is an executive committee member and chairs Capehart Scatchard's Business & Tax and Trusts & Estates groups. She represents clients in the areas of business succession planning, estate planning, estate and trust administration, transactional and tax planning.
CANNABIS LAW
William Caruso
Haddonfield
Chris Macchi
Swedesboro
Yolanda N. Melville
Atlantic City
Sheila Mints
Capehart Scatchard
Mount Laurel
(856) 234-6800
Capehart.com
As chair of Capehart Scatchard's Cannabis Law Group, Mints focuses her practice in cannabis law and policy, regulatory compliance and how this new, highly regulated industry intersects business, real estate, government, social justice and public policy.
COMMERCIAL LITIGATION
Daniella Gordon
Armstrong Teasdale
Princeton
(609) 375.2020
ArmstrongTeasdale.com
Gordon focuses on internal investigations, criminal defense, construction litigation and employment defense. She's served as lead counsel in criminal and civil jury trials and on appeal, and her clients span various industries, including construction, health care, media and technology.
David A. Haworth
Mount Laurel
John Mattioni
Swedesboro
Amy L. Santamaria
Cherry Hill
Mark A. Schiavo
Cherry Hill
CORPORATE LAW
Rebecca Boudwin
Mount Laurel
Patrick J. Hughes
Connell Foley
Cherry Hill
(856) 317-7100
ConnellFoley.com
Hughes, managing partner of Connell Foley's Cherry Hill office, represents clients in significant corporate transactions, as well as commercial, product liability and mass tort litigation. Clients rely on him for efficient and responsive legal solutions to their business needs.
Brian McGovern
Voorhees
Nikitas Moustakas
Moustakas Nelson
Haddonfield
(856) 772-7800
MNLlawLLC.com
Moustakas is managing partner of Moustakas Nelson. His practice focuses on transactional business representation for clients ranging from individuals to publicly traded institutions. He regularly assists clients in locating and securing financing, investors and bringing deals to the closing table.
Alan Zuckerman
Cherry Hill
EMPLOYMENT LAW
Stephen Console
Moorestown
Susan Hodges
Mount Laurel
Tracy A. Walsh
Mount Laurel
ESTATE & TAX PLANNING
Jeff Appell
Moorestown
Samuel B. Fineman
Cherry Hill
FINANCIAL SERVICES
Holly V. Horsley
Mount Laurel
Francis X. Manning
Cherry Hill
Stradley Ronon
Cherry Hill
(856) 321-2400
Stradley.com
Partner-in-charge at Stradley Ronon, Manning is a trial lawyer representing businesses, their owners and executives in a range of commercial and regulatory matters. He specializes in areas including health care, financial services, product liability, and employment and labor.
GAMING
Lloyd D. Levenson
Atlantic City
GOVERNMENT
Thomas Hastie
Cherry Hill
IMMIGRATION LAW
Shereen C. Chen
Chen Gray Law Group
Marlton
(856) 888-7005
ChenGrayLaw.com
Shereen is the owner of Marlton-based Chen Gray Law—a boutique law firm focusing exclusively on immigration and nationality law. Services include employer sponsorship, work visas, citizenship, and athlete and entertainer visas, among other areas.
Manuela Morais
Moorestown
INTELLECTUAL PROPERTY
Y. Jae Kim
Voorhees
Mark Sever
Haddonfield
LABOR & EMPLOYMENT LAW
Frank P. Cavallo Jr.
Mount Laurel
Sadayah DuRant-Brown
Genova Burns
Newark
(973) 533-0777
GenovaBurns.com
Associate DuRant-Brown is part of the midsize firm's Labor Group. She aims to deliver the wide range of services and success typical of a large law office while providing her clients with the personal attention of a smaller boutique firm.
Stradley Ronon
Cherry Hill
(856) 321-2400
Stradley.com
Stover is a strategic business partner to corporate, nonprofit and executive clients focusing on all areas of employment law, specifically mergers and acquisitions, discrimination and harassment, compensation and benefits, and a newer focus on pandemic-related impacts.
Michael J. Wietrzychowski
Cherry Hill
LAND & USE DEVELOPMENT
Stephen J. Boraske
Florio Perrucci Steinhardt Cappelli Tipton & Taylor
Cherry Hill
(856) 853.5530
FlorioLaw.com
Boraske is an attorney with Florio Perrucci Steinhardt Cappelli Tipton & Taylor. He handles a wide range of business law matters with an emphasis on land use and redevelopment, real estate, labor and employment, litigation and government affairs.
MERGERS & ACQUISITIONS
Lloyd Birnbaum
Lauletta Birnbaum
Sewell
(856) 232-1600
Lauletta.com
Birnbaum is a real estate and corporate attorney with more than 30 years of experience. He also serves as outside general counsel to many small and middle-market companies looking at their legal issues through the eyes of a business client.
Mariel J. Giletto
Cherry Hill
Peter D. Visalli
Cherry Hill
REAL ESTATE LAW
John P. Ciocco
Woodbury
Sam Dhaliwal
Moorestown
Rhonda S. Feld
Moorestown
Kevin D. Sheehan
Mount Laurel
TAX LAW
Kevin DiMedio
Haddonfield
Stephen M. Greenberg
Cherry Hill
TECHNOLOGY
Randy Ford
Lauletta Birnbaum
Sewell
(856) 232-1600
Lauletta.com
Ford represents small to middle-market companies with respect to a variety of matters including technology, software and cybersecurity. He also supports his firm's outside general counsel model with a broad range of services integral to a client's long-term success.
Douglas Nelson
Haddonfield


TRADEMARKS
Frank Lauletta
Lauletta Birnbaum
Sewell
(856) 232-1600
Lauletta.com
With his broad legal experience, executive-level background, and relationships in the legal, venture capital and high-tech communities, Lauletta serves as general counsel to multiple companies. He specializes in shareholder matters, financing, M&A, technology, contract negotiation and other corporate transactions.
WORKERS' COMPENSATION
Charles I. Coant
Vineland
Joseph J. Hoffman Jr.
Woodbury
Jeffrey Newby
Mount Laurel
EARLIER THIS YEAR, WE SENT OUT CORRESPONDENCE to the foremost attorneys and law firms in South Jersey in search of nominations for our annual Leading Business Attorneys list. In addition, we also tasked our readers with going online recommending the legal professionals they've had positive experiences with. The results were tallied and after applying a minimum number of votes to be considered for the list, the leading vote getters in each specialty were then vetted using public sources of information to verify peer recognition, professional achievements, experience, honorable accolades and more.

We go to great lengths and take time and energy to ensure a fair voting process,but we acknowledge these surveys and Internet research are not entirely objective metrics. We are aware that this is just a mere sample of the good attorneys in the region and thus there are many professionals who do not appear on the list. Furthermore, SouthJersey Biz Does not solely endorse the services of any particular attorney who was selected. Lastly,any paid advertisements in this publication were notexchange for inclusion on the list.
Click here to subscribe to the free digital editions of South Jersey Biz.
To read the digital edition of South Jersey Biz, click here.

Published (and copyrighted) in South Jersey Biz, Volume 12, Issue 10 (Oct. 2022).

For more info on South Jersey Biz, click here.
To subscribe to South Jersey Biz, click here.
To advertise in South Jersey Biz, click here.