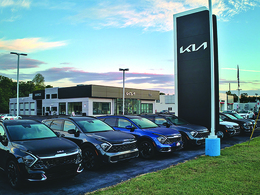 A Local Legacy
The Burns-Kull Auto Group has been serving South Jersey since 1970, and looks to TD Bank to help secure its future for generations to come. 
Those who climb the leadership ladder at a legacy business face a unique set of expectations, from upholding the reputation that generations before have diligently established to keeping their company in the family like a treasured heirloom.
And while trends, client demands, and even team members and company executives inevitably change as time marches on, one thing always remains the same: establishing a mutually beneficial community relationship where customers know they matter is the best way for a local business to earn that coveted brand loyalty.
Since its 1933 beginnings as Newark's Broad Street Pontiac, what's now grown to become today's nine-dealership automotive powerhouse Burns-Kull Auto Group did so because founder William Burns' dedication to his neighbors and community is baked into the company's business philosophy. Continuing that approach like a family tradition been rewarded with a customer base that spans generations just like its leadership team does. And the teams behind each of those dealerships in Marlton, Vineland and Avalon feel a deep responsibility to carry that still-burning, 89-year-old torch well into the future.
Cultivating and nurturing client relationships was also a paramount priority for Richard Kull, who joined the organization in 1968 when Edward Burns, one of the founder's sons, took over and brought Kull on board as a 50-50 partner. With the third generation at the helm and the fourth already rising in the ranks, the advice Kull gave to his own family lives on: A company's customer-satisfaction score is the most important thing to focus on, as its future success is driven by making customers happy today.
Burns-Kull team members note how their own children—the auto group's fourth generation—have grown up asking about the company namesakes and patriarchs whose footsteps they're following. They, along with all the dealerships' nearly 500 team members, also still honor the once-novel requirement of putting their home phone numbers on their business cards so they can be available to customers when non-business-hour emergencies strike and they need a human being instead of an answering machine, though these days that's most often a personal cellphone number.
There are countless benefits to local longevity beyond loyalty and a proven reputation for going above and beyond, like a lived-in understanding of what it takes to best serve their South Jersey neighbors. With so much of the Burns-Kull team growing up or being longtime residents of the area, as well as being active within their community, they know their customers' needs—and, more often than not, their customers themselves.
A family company with deep local roots needs partners who keenly understand that unique obligation and history, which is why TD Bank became the obvious choice for the role—also thanks to some family ties facilitating that connection back in 2015.
"It started out with an introduction from the local store manager in Marlton—who happened to be my wife Liz—who said, 'You should go meet with Burns and talk about their banking business,'" says TD Bank's Senior Commercial Relationship Manager Peter Musumeci III. "When we had a chance to meet with them, we figured out ways where we could provide efficiencies, save them some money, and it's just grown from there."
TD's team has proven to be a trusted partner that gets things done. From ensuring that the auto group secures financing for various projects to helping them navigate modern financial concerns like anti-fraud measures and assisting with growth plans, from handling mortgage to proving depository, treasury and merchant services, the auto group has seen plenty of added value from their TD relationship.
Most recently, the bank has played a pivotal role in two of Burns-Kull's two newest projects, a standalone Subaru dealership and one of the country's first standalone Genesis dealerships, slated to open in early 2023. The auto group's leadership team credits TD with being especially critical in those facilities' financing, especially in securing a construction loan.
They all agree that it's a testament to what can be accomplished when a professional relationship takes on a personal warmth and proactively cultivated understanding of a client's needs.
"It's nice when you have people who have been in their respective organizations for such a long period time, so you have some consistency and confidence in the people you're dealing with," says Musumeci. "Even though TD Bank is a large institution, we feel that with our presence in South Jersey and the amount of time that our South Jersey team has been with the bank it feels more like a local, personal connection."
It all positions Burns-Kull to carry on the tradition of serving its South Jersey home business for another generation while endeavoring to turn every first-time buyer into a customer—and part of the family—for life.
TD Bank
Peter Musumeci III, Senior Commercial Relationship Manager
Peter.Musumeci@TD.com
(856) 874-2418
TDBank.com