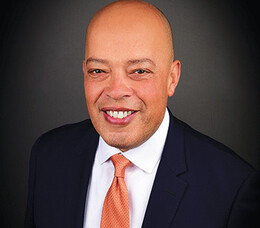 Trust PNC Bank
The local Private Bank at PNC Bank has been a trusted wealth management confidant for New Jersey residents for over 170 years.
Whether a small estate or a multi-million dollar business, the shift of wealth from one generation to the next should be the least of any family's worries. And whether a client has $3 million or $100 million to their name, the South Jersey Private Bank team at PNC Bank is dedicated to ensuring top-tier wealth management guidance to ease that concern.
An Individualized Approach
Frankie Fontanez, PNC Private Bank Head of Wealth for Southern New Jersey, explains that the bank personalizes its relationships with each client to ensure they get the most out of the partnership.
"A relationship strategist will sit down with a client and have a discussion to really get to the root of their needs, and then engage the appropriate team members based on those needs," Fontanez says. PNC Private Bank in South Jersey has a robust team that includes relationship strategists, private bankers, fiduciary advisors and investment advisors.
"We take a five-prong approach to really understanding clients' needs, what their legacy desires, or their aspirations for leaving a legacy," Fontanez explains. "Every line of business really has its own forte, and as a team, we come together to discuss the needs and wants of our personal and business clients, and really put together a strategic plan around that."
The local team of specialists offers multiple different solutions, including investment management, credit and cash management, succession planning and retirement planning. From third- and fourth-generation business owners to clients who aren't interested in carrying on their family's business, PNC Bank has seen it all. Their vast experience and impeccable reputation make this hometown team ready to tackle any and every financial wealth situation that clients bring their way.
"PNC has a history spanning more than 170 years. As a consistent and familiar face for families and businesses in Southern New Jersey, I continue to see that clients want to work with us," Fontanez says.
"We've been really complemented by our clients as a Trust Company, so when they designate us as a trustee, that's the biggest compliment that can be paid to us as an organization."
He adds that the bank's personalized relationship with each client extends to the advice that it provides. Being in the financial industry for more than 30 years, Fontanez says that the economy is inherently cyclical and his clients' situations are the only constant in the equation.
"The advice is always client-focused. The markets are going to change—they are going to be volatile, they go up, they go down—but what doesn't change is the client's specific situation. We construct a portfolio that's specific to our clients' needs. And doing that removes much of the volatility of the market from the equation," Fontanez explains. "I always like to say to our clients individually, 'Let's talk about your benchmark. Let's talk about your needs.'"
Fortunately for their clients, the team at PNC Bank is highly equipped to tackle the unpredictable nature of the stock market and provide what Fontanez regards as an "exceptional background."
"We really have the best of the best with regard to our team, our investment office and our economists when it comes to evaluating market assumptions and forecasts."
More Than Just a Bank
As a Philadelphia native and a longtime resident of Collingswood, Fontanez knows the importance of the local culture and connecting with his clients.
"First and foremost, PNC's focus is really community-based," he says. "It's a little bit more than banking, investing, planning and the Private Bank. We really put our arms around clients throughout the community and look out for their needs by taking a holistic approach—as a Private Bank should do for their clients."
The team at PNC Bank is dedicated to strengthening its professional relationships with clients as well as its positive impact on the community. Since 2004, the bank has championed early childhood education through PNC Grow Up Great, a $500-million, multi-year bilingual initiative to help young children – particularly underserved children - develop a lifetime passion for learning.
Locally, PNC is engaged in philanthropic work as well. They rebuilt a home for a veteran in Collingswood, and Fontanez, as a Hispanic man, is steadfast in creating change to positively impact people of color and communities in need.
"It's more than a job. It's more than a paycheck. It's being a part of a real culture of caring and giving back, which is extremely gratifying."

PNC Private Bank
Cherry Hill: 200 Lake Dr. E 3rd Floor | (856) 638-4862