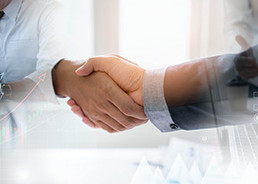 Merging Forces
More companies are growing their presence through mergers and acquisitions.
Shared services, industry cooperation, buyouts and partnerships are changing the business landscape and turning competitors into collaborators more and more often these days. But as area businesses find new ways to grow and become stronger entities within their specific industry, there's a lot of factors to consider before moving ahead with a merger or acquisition. We spoke to a couple experts in the legal and banking world to get an insider look at how these business dealings are changing the landscape.
From a legal perspective, what are some of the biggest things that companies need to be aware of when considering a merger with or acquisition of another company?
The biggest concern is always in the traditional diligence process. You have the risk of acquiring another company's liabilities, whether you are doing an asset or an equity transaction. There are certain liabilities a buyer would end up acquiring if they are not excluded. For example, certain types of tax liabilities: If they are not properly dealt with in the definitive agreement negotiated by the two parties, a buyer can end up unwittingly acquiring the tax liabilities that might attach to the asset they are acquiring.
On the buyer side, it's really making sure you have a very clear understanding of what you are buying. What liabilities did that company have and how are they being dealt with at closing? – Seth Tipton, partner, Florio Perucci Steinhardt Cappelli Tipton & Taylor
Why have so many banks decided to merge in recent years?
Banks merge for a variety of reasons, but essentially they need to get scaled to deal with costs, particularly costs of regulation. So it really becomes essential for banks to scale up and just get larger. And I'm not talking about the large, multi-state banks. I'm talking about two banks that are headquartered in New Jersey choosing to merge to make one stronger institution.
On the customer side, it is for the most part seamless. A merger doesn't happen overnight, so there's a lot of game planning when it comes to technological systems at banks. The goal is to have an almost seamless transition for the customer because the last thing you want to do is merge to create a stronger bank and then scare off a bunch of customers because the merger was done in a clumsy fashion. –Mike Affuso, president and CEO, New Jersey Bankers Association
What has been the pandemic's impact on mergers and acquisitions?
In March 2020, I think everyone thought the world was falling apart. And then immediately thereafter, the transactional world blew up as a result of historically low interest rates and lots of money out there available to borrowers. You had a combination of folks who were maybe waiting to retire and are now getting offers, because of the lower borrowing rates for the buyers, that they would have never gotten before. They saw it as a high-water mark to get out.
On the buyer side, you had buyers leveraging and saying instead of paying cash for this, I can pay two, three or four percentage points and acquire a competitor.
From my perspective, the M&A market since COVID has been moving at an unbelievable rate. It'll be interesting to see what happens as interest rates go up, but so far a slowdown has not materialized. –Seth Tipton
What does the recent increase in banks consolidating mean for the customer long-term?
When it comes to branches, there's not as much traffic as there used to be. The pandemic forced people to get used to remote banking and our data is showing that people are not going back to the branches. The branch is there for those who have a particularized need, but for general transactions, you see less and less of that.
I think you are going to see less branches, more strategically located. But the folks in the branch will cover multiple disciplines and be more of a universal banker. Because folks going into the branch are going to be people with specific needs that are different than just making a deposit, because most people are going to use technology to deal with that. –Mike Affuso
Click here to subscribe to the free digital editions of South Jersey Biz.
To read the digital edition of South Jersey Biz, click here.

Published (and copyrighted) in South Jersey Biz, Volume 12, Issue 10 (Oct. 2022).

For more info on South Jersey Biz, click here.
To subscribe to South Jersey Biz, click here.
To advertise in South Jersey Biz, click here.