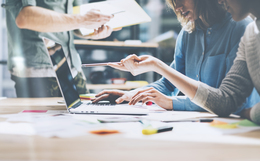 How to Choose a Marketing Agency
Learn what questions to ask and factors to consider as you vet your potential marketing partners in search of the perfect one for your business.
Like many business decisions, choosing a marketing agency is a personal choice. It's like hiring an employee: Selecting an agency based on price is not the best measurement of "fit" for your company. Read on to learn about the many factors you should consider in finding the best agency.
Strategy: It all starts with strategy. Where do you want to go? What and where do you want your company to be in five or 10 years? Having a strong vision for your business will help you identify the best fit and how you want to be serviced.
Past performance: Who does the prospective agency work with now? Who have they worked with in the past? Why don't they work with those clients anymore? Ask about their successes and ask for references (you should actually call the references, too!).
Geography: If COVID has a bright side, it is that we fully embraced digital communication via Zoom and Microsoft Teams, meaning we can now work from anywhere. This opens your company to a much larger pool of potential talent. In the emerging virtual agencies, employees work from home, often in random cities around the country and even the world, providing a unique level of flexibility. At the same time, your remote agency will not be available for important face-to-face engagement. Ask yourself if facetime is important? If you need to "look into the whites of their eyes," you're better off hiring a local agency.
Size matters: There are distinct advantages to choosing large or small agencies.
Large agencies
Pros:
There's something enticing about hiring a major marketing agency. Like buying an expensive luxury car, there's a prestige in working with a large agency.

Large agencies usually have more resources and hyper-specialists in innovative marketing disciplines, like digital marketing or public relations.

Large agencies tend to work with larger companies and programs. For some really large companies, there could be multiple agencies fulfilling different needs.
Cons:
You'll be sold by senior leaders, but you'll likely be serviced by less-experienced "account executives."

Larger agencies often cost more than their smaller competitors because of all of those specialists and greater overhead.

If your company is a small client for the agency you choose, you may feel like a low priority.
Small agencies
Pros:
More personal attention from the firm leadership, who are typically the most experienced members of the team.

Lower overhead often means more affordable rates.

Smaller companies tend to be more flexible and better equipped to react to changing situations than larger agencies.

The ability to partner with specialists means clients have access to all services offered at larger firms.
Cons:
Employees at smaller agencies tend to be "Jacks/Jills of all trades" who are experienced in many disciplines but not specialized in any—which means the range of available services may be more limited than that of larger competitors.

Smaller agencies tend to be less sophisticated than large agencies in terms of technology and following the latest marketing trends, but access to innovative information can narrow this lead.

Sometimes using subcontractors for specialty services means sacrificing speed or quality.
Insurance: It's tempting to work with sole proprietors like web developers and graphic designers. Ultra-low overhead could mean lower rates, which is great, but confirm that they are insured. Mistakes and missed deadlines happen to every agency and they can be expensive to your business. It's nearly impossible for a small agency to repair your financial damages without solid liability insurance coverage. For extra peace of mind, look for errors and omissions (E&O) and cyber liability coverages. Ask for a certificate of insurance in your company's name to confirm coverage every year to protect your company.
Delivering results: When interviewing agencies, ask pointed questions about results. What will they deliver? When will they deliver these results? How much will it cost? What happens if they don't deliver as promised?
Your role: The forgotten factor in choosing a marketing agency is the role of the client. Which member(s) of your company will manage the agency relationship? Are they experienced in marketing? Will they have the time needed to communicate with the agency to keep projects moving forward? The best agency/client relationships start with an engaged client with a clear vision of what they need from the agency and the time to provide input and direction.
Now that you have an idea of what questions to ask yourself and your agency candidates, you're ready to get the interviews rolling. If the marketing agencies on your short list all have the experience to handle your company's needs (backed up with appropriate case studies to prove it), what separates the wheat from the chaff will be the agency's ability to make you feel comfortable and supported, like a good pair of walking shoes. After all, you'll be on the journey together, and the marketing agency that is the best fit will help you reach your goals faster by delivering the results you need exactly when you need them.

Performance Marketing
3122 Fire Rd., Suite 202, Egg Harbor Township,
(609) 646-0414 CallPM.com