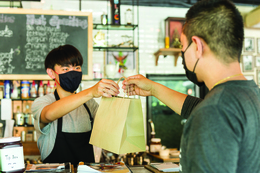 Moving Forward
Like countless others all around the world, small businesses in South Jersey are finding their footing after being economically challenged by the COVID-19 pandemic.
The COVID-19 pandemic continues to take a massive toll on the economy, impacting businesses of all sizes across the globe. While everyone will continue to feel the devastating effects of the pandemic for the unseeable future, there is perhaps no greater financial victim than small businesses.
The number of mom-and-pop shops that survived the height of the financial crisis is far and few between. And those that did persevere are undoubtedly different than before the pandemic began. Thousands of small businesses were forced to make layoffs and other drastic changes to stay open and keep up with competitive commercial enterprises.
Roughly two and a half years after the pandemic began, many such businesses are beginning to find, establish and navigate their "new normal." Some are working strictly remotely, while others have adopted a perpetual mask mandate. For Bradley Funeral Home in Marlton, it all depends on what the client feels comfortable with.
"We still have plenty of families who say 'I want everybody to wear a mask when they come in here and have hand sanitizer and masks available at the door.' Or there are people who just are okay with [no extra precautions]. We kind of follow their lead on that since they're using our space—they're paying for it so they should have that say," says Funeral Director Jill Bradley Ingram.
Since restrictions banned traditional funerals and gatherings, the financial burdens of COVID-19 hit the longtime family business extremely hard. Ingram says they are finally getting back to "the way things used to be," and, like other funeral homes across the nation, are beginning to adopt new ways of celebrating life.
"There was a time where I thought nobody's ever going to want to gather together again, and I do think we're getting past that, that people do want to gather and they'll almost take any opportunity they can to do it now. I think that's a good thing.
"Something like live streaming is a normal thing now. Now, you can ask for a live stream and anybody can do it, from a church service to a funeral to a meeting. Those sorts of things are good, especially for a funeral, when you might have family all over the country or for those people who may still not want to come out. That's definitely been a great thing that's come out of the pandemic, and it lets everybody be involved in the funeral service—it doesn't matter if you're physically present or not."
Taking advantage of the internet is brand-new to Bradley Funeral Home, which will keep offering live streams and other online services such as sending flowers and condolences. While it may be new to many small businesses, Kristina Hernandez Eddy, the CEO of Kr1stna Media, says that going digital is a crucial part of a successful mom-and-pop shop.
"They don't want to let go of the gas pedal when it comes to the digital footprint," Eddy says of small businesses looking to bounce back from the economic hardships of COVID-19. She and her team specialize in marketing, media and sales consulting.
"The networking aspect is always going to be important in business. If you don't have the correct supporters on your side, it's difficult to grow. Not because you're not capable of it as a business owner or a business leader, but because there are so many different things happening in the world today that you have to be understanding of the trends. You have to be aware of what's working, the strategies and methodologies that are out there."
While she formed Kr1stna Media in March of 2018, Eddy has been working from home since 2012, giving her a decade of experience navigating the remote lifestyle.
"I had a deep understanding of what it takes to build a brand online and you know, the digital tools that will support you from a free aspect and the ones that you might want to invest in," Eddy says, adding that it's one of the main reasons why Kr1stna Media remained successful even during the worst of the pandemic. While others were forced to adjust quickly, Eddy and her team were one step ahead.
MetaSense, a local marketing agency, had a similar pandemic experience to that of Kr1stna Meda. When the company's employees were sent to work from home, they were able to do so as if nothing had changed.
"Adapting to changes of the early days of COVID was easier for us compared to other companies in our space because we are a tech-enabled company. System is our passion and process is our hobby. We were able to move into a 'military mode' and continue working with minimal disruptions," says Dr. Jatin V Mehta, Chief Executive Officer of MetaSense.
Mehta admits that the business lost money at the beginning of the pandemic, but is bigger and better than ever with an entirely new market of clientele: healthcare.
"Post-pandemic we grew significantly because we expanded from being an IT staffing company to an IT and healthcare staffing company."
Techstarters, a local computer support and services company, also escaped the worst of the pandemic virtually unscathed because of its previously established online presence.
"Prior to COVID, our company offered flexible employee schedules and work-from-home privileges, so the transition to remote work was not a factor," says David Suleski, owner of Techstarters. He explains that the nature of his business allowed the company to, for the most part, continue business as usual, with a few new customers who needed help navigating the new "work from home" norm.
"Over 98% of support requests are resolved remotely. As the highest Microsoft 365 partner, with certified specializations in Microsoft Teams, Exchange, SharePoint, Security and more, demand for services dramatically increased as many organizations required the transition to a remote-work model, while maintaining security and industry compliance."
Tabshred, a family-owned and operated confidential shredding company, was one of those companies struggling to adapt when the pandemic first began.
"Immediately, we lost a percentage of business," says owner Tom Colontonio. "It was scary. I'm not going to lie: It was scary." He and his brother took over the business when their father retired in June of 2020, during the beginning stages of the changing economy. "The work-from-home thing going on has definitely affected us as well, because as facilities are closed and people are not there generating paper, then they don't need us to come shred it."
The small businesses that survived the pandemic surmounted a nearly impossible feat: They all had to adapt in some way, and some had it much worse than others. Rich St.Maur, managing member of Coordinated Project Solutions, was forced to make drastic changes to keep his business afloat.
"I did not draw a salary for over a year, and worked nights and weekends," St.Maur says, adding that the contractor had "just enough work to keep the doors open." The biggest challenge for this specific small business was that it couldn't operate fully online. New projects were put on hold during the pandemic while others already in progress "suffered tremendously" because of a lack of workers, supply chain issues and increased material costs, among other things.
Likewise, RMC Meetings and Events suffered tremendous financial consequences from the pandemic. Managing partner Jerry Janove highlighted the burden that COVID-19 had on the company, which relies on in-person gatherings to keep business moving.
"Since we book meetings at hotels and resorts, nearly all of the meetings we had booked and planned to operate during the height of the pandemic were canceled or postponed," Janove explains.
The aftershock continues to impact the business, especially with so many uncertainties. "Since the pandemic did not come to an abrupt end, we had to cancel and rebook programs several times before clients felt comfortable operating their events," says Managing Partner, Debra Jacobs. "We are also more cautious with the amount of people we confirm for a future meeting since we are unsure how future variants could affect people traveling and attending meetings and conventions."
Independent Spirits, a 100% homegrown, family distillery in Woolwich, had to switch gears entirely when the pandemic arrived. The family of five went from distilling spirits to creating sanitizer to supply local and nationwide needs.
"We actually had some amazing, big companies for customers, and we were working with county emergency management, FEMA and the police to make sure the people who needed the sanitizer could get it. We were also open for the public to come by and get it," Independent Spirits owner and founder Kerry Thomsen says. She notes that the money they made from the sanitizer helped her family keep the distillery afloat even when it was completely shut down.
Many companies, like those aforementioned, were fortunate enough to keep their heads above water during the height of the pandemic. Other businesses sunk and shut down permanently, while a few defied all odds and flourished.
Thomas Graham, Senior Vice President of Technology at tmaVoIP, was fortunate enough to be among those who benefited from COVID's impact on the economy. He says the pandemic was the exact consumer boost that his company needed.
"Suddenly everyone needed a phone system when everybody became a remote worker—and that is exactly who needed our phone systems. It was a boon for us! We just had more demand, because more people were looking to upgrade their phones. New phones dramatically make you more efficient," Graham says. He added that tmaVoIP is at "a perfect point" where they are busy, but not too overwhelmed to the point where they're looking for more employees.
Whether they eked through by the skin of their teeth or found innovative ways to keep the lights on, small businesses are booming post-pandemic. If they had the strength and determination to overcome a pandemic, there's no telling where these mom-and-pop shops will go.