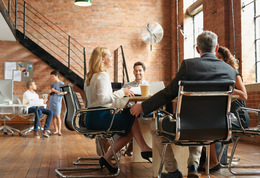 Changing With the Times
The demand for traditional office space has declined due to remote work and other factors, but property owners willing to adapt can still fill a need.
With a career in real estate that spans nearly four decades, not to mention experience as the past president of New Jersey Realtors and as the owner of an office building himself, Jeff Jones brings unique historical insight to the current market, which has seen the office sector take a serious hit because of COVID-19 and other factors. While he concedes that traditional office space will likely never be the same as it was pre-pandemic, he suggests that those predicting its demise hold off on the funeral planning.
"Anyone who tells you they know everything is usually lying or ignorant," he says. "Quite frankly, the market is dramatically changing—the only constant in the office market is change. It's true, the office market was devastated by COVID … but I hate the term 'new normal.' I'm a bit of a contrarian. I think the only normal part about the market is that it will constantly evolve and change, and those who change in it are the ones who prosper.
Of course, the lockdown in the pandemic's early days forced many employees out of spacious corner suites and cubicles and into makeshift offices at home, whether at the kitchen table or a desk in the basement. Even as things progressed and offices reopened, some continued to work remotely or at least on a hybrid schedule.
But COVID isn't the only reason why the landscape has shifted significantly in the office sector.
"The trends of remote work, amenitization of office buildings, co-work space and downsizing of work space actually began before the pandemic as employers contemplated how to attract and keep younger workers," says Robert Powell, vice president of business development and marketing for Vineland Construction Company. "The pandemic added another trend, that is hybrid and remote work for many office workers. I believe those trends will continue to have a dramatic impact on office space for years to come.
"Downsizing and relocation will continue as businesses try to find a balance between finding and keeping workers, worker productivity, controlling fixed costs and adapting to workers' hybrid schedules."
Jason Wolf, managing principal of Wolf Commercial Real Estate, is cautiously optimistic about the outlook for local and regional businesses, citing the steady rental rates and stable vacancy rates in the area. He does, however, point to several concerns in the industry.
"The office market is still in pandemic-recovery mode, and inflation is having a pronounced impact on any leasing rebound," he says. "Costs of material and labor have increased 40% to 50% while office rental rates have not increased. As a result, office space that requires major renovation is not leasing because property owners can't make sense of the investment while tenants are typically unwilling to contribute to the cost of construction. COVID moved our market forward by 10 years to the agile way of working—we are seeing most corporate occupants changing the working model to a hybrid model with most employees in the office three-four days a week."
But Jones differs from others in the industry who believe remote work will continue to rise and the need for office space will keep declining. He believes as the economy slows and appears to be headed to a recession, companies will insist on a large percentage of employees coming back to the office to promote collaboration and increase productivity.
"I think there will be room for traditional office space," he says. "I think companies will compress their financial footprint by using less space. The office market will adapt by reconfiguring that office space into many other untraditional uses. Let me give you an example: I think you're going to see office buildings reconfigure themselves into office, residential, hotel and retail facilities.
"There are many buildings throughout the state of New Jersey that are 100, 200 and 300 thousand square feet and predominantly empty. Not because the companies don't want to be there, but people have been resistant to be there. I think that's going to change as the economy slows, as the recession deepens. Businesses are going to get very conservative and require employees to come back."
Christopher Jerjian, who has more than 30 years of experience as a commercial landlord, was seeing the demand for large offices decline well before anyone had ever heard of the coronavirus or envisioned a global pandemic. A property in Hamilton that he co-owned was struggling to find tenants after the recession of 2008, and he was pushing his partners to go the route of smaller office space.
"It took until 2014 to actually make the move," he says. "We had 30,000 square feet of contiguous space that was just sitting there for four years with no bites. We decided to convert it into small offices and bingo: Within 18 months, it was full. That was when the market was still relatively slow; the economy wasn't buzzing in 2014 or 2015, and yet despite that, it still filled because nobody was filling that demand."
The trend convinced Jerjian to change his business model, so he founded Kiwi Offices, which specializes in move-in-ready business space for small and medium-sized companies. He went on to open a similar building in Mount Laurel and another in Cherry Hill is scheduled to open in November.
After a hiccup during the early days of the pandemic lockdown, the Mount Laurel location is at 100% capacity, with companies embracing the one-year leases, fixed pricing and layouts that are either one room or multi-room. The users include businesses that want a site for remote employees to meet occasionally for in-person conferences, professionals like accountants and lawyers, and local insurance agents working for a national brand, and Jerjian does not see the trend slowing down as he seeks other locations in South Jersey to expand into.
"Clearly, there is definitely a downsizing in the footprint of most businesses for how much space they need," he says. "It's going to have to be flexible space within the offices and how they lay it out. You're not going to have your desk with your stuff in it; it's going to be sort of like you're parking there for the day. You'll be sharing that space with someone else at the company. It's even going to change the way we furnish the offices."
He shares Jones' vision that large office buildings will get repurposed into multi-use spaces, with municipalities leading the charge. "I'm a big believer that things will get repurposed, and I think the townships are all listening. They realize what's going on, and a vacant building doesn't bring them tax dollars, so I think they'll be open to repurposing buildings for different uses. That would be the wise thing to do, anyway."
As for industrial space, New Jersey's prime location and access to ports, rails and highways will continue to make this area popular for industrial and warehouse space.
"With the ever-growing number of retail goods sold online, demand for warehouse space has continued its seemingly endless hot streak," Wolf says. "Philly and Southern New Jersey's industrial market has never been tighter. The metro area's vacancy rate is holding near all-time lows of 4.3%, while trailing 12-month leasing has leapt to a record high during recent months."
But as industrial space starts to take over the landscape, that doesn't mean office space must fade into oblivion. Whether it's the need for flexibility, as Jones stresses, or the customer service aspect that Jerjian emphasizes, owners must adjust to the changing industry and employee needs. Powell offers valuable suggestions for how to accomplish that goal.
"The biggest trend is making office space a healthier environment, which impacts everything from choice of carpet and finishes to HVAC equipment and ventilation," he says. "Attracting talent in today's market requires modern, healthy and vibrant spaces.
"Landlords will respond to supply and demand in traditional ways: adding amenities, rent adjustments, shorter lease terms and offering tenants more flexibility. Workers are seeking flexibility in their work environment and businesses and landlords need to adapt to avoid significant vacancies."