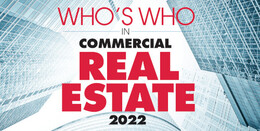 Who's Who in Commercial Real Estate 2022
12 industry leaders who are dedicated to the South Jersey market.
The white-hot real estate market that made South Jersey a flurry of transactions amid a skyrocketing demand for land has inevitably cooled a bit, but the area's commercial real estate pros know exactly how to ride out and capitalize on market trends of all kinds. This year's class of honorees doesn't just bring an impressive amount of experience to the table: They recognize the importance of the business's human side, from putting their clients' needs first to developing relationships that flourish well after the deal is sealed.
Erin Warwick, VP
WCRE
Warwick joined WCRE as executive vice president to lead the firm's growth in Pennsylvania and New Jersey. During her nearly 15 years in real estate, she has represented both owners and occupiers, and worked directly for several REITs and private equity ownership firms. Warwick brings a unique perspective to developing strategies and has completed transactions from all sides. Most recently, she was asset manager for Nessel Development, a real estate investment firm centrally focused in South Jersey with a few retail, manufacturing and grocery store holdings in the U.S. and a few offices in North Jersey.
"I wouldn't exactly say the advice and guidance I have given to my clients has changed since the advent of COVID, but it resounds louder than ever these days: Time kills deals. Once you lose momentum, your chance of closing the deal drops considerably."
Ian Richman, Senior Managing Director, Southern New Jersey
Colliers International
As a senior managing director with Colliers International, Richman specializes in the sale and leasing of industrial buildings and warehouses in Southern New Jersey. He has been with the company since 2006. Prior to that, he worked as a credit analyst in the commercial lending group with Commerce Bank. Richman has represented publicly traded REITs, multi-billion dollar private equity funds and regional investment groups, as well as regional and local owners. He has consistently been ranked within the top 10% of highest producing brokers for Colliers International throughout North America.
"An exemplary leader is someone who is willing to help someone else grow personally and professionally without any personal agenda other than paying it forward. Commercial real estate is an industry where you learn by doing over time. Those with decades of experience have a wealth of practical knowledge they can share with new brokers."
Marc L. Raiken, Broker of Record
Feinberg & McBurney
Since graduating from American University 1990, Raiken has worked exclusively with Feinberg & McBurney. His career's early focus was tenant/buyer representation, but soon included landlord representation, consulting, development and investment property sales. He recognizes the value of sites stigmatized for environmental issues or market changes. Repurposing forgotten properties is a growing niche market that clients find rewarding. Raiken's focus is on the Greater Philadelphia area's both single- and multi-tenant retail real estate. He represents nationally recognized companies as well as local owner/operators, and is a licensed real estate broker in New Jersey, Pennsylvania and Delaware.
"No two days in this business are alike, and I have the benefit of being out in the world, meeting new people and learning how they make a living. The thrill of adding value to a property or an area, and positively impacting many lives, is extremely rewarding and good for the soul."
Adam Dembo, Senior Associate
Markeim Chalmers, Inc.
Dembo joined Markeim Chalmers in 2013 and specializes in the sale and leasing of office, industrial and retail real estate. With a focus on both landlord and tenant representation, he has represented some of the region's top property management and private investment companies. He also regularly works with local and national investors, banks, special servicers, developers and real estate investment trusts. In the past decade, Dembo has closed and leased more than $100 million in transaction volume. Driven by his passion, he enjoys sharing his expertise and informing clients of market trends, new developments and industry updates both close to home and nationwide.
"I have been fortunate to receive a lot of good advice. First, always put clients' needs before yours. Secondly, be honest and maintain/build your relationships, recognizing that commercial real estate is a marathon and not a sprint. Last but not least—and perhaps most importantly—you only have one reputation so make sure it's a good one."
Chris Benstead
The Benstead Real Estate Team-Commercial Real Estate-Berkshire Hathaway
Chris Benstead has been a full-time, licensed commercial broker since 1999. He has been recognized as one of the state's top realtors. He is experienced in representing buyers, sellers, tenants and landlords in commercial acquisitions, with proficiency in market analysis, property valuation and corporate services. Benstead also has experience in government zoning and planning for real estate development, as well as the approval process. He is a member of several networking groups, and has been involved with the National Association of Realtors and New Jersey Realtors since 1999.
"Integrity is the most important quality a leader can have. If you strive for greatness with good character and high standards, you will gain the respect of your colleagues and clients. In this industry, integrity is key to gaining the confidence of clients, as well as colleagues, through a long, successful career."

George Duffield, CEO and Co-Owner
National Integrity Title
Licensed in New Jersey and Pennsylvania, Duffield, a former real estate professional, quickly found success in the industry. This experience, along with his unwavering client commitment and leadership style, ultimately led him to the title industry in 2015, when he set his sights on transforming it. In his leadership role, Duffield leads the strategic direction of National Integrity Title Agency. This includes using his market knowledge to spearhead business development, advance partnership initiatives, and represent the highest standards of integrity for both the team and clients. He is always looking forward in search of new ways to improve and grow.
"You have to have foresight and keep your eyes open for what lies around the curve. There's no 'status quo' or resting on your laurels. The commercial real estate market shifts too fast. You always need to look forward and think outside the box. This is the only way to be better, quicker and clearer in achieving your goals."
Nick Manis, 2022 President-Elect
New Jersey REALTORS
Manis began his real estate career in 2004, and is a licensed broker in New Jersey, New York and Pennsylvania. He has served NJ REALTORS as the 2018 and 2019 treasurer, 2021 first vice president, 2022 president-elect and he will serve as president in 2023. Manis is an active member of the state leadership team, executive committee and board of directors. He is also a member of the National Association of REALTORS, where he most notably serves as the federal political coordinator to U.S. Senator Cory A. Booker and was the 2021 chair of the Federal Taxation Committee.
"A stand-up leader in this field is someone who clearly understands the industry's critical issues and who can create solutions that enhance everyone's ability to conduct business not only successfully but also ethically. They're someone who can promote the extension and preservation of the right to own, transfer and use real property."

Bobbi Jean Formosa, Executive Managing Director & COO/NAI Business Director
NAI Mertz
When Formosa joined NAI Mertz, she brought with her more than 20 years of commercial real estate experience. She contributed to the growth of NAI Global when she assumed a corporate role, ultimately becoming responsible for operations. Among Formosa's current duties are a direct responsibility for operations, including development and execution of plans enabling NAI Mertz, its employees and its agents to realize their goals concurrently. Formosa works across all four of the NAI Mertz locations in South Jersey and Pennsylvania. She is a proud member of CREW and the NAI Global Women's Alliance.
"Some of the most important professional advice I've been given is to use your mind but always follow your heart and do what you believe to be right. Always ask the question, 'What do you think we ought to do?' Challenge the answers from various viewpoints and then pick one and go."
Barbara Ross, Chief Administrative Officer
Conifer
Ross joined Conifer in 2016. In her current leadership role, she partners with Conifer's president and executive leadership team to best develop and lead Conifer's strategic plan and associated initiatives while creating a collaborative culture. It is that companywide team dynamic that encourages leaders to rise at every level of the organization. Ross also provides executive oversight in regard to both human capital and human resource strategies, with a particular focus on employee recruitment, engagement, development and retention. She also serves as the president's right-hand person, helping to develop and drive strategic business planning, communication and support.
"We all have blind spots, so don't be afraid of the truth. Make sure you surround yourself with people who have the courage to be honest. And be honest with others, because they need to hear it too. The difference between average and excellence is an environment where thoughts are shared openly."
Brian Klaus, Principal, President
Surety Title Company
Klaus joined Surety in 1994 as a marketing and sales representative. Charged with expanding the company's customer base and market presence, he was vital in establishing Surety's entry into new business arenas. Klaus was made an official partner in 2003 and promoted to president in 2006. He successfully managed Surety during the Great Recession's downturn, ultimately leading to its restructuring and repositioning, product and service diversification, and customer base and footprint expansion. These efforts made Surety better equipped to handle customers' and employees' ever-changing needs. Currently, Klaus is charged with developing the long-term growth strategies for Surety.
"Surety's founder David Rush shared with me how important empathy and listening are in any relationship. I watched as he related to employees on a human level. Amid ever-changing markets, empathizing with others, listening to ideas, addressing concerns and welcoming input remains a big reason why Surety has employees with 10, 20 and 30 years of tenure."
Leor Hemo, President & Chief Executive
Vantage Commercial Real Estate
In 2017, Hemo founded Vantage Real Estate Services with a vision of building a unique company focused on teamwork, placing client service above all, and both internal and external collaboration. Bringing a nonconforming style to his leadership and business has helped attract exceptionally talented team members, as well as attract clients who rely on Vantage for all their commercial real estate needs. Hemo's approach has also contributed to the company's rapid growth in the South Jersey region. With more than 20 years of commercial real estate experience, he brings unparalleled and extensive entrepreneurial experience and knowledge to the firm.
"It doesn't matter if you are an investor, a developer or a business owner looking to lease or purchase a space or property: Don't fall in love with real estate! Buy smart and never over-leverage. Be sure that you have enough cash or reserves available to survive the next downturn."
Stacy Reiter, Vice President, Property Management & Accounting
Veritas Real Estate
Reiter has been responsible for managing daily property maintenance activities for Veritas Real Estate Services for the past 15 years. In this role, she coordinates the following functions: property management, accounting, lease administration, tenant services and maintenance requests. She also participates in tenant construction management and oversight. Over her career, Reiter has held a variety of accounting, finance and operating positions including her role as controller for a local family-owned restaurant in Cherry Hill and office manager and controller at ATTS, Inc.
"I lead by example and set a high standard. In the property and construction management components of our responsiveness, quality and timeliness are critical. The oversight of our property management team, maintenance technicians and vendors is a 24/7 operation. I need to not only manage and guide our teams, but also be in the trenches with them."