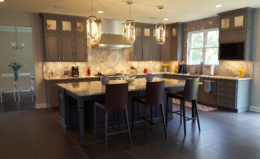 All in the Family
Backed by the experience and expertise of two generations, Matteo Family Kitchens stays on top of industry trends and client tastes to ensure that every job is referral-worthy.
Steve and Tom Matteo have learned a lot from their father, Everett, who founded Matteo Family Kitchens in 1995 after decades of working in a lumberyard and designing kitchens.
But one constant memory still stands out.
"People would come in and say, 'Everett Matteo is our guy,'" says Matteo, now a co-owner of the interior-remodeling business. "People came to him because they trusted him and he did them well in the past."
Being raised around his father's work taught Matteo a lot about what it takes to keep clients happy, deliver high-quality work and why it's important to stay on top of industry trends. And while satisfied customers never go out of style, design and material preferences certainly do.
"When HGTV changes their color palette, everyone feels like they have to change their kitchens or paint all their walls," he notes.
Some of those trends are all-encompassing. Take, for example, how today's homeowners gravitate toward a more cohesive look in their first-story flooring.
"Back in the day, the kitchen had one kind of floor, the foyer had another and maybe the dining room had a nicer carpet—something that no one could walk around on with shoes," Matteo notes. "Now, it seems like everyone wants their first floor to be unified. We were doing hardwood flooring for the longest time but now people are worried about durability and scratch-resistance. Those vinyl-plank, waterproof floors give them something nice that's one less thing to worry about."
Others tastes are more generational, like material and color preferences. Generally speaking, Matteo has noticed boomers prefer wooden accents and appointments, while millennials are largely casting their kitchens in whites, grays and blues. Lifestyles are influencing factors, too, with durability and stain-proof materials driving the most in-demand countertop options.
"We're not seeing nearly as many granite countertops as we are the quartz material: Quartz comes out of the earth, but it's made in factories," he explains. "It's a manufactured stone and when they manufacture it, they can dictate color and manipulate it any way you want because it's computer-aided. But it feels like granite, it has the weight of granite and it's sealed. It requires very minimal maintenance, and people don't want to spend a lot of time on maintenance."
Some trends do come with a bit of sticker shock, like realizing that renovating a bathroom can be as expensive as remodeling a kitchen, despite the former typically being smaller than the latter. But, as Matteo points out, you get what you pay for, and bathrooms are deceptively more labor-intensive, with those individual tiles taking a tremendous amount of time and training to install perfectly, and more plumbing to consider than anywhere in the house.
"Our bathrooms are our Zen room: That is our spa, that is where remodeling projects give us that feel of being in a luxury hotel," says Matteo. "But the labor to deliver that sense of escape and being somewhere luxurious, the tools to deliver that finished product, the tiles we use today—there's a cost to all of that."
He adds that shelling out a few more dollars at the beginning of the project means you're avoiding the costs and inconvenience of emergency repairs down the line.
"We use water proofing systems behind the tile today and there is a cost to these products ," Matteo says. "That's the most important part to me, because that will keep me from getting that call from Mrs. Jones on a Sunday afternoon saying her ceiling below the bathroom just collapsed because there was a leak."
Costly mistakes aren't limited to the bathroom, and Matteo notes that nothing beats visiting a showroom and taking advantage of free in-home consultations when it comes to sidestepping buyers' remorse.
"What's nice about our showroom is that we're full-service, which means that we've got the cabinets, the floor, the countertops, the backsplashes, the hardware that goes on the cabinets, we have islands set up all around for people to look at," he describes. "But more than that, you can see the whole package, you can see if colors clash before you have this custom ordered piece made that you don't like."
Matteo adds that the "appointment only" denotations on the company's website are just to ensure clients get that one-on-one time they're paying for. Everybody is always welcome to visit the Matteo Family Kitchen showroom and schedule a free in-home consultation to work with professionals before they have their hearts set on products that clash or won't fit in their homes.
Because, in the end, it's all about having happy clients.
"We love getting those thank-you cards and the Google reviews, but for me, the best compliment is for somebody to refer us to friends and family," Matteo says. "That means they trust us with the people they love."
Matteo Family Kitchens
Showroom: 20 Old Salem Road, Woodstown
(856) 769-2490
MatteoKitchens.com