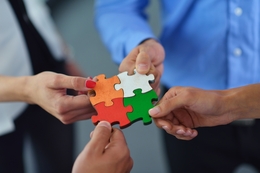 Keeping the Legacy Going
Dedication, loyalty and maintaining boundaries between work and home are key when it comes to running a successful multi-generational company.
You spend a lot of time at work, so much so that coworkers can sometimes start to feel like family. Of course, this is especially true when you pursue a career in a multi-generational family business and your coworkers actually are your relatives.
From the outside looking in, it may look like an easy gig: a guaranteed career with an already-established company. The reality, however, is anything but. For one thing, to build on a successful company, there is no guaranteed job—family ties or not.
"My dad is really about qualifications. He's been at the lead of a lot of different organizations and businesses. He would never put somebody in a position of leadership and hurt the business itself," says Raymond Lamboy. "Business is business. Family is family."
Lamboy, current president and CEO of the South Jersey-based Latin American Economic Development Association, took over as general manager of the Camden location of his family's business, Lamboy Furniture, in 1991. His father, Dandelario Lamboy, started the business in 1970, and his sister managed the Philadelphia location. The Lamboy family sold the business in 2005.
And from start to finish, the Lamboys kept business and family separate.
"Business starts at the front door of the store and business ends when you leave the store. Family does not come in the door," Lamboy explains. "We were very disciplined in that way. We didn't let family dynamics affect our business dynamics."
It's a sentiment echoed by a number of South Jersey businesspeople. Working with family certainly has its advantages, but being professional at the jobsite is how things get done.
"I think trying to keep work and familial relationships separate is something that is always a challenge, but it's one of the most important challenges we have," Nick Painter says. "You have a different relationship at work than you do at a weekend barbecue or holiday dinner."
Continuing a Legacy
Painter is the vice president of Astro Sign Company, a family business located in Glassboro. His grandparents, Jerry and Joann Painter, bought an existing billboard advertising company in 1983. With its new proprietors, Astro Sign Company offerings were diversified and expanded, and the company took hold as a leader in the region.
"Since the earliest days, Astro has evolved, addressing the diverse needs of our clients while staying current on industry trends, products and technology," says Painter. "Now Astro is a full-service sign company."
Painter is the third generation of his family to be involved in Astro, which, today, does interior and exterior signage, vehicle lettering, banners and more. His dad, Doug, is the current owner, while his grandparents have taken a backseat to the business—though they still give guidance upon request.
"Astro offers everything you would expect from a typical sign company; however our approach is built on the values of our founders," Painter says.
But that growth wasn't always smooth sailing.
"I think, specifically with bringing in their adult children, you always have the challenge of a different perspective, a new style, a new outlook on how they want to handle themselves," says Painter. "Although Astro has been at the forefront in the areas of production, I saw that I could offer insight on social media and communications."
Having grown up around cell phones and computers, updating technology was a focus for Painter when he joined the company. It was a big change, but it came along in small ways over time.
Meggan Ciaccia of Ciaccia CPA, an accounting firm based in Mantua, is no stranger to the challenge of change. Her father started the firm in 1982; after both a first career in social work and then returning to school for an accounting degree, Ciaccia joined her father as an employee in 2003. She made partner in 2013, and they worked together until her father retired last year.
"I am a second-generation business owner for a year now. The thing I have struggled with the most over this past year is making changes. I need to look to the future and make decisions and changes that are best for me, my family, my team and the practice," Ciaccia says. "At the same time, I want to be sensitive to what my dad's legacy is and what he created over the last 40 years.
"It's a strange balance of turning his legacy into my legacy."
Getting Outside Experience
Much like Ciaccia didn't go right into business with her father, many successful family businesses experience the same with younger generations. Whether it's an entirely different career path or a job in the same field, it's not uncommon for the next generation to get their professional feet wet elsewhere before diving into the family business.
Lamboy, in fact, encourages it.
Before joining his family's furniture company, Lamboy was on the hotel-and-restaurant management track. This opportunity to work outside the family business was beneficial, and something Lamboy recommends for anyone who wants to work with family.
"Growing up in a family of entrepreneurs, I think the best advice is to send them off to work for somebody else before they come to work for you," Lamboy notes. "It's a very different dynamic. And if they're interested in the industry family is in, they'll learn more and bring that knowledge to the company itself."
The Umosella brothers—Steve, James and Mark—are the third generation to take the helm of United Asphalt Company, a Winslow Township business started by their grandfather in 1963. The trio's father took over in 1975, and the brothers grew up working "every part of the business," according to Steve Umosella, company president.
"Whether it was sweeping floors, labeling pails, making product—it was kind of how my grandfather handled it with my dad. You had to understand everything from every aspect of the business. So my father did that with each one of us, with me and my brothers from our early teens, working there over the summers," says Umosella.
However, growing up in the business didn't lock them into a future career. Umosella emphasizes that his dad encouraged his sons to explore their options, simply letting them know when an opportunity opened up at the company that he felt would be a good fit for them.
"We didn't have to do this, it was something our dad kind of let us come back to, and we all ended up coming back to the business. The one thing for us is, with a family-owned business and us being the third generation, we saw it grow," Umosella said, adding the business moved a few miles up the road to a much larger, 17-acre tract in 2004.
Daniel Kukainis, a managing partner and certified financial planner at Schwartz Financial Associates in Marlton, gained experience in management and finance at other companies before joining his family business, which his grandfather started in 1958.
He knew there was a chance he would return to Schwartz Financial. When the time came, he recognized the benefit of taking the reins as a family member, especially in valuing the relationships his predecessors cultivated over the years.
"By respecting the amount of work it took to get to this point, it gives a unique insight for what needs to be done to continue the success," Kukainis points out.
Overcoming Challenges
Caccia said there are "so many challenges" in bringing a family member into the business.
"Staffing for one, there is always the concern of the family member being treated differently. If a family member is hired as an employee, they are never seen as a true equal by other team members," Ciaccia says. "Separating family and work is also another challenge. You need to make a conscious decision to not talk work outside of the office."
Umosella credits his father for imparting that same lesson to his three sons.
"Growing up, if my dad had a bad day at work, he didn't bring it home because it wasn't anything that anybody at home did. And that's the same way we all are: When you're done work, you're done," explains Umosella. "I might be thinking about something that happened at work all night, but it just isn't worth taking it home to your family. Even with my brothers, work is work and home is home, and that's just how you handle it. And that's not always easy."
Kukainis admits there is no way to completely separate the two entities—work and home—but there are ways to make the dynamic work.
"The most challenging obstacle is learning how to synergize your relationships at work and outside of work with your family members," Kukainis says. "There is no way to separate, but you can find success by communicating what topics you prefer to stay outside of work and by making an effort to avoid talking about work topics outside of the office/business."
At the end of the day, it's important to recognize that the success of a family business is built on the same things every other successful business is built on: hard work, dedication and focus.
"It takes a lot of emotional intelligence to determine what is going to be best for the company and keeping personal feelings out of those decisions," Painter says. "It is all about making decisions based on taking care of the company, the staff and the customers."
Click here to subscribe to the free digital editions of South Jersey Biz.
To read the digital edition of South Jersey Biz, click here.

Published (and copyrighted) in South Jersey Biz, Volume 12, Issue 7 (July 2022).

For more info on South Jersey Biz, click here.
To subscribe to South Jersey Biz, click here.
To advertise in South Jersey Biz, click here.