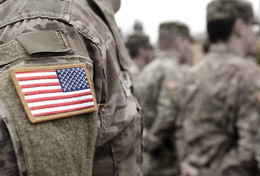 A Welcome Addition
Companies across various industries have discovered numerous benefits to hiring veterans, namely the specialized skills and loyalty they bring to the team.
For the men and women who have bravely served our country in the armed forces, transitioning from military life to a new career in the civilian world can often be an overwhelming journey littered with obstacles. Having been in their shoes once himself, Lance Lopez Sr. understands the problems they face as well as anyone. A veteran of the United States Army, he was able to successfully pivot into multiple ventures outside the military.
That made Lopez a perfect fit for a leadership role in the Veterans & Community Recruitment division of the New Jersey Manufacturing Extension Program (NJMEP), a nonprofit that supports the state's manufacturing industry. He accepted the position earlier this year and dove right in, eager to help veterans like himself overcome the challenges and find a rewarding profession.
"I have always felt that our community in general doesn't do enough for veterans," Lopez says. "When this opportunity with NJMEP became available to me, I quickly jumped at the chance … [to assist] our veterans with getting the help they want, deserve and need. NJMEP will be the resource to allow them to make better wages, to take care of their families, to buy the homes, cars and vacations they want and to be more productive in our community."
With help from organizations like NJMEP and others across various industries, as well as employers more focused on giving veterans job opportunities, the national statistics are encouraging, as Lopez points out. According to the Disabled Veterans Chamber of Commerce, the unemployment rate among the veteran community is less than 3% nationally, the lowest it's been in 50 years.
"That's a good sign because it's telling veterans that employers want to hire veterans," Lopez says. "Most employers look at veterans as someone who is willing to work, willing to be disciplined, willing and able to do the job, and [it gives] the employers the ability to continue to support veterans in the state and the country."
Many of the skills that are valued in a military setting translate to the private sector, with discipline being an obvious one. But veterans have also proven to work well together, in high-pressure situations, and they are usually responsible individuals with a strong work ethic.
Those traits are welcome in a broad range of careers.
"Covanta is committed to recruiting, hiring, training, developing and retaining former service members because we not only appreciate the outstanding sacrifices made by them and their families, but we recognize the tremendous value service members bring to our organization," says Todd Frace, facility manager at the Camden location for Covanta, a company that specializes in sustainable waste removal.
"Their technical skills, leadership qualities and personal character traits, such as hard work, teamwork, sacrifice, focus on safety, integrity and desire to always successfully accomplish the mission, is exactly what we seek in a Covanta employee and is consistent with our core values."
Stan Middleman, CEO of Freedom Mortgage, asserts that hiring veterans positively impacts not only the company and customers, but also fellow employees.
"I am proud of Freedom Mortgage's commitment to our veterans," he says. "Our experience onboarding and fostering relationships with veterans has been very successful and has made Freedom Mortgage a better company by providing us with strong teammates, mature co-workers, and motivated, self-reliant, mission execution-driven personnel.
"I would be remiss in not mentioning the value they bring to their colleagues. They make those around them better through shared experience, training and discipline. And, in exchange, the company enjoys celebrating our employees who have served during Military Appreciation Month in May and in November in honor of Veterans Day. Given the opportunity, I would gladly hire many more veterans and give them the chance they truly deserve."
David Bruce, business manager for UA Local 322, says his union takes advantage of a program called Helmets to Hardhats, a national nonprofit that connects military service members with skills training or job opportunities in the construction industry. "If their skill level is high, we can either put them farther up in the apprenticeship program, or we can actually bring them in and organize them as a mechanic if they're skilled enough and they can get through our examining board test," he says.
Bruce is the son of a Korean War veteran, and he also volunteered for the Veterans Advisory Board as a councilman in Washington Township, so supporting veterans is personally meaningful to him. Many of the union's members have prior military service across all of the branches and they appreciate the camaraderie that is a key component of the industry.
"When you get out in the construction world—where you're facing challenges, some of the jobs are difficult and you're working out in the extreme heat or cold—you're pulling together with your partners and there's a team mentality, in a sense," Bruce says. "I think a lot of that relates to people in the military, as opposed to a job where you're given a task and it's all on you to handle it. Some people are more skilled at things than others and you can step aside and say, 'I'm not that familiar with what I'm doing here, can you give me a hand?' We work together like that as a team, as a brotherhood or sisterhood. In that regard, it has the same aspects as being in the military."
Fulton Bank offers a six-month paid military internship program for veterans. According to Bernadette Taylor, chief human resources officer for Fulton Financial Corporation, it "provides on-the-job training in the banking and financial services industry, networking and professional development opportunities, and the ability to advance their knowledge and skills."
She adds that more than 50% of the military interns have gone on to earn full-time positions between 2021 and 2022, and that number is expected to grow. "We find that veterans have unique talents and skills that translate well to the financial services industry, such as commitment, accountability, focus and leadership skills," Taylor says. "Veterans come from a world where 'we' is top of mind and that teamwork mentality really fits well with the Fulton culture."
Taylor says veterans entering the workforce often have an easier transition than recent college graduates starting their careers. Mason Mendoza, who served in the Army from 2014-2020, is an example of someone who has flourished, as he took advantage of Fulton's internship program and is now a commercial relationship manager for the bank.
"I started my military internship not necessarily knowing what I wanted to do with my career, but quickly fell in love with Fulton Bank's culture and knew I wanted to stay here," Mendoza says. "Once I mentioned to my manager that I wanted to become a commercial relationship manager in the Delaware market, she was willing to create a development plan for me and actively assist in my goals to get me to where I wanted to be. This program has allowed me to receive the training I needed in order to be successful in a new career field, and I am grateful for Fulton Bank's dedication to helping veterans."
One of the problems Lopez finds with veterans entering the workforce is not having a résumé that reflects their skills and the responsibilities they had as service members, and that is one of his areas of focus. He and Michael Womack, the marketing and communications manager at NJMEP, also stress the importance of registered apprenticeship programs, which give veterans the chance to receive training and take certification courses that will prepare them for successful careers while getting a head start on employment at the same time.
"The manufacturer can quickly onboard a veteran," Womack says. "They can learn the facility from an entry-level position, meet the team and learn the process while they're taking the self-paced course. … It's an efficient, effective way to look at workforce development in today's modern manufacturing industry."
There are also financial incentives to the registered apprenticeship program for employers, Womack adds. "If it's a new employee entirely, they can get $10,000 off that individual salary supplemented by the GAINS grant from the New Jersey [Department of Labor and Workforce Development]. … So they can even increase the salary to make their position more competitive, or they can try the individual out to see if they're going to be loyal and committed members of the team. You invest in that person throughout the duration of this apprenticeship program. … They work through that program for a year and a half so they're constantly engaged, they're upskilling along the way, being better members of that team, learning more about the industry and being able to contribute more to that manufacturing operation. That's a value directly to the employer."
Additional benefits for companies include tax breaks such as the Work Opportunity Tax Credit, a deduction that business owners can get for hiring certain groups, including veterans. Other salary subsidies may be available as well.
But above all else, hiring a veteran is a chance for employers to say, "Thank you for your service," while strengthening their business at the same time.
"I wholeheartedly recommend hiring veterans," Middleman says, "to anyone seeking disciplined, motivated, prepared team members."