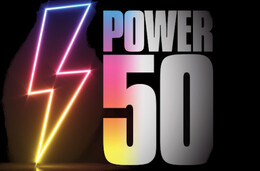 Power 50
Meet the movers and shakers who shape the way we do business in South Jersey.
Every good leader remembers where they started, learns from the lessons along their upward trajectory and understands their responsibility to the community they serve. For this year's Power 50, our honorees had the opportunity to put their journeys into their own words, sharing the wisdom and stories their paths have yielded over the years. From politicians to presidents, CEOs to senior staff, and doctors to directors, our 2022 list is proof that the South Jersey business world is filled with leaders who embrace their influential positions to make the home we share a better, brighter place.
Marlene Z. Asselta, President, Southern New Jersey Development Council (SNJDC)
On her role and its regional impact…
Identifying and partnering with state and county economic development officers to pool resources and seek a regional, balanced economic-development approach to direct investment in the region's public and private sectors. Helping connect the dots to ensure the region has access to necessary infrastructure—be it transportation or the necessary workforce—to ensure a strong, diverse and sustainable economy allowing for planned expansion.

Cathy Bennett, President and CEO, New Jersey Hospital Association (NJHA)
On key community obligations…
NJHA's mission is to improve the health of the people of New Jersey—a tremendous responsibility that we share with our many members across South Jersey. That responsibility isn't limited to the care delivered within our hospitals' walls: Achieving good health requires a community focus and collaboration extending to issues like stable housing, food access, education, jobs and transportation.
Lloyd Birnbaum, Partner, Lauletta Birnbaum
Some advice for tomorrow's leaders…
Treat everyone you encounter—employees, clients, customers and your competitors—with dignity and respect. There are many reasons to be respectful but, for business-development purposes, remember that today's clerks and assistants will be tomorrow's CEOs and business owners.
Mary Ann Boccolini, MA, BSN, President & CEO, Samaritan Healthcare & Hospice
On her industry entrance…
A hospital recruiter encouraged me to accept my first job as a manager. This break was a major milestone in my career, setting me on the path to Samaritan and the opportunity to provide comfort, support and dignity for almost 11,000 patients and families each year through Samaritan's many services. I continue to be grateful to her for that opportunity.
Tom Bracken, President and CEO of the New Jersey Chamber of Commerce
On his role and its regional impact…
I see myself as a voice that speaks on behalf of the business community. I fight to make New Jersey a place where businesses can flourish and the economy is strong. A solid economy leads to good-paying jobs and generates the tax revenue that pays for New Jersey's infrastructure, parks and social programs. In short, a good economy makes New Jersey a great place to work and to live.
Joseph Chirichella, President and CEO, Deborah Heart and Lung Center
On key community obligations…
A key responsibility today is equal access to care for all, commonly referred to as "social determinants of health." Access to care was a fundamental driver in the vision of the Deborah's founder, who coined the phrase "There should be no price on life"—which our staff, to this day, remains committed to. … Eliminating barriers to access is a key driver in our responsibility to South Jersey.
Mark A. Clouse, President and Chief Executive Officer, Campbell's Soup
On his role and its regional impact…
We are committed to having a positive impact on the communities we call home, starting with Camden, our hometown for more than 150 years. We just completed our annual employee service event, and held more than 50 volunteer projects at 24 Campbell locations. We're also focused on building a great business, starting with a winning team and culture where everyone feels like they belong and are empowered to thrive.

Daniel Cuneo, Market President, Truist Bank
Some advice for tomorrow's leaders…
Be your authentic self. You don't need to change who you are or the way you act because you feel that's what the person on the other end of the table wants. If you stay true to yourself in your interpersonal interactions, people will pick up on that and gravitate to you.

Robert Curley, Regional President of Pennsylvania & New Jersey, TD Bank
On his role and its regional impact…
My biggest responsibility to the local community is to use my influence, professional skills and connections to make South Jersey a better place to work, live and raise a family.
Stephen F. Dougherty, Executive Director, South Jersey Transportation
Some advice for tomorrow's leaders…
Make it a point to find and develop trusting mentor relationships. It's important to listen and learn from mentors and understand what has and hasn't been successful in their professional careers. The most valuable lesson you can learn can be on "someone else's dime."
Bradley J. Fouss, SVP-Market President – Greater Philadelphia
On his industry entrance…
Bruce Dansbury was a very successful banker who recently retired. But more important than just being a successful banker, he was a great leader and great person. People wanted to work for him. He gave me a significant management job when I was 29 years old—looking back, this was a big risk on his part. But that was part of his leadership style: to support, teach and mentor people.

Christopher R. Gibson, President, Archer
On his industry entrance…
My mentors, Ed Laird and George Kugler, gave me a remarkable amount of hands-on experience early in my career. By allowing me to participate extensively in depositions, trials and oral arguments, and providing me with a lot of insight about running a law firm, they helped shape me into the attorney I am today.
Bill Golderer, President & CEO, United Way of Greater Philadelphia & Southern New Jersey
Some advice for tomorrow's leaders…
Be tenacious. Instant gratification and rapid results are unusual in business and are even rarer in the arena of social change. When you have an idea for how things can be better, no matter how passionate you are, you're going to get indifference before adoption. You'll need all the ingredients of tenacity to continue onward: belief in your abilities, a commitment to yourself and a strong trust in your moral compass.
John T. Hanson, CEO Delaware River Port Authority (DRPA); President, PATCO
On key community obligations…
The community has entrusted DRPA and PATCO with the Ben Franklin, Walt Whitman, Betsy Ross and Commodore Barry bridges and the PATCO rail line. Through our stewardship of these important transportation assets, we connect people to their family, friends, jobs, mentors, doctors, hospitals—and fun.
Lori Herndon, MBA, BSN, RN, President and CEO, AtlantiCare and Chair, New Jersey Hospital Association Board of Trustees
Some advice for tomorrow's leaders…
Find work that you are passionate about. Learn from mentors and leaders in and beyond your field of interest. Continue to ask yourself how you can make a difference now, how you can be innovative and what's next. Listen to and learn from your colleagues and customers.
Dianna Houenou, Chair, New Jersey Cannabis Regulatory Commission (CRC)
On key community obligations…
As inaugural CRC chair, my job is to lay a strong foundation for building a cannabis industry with safe, responsible operators. My vision prioritizes making this emerging industry open and accessible to anyone, anywhere. It's important that aspiring entrepreneurs see the potential economic and personal benefits that come with a new, regulated cannabis industry.

Ali A. Houshmand, Ph.D, President, Rowan University
On his role and its regional impact…
As president of Rowan University, it's my responsibility to assemble, motivate and lead a forward-thinking, creative group of leaders who work tirelessly for the betterment of the university and, in turn, the region. Every student who graduates will have an impact on their community, creating a ripple effect that will travel wide and far.
Arnold R. Johnson Jr., Executive Director, Market Director at Chase Bank
On his industry entrance…
The person who gave me my first big break was Michele Newman Lawrence. The opportunity to become a part of Chase's market expansion over the past three years has been the best part of my 33-year career. I have been able to help build over six new Chase branches in South Jersey and hire people who live here. I will be forever thankful and blessed that Michele reached out to me.
Brian W. Jones, President/CEO, The First National Bank of Elmer
On key community obligations…
My biggest responsibility is to make a difference. As a local institution, we take considerable pride in being involved in the communities we serve. Our clients are our friends and our neighbors, which is one reason why we volunteer and support our civic and community groups. Our team plays a critical role in keeping the local economy strong and vibrant by meeting our clients' needs.

Thomas Kemly, President and CEO, Columbia Bank
Kemly joined Columbia Bank in 1981 and was appointed to his current leadership role in 2012. Through organic expansion, strategic acquisitions and spearheading Columbia Financial's 2018 IPO, he has worked to position the bank for ongoing growth. He's also championed Team Columbia, which encourages employees to participate in local volunteer and charity initiatives, and grew the Columbia Bank Foundation into one of the state's largest private philanthropic organizations.
Greg Lalevee, IUOE General Vice President and Business Manager, Local 825
On his role and its regional impact…
Our members build the roads and bridges that connect South Jersey to the next town, county and state. We build houses, towns and cities. Today, we see a whole new industry ahead of us in wind energy, which will have a profound impact on South Jersey. It's going to take planning getting to where we want to be five or 10 years from now.

Rodger Levenson, Chairman, President and CEO, WSFS
On his industry entrance…
In 1986, I replied to a "Help Wanted" advertisement for an entry-level credit analyst at the Philadelphia National Bank. During the interview, my soon-to-be manager Dan Aboyan was not sure the position would fit my career goals. I told Dan that I just wanted an opportunity where I could learn and grow. Dan was a fabulous mentor, and our friendship continues to this day.
Dan Lombardo, President & CEO, Volunteers of America Delaware Valley
On key community obligations…
Our role as an organization is to serve those most in need. The challenge is making sure that the necessary resources are available to meet those needs.

Kevin B. Mahoney, CEO, University of Pennsylvania Health System
Some advice for tomorrow's leaders…
Join your organization first, and pick your job second. It's the people you work with who help support your success, and the organization's mission that will propel you as you move ahead in your career. You may have opportunities for a perceived better position at another organization, but if the organization neither matches your internal ethics nor has the ethos that revs your engine, you won't be satisfied and you'll jump from job to job.
Amy Mansue, President and CEO, Inspira Health Network
On key community obligations…
Cumberland and Salem counties are the most challenged in the state in terms of health outcomes. In my role, it is my responsibility to tackle these issues and help reduce disparities. This can only be done by partnering with community leaders from all sectors and identifying issues negatively impacting health outcomes. Then, we have to prioritize the most important as they relate to making a positive impact.

Anthony J. Mazzarelli, M.D., JD, MBE, Co-President/CEO, Cooper University Health Care
On his role and its regional impact…
My role is to serve those working at Cooper—our 8,500 team members and more than 800 physicians—so they can best serve any patient in the region with the highest level of care. We have an incredibly talented team. It is my role to foster an environment where our people can advance health care, which, in turn, benefits the patients and families we serve.

Scott Mertz, President, NAI Mertz
Some advice for tomorrow's leaders…
The world is changing at an increasingly rapid pace, as is the economy and our industry. It is no longer a beneficial trait to be adaptable: It's a requirement. Those who are fueled by the ebb and flow of uncertain terrain will be most successful in the years to come. Be flexible and enable those on your team to be creative, as you never know from where the next big idea will emerge.
Stanley C. Middleman, President and CEO, Freedom Mortgage
On key community obligations…
My biggest responsibility is providing the opportunity for people across the country—especially those in the South Jersey community, where Freedom Mortgage was established—to purchase their home or leverage the equity in their home to help pay for a renovation, consolidate debt and more. As a top VA and FHA lender, Freedom Mortgage has the expertise to help veterans and those with low down payments become homeowners.

Doug Mokoid, Region President, Atlantic City Electric
Some advice for tomorrow's leaders…
Prioritize people. It sounds like a simple concept, but being an effective leader generally boils down to being able to form partnerships at all levels of an organization. Take the time to get to know the people you work with, demonstrate on a day-to-day basis that you care about them and make sure they know you have their best interests in mind.
Mike Munoz, Market President, AmeriHealth New Jersey
On his industry entrance…
I was first hired into the industry in 1988 … Years later, I decided to try opening restaurants, swearing I would never look back—until the stock market crashed, and everything came to a screeching halt. An old colleague called to ask if I would be interested in running sales and marketing for a statewide health plan that was just taking off here, which I now lead as president.

Phil Murphy, Governor of New Jersey
On his role and its regional impact…
As we continue to promote economic opportunity and mobility statewide, we must ensure all communities reap the benefits of our progress. Whether it's creating good, new jobs through South Jersey's leadership in our nascent offshore wind energy, being a top location for our growing television- and film-production industry, or our work to provide more affordable housing, transportation options and access to higher education, ensuring a thriving South Jersey will always remain among my administration's top priorities.

George E. Norcross III, Executive Chairman, Conner Strong & Buckelew; Chairman of the Board of Trustees of the Cooper Health System, Cooper University Hospital and MD Anderson Cancer Center at Cooper
With his influence spanning the state's political and business landscapes, it's no wonder Norcross is widely regarded as one of the state's most powerful unelected officials. But he's known for his professional presence and philanthropy in equal measures, advocating for the city of Camden and its residents, and and serving as chair of The Cooper Gala, one of the region's largest charity fundraisers.
Kevin M. O'Dowd, JD, Co-President/CEO, Cooper University Health Care
Some advice for tomorrow's leaders…
Serve others. If you focus on helping those around you to be successful, you will create an environment where team members can thrive. In addition, embrace diversity of thought and experience. Surrounding yourself with a team of people who see the world the same way and have a similar set of experiences will limit your organization's ability to reach its full potential.
Melissa J. Orsen, Senior Vice President, South Jersey Industries (SJI); President, SJI Utilities
On her role and its regional impact…
My role is to lead our teams to enhance our utilities' safety, reliability and sustainability efforts. As we continually improve our infrastructure, we're simultaneously creating an energy-delivery system that enhances environmental outcomes for the communities we serve. I am excited to lead the clean-energy efforts for our utilities while ensuring exceptional service and affordability for our customers.
Dennis W. Pullin, FACHE, President and CEO, Virtua Health
On key community obligations…
If we want people across our community to know they matter, we must take responsibility for creating an environment of inclusion and equality. Everything we do is centered on helping people be well, get well and stay well by continuing to have a positive impact on the health and well-being of the people in South Jersey, now and well into the future.
Annette C. Reboli, M.D., Dean, Cooper Medical School of Rowan University (CMSRU)
On her role and its regional impact…
I oversee the education of more than 400 medical students at South Jersey's only MD-granting medical school, and hundreds of residents and fellows completing their post-graduate training at CMSRU's clinical affiliate, Cooper University Health Care. These physicians and future physicians will be caring for patients and impacting the health of communities locally, regionally and across the United States.
Christina M. Renna, President & CEO, Chamber of Commerce Southern New Jersey (CCSNJ)
On her industry entrance…
The former longtime leaders of CCSNJ—Deb DiLorenzo and Kathleen Davis—took a chance on me when I was 26 years old and it changed the entire trajectory of my professional career. They believed in me from the very beginning and taught me everything there was to know about the South Jersey business community and the critical role the chamber plays in helping the region thrive. I am forever grateful to them both.
Michael Renna, President and CEO, South Jersey Industries (SJI)
Some advice for tomorrow's leaders…
I could not be more excited by the next generation of leaders at SJI—quite frankly, I learn more from them than they could ever learn from me. But I do have two pieces of advice. First, think big: Create or strengthen a competitive advantage, break new ground, innovate and, most importantly, champion an idea and follow through. And second, be authentic. It will serve you well, especially when you're called to lead through changing or challenging times.
Gary D. St. Hilaire, President & CEO, Horizon Blue Cross Blue Shield of New Jersey
On his role and its regional impact…
Health care costs continue to rise at an unsustainable rate, consuming a bigger piece of the budget in every household, government and business. At Horizon, nearly 90 cents of every premium dollar we collect goes to paying a claim for those health care costs. My role is to drive Horizon to be a catalyst for change, working collaboratively with our health partners so South Jersey families and businesses can physically, mentally and financially thrive.
Andrew Saporito, Executive Director/CEO, South Jersey Port Corporation
On key community obligations…
My and the South Jersey Ports' core mission is creating, supporting and aggregating good, family-sustaining jobs for South Jersey and our host communities of Camden, Paulsboro and Salem in a safe, environmentally responsible manner—and with great sensitivity to their quality of life. Ports are the oxygen of the global economy, which the current disruption in the global supply chain has made painfully clear.

Michele Siekerka, Esq., President and CEO, New Jersey Business & Industry Association (NJBIA)
Some advice for tomorrow's leaders…
The world continues to change at a pace that is daunting, at best. You must approach each new day with that concept in mind because nothing is static anymore. Being able to assess the current situation and quickly adapt, lean in and pivot is critical to being successful, respected and impactful. Surround yourself with great people from whom you can gain a diversity of opinions and high-level thought leadership.
Tim Sullivan, CEO, New Jersey Economic Development Authority (NJEDA)
On his role and its regional impact…
Under Gov. Murphy's leadership, we continue to develop key strategies to help build strong and dynamic communities, create good jobs for New Jersey residents and provide pathways to a stronger, fairer economy. We also create and implement initiatives that will positively impact the region for years to come by enhancing economic vitality and quality of life in the state and strengthen New Jersey's long-term economic competitiveness.
Brian Sweeney, RN, MBA, FACHE, President & CEO, Jefferson Health - New Jersey
Some advice for tomorrow's leaders…
Operate with the highest level of authenticity and integrity. You have tremendous responsibility and authority in a leadership role, and must be thoughtful about decision-making and the impact it will have on others and your organization. Support your frontline workforce and commit to driving the best possible outcomes for your customers. Become an expert in change management, given the amount of transformation necessary in all industries as a result of the pandemic.

Antonio D. Tillis, Ph.D, Chancellor, Rutgers University–Camden
On his role and its regional impact…
I oversee an institution that ensures a strong future workforce, which is good for the economy but also helps students from lower-income families attain social mobility and careers advancement. Earning a college degree has two significant impacts on first-generation students from families who live at or below the poverty line: the increased lifelong earning power that comes with the degree, and the example they become and the sense of pride that resonates through a family.
Emanuel "Manny" Tocco, Senior Vice President, Citizens Bank
Tocco's two decades of experience have armed him with a well-informed industry perspective, especially when it comes to the commercial-banking world he's been entrenched in for most of his career. Previously, he'd spent seven years as Citizen Bank's Greater Philadelphia market manager, putting him in direct touch with South Jersey's unique needs, a region he continues to serve with a forward-thinking philosophy.
Vincent Tucci, Senior Vice President, Bank of America
Beyond meeting the needs of each and every client, Tucci endeavors to give back to South Jersey through volunteer work and his mission of helping create a more sustainable future for the companies and communities he serves. To that end, Tucci has volunteered with the likes of The United Way, The Foundation at Burlington County College, the Burlington County Chamber of Commerce, and Appel Farm Arts and Music Center.

Christopher Vargo, Market Leader, PNC Bank
On key community obligations…
We have a responsibility to deliver the power of PNC's capabilities as a national Main Street bank, which is how we support the South Jersey business community's financial wellness and residents—our customers. PNC's responsibility is to also continue to seek out new diverse talent to join our organization and grow their careers at PNC while working, living and investing in the South Jersey community.

Christopher Warren, Senior Vice President and Commercial Banking Team Leader, Investors Bank
On his industry entrance…
When I was just 28 years old, Charley Connolly gave me the opportunity to open a satellite office in northern New Jersey. The initiative required hiring a team, finding office space and building a business plan. He also gave me the support and resources to execute on the plan. His faith in me was a boost to my self-confidence and propelled me to succeed in future endeavors.
Phil Wenger, Chairman and CEO, Fulton Bank
Some advice for tomorrow's leaders…
Every leader should pay attention to the basics, because the concepts we were taught as children continue to serve us well as adults. Listening is a good example. We must actively listen to others with a single goal: to understand their point of view and what is important to them. Only then can we effectively serve them, partner with them and help them thrive.

Jason M. Wolf, Founder and Managing Principal, Wolf Commercial Real Estate (WCRE)
On key community obligations…
This region is so much more to WCRE than a place to do business: It's our home and our community. Our roots are here, and we are passionately committed to the health, well-being, and success of its people. That is why WCRE dedicates a portion of the proceeds from transactions to a local charity and encourages our staff to volunteer and support charitable causes.
Click here to subscribe to the free digital editions of South Jersey Biz.
To read the digital edition of South Jersey Biz, click here.

Published (and copyrighted) in South Jersey Biz, Volume 12, Issue 7 (July 2022).

For more info on South Jersey Biz, click here.
To subscribe to South Jersey Biz, click here.
To advertise in South Jersey Biz, click here.