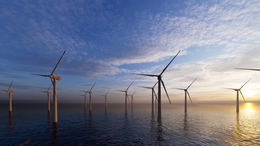 The Dawn of an Industry
Right in our own backyard, an array of sectors are coming together to lay the groundwork that will position New Jersey as an East Coast wind power hub while creating thousands of jobs—but what are the other long-term benefits?
Conferences rarely make headlines. But when the Business Network for Offshore Wind hosted its International Offshore Wind Partnering Forum in Atlantic City last month, the attendees it attracted and topics it addressed launched the event into the local spotlight, bringing those conversations about New Jersey's role in wind-energy to a broader audience.

As wind energy progresses from its infancy to a thriving, collaborative industry, numerous parties are working together to secure the state's place as an East Coast hub for wind power, the optimal zero-emission energy source for the Garden State.
That expansive coastline provides plenty of access to a wind farm's most advantageous offshore placement while also meeting intensely specific requirements like a lack of overhead bridge interference and being far from residential areas.

"For New Jersey and many of the other coastal states in the Northeast and Midatlantic, the benefit is an availability of resources," notes Lathrop Craig, president of PSEG Renewable Generation. PSEG and Ørsted have been filing several joint proposals for offshore wind power transmission, collectively named Coastal Wind Link. "Solar is obviously very popular and is making a lot of inroads, but the reality is … we're not Florida, we're not Texas, we don't have that level of sunlight up here—but we do have a windy coastline and offshore opportunities."

While the two long-term goals for New Jersey are to generate 7.5 megawatts of energy—enough to power more than 17 million homes—via wind power by 2035 and then become 100% carbon-fuel-free by 2050, it is a process comprising baby steps. And it's all taking shape in South Jersey.

The Road So Far
In September 2021, ground broke on Salem County's Wind Port—the Lower Alloways Creek location where workers will marshal and assemble wind tower sections before they're shipped to their offshore destination 15 miles from the South Jersey coast.
It was a milestone moment in a journey that energy and economic professionals regard as a once-in-a-lifetime opportunity to be part of something that New Jersey Board of Public Utilities (NJPBU) President Joseph L. Fiordaliso considers a radical game-changer.

"How many times in one's professional career can you actually say that you're involved in a revolution?" he notes. "That's what we're involved in: This is an energy-generation revolution."

Tim Sullivan, CEO of the New Jersey Economic Development Authority (NJEDA), which is leading the development of wind energy projects on behalf of the state, agrees. "This is a brand-new industry, which doesn't happen very often. It's not quite like when the internet came along, but it's that magnitude of a brand-new thing, which is going to create new clean energy broadly … and massive, massive economic opportunities."

New industries requires new infrastructure, which is currently in its first phase and already fully funded by the state. Two key projects are the Wind Port's Delaware River assembly facility, as well as Gloucester County's Paulsboro Marine Terminal, where monopiles will be constructed before their shipment to either Ocean Wind 1's 100-turbine wind farm or Ocean Wind 2, a planned second installation of turbines nearby that Ørsted bid on back in December 2020.

Last fall, another conference brought both attention and acclaim to New Jersey's wind-power projects when the nonpartisan, infrastructure-consultant organization CG/LA Infrastructure convened for its annual meeting. There, CG/LA recognized a handful of the country's most forward-thinking projects, naming Wind Port its Strategic Infrastructure Project of the Year for 2021.

"A couple things we're looking at are job creation and the ability to create a direct benefit for the local community," says CG/LA Director of Research Dr. Angela Gill. "With the New Jersey Wind Port, it's really solving a complex logistic problem, and it's helping other states transition to clean power by providing an efficient and cost-effective transition to offshore wind capability."
The Long-Term Benefits

"From an energy, economic and environmental perspective, all three of those 'E's' are critical to why this is such a good idea," says Sullivan. "We're talking about our kids and grandkids being safer from the threat of climate change."

While wind power might have less of an environmental impact than fossil fuels, even a sustainable, renewable energy source is not without a footprint. Constructing wind farms, building manufacturing facilities and laying power cables all disturb local ecosystems, and eventualities like disposing of wind turbine components at the end of their useful life make for unique waste issues. Habitat loss, wildlife threats and even the visual disruption of wind farms peppering a natural vista are among other concerns accompanying wind power's emergence.

Environmental protection initiatives have been baked into New Jersey's wind energy plans. For example, project developers will contribute $10,000/MW to fund not only research initiatives but also wildlife and fishery monitoring proximal to wind projects, with both the NJBPU and New Jersey Department of Environmental Protection planning to administer $26 million for those efforts.

Job creation and widespread collaboration are among the most widely celebrated elements of New Jersey's wind power plans. A number of those jobs will be finite and tied to the duration of construction projects, but the region does stand to benefit from five professional categories yielding thousands of new jobs.

Sullivan identifies those main categories as: construction; the "lifetime of work" of infrastructure operations and maintenance; an in-state manufacturing and supply chain; research and development; and those professional services like accounting, marketing or legal counsel learning to adapt to a new industry's needs.

"One of the reasons the New Jersey Wind Port stands out to us is that it's not just going to be creating direct jobs: It also has the potential to support 8,300 offshore jobs, so it's really a force multiplier," notes Gill. "It also has the potential to support hundreds of millions of dollars of economic activity annually, which then spurs economic development in the local area and up and down the Eastern corridor."

The state Department of Labor, Fiordaliso notes, has partnered with certain utility companies to guide job training; additionally, area schools are encouraging students to find their place in wind energy while diversity initiatives ensure everyone benefits from the expected economic boom—to the tune of $500 million in annual economic activity, plus an estimated $150 billion in capital investments.

"A lot of the focus is going to be on the educational component, and how do we start training university and college students, particularly in South Jersey—like with Rowan [University], there's been a big focus on getting people excited about this," adds Rebeca Moll Freed, a partner at Genova Burns, which has been serving as counsel to the New Jersey Energy Coalition, while Freed herself is experienced in energy and utility law.

"The commitment to both local and diverse spending … has been sort of memorialized in the BPU orders that authorize each project," Craig says. "For Ocean Wind 1, we've actually funded a foundation specifically targeting opportunities for diverse suppliers and researchers to participate in the industry."

But, ultimately, it is all about being at the forefront of bringing a viable source of clean, renewable energy to fruition.

"At the end of the day, this is going to be a source of power that goes into people's homes and their businesses, that creates greater reliability, greater resilience, as we move forward," Freed says.

What Comes Next
It's easy to throw out numbers like megawatt goals and proposed target dates for independence from fossil fuels; the harder part is actually getting there. As construction forges steadily ahead, officials are gearing up for the next round of RFP solicitation and bringing power cables on shore, all along a timeline that has Wind Port scheduled for completion by early 2024 and Ocean Wind not far behind.

Wind power has been on and off the table since the 2000s' latter half, and both Fiordaliso and Craig emphasized Gov. Phil Murphy's support is why wind energy began to take off. Fiordaliso observes that the Biden administration has further bolstered progress to the point that "it finally feels like we have a partner in Washington."

With the state and federal greenlight, those at the forefront of wind power's dawn in New Jersey have never been more optimistic—or serious—about meeting their wind-energy goals.

"Mitigation of climate change has got to be No. 1 in my mind in terms of the benefits," Fiordaliso says. "There are so many children, particularly in our under-served communities, with breathing and respiratory problems. We want cleaner air for them, our children, our grandchildren and subsequent generations. We're going to be judged by those future generations on how well we mitigate the effects of climate change."
Click here to subscribe to the free digital editions of South Jersey Biz.
To read the digital edition of South Jersey Biz, click here.

Published (and copyrighted) in South Jersey Biz, Volume 12, Issue 5 (May 2022).

For more info on South Jersey Biz, click here.
To subscribe to South Jersey Biz, click here.
To advertise in South Jersey Biz, click here.