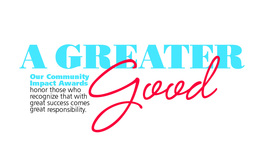 A Greater Good
Our Community Impact Awards honor those whose recognize with great success comes great responsibility. 
We've spent the past two years meeting any glimmer of hope that COVID is loosening its global grip with pent-up optimism, and these past few weeks have been no expectation. But the devastating effects of living through a pandemic will linger for some time as many households struggle to overcome the unexpected hardships they've faced.
But if there's any silver lining to be found, it's that there's no shortage of good neighbors voluntarily stepping up to help out. Among them are the area companies invested in being catalysts for change, whether they're empowering employees to be hands-on in their charitable outreach, organizing supply drives, or initiating a group effort to amplify the impact of their time and monetary donations.
With our fourth annual Community Impact Awards, South Jersey Biz is proud to celebrate those local businesses tirelessly supporting local charities, families and individuals, proving that good neighbors are never more than an outstretched hand away.
Radwell International
This large industrial equipment supplier supports numerous organizations and causes including the Alicia Rose Victorious Foundation, Susan G. Komen for the Cure, The Joseph Fund, Habitat for Humanity and YMCA of the Pines among others. In 2013, ROCK (Radwell Operation Caring & Kindness) was founded to provide various opportunities for employees to volunteer either during their lunch hour or after work. As a result, the company has been able to support Thanksgiving food drives, the collection of school supplies, toy drives, charitable bike races and marathons, and much more. In fact, the volunteer effort has been so successful that Radwell has made the program international, with all of the company's U.S. branches as well as locations in three other countries now contributing.
Santander Bank
Santander's financial education commitment spans volunteer service events and digital learning modules that provide economically disadvantaged members of the community the tools they need to manage money, build equity and achieve their financial aspirations. Annually, the bank logs up to 16,000 hours of financial empowerment service, delivered by trained Santander facilitators and supplemented by a digital education center, which offers 60-plus modules in English and Spanish to assist in the growth of credit scores, debt management and much more. Santander just completed a five-year, $11 billion Inclusive Communities Plan where they ultimately invested $14 billion in lending, community development, charitable giving, new retail branches and volunteerism. The bank is already actively planning for its next multi-year Inclusive Communities Plan beginning in 2023. Furthermore, Santander's robust philanthropic program donated more than $12 million to over 400 nonprofit organizations across the bank's footprint in 2021.
American Asphalt Company
American Asphalt has a vision to help others and in a tangible way the company makes its vision come alive thanks to the formation of its own Employee Caring Committee. A few highlights are their volunteer time spent in service of the Ronald McDonald House Southern New Jersey in Camden, sponsoring various 5K races/walks, taking party in annual toy drives, and dropping off Valentine and Easter baskets to the less fortunate. Each year, the company also gives checks to employees who themselves are directly engaged with charitable causes so they can take the corporate funds and donate to causes that are meaningful to them. As a result, some of the charities that have been supported are the Camden County Women's Center, the Hammonton Cancer Foundation, the Saints Prison Ministry and the Teal Butterfly Challenge which raises awareness about the early signs and symptoms of ovarian cancer.
Covanta Camden Energy Recovery Center
In 2021 with a staff of 50 employees, this waste-to-energy facility partnered with 24 organizations and volunteered 415 hours throughout Camden city. Each month, employees volunteer with Wholesome Riches to distribute food to families in need and can be found cleaning alongside the mayor at his weekly Camden Strong events. They held a Fall Sustainability Day last October with the Camden City School District and that brought together residents for food, fun and educate them on a variety of ways to help themselves, their community and the environment. Covanta also works closely with the school district to donate and distribute gift cards, school supplies and more throughout the year, and the company's $5,000 donation to the youth football league helped pay for their digital scoreboard.
Rowan College at Burlington County Foundation & Rowan College Foundation at Gloucester County
The Rowan College at Burlington County Foundation helps students meet their financial requirements while providing them with accessibility to an affordable higher education. In addition to offering scholarships and food pantry support, the school created the Barons Relief Shield—an emergency fund established to provide aid to those experiencing financial hardships. Over the last year, the foundation has revamped traditional fundraising models and shattered the college's previous goals. Their spring fundraiser, Battle of the Barons, raised more than $100,000, making it the most successful virtual fundraiser in the college's history. The foundation's most recent initiative, Project Baron, aims to generate money for numerous innovative on-campus ventures, including a male minority empowerment project, an inclusive excellence project and an embedded tutoring project, among others.
The foundation on Rowan College of South Jersey's Gloucester County campus has been in operation since 1969 providing scholarship support (more than $350,000 a year) to students pursuing their educational endeavors. In recent years, the foundation has expanded its ability to assist students by offering access to the Roadrunner Refuel food pantry where students can confidentially obtain free grab-and-go meals and take-home groceries. And to help students who have struggled during the pandemic, the foundation provided Rowan College of South Jersey with the Life Happens Fund, allocating over $50,000 for laptop support, food assistance and other aid to those faced with extreme life circumstances and/or financial difficulties.
Flaster Greenberg
Each year, the attorneys and support staff at Flaster Greenberg make it a point to volunteer many hours to assist countless nonprofits, educational organizations, individuals and public interest groups. Moreover, the firm works with, sponsors, oversees or serves on the boards of varying cultural, civic, educational and religious organizations, including the Boy Scouts of America, the Juvenile Diabetes Research Foundation, Living Beyond Breast Cancer and the Special Olympics. Last March, Flaster Greenberg launched its Rally for Change campaign to aid social injustice and was able to donate more than $8,000 as part of its expanded diversity initiatives. The firm has also created a scholarship program for diverse and women law students, providing two qualifying individuals from local universities with $2,500 each.
The Builders League of South Jersey
For nearly 20 years, the charitable foundation of the Builders League of South Jersey (BLSJ) has supported charities that provide food and shelter to those most in need while doing its own direct outreach within the community, and 2021 was no exception. The foundation gave $1,000 to both the Community Food Bank of New Jersey and Pennsauken's Food Bank of South Jersey last year as part of its response to the pandemic's lingering local impact. It also donated $17,000 in the wake of the late-summer tornado that left a path of devastating destruction in Gloucester County, with BLSJ members' donation of $7,000 contributing to the Memorial Presbyterian Church of Wenonah's food bank and the foundation's $10,000 evenly split between the Gloucester County United Way and the American Red Cross of Southern New Jersey. The foundation capped off 2021 with its annual holiday toy and food drive benefiting Oaks Integrated Care.

Orbit Energy & Power
When the Orbit team talks about making the world a little brighter, they're not just talking about energy: They're thinking about how environmental stewardship and caring for our region's youngest hospital patients can benefit the future. Whenever a tree needs to be removed in order to increase a solar panel's efficiency, Orbit pledges to plant three new trees with donations to the National Forest Foundation, which ensures those saplings are native species and will be planted wherever they're most needed in the community. Orbit also donates 2% of its annual proceeds to the St. Jude Children's Research Hospital, sponsors the likes of youth athletic teams and school theater programs, and partners with others to increase their philanthropic impact, while its team members volunteer within the community and use their fundraising experience to help other organizations come up with ideas to raise money, too.
Parker McCay
The attorneys and staff members at this respected law firm know firsthand the importance of giving back to the community they serve. For several years, they have been supporting area nonprofits and other community-based organizations and it's not uncommon for employees to come together and lead fundraising campaigns to benefit any number of local causes. Recently, Parker McCay donated $2,500 to the American Red Cross' Southern New Jersey chapter to support two major lifesaving initiatives—The Home Fire Campaign and its blood services programs. The firm also proudly sponsored the Food Bank of South Jersey's Summer Meals program where several members of the staff spearheaded both a virtual and traditional food drive to help feed children in need.
PS&S
While known for being a multi-disciplined architecture and engineering firm, PS&S is also recognized for its notable contributions to the South Jersey community thanks to its active participation in several notable events each year. The company has eagerly supported the American Cancer Society in several ways including being involved in the organization's annual bike-a-thon from Philadelphia to Atlantic City as well as its Making Strides Against Breast Cancer Walk—a cause that is near and dear to the staff after losing a beloved colleague in 2021. What's more, PS&S has regularly taken part in The Cooper Norcross Run the Bridge event as well as Checking for Charity, a hockey tournament which raises money for South Jersey charities. Most recently, during last holiday season, PS&S contributed to the "Kindness is Not Perishable" food drive, collecting and donating items to help fight food insecurity in our communities.
PCH Technologies
At PCH Technologies, the commitment to the community starts with president and CEO Timothy Guim's dedication to making sure the company gives back and seeks out opportunities that have wide-reaching benefits. Guim is a past president of the Williamstown Sunrise Rotary Club, chair of the Gloucester County Chamber of Commerce and an Eagle Scout who still makes time to attend and donate to the Garden State Council, Boy Scouts of America. PCH is an annual sponsor of the Lemon Ball, Alex's Lemonade Stand's major philanthropic event which raises money for crucial research as part of the organization's concerted effort to end childhood cancer. Additionally, PCH has worked directly to support the likes of Project Refit and the Tri-State Canine Response Team.
Click here to subscribe to the free digital editions of South Jersey Biz.
To read the digital edition of South Jersey Biz, click here.

Published (and copyrighted) in South Jersey Biz, Volume 12, Issue 4 (April 2022).

For more info on South Jersey Biz, click here.
To subscribe to South Jersey Biz, click here.
To advertise in South Jersey Biz, click here.