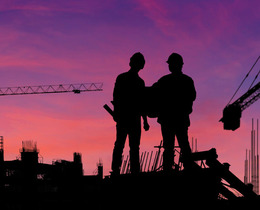 Built to Last
The construction industry has unquestionably faced its share of challenges in recent years, but continues to plow ahead in South Jersey.
It's easy to consider all of the challenges currently facing the building and construction industry and form a pessimistic outlook for the immediate future. The trials and tribulations have come in waves over the past several years, starting with the pandemic, continuing with supply chain issues and a historic rise in the cost of material prices, and now being impacted by war in Europe and other international matters. Yet while those in the thick of things locally admit that all of these factors have had a major impact, they also remain hopeful about the state of the industry in South Jersey and inspired by the men and women who are driving business full steam ahead behind the scenes.
"I feel like we are moving forward," says Samantha DeAlmeida, president of the New Jersey chapter of Associated Builders and Contractors. "If anything, this climate over the last few years has proven that the industry is very resilient, they can think on their feet and are able to adjust and get the job done no matter what the circumstances are.
"That being said, cost is certainly one of those areas that is inhibitive of getting the work done in a timely matter, and supply chain issues is another area we're seeing some difficulties. I can't say that I see an end in sight, but I'm hopeful that by the end of the year we would possibly start to see some relief or a reprieve from this. But of course all of that depends on world affairs."
Some have a more positive vision for the future than others, but most agree that South Jersey will find a way to survive this turbulent period, and in many cases, thrive.
Adapting to the times
The rising costs of building materials—which has at times affected everything from steel to lumber to concrete and much more—dates back even before the pandemic started and has only gotten worse, but recent signs provide glimpses of hope.
"It was about a year ago that the volatility in the prices of various building materials started to spike," says Ethan Byler, executive vice president and chief development officer for Stanker & Galetto, which offers design-build services in industrial, commercial and community construction.
"There were price increases on things that we haven't seen in years. Now, things have stabilized—at least in the short term—meaning that prices aren't going up every month. It's interesting because various people pulled out of projects about a year ago because prices started spiking and they said, 'We're going to wait until prices come back down.' Prices haven't come back down to where they were before, but at least the line is now more flat and not spiking every month. But across the board in construction, we're dealing with higher prices for building materials than what we dealt with two years ago. That's just kind of the new norm."
The delays in materials are also problematic, Byler explains, forcing contractors to get more creative and finishing steps of a project in a different order than usual to keep them on track. They also must explain to clients that budgets have to remain fluid with the uncertainty over prices.
"Those types of conversations are not always easy," he says. "We don't know if copper piping is going to fly through the roof in terms of price, or roof insulation, which is high right now. You have to adapt your schedule and your expectation setting with your customers, first and foremost. More and more projects are on a cost-plus contract these days because it's very difficult to give someone a lump-sum price at any one time."
Regan Young, AIA, founding principal of RYEBREAD Architects, has been impressed with companies' ability to adapt to all of the curveballs thrown their way.
"At the outset of the pandemic, the construction industry responded quickly [by] reinventing itself, implementing COVID protocols and remote work," he says. "In fact, some heretofore unrealized efficiencies evolved with Zoom design, bidding and construction meetings. Now, however, like other industries, construction is plagued with price increases, supply delays and labor shortages.
"For conservative project budgeting and scheduling, large contingencies of time and resources need to be estimated for upcoming projects."
DeAlmeida agrees and stresses the importance of being overly cautious in the planning phase.
"Prices are fluctuating fast and furiously and it leaves little meat on the bone for the actual contractors to make a mistake or estimate wrong," she says. "So we have to be diligent with our numbers and oftentimes that carries a sticker shock to the person who is asking for the work to be done. … Generally the cost has gone up significantly and not because the labor has gone up, but the products and supplies and manufacturing have gone up."
Steve Chepurny is the president of Beechwood Landscape Architecture and Construction, which has a number of commercial partnerships in addition to its residential clients. High gas prices are of particular concern with a large number of employees constantly on the move, and on large projects it is critical to be transparent with the customer about the possibility of rising costs.
"Before we enter into a contract with a client we have to get them to know, understand and sign off that being as we might not be starting the project for 10-12 months, there may be some price changes within the context of their project," he says. "We'll look for other options and solutions to try to mitigate those costs, but some of the increases are coming from the products themselves and the increase in the price of labor.
"I'm optimistic the prices will stabilize because in your head you can't envision it will keep going up—how can people continue to pay that price? But if it does keep going up, I hate to say the word recession, but [that is a possibility]."
Chuck Romanoli, principal at New Road Construction, sees the same problem as Chepurny in terms of prices rising dramatically from the initial planning stages to the point where work is supposed to commence. The availability of building components just adds to the dilemma.
"Every little item is a challenge to get," he says. "Lead times, the time it takes from ordering to delivery, typically may be four to eight weeks on an item, but that four-to-eight-week lead time is now maybe 12 to 16 weeks. Some products—transformers, windows and doors—sometimes they're six or eight months away.
"I think we see it stabilizing because people are getting back to work and these issues where factories didn't have enough staff to meet their demands are now back on line and [employees are] working extra shifts to catch up. We're hoping that prices stabilize—I don't see them coming down anytime soon—and for lead times to be shorter moving forward."
Anthony DeSimone, principal at DeSimone Construction, adds that one silver lining is how those in the industry are rallying around each other.
"As clients are enduring supply chain challenges in their own businesses, they are understanding of these challenges in our sector," he says. "We find that most clients make the scheduling, selection and budgetary adjustments needed to keep their projects moving forward."
Open for business
Even with all of the aforementioned challenges in the industry, projects continue to move forward here in South Jersey.
"The outlook is quite optimistic," DeSimone says. "We're busier than we've ever been with strong demand in both the commercial and residential building sectors.
"While we're involved in commercial projects in varied industries, growth in medical, automotive and warehousing are the most promising.
Greg Lalevee, business manager of the International Union of Operating Engineers Local 825, is excited about the Salem County Wind Port, which broke ground late last year and hosts many of his organization's members on its worksite. It is the largest investment in Salem County in decades and is instrumental to the state's ambitious energy plan under Gov. Phil Murphy, with construction to follow on two wind farms, Atlantic Shores and Ocean Wind II.
Of course, a major driver is the $1.2 trillion infrastructure bill that President Joe Biden signed into law last fall, with an estimated $12.3 billion earmarked for Garden State over five years to upgrade roads and bridges, replace lead pipes, clean up superfund sites, advance the Gateway Project and expand broadband. Much of this construction will take place and has already begun in South Jersey.
"Last November's infrastructure bill provided funding for projects throughout New Jersey that pales in comparison to anything we have seen in the past century," Lalevee says.
DeAlmeida is likewise intrigued by the infrastructure bill and the jobs it will create, provided those opportunities are available to all. "My concern is that in the infrastructure bill, project labor agreements are likely going to be present and that means that it will become union-only work," she says. "That's troublesome here in New Jersey where almost 80% of our construction workforce is non-union, so it essentially boxes out 80% of the construction workforce from working on those jobs. Therefore the 20% that is union, potentially if they get all of these jobs and are understaffed, they would bring in folks from other states. It's really unfair for those who want to work and feed their families in their communities and pay taxes here and really do a nice job. So it's really important that we take a look at project labor agreements on these projects and if they can be removed, we must do that."
Byler cites industrial warehousing as a big growth component in South Jersey, particularly in terms of refrigerated facilities for the produce industry near Stanker & Galetto's Vineland headquarters. RYEBREAD projects, Young says, include an addition/renovation to the Relief Firehouse in Mounty Holly; initial programming, schematic design and estimating for the state's first veterinary school at Rowan University; and a $40 million early childhood center in Lindenwold.
New Road Construction is also heavily involved with local districts, and is currently working on an Advanced Manufacturing and Science Building at Gloucester County Institute of Technology with upcoming projects in Lumberton and Burlington Township. The developers who Chepurny partners with are seeking places for employees to escape while on the job, and he has provided outdoor trail systems and indoor courtyards to relieve stress.
While office space in the area has taken a dip as more companies are going to remote or hybrid models, Scott Mertz, president of the commercial real estate firm NAI Mertz, is encouraged by other strides.
"The industrial sector in southern New Jersey is the boom market that won't quit, and development activity reflects that," he says. "Developers continue to undertake large-scale projects on spec and in turn are rewarded with steadily increasing lease rates on the product they deliver. There is currently just shy of 12 million square feet of industrial buildings under construction throughout the region.
"As just one example of the frenetic pace of development and leasing, the area around Exit 11 of I-295 in Logan Township saw a 1,000,000-square-foot warehouse completed in 2021 and immediately leased in full to Burlington Coat Factory. On its heels, another 1.1 million entered development. We're currently leasing two of the facilities under construction by J.G. Petrucci Co. and anticipate having them leased prior to delivery."
Redevelopment of office space is expected to pick up and Mertz calls the Moorestown/Medford/Marlton area an interesting one to watch. "It has the requisite access to both the New Jersey Turnpike and I-295 sought after by warehouse developers," he says. "Of the Turnpike exits in our region, it's the most heavily skewed toward office product. An early indicator of a potential surge in industrial development here came recently with Prologis' purchase and planned demolition of a Class 'A' office building to make way for a 184,500-square-foot distribution center."
Eunide Alexandre is also keeping a close eye on office redevelopment. Her business, HelpForce LLC, is closely tied to the construction industry because it offers safe, prompt and compliant waste/debris removal, transportation and disposal.
"The very nature of our business means that we are always needed in the construction cycle as any construction becomes demolition and with construction comes waste removal and disposal to ensure a safe working environment," she says.
"The multifaceted nature of demolition and waste disposal means that work will always be available for us. Moreover, the redevelopment of office spaces will accelerate the demand for our services."
The high demand for sustainability has made companies like Geoscape Solar important partners for contractors and developers as well. It provides solar solutions for schools, churches, nonprofits and more, and clients in New Jersey include Morey's Piers and Grounds For Sculpture.
"I don't think anyone puts up new construction at this point and doesn't think about [going green]," says Irene Heifetz, marketing director for Geoscape. "Company sustainability and company sustainable goals are no longer a vague part of most corporations. In fact, people now hire sustainability personnel to make sure their business runs in a sustainable way. Obviously, Geoscape Solar is used to working with these types of people whether it's for new construction or making their existing building as sustainable as possible through solar."
Looking to the future
Needless to say, the issues that have been present in building and construction over the past few years have not been easy to navigate, but local professionals have dug in their heels and tackled the problems head on.
"Despite these challenges, the industrial outlook is bullish, and the coming of the phenomenal infrastructure investment boom later in the year or next year will further consolidate growth," Alexandre says. "In the meantime, everyone seems to be busy making do with what is on the ground. Our projects are on schedule. To ensure profitability and avoid going under, we carefully select new projects. That said, we have positioned ourselves well in our niche, and we are excited and optimistic about what the future holds."
"Between the transportation projects that are going on, the infrastructure projects, the higher education projects that are increasing, and the [vocational] schools getting money from the state to build projects, I think the outlook is positive for the construction industry moving forward," Romanoli adds.
Byler shares that hope but encourages caution at the same time.
"The counter point to being too optimistic is there are going to be several interest rate increases on the horizon due to inflationary pressures," he says. "Before you had at least low borrowing when building materials were high. Now you might be looking at high building materials and high borrowing. So I see it as more slow growth and not a full bounce-back right now."