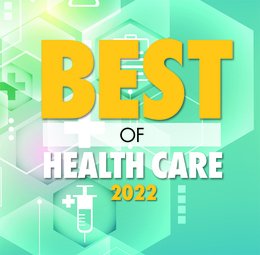 Best of Health Care 2022
South Jersey continues to be a driving force in the medical community thanks to the dedicated individuals and innovative programs found at area providers. 
One of the best perks about living in South Jersey is the easy access to world-class medical care, and not just at the renowned hospitals that call Philadelphia home. More than ever, the health systems and independent practices on this side of the bridge are committed to delivering the latest treatment modalities and technological advancements in a wide variety of fields to local residents, in facilities that are just as impressive as they are convenient. On top of it all, the doctors, nurses and other staff remain passionate about helping people and moving their particular area of medicine forward. We are proud once again to highlight just a few of them with our annual look at the Best of Heath Care.
NEUROSURGICAL SPINE CARE
Jefferson Health – New Jersey
Jefferson Health's neurosurgical spine program in New Jersey brings together a team of highly experienced and skilled neurosurgeons, intensivists, oncologists, orthopedists, neurologists and pain management specialists to provide a full continuum of spine management with advanced surgical and non-surgical options.
Jefferson's neuroscience program—a regional leader for inpatient spine care and part of the Vickie & Jackie Farber Institute for Neuroscience—recently acquired 3D surgical image-guided surgery (IGS), also known as a surgical navigation system, for its New Jersey patients. Used during spine procedures, the system offers high-definition visualization of intraoperative patient data, giving surgeons a process of checks and balances throughout the case. Using this navigation software, surgeons build a clear reconstruction of the patient's CT and/or MRI images, allowing them to execute the desired surgical plan for accurate placement of the implant.
This advanced technology improves accuracy and efficiency for Jefferson surgeons, helping ensure better patient outcomes while eliminating the need for traditional fluoroscopy, which exposes patients to continuous radiation. Evidence shows that time is of the essence and quick response improves outcomes. Jefferson has two critical care helicopters located in South Jersey ready to transfer time-sensitive cases.
SEIZURE CARE
Inspira Health
Since 25% of patients in the intensive care unit experience a seizure—and 90% of those are considered prolonged seizures that may not present with observable symptoms—it is critical to identify the problem with an EEG to reduce the risk of long-term neurological damage. However, often there are a limited number of EEGs and technicians available. Fortunately, Inspira Health has adopted the use of a portable device called a Ceribell Rapid Response EEG, and Inspira Medical Centers Mullica Hill and Vineland are two of the first hospitals in the state to offer this groundbreaking technology.
The device consists of a headband with integrated electrodes, a pocket-sized recorder with intuitive software and an online portal for remote viewing. It is designed for rapid setup and can deliver EEG assessments within minutes, giving Inspira technicians information to assist them in the triage of at-risk patients.
"We are excited to bring this breakthrough technology to our community as a means to raise the bar in delivering superior care," says Dr. Wanshu Di, a neurologist at Inspira Health. "Early detection and treatment of seizures is imperative for better patient outcomes. With this new state-of-the-art equipment providing precise and accurate information, the care team will be able to determine the most appropriate course of treatment for their patients in a timely manner."
CARDIAC CARE
Cooper University Health System
Cooper, which played an instrumental role in clinical trials for the MitraClip that helped lead to its approval by the FDA, recently celebrated a significant milestone in regard to the lifesaving device. A MitraClip procedure is used for high-risk heart patients with a severe form of leaky mitral valve disorder, called mitral regurgitation, who are deemed too frail or sick to undergo open-heart surgery. The new treatment option was first offered at Cooper in spring 2019 and the hospital just successfully performed its 100th, the only health system in the region approaching that number.
Members of the Cardiac Partners structural heart team—a collaboration between Cooper and Inspira—include Janah Aji, MD, FACC, Sajjad A. Sabir, MD and Georges I. Kaddissi, MD, FACC, who were all part of the first and the 100th MitraClip procedures at Cooper. "We are very fortunate to be able to offer this treatment to patients," says Dr. Aji, director of the Cooper Cardiac Catheterization Laboratory. "It can be a life-changing option for patients suffering with severe mitral regurgitation. Following this procedure, patients who have severe heart failure symptoms due to this condition will experience significant improvement in shortness of breath and fatigue."
Mitral regurgitation is the most common type of heart valve defect and affects one in 10 people aged 75 and older. The condition occurs when the heart's mitral valve does not close completely, causing blood to leak backward into the left atrium with every heartbeat. Mitral regurgitation requires the heart to work harder to maintain an adequate forward flow of blood, possibly leading to serious heart rhythm problems, stroke, heart failure and death over time. The MitraClip attaches to the patient's mitral valve and allows it to close more completely, restoring normal blood flow.
Deborah Heart and Lung Center
South Jersey patients who receive the devastating diagnosis of heart failure can take advantage of tremendous resources in the area, such as Deborah, whose team of experts can handle the disease throughout its progressive stages from early heart failure—managed by medication and lifestyle changes—to more severe stages than can require implanted heart devices like a cardiac defibrillator.
In 2019, Deborah launched an advanced heart failure program under the direction of Kulpreet Barn, MD, to treat the most serious conditions. This program offers highly specialized care such as left-ventricle assist device (LVAD) implantation. LVAD is a mechanical pump to support the heart and can be used as a bridge to a heart transplant, or as a permanent "destination" therapy device.
Since its inception, the program has grown into the most robust of its kind in the region, and of the 80 destination therapy LVAD sites in the country, Deborah was among the top two highest volume centers in 2021. It is home to South Jersey's only comprehensive cardiogenic shock program offering intra-aortic balloon pumps, Impella ventricular support system pumps, right ventricular assist devices and ECMO (extracorporeal membrane oxygenation). These are critical technologies for treating advanced heart failure patients.
MEDICAL PARTNERSHIP
Virtua Health and Rowan University
Virtua, the largest health system in South Jersey, and Rowan, a top 100 public research university, kicked off 2022 with the signing of an affiliation agreement to create a new academic health system and to further distinguish the area as a regional hub for innovation, research and clinical discovery.
The result of this partnership is the Virtua Health College of Medicine & Health Sciences of Rowan University. The college will encompass the state's only osteopathic medical school; an expanded nursing and allied health professions school; a new school of translational biomedical engineering and sciences; multiple research institutes; and aligned clinical practices to improve patient care and train the workforce of the future.
Virtua is making a philanthropic investment of $85 million to Rowan to establish an endowment that will help support the partnership in the recruitment of faculty, the creation of educational programs and the construction of a state-of-the-art research facility.
The partnership is expected to lead to elevated care delivery and medical innovation, with the first three research institutes focusing on cardiovascular disease, solid organ transplant and regenerative medicine, and primary care.
COVID-19 CARE
Penn Medicine
Early in the pandemic, in response to the number of patients who had COVID-19 and continued to experience prolonged symptoms, Penn Medicine established the Post-COVID Assessment and Recovery Clinic. Led by Benjamin Abramoff, MD, an assistant professor of physical medicine and rehabilitation, the clinic has seen more than a dozen new patients per week during portions of the pandemic.
Penn Medicine uses a holistic approach for treating long COVID, recognizing that not every treatment works for every person and a variety of things in tandem tend to get better results. For example, Dr. Abramoff's patients with dysautonomia, a nervous condition, are taken through physical therapy but also get help with managing fluid intake and use compression socks to help with swelling.
A key to treatment includes managing patient expectations, since long COVID can be frustrating and patients are often looking for—or have been convinced that they can find, through misinformation—a silver bullet treatment.
In addition to Dr. Abramoff, the clinic includes Penn faculty specializing in rehabilitation, pulmonology and critical care medicine.
ROBOTIC WEIGHT-LOSS SURGERY
AtlantiCare
AtlantiCare's Center for Surgical Weight Loss and Wellness began offering bariatric surgery 20 years ago, starting with Roux-en-Y gastric bypass. In the subsequent two decades, the center has evolved to include minimally invasive procedures such as sleeve gastrectomy and biliopancreatic diversion with duodenal switch, which it performs laparoscopically.
In December 2020, AtlantiCare became the first hospital in the South Jersey region to offer robotic weight-loss surgery, and since then it has provided more than 150 weight-loss surgeries robotically. These include the gastric sleeve, gastric bypass and revision surgery. The da Vinci Robotic system arms allow AtlantiCare's surgeons to make small, precise movements with minimal trauma to the abdominal wall, resulting in less postoperative pain, a shorter hospital stay and a faster recovery.
AtlantiCare also recently introduced a new program for those who might not qualify for or might not want to have surgery. Its medical management team approach to care includes physicians/provider guided care; registered dietitian counseling, nutritional planning and education; and a three-month membership to the AtlantiCare LifeCenter with personalized coaching and health evaluations.
DRUG AND ALCOHOL ADDICTION TREATMENT
Recovery Centers of America
The team at Recovery Centers of America, a drug and alcohol treatment facility with multiple locations in New Jersey, recognizes that some people may have a hard time committing to inpatient rehabilitation because of work and school obligations. In order to allow them to prioritize their health while also fulfilling their responsibilities, it has created WorkFlex, a unique program that enables them to stay connected to their jobs or educational pursuits while focusing primarily on their recovery.
Participants must be pre-approved prior to arrival at the facility and will be permitted to bring a laptop. They have dedicated work sessions five to seven days a week in a private setting where they have access to a personal phone and internet.
The program also offers additional 12-step meetings and peer-led group sessions focused on work/recovery balance to ensure a robust treatment experience.
ORTHOPEDIC SPINE TREATMENT
Woodbury Spine
Dr. Evan O'Brien, an orthopedic spine specialist and board-certified surgeon, treats adult patients for a number of common and complex problems at his practice, Woodbury Spine. He is committed to adopting cutting-edge technology to help patients improve their quality of life, as evidenced by several state-of-the-art surgical techniques he is currently using.
The first of these is performing minimally invasive lumbar fusions with Spineology Optimesh, a system that uses specialized, expandable instrumentation that conserves bony anatomy and protects neural structures. This translates to enhanced recovery with shorter hospital stays, a quicker return to work and reduced use of medication over time.
Additionally, Dr. O'Brien treats spinal deformity with UnID patient-specific custom rods from Medicrea, a division of Medtronic. Finally, he utilizes the endoscopic discectomy technique for removing disc herniations through a half-inch incision. This minimally invasive procedure leads to minimal postoperative pain and a rapid return to daily activities for his patients.
HEALTH CARE CHAMPIONS
Dr. David Roberts, South Jersey Radiology
A graduate of the University of Pennsylvania, Dr. Roberts is a board-certified radiologist in diagnostic radiology with expertise in cardiovascular imaging. He is a leader in his field and a member of numerous radiology associations, including the American College of Radiology and the Society of Interventional Radiology. He has received widespread recognition for his work and has been named a Radiological Society of North America Scholar. Dr. Roberts and the team at South Jersey Radiology aid in diagnosing diseases of the heart by using imaging techniques such as X-rays, ultrasound (echocardiograms), CT (computed tomography) scans and MRI (magnetic resonance imaging) scans.
Dr. Nita Cooper, Premier Orthopaedic
A South Jersey native, Dr. Cooper went to Massachusetts for college and graduated magna cum laude from Boston University before returning home to earn her medical degree from the University of Medicine and Dentistry of New Jersey, School of Osteopathic Medicine. She then completed her residency training in anesthesiology and fellowship training in interventional pain medicine at Cooper University Hospital.
At Premier, Dr. Cooper focuses on treating neck and low back pain with advanced options such as epidural steroid injections, nerve blocks, radiofrequency rhizotomy and dorsal column stimulation. She believes in working collaboratively with patients to relieve their pain and help them return to their favorite activities.
Dr. Cooper takes great pride in seeing patients' quality of life improve significantly through her efforts, and one of her greatest achievements was helping a local veteran overcome his phantom limb pain.