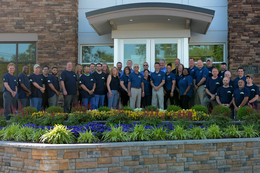 These Roots Run Deep
For The Espoma Company, growth has happened organically and exponentially, and TD Bank has been an essential partner along the way.
Although today's consumers seek out products that are organic and environmentally friendly, that wasn't always the case, especially in the horticultural industry.
When The Espoma Company was founded in 1929 by Herbert G. Sanders, it produced a fertilizer composed of all-natural ingredients found near its headquarters in Millville. Even as other chemical-based fertilizers came on the market, Espoma stayed the course, believing that growing organically was a better way to grow. "Companies have since jumped on the organic bandwagon, but we had that philosophy even when it wasn't in vogue," says Jeremy Brunner, president of Espoma, who represents the fourth generation of the family-owned and -operated company.
You may have seen Espoma's signature product, Holly-tone, on shelves at your local garden center. It was created in the late '40s and specifically designed for acid-loving plants including hollies, azaleas, rhododendrons and evergreens. It was the first organically based fertilizer for these types of plants and the foundation for an entire product line in the "Tone Family," including Plant-tone, Garden-tone, Rose-tone, Bulb-tone and Bio-tone Starter Plus, spearheaded by Sanders' son Dean in the '60s.
As quickly as the product offerings grew, so did Espoma's distribution, expanding beyond New York, Philadelphia and Washington, D.C., and into New England and other areas of the Mid-Atlantic. By 1977, Dean's nephew Serge Brunner joined the company, and Espoma invested in more automation and computer technology, and grew its distribution to reach as far as the Carolinas, Ohio and Michigan markets over the next 20 years.
In 1997, Jeremy began working in the family business as general manager. Today, Espoma is the leading organic fertilizer producer for the retail lawn and garden industry, offering more than 70 organic products with nationwide distribution. "Since I joined 25 years ago, we've grown eight-fold in that time. Our geographic footprint is nationwide, with products beyond just dry granular fertilizers: potting soils, garden soils and liquid plant food," says Jeremy, whose sister Jaime and her husband Matt joined the business a few years ago and have actively helped it grow.
Espoma continues to call Millville home, although its manufacturing facility has undergone at least a dozen expansions and has run entirely on solar power since 2010. "We all grew up in this area and have ties to the community. There's a history here and it's a good location in terms of the marketplace and access to ingredients we use in our product lines," he says.
This exponential growth is impressive in its own right, but even the team at Espoma could never have predicted the response they'd see during the pandemic. "Everyone started gardening while they were staying home, and what we've witnessed in the last two years is unprecedented. It's been great for the industry but also chaotic," Jeremy says.
Leaning on its decades-long relationship with TD Bank has been essential for Espoma as it navigates these new waters. "We meet regularly with TD to discuss capital improvements and projects. As a strategic partner, we want to keep them in the loop and they've always been great at understanding what's expanding or changing in our industry," he says.
Kevin Gibala, TD Bank vice president, senior commercial relationship manager for the Gloucester/Cumberland/Salem region, has been working with Espoma for about two years. He attributes the established working relationship with Espoma to the foundation built by TD's South Jersey commercial market president Rob Curley, dating back 20 years.
A working capital line of credit from TD gives Espoma, a seasonal business, the flexibility to draw from funds as needed throughout the year, and make payments only when it is used. "Working capital is like a safety net in the event a business needs to expand its inventory or buy more materials in preparation for growth," Gibala says. "For instance, during COVID, Espoma needed to respond to demand and buy necessary materials to create an inventory of products it wasn't necessarily going to sell right away. Once the business does sell its inventory they can then pay against the amount borrowed on the line of credit and replenish the fund. What this means is that a borrower isn't making monthly payments of a fixed amount over a certain term and creating a burden during leaner months. Instead, they can borrow and pay back in a shorter term, like using a credit card."
Since getting to know Espoma and the Brunners, Gibala says nothing is more important than relationships to the family-run business. "As markets change, the economy fluctuates and their business adapts, but as their banking relationship manager, I am a constant. I remain a trusted resource. It's important that they can come to me—with successes and challenges—to support them, especially with the recent growth spurt they've had keeping up with pandemic demand."
The financial relationship goes beyond the surface of the business, Gibala continues. "It's not just getting to know the ins and outs of their company but getting to know the individuals personally and their families, their employees," he says, adding that he's glad to recently have been able to return to in-person meetings with the Brunners rather than using Zoom.
Espoma has some future projects in the planning stages, including building a new facility out of state and others that will happen in Millville, like expanding and enclosing their loading dock. "We're always reinvesting and keeping the plant up-to-date and modern," Jeremy says. After all, there's the potential for a fifth generation to lead Espoma, if they are interested. "We have portraits in the office of each generation; there's a heritage here. We try to make it bigger and better for the next generation and pass the torch. I have two children in high school and college and my hope is to see this to the fifth generation. I am proud of our longevity and that our legacy is good for people, pets and the environment."
Gibala adds, "Espoma embodies Cumberland County and the South Jersey farming area. They come from roots in Millville yet their product touches the nation and it's exciting to see how far they've come and where they are going."
TD Bank
Kevin Gibala, Senior Commercial Relationship Manager
(856) 637-2828