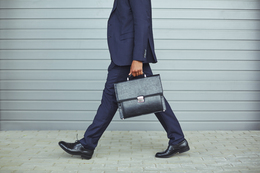 On the Move
Openings, closings, hirings and retirings in our region, and more.
Capehart Scatchard has announced that Michael P. McCaffrey was admitted as a law firm shareholder. McCaffrey represents insurance carriers and employers in the defense of workers' compensation claims at all stages of litigation, and is admitted to practice law in New Jersey and Pennsylvania.
Florio Perrucci Steinhardt Cappelli Tipton & Taylor LLC welcomed Erin A. Berman and Jordynn E. Jackson to the firm late last month. Berman, of counsel with the firm, practices education and special education law while Jackson, an associate, concentrates on civil litigation, education, labor and employment.
Ocean Casino Resort in Atlantic City has named Bill Callahan as its new general manager, making him the top executive at the property. Callahan recently served as interim chief executive officer with Ocean after serving as its executive vice president of hospitality.
William J. "Bill" Farrell II recently announced his retirement, effective in May, from M&T Bank and Wilmington Trust. He will end his 45-year career with the integrated organization as executive vice president and head of the bank's Institutional Client Services (ICS) business.
Farrell will be succeeded by Jennifer Warren, a leader in the financial services industry who most recently served as CEO of Issuer Services at Computershare, Inc.
The New Jersey Association of Health Plans announced at the end of last month that it has named Mishael Azam as new chair of the nonprofit association. Azam, the vice president, external affairs, for UnitedHealth Group, replaces outgoing chair Natalie Bernardi.
Julie Hain was recently appointed as the new executive director of the South Jersey Cultural Alliance, an organization serving as the conduit between the region's cultural community and information, resources and other members.
Duly Noted
Earlier in the year, Deborah Heart and Lung Center President and CEO Joseph Chirichella announced that S. Justin Szawlewicz, MD, has been appointed as the health care system's cardiology chair. Szawlewicz has served as an attending cardiologist at Deborah since 2010, as well as assistant vice president of medical affairs since 2015.
Last month, R. Lawrence Moss, MD, president and CEO of Nemours Children's Health, was appointed to the 2022 Children's Hospital Association (CHA) board of trustees. He is one of eight hospital leaders from across the country selected to serve on this year's board, which assists the CHA in improving children's health on a national level by advancing the quality, cost and delivery of care America's youth receive.
Two area law firms—Weir & Partners LLP, which specializes in corporate, banking and business clients, and Greenblatt Pierce Funt & Flores LLC, an individual-rights firm—recently announced their merger. The newly created Weir Greenblatt Pierce LLP will have Walter Weir as its managing partner, Brett Datto as administrative managing partner, and Ron Greenblatt and Patricia Pierce on its executive committee.
At its Jan. 28 virtual annual meeting, the New Jersey Hospital Association (NJHA) installed the new chair of its board, Lori S. Herndon, MBA, BSN, RN, president and CEO of AtlantiCare. With nearly 400 members, NJHA supports and provides services to the state's hospitals, health systems and other health care providers. Herndon, a former ICU nurse, says that NJHA will focus on strengthening its support for the health care workforce as they continue working tirelessly through the COVID pandemic.
Gloucester County Commissioner Dan Christy has resigned from his position, citing his increased responsibilities within the Carpenter's International Union. During his three terms as commissioner, Christy served as liaison to the Office of Veterans Affairs, Gloucester County Animal Shelter, Department of Emergency Response and EMS.
With longtime executive director Jeff Haines recently retiring after 45 years of dedicated service, Burlington County's Occupational Training Center (OTC) announced Feb. 1 that Isaac Manning will take over the position. Manning plans to continue OTC's strategic direction while providing increased opportunities for individuals with disabilities.
With the recent launch of its endocrine surgery subspecialty, Cooper University Health Care has appointed endocrine specialist Lisa Reid, MD, as the department's first section head. Reid, who has spent 14 years practicing at Cooper, will be joined by Maureen Moore, MD, in the new practice.
Effective immediately, Scott Wagner MD, MBA, FACEP, is the new president of Inspira Medical Group. Wagner has been with Inspira for 20 years and will now oversee its physician enterprise, with a focus on both hiring and retaining top medical talent while continuing the health system's work as a high reliability organization. He will also continue to serve as interim chief medical officer of Inspira Medical Center Mullica Hill.
Lee Sheilds, the co-managing partner of Friedman LLP's South Jersey offices, was named to the Friedman Management Committee earlier this year, reflecting the accounting and advisory firm's continued expansion into South Jersey. Sheilds brings more than 25 years of experience as a tax professional to his new role, which includes working with clients from the real estate, manufacturing, distribution, technology, medical practices and service industries.
1st Colonial Community Bank has announced the promotion of Randy Wolfe to chief revenue officer. Wolfe has been with the bank since 2016, most recently serving as its director of commercial and retail banking, and brings more than 20 years of banking experience to the position. His new responsibilities include managing SBA lending, retail banking and commercial non-interest revenue activities.
The bank has also welcomed Anthony "Tony" LaMarca to its leadership team, where he will serve as executive vice president, chief lending officer. LaMarca will direct and manage the bank's commercial lending activities, while leading a team of experienced growth-minded bankers to expand 1st Colonial's customer base.
Earlier this month, it was announced that Genova Burns LLC co-founder James Burns will now be the firm's managing partner. Burns, a leader at the firm since its beginning, will now focus on its management. He succeeds co-founder Angelo Genova, who will retain his chairman role.
Additional changes at Genova Burns include partners Rebecca Moll Freed and Rajiv Parikh accepting top leadership roles on the firm's management committee, with partners Dina Mastellone and Jennifer Mazawey also joining the committee.
American Water announced that CEO and President Walter Lynch has retired and was replaced by Susan Hardwick earlier this month. The Camden-based utility had recently reinstalled Lynch in his role after an injury and hospitalization, during which Hardwick served as interim CEO.
Click here to subscribe to the free digital editions of South Jersey Biz.
To read the digital edition of South Jersey Biz, click here.

Published (and copyrighted) in South Jersey Biz, Volume 12, Issue 2 (Februray 2022).

For more info on South Jersey Biz, click here.
To subscribe to South Jersey Biz, click here.
To advertise in South Jersey Biz, click here.