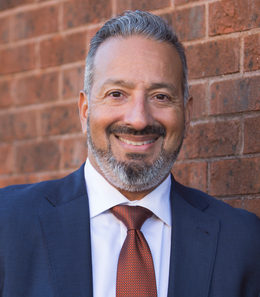 Command Performance
Clients large and small can trust Performance Marketing's experienced team to handle all of their marketing needs with a focus on strategy. 
Working with a variety of business leaders daily, from high-level executives at major corporations to founders of nonprofits, Glenn Davila can't afford to come across as disingenuous. Luckily for him, his passion for his job, and for life in general, is evident just minutes after meeting him. His boundless energy is contagious.
"I love what I do," he says. "I never saw myself in marketing but here I am 25 years later enjoying my career. No two days are the same. I'll go from working for a client who manufactures boilers or sells insurance, to working on the economic development needs of Atlantic County on the same day and often in the same hour. Processes will change that quickly and it's exciting. By getting to know the clients, it allows me to market them better."
Davila is one of the original founders and since 2009 the owner of Performance Marketing (PM), a full-service communications and marketing firm that provides proven, cost-effective strategies to help clients of all stripes reach their goals. The company was built on the cornerstones of honesty, integrity and enthusiasm, and strives to make the process as seamless as possible for those it works with.
PM offers chief marketing officer services, meaning that for the same price or lower than it would cost a company to hire a mid-level marketing employee, it gets the experience of an
entire professional team that can manage every aspect of a project, or an entire marketing program, from start to finish. Whereas one marketing employee may be well versed in a few skills, PM can deliver expertise in digital marketing, public relations, website design, creative advertising, media buying, signage and much more.
"We have clients who have been with us since day one, and you don't see a lot of that in this industry anymore," Davila says. "I think that's because we focus on taking care of them. The idea of the chief marketing officer is something that we did not come up with; it's just something that we do well.
"While we're not onsite with clients 24/7, most organizations don't need that level of
attention. What they need are professionals who know how to make the right investments and the right recommendations and are good stewards of their marketing budgets. There is very little trial and error. We've been doing this for 20 years and we understand what works and what doesn't. At the same time, we're always on the lookout for the next opportunity."
A key to PM's success is listening to the clients, understanding their objectives and creating a clear path to arrive at the desired destination. "Our secret is focusing on strategy," he says. "It's important to start with a clear vision. Once we have that vision, we can build a plan that gets us moving in the right direction.
"It becomes a collaborative effort. Together, our synergy makes the process successful. That's when the team gets to work, after we've built this plan that is the roadmap to
success. Then it's about execution and client service, that's where we really shine."
Lauren Moore is the executive director of the Atlantic County Economic Alliance, which has benefitted from PM's expertise in executing its mission to attract and retain business in the county. He is most impressed with Davila and his staff's responsiveness, ability to understand complex assignments, professional website design and the fact that they complete projects on time and on budget.
"We've worked with other marketing firms previously but I wasn't crazy about their product, their approach, their customer service or their relationship building," he says. "When we interviewed Glenn, I knew right away that this was going to be a lasting, productive relationship with Performance Marketing, and it's turned out to be exactly that."
Moore has extensive experience working throughout the state in economic development and believes PM is a hidden treasure in South Jersey. "I know talent, I know a good firm, I know commitment, I know enthusiasm and I know
energy when I see it," he says. "Performance Marketing has consistently exceeded expectations, and it's not just me who would say that. My entire team would all have the same comments about Glenn and his staff."
This year marks the 20th year in business for Performance Marketing, and Davila sometimes can't believe that two decades have gone by in what feels like an instant. He continues to have the same fire for the industry but is quick to share the credit for PM's longevity with his outstanding team, including Alyssa Jones, vice president of client services; Mike Epifanio, vice president and senior copywriter; Gail Murray, traffic manager; Gabe Staino, director of business development; Nick DeJohn, client services coordinator and Ron Irvin, director of Performance Signage, the company's full-service signage division.
"It really is a team effort," he says. "This team is fantastic and they're all so good at
what they do as individuals. We have so many years of experience and it gives us the ability to do things that I don't think other agencies can do."
Performance Marketing
3122 Fire Road, Suite 202 | Egg Harbor Township
(609) 646-0414