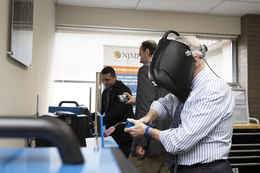 Manufacturing Success
With a new South Jersey office, NJMEP is continuing its tradition of celebrating and educating the state's robust manufacturing presence. 
The New Jersey Manufacturing Extension Program (NJMEP) debuted its South Jersey office in Bellmawr just this summer, but the nonprofit has been ardently advocating for every Garden State manufacturer since 1996.
Senior Director Business Development Sally White says that in addition to NJMEP's collaborations with statewide entities, prioritizing three key pillars—operational excellence, innovation and growth, and workforce development—helps the program assist manufacturers.
"We have a team of experts throughout the state working exclusively with manufacturers within their counties," she explains. "We offer programs enabling manufacturers to grow, improve their profitability, improve their competitiveness and remove inefficiencies. And we survey the results of the ROI of the services we provide."
Those results show that since 2000, NJMEP has helped the state's 11,000 manufacturers realize $5.6 billion in growth, with $975.4 million in increased sales and $2.731 billion in retained sales. They've also seen $730 million in savings and benefited from a $1.16 billion investment in plants, people and systems.
With the sector accounting for a sizable slice of New Jersey's gross domestic product—the nation's eighth largest in 2019 at $634.8 billion—Marketing & Communications Manager Michael Womack adds that manufacturing's economic impact is significant.
"It's an impressive and important industry contributing over $49 billion to the GDP last year, but it's so often overlooked and forgotten," he says.
Far from technology automating blue-collar workers out of jobs, White says that NJ's manufacturing industry is changing with the times to offer workers a secure future in "a fantastic career."
"The average salary in New Jersey for a manufacturing job is $94,000 a year," White notes. She adds that part of its bright future is the next generation, which is why NJMEP has a pre-apprenticeship program for 16-to-18-year-olds. That pipeline to a manufacturing apprenticeship and career includes college credits and encourages manufacturers to invest in new employees' education.
In addition to increasing NJMEP's reach and accessibility to the 4,770 manufacturers calling South Jersey home, the Bellmawr office also includes a training center. "We have invested in technology simulators in the areas of CNC and welding, so that we can train manufacturers' incumbent workers as well as our apprentices who are looking to move to a career in manufacturing," White explains.
NJMEP, which is part of the MEP National Network, has even more than internal programming and a robust local network in its clients' corner. It's among 51 programs of its kind throughout the country, with one in every state and Puerto Rico upholding "our mission to support the growth and success of manufacturing companies," according to White.
Everything NJMEP does underscores its effort to support the manufacturing presence already here while coaxing more of the industry to U.S. soil.
"It's all about onshoring, bringing manufacturing back to the United States," White says.
Manufacturers have worked all through COVID, urging a pivot in NJMEP to meet the needs of clients undertaking essential work in uncertain times. That has meant translating the legalese of always-changing workplace mandates into clear language defining safe operations, or identifying supply chains' deficiencies so manufacturers could access the PPE they needed to keep New Jersey—and beyond—supplied with goods that everyone still needs, pandemic or not. It inspired White to ask her musician brother to write a song for manufacturers, a simply but powerfully titled ode to "Unsung Heroes."
"For the past 18 months, our manufacturers really helped pull the nation through this massively disruptive challenge," says Womack. "All that goodwill stays on the public's mind for a little while but fades so quickly."
There are efforts in place to ensure that stateside manufacturers are recognized for those seemingly forever-unsung contributions. Every Oct. 1, for example, is 'MADE in New Jersey' Manufacturing Day, the industry's largest networking event in the state. It offers keynote speeches and an awards gala, while both educating and celebrating manufacturers who call The Garden State their home and are ensuring the industry's ongoing innovation by "investing in the local community and not settling for the status quo," Womack says.
"Manufacturers are really good at making things but not so good about telling the world what they make or why it's important," he observes. "Manufacturing Day is an opportunity to really showcase the value of manufacturing, highlighting the people behind those industrial walls and showing everyone what modern manufacturing is all about."
As NJMEP settles into its newest location, it got a bit of a housewarming present earlier this month when Gov. Phil Murphy announced it was a winner of the New Jersey Future of Work Accelerator innovation challenge program. It will begin a nine-month program to help grow its work in an industry with a bright future.
"Manufacturing in the grand state of New Jersey is alive and kicking and thriving," White confirms.
New Jersey Manufacturing Extension Program
South Jersey: 211 Benigno Blvd., Suite D, Bellmawr
North Jersey 2 Ridgedale Ave., Suite 305, Cedar Knolls
(973) 998-9801
NJMEP.org