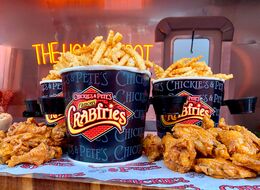 A Future Together
Peter Ciarrocchi freely admits that the success of Chickie's & Pete's was a fluke.
"I wish I could say we planned it," he says with a laugh. "It was totally an accident."
The story of a nationwide chain that grew from a single location begins with Ciarrocchi's parents, Peter Sr. and Henrietta (endearingly nicknamed "Chickie"), who owned a deli before buying a Northeast Philly corner bar in 1977 and putting their names on it. The new ownership immediately implemented other sweeping changes: the former stand-up bar was outfitted with stools; the men-only rule was removed; and Ciarrocchi got to work on revamping the menu.
It was the beginning of the "restaurant revolution," he recalls. And with Ciarrocchi being the face and personality of the new establishment, he wanted something to set the business apart.
That something came in the form of an erroneous supply order, which yielded the famous fries that helped put Chickie's & Pete's on the map—and were a hit with everyone except the elder Pete.
"I had ordered extra seasoning by accident, so we got busy inventing Crabfries," Ciarrocchi explains. "My father kept saying 'So you're gonna reinvent French fries, huh?' But I kept working on them. They had to be good enough that everyone loved them. And once those Crabfries caught on, we just got busier and busier."
As Chickie's & Pete's popularity grew, so did its reputation as the local sports bar. The professional sporting community got hip to the rising star in its own backyard and Veterans Stadium inquired about the possibility of putting a Chickie's & Pete's in the left-field concourse, a wildly successful move that Ciarrocchi initially railed against like his father resisted Crabfries.
The rest is history. Chickie's & Pete's began hosting former Eagles coach Andy Reid's post-game conferences and earned a reputation as the place everyone flocked to if they wanted to be where the pro athletes were. Other stadiums welcomed them, too, and now locations are dotting the national landscape from Philly to Las Vegas and from Minnesota to Florida.
"It's more fun to eat at a bar than drink at a restaurant," he notes.
Ciarrocchi attributes Chickie's & Pete's success to more than Crabfries and being a welcoming, lively place to "sit down with friends and enjoy their food slowly while they yell and scream at the game on TV."
"I was able to surround myself with very smart, very accepting people," he says, enthusiastically singing the praises of the teamwork that makes the dream work. "It's not just me. They're why we have a successful business."
All the locations' teams demonstrated their dedication to their work family throughout the pandemic's pandemonium of restaurant closures and restrictions.
"We have locations in different cities and different states, and their COVID rules didn't all change together," says Ciarrocchi, noting that differing mask mandates, operating hours, closures and alcohol policies were among the variables his team had to keep track of.
But both before and during the pandemic, its longtime relationship with TD Bank has been an invaluable asset.
"We vetted a lot of banks but TD was so friendly and so easy to work with: You get on the phone with them, they're right there for you," says Ciarrocchi. "They're like family."
James Raymond, senior relationship manager at TD Bank, says that's exactly the kind of personal connection his team aims for.
"TD has a very customer-friendly culture, so we're creating lifelong relationships with the companies we work with," he says. "It's really about the people, who do become like family."
With its extensive experience and dedicated teams helping companies of all sizes manage their growth throughout their evolving business cycles, the bank hit the ground running almost as soon as the pandemic hit. It was particularly important to rush in with knowledgeable assistance, Raymond notes, because "local businesses are the lifeblood of the local economy."
"We recognized early on that COVID would be a challenge, especially for those in food and beverage," Raymond notes. "We wanted to find ways to be a good partner for our customers, so one of the things we did was relax banking fees for those who were impacted. Then when the CARES Act came out, we looked at different ways we'd be able to support our customers, like offer deferrals on loans while businesses were shut down."
With the support of TD Bank, dedicated employees and loyal customers, Ciarrocchi is looking to the future with a "Let's open more places!" mentality as its locations keep thriving.
And no matter how far the franchise expands, Chickie's & Pete's will always remember where its roots are.
"We're in a lot of stadiums across the country, and they just keep coming," says Ciarrocchi. "But I'll never stop wearing my green and white, my red and white, my red, white and blue, or my orange and black. That's what everyone at Chickie's and Pete's does: We support our home teams."
TD Bank
James Raymond, Senior Relationship Manager
(856) 751-6884
TDBank.com