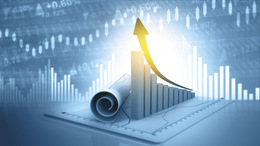 Full of Promise
Thanks to emerging industries and its solid foundations, South Jersey's future outlook beyond 2022 is a hopeful one.
As the effects of the pandemic are still lingering throughout the business world, the optimism that things will take a definitive turn for the better is growing each and every day. And while disruptions to the global supply chain and scarce workforces remain hot-button issues, there have been clear signs that the economic climate is approaching pre-COVID levels. All that sounds promising as we make our way through 2022, but what about 2023? Or 2032 for that matter?
In recent years the region has done well to position itself as an eds and meds corridor and that sector should continue to gain steam. The increasing need for distribution facilities has also been a bright spot as Amazon and other companies have flocked to South Jersey for its vast commercial space—not to mention more favorable leasing costs than the northern part of the state. And the technology world certainly took center stage during the pandemic as more and more tasks, both personally and professionally, were being handled remotely and local companies were called upon to help businesses with their digital needs. Add to that the recently approved infrastructure funding that will pave the way for several improvement projects, as well as the burgeoning wind energy and legalized cannabis industries set to take shape, and it appears that there will be plenty to help drive economic growth for years to come.
Kris Kolluri, CEO of Camden Community Partnership, believes that the economic challenges caused by the pandemic could soon be coming to an end. He points out that prior to COVID-19, the area had a robust commercial market that was thriving and that South Jersey had some of the lowest unemployment rates it has seen in almost three decades. And because South Jersey's business landscape is a diverse one, he thinks the rebound will be swift
"What makes South Jersey so strong and stable is that we are blessed with diverse sectors that make up our economy," says Kolluri. "Logistics, distribution—port business is strong and growing. In fact, the South Jersey Port has seen the highest increase in volume in nearly the entirety of its existence. So, even if there are temporary weaknesses in one sector, the others more than make up for it.
"When you look at the total picture that way, I actually think the forecast looks pretty strong from where we sit."
While technology has long been used in various ways by various businesses, there's no denying that the pandemic fueled a dramatic shift online. With remote workforces in need of increased cloud capabilities and business owners seeking better cybersecurity, there has been no shortage of technological needs of late. That's not to mention the rise in telehealth usage, video calls and other digital interactions that took flight as a result of COVID-19. In fact, a Pew Research Center survey taken in the spring of 2021 showed that 40% of respondents used digital technology or the internet in new or different ways compared with before the beginning of the outbreak.
The reliance on these new technological tools is expected to only increase, according to Art Leiby, president of The Lerepco IT Group—especially with many companies allowing employees to work from home for the foreseeable future.
"As COVID shifts from a pandemic disease to an endemic disease more like the flu, large segments of the workforce really like the flexibility and productivity gains from working remotely. So much so, that any company looking to hire for a white-collar job that doesn't offer at least a hybrid work-from-home option is at a severe disadvantage in the marketplace for talent," Leiby says. "A mind shift is going to happen so that cybersecurity, support, backup, confidential data security, conferencing, etc., will be implemented in the home environment with equal or better technology to that provided while working in the office."
With technology experts becoming more relied upon and security needs evolving, there is an opportunity for South Jersey. Whether that means companies seeking professional guidance on the latest trends or colleges and universities helping prepare students to enter into the in-demand industry, Leiby says it will take a concerted effort to establish the region as a hotbed of activity.
"Every state, and of course every country, are constantly competing for the jobs and revenues that ripple throughout a region with high-tech growth. The availability of a highly trained technical workforce, an infrastructure of telecommunications, a robust group of research-supported higher education in the community, good schools, reasonable taxes and general quality-of-life are all vital to attracting companies to invest in New Jersey. Any and all efforts to remain competitive are needed to win these growth opportunities today," he says.
Jack Kocsis, CEO of the Associated Construction Contractors of New Jersey, sees big things ahead for the construction industry also, and it all starts with the recently passed federal infrastructure funding that will see more than $12 billion headed to the state to address pressing needs.
"The influx in funds means safer roads and bridges, safe drinking water and sending millions of New Jerseyans to work. Construction drives the economy, so these funds will do a lot of great things across the state," he says.
There's been a lot of buzz about the Gateway Tunnel project in the northern part of the state, and the construction of additional tunnels allowing access to and from New York City will unquestionably be a game-changer. But closer to home, there are still plenty of projects that will have a noticeable impact.
"There is a lot of room for the construction industry to grow in South Jersey," Kocsis says. "We hope to see construction hotbeds in places like Atlantic City and Camden continue to thrive. The funding from the federal infrastructure bill will also allow much-needed work to get done on the region's roads and bridges. And of course, the construction of the wind farm will bring decades' worth of work to the region."
Perhaps no industry has been more buzzed about in the area that offshore wind energy. With plans to develop an 1,100-megawatt offshore wind farm 15 miles off the coast of AC, there has been a lot of talk about the economic impact.
"We will have to move toward renewable energy sources at some point," says Stuti Jha, Ph.D., associate professor of economics at Rowan University. "South Jersey will be able to generate enough electricity not just for the state of New Jersey, but also for some neighboring states. That will generate revenue for the region, provide employment opportunities and improve the socioeconomic conditions in the area."
Oliver Cooke, Ph.D., associate professor of economics at Stockton University, isn't so matter-of-fact on offshore wind's outlook, and would like to see if its growing presence will have a real bearing on South Jersey.
"While there is little doubt that the renewable energy industry and its affiliated ecosystem will continue to see significant growth over the coming decade, I am somewhat skeptical about the actual employment impact these industries will have on the regional economy," Cooke says. "I don't see long-term employment growth upside flowing from more wind energy generation off the Atlantic Coast. There will be maintenance and management jobs attached to such operations, but I think they will be somewhat limited in number. The story could be different were those facilities to spawn—perhaps one day down the road—regional and local manufacturing operations."
By now it's obvious, the pandemic was no ordinary shrinking economic cycle. The devastation on the business community was felt across the board, but especially with small businesses. Already hurt by online shopping and big box retail, the question is can they bounce back in a big way or is Main Street as we know it forever changed?
"Their generally smaller profit margins and financial cushions made for very tough sledding during the first six to nine months [of the pandemic] especially. While some eventually found ways to adapt to the new circumstances, others simply could not," says Cooke. "At the same time, the pandemic allowed or forced many individuals to reexamine their career paths—some opted to pursue entirely new paths and/or start new small businesses. For example, business startup applications rose sharply in July 2020 according to the Census Bureau."
Kolluri believes that most small businesses today are not suffering because of a lack of customers, but rather a lack of employees to work in those places so they can stay open longer and serve more customers.
"My hope is that it is a temporary challenging labor landscape. Once we figure that out, I think that small businesses will be positioned to once again to do well," he says. "That doesn't mean there won't be attrition … but I have every bit of confidence that small businesses have adapted and will continue to survive and grow as the pandemic comes to a close."
All in all, Cooke says that he expects the regional economy will continue to regain its footing over the near-term horizon.
"The future path of the pandemic will obviously continue to prove a wild card," he says. "But, relative to the summer of 2020, the regional economy is clearly in much better shape. Inflation and the broader labor force story will be key factors playing into the national and regional economies' trajectories over the coming year."
Click here to subscribe to the free digital editions of South Jersey Biz.
To read the digital edition of South Jersey Biz, click here.

Published (and copyrighted) in South Jersey Biz, Volume 12, Issue 1 (January 2022).

For more info on South Jersey Biz, click here.
To subscribe to South Jersey Biz, click here.
To advertise in South Jersey Biz, click here.