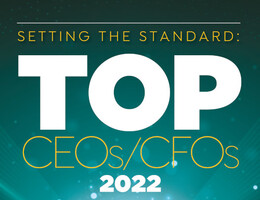 Setting the Standard: Top CEOs/CFOs 2022
Business leaders who are guiding their respective companies into new frontiers
The road to the top is paved with challenges big and small. Decision-makers prove themselves in those moments when faced with a tough choice that could trickle down throughout the company. This year's top CEOs and CFOs know what it means to lead during economic ups and downs and their ability to remain steadfast as they see their companies through to the next phase of their growth is nothing less than admirable. The men and women featured on the following pages are blazing new trails of opportunity in the South Jersey business community and beyond.
Chris Malone, SVP and CFO
NJM Insurance
A native of Massachusetts, Malone obtained his bachelor's in accounting from Villanova University and earned an MBA in strategy from the Yale School of Management. His career began at Price Waterhouse (now PwC), followed by leadership positions at Plymouth Rock Assurance Company, The Travelers Companies, Inc., and The Hartford, where his role expanded into finance, product management, field operations and marketing. Malone has served in his current role at NJM since March 2019. His responsibilities include overseeing the financial, actuarial and enterprise risk management departments, and serving on the company's behalf on the board of the Insurance Institute for Highway Safety. In 2020, Malone presided over the NJM Policyholder Relief Program, created in response to the pandemic with the mission of returning a portion of premium payments to policyholders.
His inspiration: "My dad grew up from humble beginnings and was the first person in his family to attend college. He later went on to law school and ultimately ended up as a very successful executive at an insurance company. He taught me the value of hard work, to be there for your family, and to do what makes you happy. His advice continues to inspire me today."
Beverly DiMatteo, CFO/CAO
Triad Associates
As Triad's chief financial officer and chief administrative officer, DiMatteo is also a member of the company's executive management team, playing an integral part in its day-to-day decisions. While she also contributes to human resources, her main responsibility is the daily financial operations that keep Triad fiscally responsible. Prior to joining Triad in 2015, DiMatteo owned and operated a flooring and construction business in Vineland with her husband Jeff for over 25 years. She makes an effort to give back to the community by volunteering her time, which has included positions on the PTA board at Bishop Schad/Sacred Heart School, and the board of the Landis Theater in Vineland.
Her inspiration: "I am inspired every day by the team I get to work with here at Triad. They are dedicated to our mission of helping our communities thrive and grow and they work tirelessly to accomplish this. I am lucky to be a part of such an incredible team."
Linda Czipo, President and CEO
Center for Non-Profits
Czipo's experience in the nonprofit sector spans more than 30 years. She excels in the areas of public policy, analysis, research, compliance and management, speaking frequently to the media, nonprofit, philanthropic and business leaders, as well as government officials. At the Center for Non-Profits, the statewide network for the charitable community, Czipo leads its efforts to strengthen New Jersey's charities through advocacy, education, management and compliance assistance, and membership services. She has previously been recognized as a Nonprofit Organization Advocate of the Year by the Nonprofit Development Center of Southern NJ, and is a public policy committee member and former board treasurer of the National Council of Nonprofits. Additionally, Czipo serves on the New Jersey Commission on National and Community Service.
Advice for the next generation: "Be open to new ideas and tap into the wisdom and strengths of others. Seek and embrace diversity and equity in your team and your operations."
Bruno Cellucci, CFO
South Jersey Port Corporation (SJPC)
Cellucci graduated magna cum laude with a bachelor of business administration from Temple University. As a New Jersey certified public accountant, he has diverse experience in both the private and public financial sectors. He joined SJPC as treasurer/CFO in July 2014 and was promoted to the position of assistant executive director/CFO in September 2019. Cellucci is a member of the New Jersey Society of Certified Public Accountants and is active in various other civic and community activities.
Advice for the next generation: "A successful organization must expand the role of its CFO beyond the traditional role of counting the 'beans.' The CFO is an integral part of the executive leadership team especially during the development and implementation of a strategic plan and initiatives. Recognizing this reality, the new CEO of the SJPC has built an inclusive and collaborative organizational culture which has helped push the port to record cargo numbers, improved profitability and better working conditions overall."
Josh Weinreich, CEO
New Jersey Pandemic Relief Fund
After graduating from Cornell University and receiving an MBA from The Wharton School, Weinreich spent 20 years at Bankers Trust in various capacities. He then transitioned to board work for both philanthropic and public sector boards, including the Community Foodbank of NJ, where he is currently board chair, Overlook Hospital Foundation and Cornell University Endowment hedge fund subcommittee, among others. This experience led to Weinreich being tapped as CEO of the New Jersey Pandemic Relief Fund, created by NJ First Lady Tammy Murphy to address the social, economic and medical impact of COVID-19 on the state. The fund has raised more than $65 million to date, allocated to 500-plus organizations serving the most vulnerable. Although the fund is winding down its efforts as the pandemic wanes, Weinreich stepped into an unprecedented role where his expertise helped assemble a team, make decisions and manage risk.
A point of pride: "At the NJPRF, we relied on our partners' expertise while adopting a streamlined decision-making process that was responsive to an environment of extreme uncertainty and cascading need. We were able to integrate the wisdom and deep domain expertise of our talented board with insights gleaned from relief organizations and state and local initiatives to move as fast as possible to get help where it was needed most."
Christina Renna, President and CEO
Chamber of Commerce Southern New Jersey
Renna first joined the chamber in 2007 as its director of government affairs, a position she held until 2010 when she left to serve in then-Gov. Chris Christie's administration. In this role she interfaced regularly with state and local government officials and was the primary point person to business organizations and chambers of commerce throughout the state. In 2014, she returned to the chamber as vice president, rising through the ranks to senior vice president, then to her current position in January 2020. Renna is responsible for a staff of nine and has direct oversight of the chamber's work in public policy, membership growth, member retention and overall member experience. She currently serves as chair of the Public Policy Committee on the Walter Rand Institute for Public Affairs Advisory Board at Rutgers University-Camden, and on the Burlington County Women's Advisory Council, among others.
Her goal for 2022: "To continue to grow the Chamber of Commerce Southern New Jersey (CCSNJ) membership base. The CCSNJ saw a record low attrition rate and robust new member recruitment in 2021. Our team's shared goal is to keep up the momentum in 2022."
Kathleen Horton, CFO
Food Bank of South Jersey
Horton holds a bachelor of science degree from Rutgers University-Camden and has more than 20 years' experience in finance, accounting and capital project management. She previously co-owned two hospices and specialized in health care-related organizations prior to joining the Food Bank. She was appointed CFO in April 2019, and provides strategic leadership for its business and finance functions and manages its financial and capital resources. Horton has helped implement a new enterprise resource planning system and coordinated IT infrastructure improvements. Additionally, she worked with drivers, warehouse staff, pantry partners and management to increase program services by 50%.
A point of pride: "I led the team to allow the Food Bank of South Jersey to transform technology at the organization, including upgrading accounting and inventory software, hardware and infrastructure. This allowed our employees to efficiently and securely work remotely. … All departments and their staff had the resources they needed to maintain the flow of food to our community at a time of great need during the pandemic."
Michael Renna, President and CEO
South Jersey Industries (SJI)
Renna has been with SJI since 1998 and in his current position since 2015. As president and CEO, Renna has strengthened the organization's focus on supporting New Jersey's vision of a clean energy future while delivering its product to over 700,000 customers via SJI Utilities. Most recently, SJI has made progress in its goals for sustainability, including developing a portfolio of renewable energy projects. Renna serves on various boards of directors, including the New Jersey Chamber of Commerce and Choose New Jersey. He sits on the board of trustees for The Hun School of Princeton and participates in the University of Delaware's student mentoring program, his alma mater. He also holds an MBA from Cornell University.
His inspiration: "I am fortunate to have had the opportunity to learn from my father, Gene Renna, a former executive leader at Mobil Corporation and later ExxonMobil. His strong work ethic and people-centric leadership have significantly influenced my life and career."
Joseph A. Angeloni, CFO
Stanker and Galetto, Inc.
Angeloni's experience spans 40 years in construction, real estate development and financial operations, 16 of which have been with Stanker & Galetto. He provides expert insight in strategic planning and implementation, internal and external reporting, acquisition planning and integration, cash management and forecasting and MIS operations. Angeloni is a member of the American Institute of Certified Public Accountants, president of the Gloucester Township Economic Development Corp. and a board member of Our Lady of Hope Regional Catholic School. He is also a graduate of Drexel University.
Advice for the next generation: "Success is directly tied to your ability to build relationships at all levels and your integrity. It's never wrong to do the right thing."
Dan Fachner, President and CEO
J&J Snack Foods Corp.
Fachner's roots in the industry date back to 1979 when he worked as a service technician and delivery driver at The Icee Company during college. It was here his natural-born leadership skills helped him rise to the top in almost every department of the company before being appointed its president and CEO, which he held for nearly 25 years. During his tenure, Fachner spearheaded supplier relations and was responsible for introducing Icee to the mass merchandise arena and theater business. In 2020, he became president of J&J Snack Foods, the parent company of Icee, and in 2021 was named CEO. He continues to leverage customer relationships, leadership skills and business intuition to grow the company's brands. Fachner, who resides in Tennessee, is a candidate for the Leukemia & Lymphoma Society of Nashville's 2022 Man of the Year.
His goal for 2022: "The company is celebrating its 50th year in business this year. We are so fortunate to have a company that was able to withstand the trials this country has gone through over the past couple of years. … The one goal I have for 2022 is to continue to guide and shape this company for not just today or 2022 but for success for the next 50 years."
Thomas Percello, Executive Vice President Finance, CFO
Deborah Heart and Lung Center
Percello has held various CFO and senior finance roles throughout his career at health care organizations, including Community Medical Center in Toms River and Kimball Medical Center in Lakewood, and corporate positions in the RWJBarnabas Health System. Prior to joining Deborah last year, Percello was corporate director of finance at Hunterdon Healthcare System. With Deborah, he plays a key role in process improvement and cost savings, revenue growth and driving financial improvements while collaborating with the medical staff. In addition to his MBA, Percello is also a CPA. He is a member of the American Institute of Certified Public Accountants, the New Jersey Society of Certified Public Accountants and the Healthcare Financial Management Association, of which he is a fellow.
Advice for the next generation: "As the future CFO job responsibilities grow, so do the opportunities. Future CFOs need to look forward to finding new strategies to leverage technology, automation, evaluate new delivery models and generate revenue. The future CFO must promote a working environment that fosters trust and values individual contribution. Teamwork is paramount for a successful CFO."
Barbara Ogden, CFO
Center For Family Services
Ogden holds a bachelor of science degree in accounting from Rutgers University and an executive master of business administration from Saint Joseph's University. She is a licensed CPA in the state of New Jersey and an active member of the American Institute of Certified Public Accountants. Ogden joined Center For Family Services in 2017. As CFO, she is responsible for the organization's financial and strategic management and since joining the organization she has been instrumental in leading efforts to streamline financial and procedural policies, including a revamp of the organization's payroll processes and implementing measures that support its strategic direction, including multiple recent mergers with other human service nonprofits.
Her goal for 2022: "I'm constantly thinking about the future and how we, as an organization, can continue to be the best we can be. In 2022 I'll be focusing on improving our cash flow and cash reserves to ensure the future of the agency."
Bob Segin, Executive Vice President and CFO
Virtua Health
Segin has been Virtua's CFO since 1998, and was promoted to executive vice president in 2010. Not only does Segin oversee the health system's overall strategic financial planning and treasury management, he is also responsible for mergers and acquisitions, physician joint ventures and other business partnerships, supply chain, corporate compliance and more. During his time as CFO, Segin has been involved with major developments in the health system, including the acquisition of Lourdes Health System in 2019, expanding the portfolio of ambulatory surgery centers in the Delaware Valley, ensuring front-line employees have the necessary PPE and guiding the renovations of Virtua Our Lady of Lourdes and Virtua Mount Holly hospitals. Segin is also chairman of the board of Acentus Practice Management as well as chairman and president of Virtua Assurance Inc. In addition to industry organization and committee memberships, he serves on various boards including chairman of the board of Health Business Solutions, trustee of the New Jersey Hospital Association (NJHA) and as a board member for Jersey Shore Ambulatory Surgery Center.
His inspiration: "Winston Churchill notably said, 'Success is not final, failure is not fatal: It is the courage to continue that counts.' The courage of Virtua Health's 14,000 employees inspires me every day. They risk their personal health to care for our fellow neighbors. Our employees are angels who are truly doing God's work."
Frank Cavallaro, Executive Vice President and CFO
Republic Bank
A certified public accountant with more than 25 years of experience in the financial services industry and, prior to that, three years of experience in public accounting with Ernst & Young, Cavallaro joined Republic Bank as a senior vice president and CFO in August 2009. He has previously served as vice president in the finance department for Commerce Bank and its successor, TD Bank, beginning in 1997. He has been in his current role since February 2012, and oversees all financial reporting for the bank. Cavallaro is also responsible for budgeting, strategic forecasting and treasury management.
His inspiration: "Vernon Hill, Republic Bank's CEO and chairman, constantly inspires me to be a better leader. Not only does he have the entrepreneurial vision and business acumen to foster incredible organizational growth, but he also has the ability to motivate and inspire others, which has shaped our culture and built high-performing teams."
Eileen Wirth, President and CEO
Moorestown Ecumenical Neighborhood Development, Inc. (MEND)
Wirth is the first woman to serve as president and CEO in MEND's 50-plus-year history. Appointed in 2020, Wirth has spent the better part of 30 years at both for-profit and nonprofit housing developers and managers in Pennsylvania and New Jersey, focusing on affordable and subsidized housing, including time with the NJ State Housing Finance Agency. At MEND, she brings her experience and success in engaging teams, reorganizing and restructuring staff for increased productivity and analyzing operational policies to improve performance within the organization. Wirth earned her bachelor's with a concentration in finance from what was then Rider College, in 1988, and obtained her MBA from Rider University in 1995. In addition to her MBA, she holds the certified property manager designation from the Institute of Real Estate Management and executive designations from the National Affordable Housing Management Association.
Advice for the next generation: "As with any leadership position it is critical to remember your organization is only as strong as your weakest team member. As CEO it is your responsibility to ensure that all team members have the tools, resources and training needed to ensure their success, leading to the success of your overall organization."
Patrick Polazzo, President and CEO
American Asphalt
Polazzo recently succeeded longtime president and CEO Robert Brown after serving as American Asphalt's chief operating officer since 2019. He has extensive experience in general management, business development and leadership, and has managed all departments within the company as COO. Polazzo earned his bachelor's degree in mechanical engineering from the University of Wisconsin-Madison and his MBA from the University of Pittsburgh.
His goal for 2022: "We are continuing to pursue our goal of finding motivated employees interested in learning a trade in construction. The construction business isn't what it used to be; it now has a heavily technical aspect that many young people may find interesting and we're working hard to get that message out into the market."
Derry Holland, CEO
Oaks Integrated Care
Holland had no idea that an internship in 1986 would become a 35-year career journey. In her time with Family Service of Burlington County (now Oaks), Holland has been in various operational and administrative leadership positions, officially becoming CEO in 2016. As CEO, she leads a team of over 1,700 employees who provide 230 diverse health and social service programs to the most vulnerable in the community. In her first year as CEO, she welcomed Preferred Behavioral Health Group as an affiliate, and just last year, Oaks announced a merger with COPE Center, a behavioral nonprofit in Essex County. The new partnership expanded Oaks' geographic reach in North Jersey and brought together two organizations dedicated to serving vulnerable children, adults and families. Holland gives of her time on several boards, including the New Jersey Association of Community Providers, participating as co-chair on its Day Services Committee, and the New Jersey Association of Mental Health and Addiction Agencies.
Advice for the next generation: "To our next generation of CEOs, I would share that success comes from working in collaboration with others, not in a silo. Use the talents and smarts of those around you to inform your decisions."
Bernel Hall, President and CEO
New Jersey Community Capital
For the past 20 years, Hall has executed over $5 billion in real estate investment, lending and disposition transactions for multifamily, retail, office and hotel properties in 36 states throughout the U.S. His career spans roles of former investment banker, public housing executive and real estate finance professor. He was previously president and CEO of Invest Newark, where he helped establish it as the state's premier economic development vehicle, and was also the CEO of Halltown Real Estate Advisors, providing real estate investment guidance to some of the largest housing authorities in the country. Hall worked in Goldman Sachs' Urban Investment Group where he was responsible for sourcing and evaluating urban-based multifamily, retail, and mixed-use real estate private equity investments. Prior to his work at Goldman Sachs, he executed $785 million in real estate acquisitions, loans and joint ventures transactions for UBS Investment Bank. Hall is a licensed uniform investment advisor (Series 65) and possesses a bachelor of science from North Carolina State University and an MBA from the Harvard Business School.
His inspiration: "My mother, Katie Hall, for raising four children while working two jobs for 25-plus years. She is devout Christian, very family/community-oriented and believes hard work is the answer to most problems. Growing up, my mom would always say, 'Do you know how to spell success? W-O-R-K.' So that was my mantra."
Gina Neri-Markward, CFO
AAA South Jersey
Markward joined AAA South Jersey in 2016, was promoted to vice president of finance in 2019 and promoted once more to the role of CFO in 2021. With over 15 years of experience in managerial accounting, Markward oversees all aspects of the club's finance management and human resources. During her time at AAA South Jersey, she has focused on streamlining the club's various accounting and HR functions, creating efficiencies across business lines to reduce expenses and allowing for reinvestment into the business. She has also put an emphasis on employee development, believing that investing time and energy into employees is integral to the success of any business.
Her goal for 2022: "I plan to find new ways, both personally and professionally, to give back to the South Jersey community. The area has been faced with many challenges over the last few years which have put heavy strains on our communities, so it is vital we do everything in our power to begin rebuilding."
Cathleen Bennett, CEO
New Jersey Hospital Association
Bennett began her career in the private sector, with 20 years of experience as an executive providing consulting, strategy and management services to federal and state health and human services agencies. In 2010, she joined the NJ State Department of Health as director of policy and strategic planning and CIO. Beginning in 2015, Bennett served as New Jersey's 20th Health Commissioner and created an office of population health to promote stronger collaboration among hospitals, local health departments and health care providers. Bennett also transitioned the Division of Mental Health and Addiction Services and four state psychiatric hospitals from the Department of Human Services to the Department of Health's new Integrated Health Services branch, in recognition that good health encompasses the whole person. Bennett took the helm at NJHA in 2017 where she oversees its research and education affiliate and its business solutions division. Bennett's educational background includes a master's from the University of Pennsylvania, a juris doctor from The Dickinson School of Law and a bachelor's from Villanova University.
Her goal for 2022: "We have much work to do on the road ahead from COVID-19, but perhaps the biggest priority for our health care system in 2022 is our workforce. We must apply the lessons learned in this pandemic to reimagine processes and policies that deliver the support our health care workers' need and attract the next generation of talented individuals into the pipeline for this noble profession."

Click here to subscribe to the free digital editions of South Jersey Biz.
To read the digital edition of South Jersey Biz, click here.

Published (and copyrighted) in South Jersey Biz, Volume 12, Issue 1 (January 2022).

For more info on South Jersey Biz, click here.
To subscribe to South Jersey Biz, click here.
To advertise in South Jersey Biz, click here.