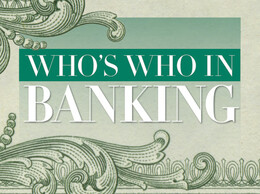 Who's Who in Banking
A closer look at the industry's names to know in South Jersey
Banking is undoubtedly one of our region's most important industries, helping to drive our local economy in varying ways. Our Who's Who in Banking list highlights the senior executives making substantial contributions whether it be helping small businesses, working with larger commercial clients, guiding investment strategies or the many other needs of customers. Read on to learn more about these talented and experienced individuals who have made an impact in the South Jersey market.
Jeannine Cimino, Executive Vice President and Chief Retail Officer, William Penn Bank
Cimino, who joined William Penn in July, is responsible for the executive management of retail banking sales and service delivery function, including the entire branch network, private banking, sales and service distribution and mortgage sales. A trusted leader, mentor and influencer, Cimino's hands-on business experience, cutting-edge insights and background in strategic development and tactical execution have been the hallmarks of her career as a retail banking executive for more than 20 years.
What will the future of banking look like over the next decade?
If the pandemic has taught us anything, it's that we need to become more efficient in everything that we do. I also believe that during the next decade, we will continue to see a shift away from brick-and-mortar banks, as we will continue to go to our customers as opposed to having them come to us.
Manny Tocco, Director of Business Banking, Citizens Bank
With more than two decades of experience, virtually all of it in a commercial banking capacity, Tocco brings a wealth of knowledge to his role as director of business banking, which he was recently promoted to after serving for more than seven years as a market manager in the Greater Philadelphia region. In this new position, he is responsible for the oversight of South and Central Jersey and five other states, along with Washington, D.C., and Southeast Florida following Citizens' acquisition of HSBC.
What will the future of banking look like over the next decade?
"Digital, digital, digital. Customers will be able to interface with financial institutions in a more frictionless environment just as they do with other well-known technology companies such as Uber, Amazon and DoorDash. Branches will still exist with greater strategic placement and the interactions within the branches will be more consultative and advice-driven than transaction-related."
Brett Lawrence, Vice President, Commercial Lending, First Bank
Lawrence has filled a variety of roles in credit and lending capacities throughout his nearly two-decade career. As vice president of commercial lending, he helps to expand First Bank's commercial loan and deposit relationships in the South Jersey region. He believes a major lesson from the pandemic is that as important as digital banking continues to be, meaningful bonds with clients are even more crucial. Lawrence, who earned his master's of business administration from Philadelphia University, is involved with several nonprofits and civic organizations in the area.
What is the most rewarding aspect of the job?
"First Bank was on the front lines in supporting their customers through the crisis [of the pandemic]. The bank played a pivotal role [in] transmitting government stimulus measures, offering forbearance and emergency funding to clients, along with donating to relief efforts. It's easy to have a relationship when business is going well and there are no economic headwinds, but adversity shows the true character of that connection.
Vincent Tucci, Senior Vice President and Senior Relationship Manager, Bank of America
A native of Philadelphia, Tucci graduated from La Salle University with a finance degree and earned his MBA at Temple. He began his career at CoreStates Bank and brought more than two decades of experience as a client relationship manager and regional vice president to Bank of America when he joined the company in 2009. In his current role overseeing the South Jersey market, he leads a team of specialists focused on understanding each client's unique needs to deliver strategic financial guidance and solutions.
What is the most rewarding aspect of the job?
Every day as a Bank of America employee, my team and I work to help our local economy grow while strengthening the communities we serve. We are able to support local business owners in Southern New Jersey with the necessary resources they need to sustain and grow. The last few months have been rewarding as business owners' confidence has risen and expectations have bounced back as they began their journey to full recovery.
Dorian Smith, Senior Vice President, Business Development, American Heritage Credit Union
In his role at American Heritage Credit Union, Smith is responsible for workplace partnership relationships, community events and financial wellness programs for a company with more than 35 branches and 800 workplace partners across the region. He also serves as executive director of the Kids-N-Hope Foundation, a nonprofit organization started by the credit union that supports pediatric music therapy programs at local hospitals and has helped thousands of children adapt to or even overcome their illnesses.
What is one of the biggest issues facing the industry right now?
The industry is faced with changing expectations on how payments, transfers and budget tools are delivered. [Customers] also expect rapid financing decisions and fulfillment. We continue to adapt to these trends to ensure that we remain a preferred financial provider in the Delaware Valley. Our community expects and deserves equal access to financial services. We constantly strive to provide financial inclusion to underserved communities, and embrace diversity, equity and inclusion in everything from the associates we hire to the financial solutions we provide.
Michael Valle, Senior Vice President and Team Leader, Univest Bank
A resident of Philadelphia, Valle has been involved in the financial services industry for nearly 40 years. In his current role as commercial banking senior vice president and team leader for Univest Bank, he finds great reward in "meeting new business owners every day, learning their story and sharing ours with them."
How has the banking industry changed for the better during the pandemic?
It gave true relationship bankers an opportunity to stay closer to their clients in a time of need and enhance our relationships with them. It also enabled local banks, like Univest, to stand out as we were able to continue to serve their needs seamlessly. Clients learned firsthand they could call on us to navigate a challenging time. The banking world became virtual for the most part during the pandemic and it showed that both bankers and business owners can still have a successful partnership and work together to fulfill all needs through digital tools and communication.
Philip Corradino, Senior Vice President, New Jersey Regional Manager, WSFS Bank
Corradino oversees more than 90 full-time associates and 14 retail banking offices in Burlington and Camden counties. The branches are among the largest and busiest in WSFS's retail footprint, with over $1.23 billion in assets. Corradino joined WSFS through the Beneficial Bank merger in 2019; prior to that, he spent eight years as New Jersey Market Director. He currently sits on the Rowan College of Burlington County Foundation's executive board.
What will the future of banking look like over the next decade?
I see more versatility, where each associate is a "one-stop shop" banker, growing partnerships with financial tech companies, additional investments in mobile solutions and a continued hands-on approach to help small businesses grow. I'm also interested in the crypto-asset sector's impact and what regulations will keep both customers and institutions safe.
Randy Wolfe, Chief Revenue Officer, 1st Colonial Community Bank
Wolfe possesses more than two decades of banking experience, primarily in a sales and business development capacity, and joined 1st Colonial Community Bank over five years ago. Since that point, he has played a pivotal role in the bank's growth and is responsible for managing all commercial non-interest revenue activities, as well as maintaining oversight of the retail banking and SBA lending businesses.
How has the banking industry changed for the better during the pandemic?
The pandemic reinforced the importance of personal service, which helped us strengthen our relationships even more than before and put things into a different perspective. From supporting the Paycheck Protection Program loans to providing working capital, we helped our customers and others in the community in every way we possibly could. We don't look at our customers as transactions. We view every customer, regardless of whether it is a business or an individual, as someone with unique needs who looks to us for support.
Tracie Young, Executive Vice President and Chief Risk Officer, Republic Bank
Young already had two decades of experience in the industry, including a stint as director of internal audit and director of risk management at Harleysville National Bank, when she joined Republic Bank in 2010. She now leads Republic's compliance and risk departments and envisions the future of banking to be heavily influenced on innovation, with a particular focus on digital currency.
What is one of the biggest issues facing the industry right now?
Regulations in the banking industry continue to increase, forcing banks to dedicate more time, resources and income toward evaluating the regulations; assessing current operations to determine the improvements necessary to comply; training employees; and updating monitoring and internal control systems.
Travis Rhodes, Regional President Delaware Valley/Lehigh Valley Region, Truist Bank
Bringing nearly three decades of experience in the banking industry to the job, Rhodes began his career with Truist (formerly BB&T) in 1999 as a financial center leader in Winston-Salem, North Carolina. He would go on to hold several positions with BB&T, including business banker and business services officer as well as regional corporate banking officer. In 2012, he became corporate banking manager and held that position until 2018 when he was appointed to his current role.
What will the future of banking look like over the next decade?
COVID-19 has accelerated the journey and technology is the engine that will drive banking forward. Clients want convenience in conducting their financial business as well as impactful expertise to guide them in meeting their financial goals. The organizations that successfully intertwine a first-class client experience across multiple channels to meet clients where they are and how they want to transact while delivering personalized insightful advice will do well in the future.
Michelle Warfel, Vice President, Senior Treasury Management Officer, TD Bank
Warfel joined TD Bank in 2006 and has over 18 years of industry experience. Currently, she provides financial technology solutions to TD Bank's middle market clients in New Jersey, Pennsylvania and Washington, D.C. By offering consultative advice focused on mitigating risk, maximizing working capital and creating efficiencies through digitization, Warfel successfully demonstrates how TD Bank's treasury management solutions can help accomplish clients' short- and long-term goals.
What is the most rewarding aspect of the job?
As a treasury management officer, I have the pleasure of working very closely with businesses of all sizes, across many industries, who are in various stages of their evolution. Partnering and strategizing with our clients to help accelerate receivables, streamline payables, mitigate risk and utilize technology to gain efficiencies are at the core of what we do every day. It is extremely rewarding to strengthen relationships by helping our customers grow and achieve their goals.
Denise Monahan, Group Vice President, Commerical Banking, M&T Bank
Relying on her more than 30 years spent in the banking world, Monahan oversees relationship and portfolio managers in South Jersey and across the bridge in Philadelphia. She manages her team in coordinating client acquisitions, strategic initiatives, sponsorship and talent development throughout M&T's commercial banking sector. Monahan has appeared on South Jersey Biz's Power 50 list, was previously named one of its Executives of the Year in 2019 and has been recognized as a Woman of Distinction by the Girl Scouts of Central and Southern New Jersey.
How has the banking industry changed for the better during the pandemic?
The pandemic tested the banking industry but ultimately proved its resilience. It enhanced our ability to leverage technology to facilitate calls, proposals and overall operations in a virtual environment while strengthening customer relationships through digital platforms, advanced online banking capabilities and facilitation of the Paycheck Protection Program.
John Herring, New Jersey Market President, Liberty Bell Bank
A lifelong South Jersey resident, Herring got his start in banking before college. First a credit manager, he then worked in investments and lending before becoming Liberty's New Jersey Market President 17 years ago. Herring is experienced in credit and lending, including negotiations, underwriting, analysis, collections, and policy development and implementation. He has held leadership positions in numerous charitable and civic organizations, and is currently a South Jersey Bankers Association board member.
What will the future of banking look like over the next decade?
I expect continued bank consolidation, smaller and fewer branch locations across a wider territory, continued adoption of new technology and probably a few new community banks forming in response to industry consolidation. I firmly believe there will always be opportunities for a well-run, relationship-oriented community bank to succeed in South Jersey.
Sharyn McTaggart, Vice President Community Banking, Firstrust Bank
McTaggart brings 25 years of banking experience to Firstrust Bank customers. Leading the growth and success of the NJ region since 2014, she is committed to providing customers with a world-class banking experience and helping individuals, families and businesses achieve their financial goals. McTaggart is a sales success coach for Business Networking International, and is active with local nonprofits like Cherry Hill Education Foundation, Joseph LaCroce Foundation, Eagles Autism Challenge and the POWER of Professional Women.
How has the banking industry changed for the better during the pandemic?
It changed my relationship with our clients for the better, just by being there and being responsive to their needs—I did over 45 PPP loans myself! The pandemic shut down so many of our clients' livelihoods and, being the banker they've trusted for years, they knew they could reach out and call me anytime. It definitely strengthened those relationships because they knew we were here for during this unpreceded time.
Roland A. Turmol, Senior Vice President/Chief Operating Officer, Franklin Bank
Turmol began his banking career in 1979 as a teller for a small community bank, and joined Franklin Bank in 2013. Throughout the past 43 years, he has served the communities of Salem and Gloucester counties and held numerous banking positions including controller, branch administrator, BSA officer, consumer loan officer, compliance officer and security officer. He is also past president of the board of Big Brothers/Big Sisters of Salem County.
What is the most rewarding aspect of the job?
Helping customers meet their financial needs and goals. Watching the bank grow and become the bank of choice in the communities we serve.