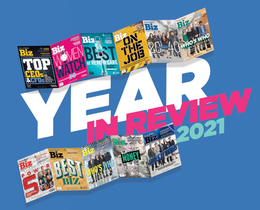 2021 Year in Review
As 2021 winds to a close, we thought it was only fitting that we take time to reflect on the past 12 months and highlight the many topics covered in the pages of South Jersey Biz.
As 2021 winds to a close, we thought it was only fitting that we take time to reflect on the past 12 months and highlight the many topics covered in the pages of South Jersey Biz. From pandemic-related issues and looks at the local economy to our roundups of the region's top business leaders, there certainly was no shortage of topics of discussion in 2021.
In addition to recapping our major stories from the last year, we've also compiled all the individuals we've recognized over these last several issues. This includes all of our picks for Top CEOs and CFOs, Women to Watch, 20 Under 40, Leading Business Attorneys, Who's Who in Real Estate and several others.
We hope you enjoy this comprehensive look back at the year that was and we look forward to even better things in 2022.
January
We kicked off 2021 in grand fashion with a spotlight on the Top CEOs and CFOs in South Jersey. These business leaders were recognized for their ability to consistently rise to the occasion, especially during the tumultuous times brought on by the pandemic. Elsewhere in this issue we also spoke to local health care officials about their optimism surrounding the vaccine rollout, heard from financial experts to get their sense of the state of the local economy and their forecast for the rest of the year and found out how various federal, state and municipal relief economic relief programs were providing area businesses with much-need lifelines to help weather the storm.
February
Our February issue is always a special one because it's where we introduce our annual list of Women to Watch. This year's group of incredible ladies was a mix of rising stars and established executives leading the way in business, health care, nonprofit work and much more. We also touched base with major players in commercial real estate to find out how the industry was not only surviving, but thriving during the pandemic. In addition, we broached the topic of employers potentially mandating vaccines for their staff—a point of discussion that gained plenty of steam as 2021 rolled on.
March
As we marked the one-year anniversary of the COVID-19 pandemic in March, our Best of Health Care feature focused not just on the battle against the coronavirus, but on may other aspects of the industry as well. Whether its cutting-edge cancer and cardiac care programs, new technology being implemented or the doctors, researchers and other key individuals working hard to help improve patient outcomes, there's no question South Jersey remains at the forefront of modern medicine. And with the pandemic changing how businesses operate as more and more was being done remotely, we examined the importance of having a highly secure network in place and discovered the pros and cons of interviewing potential new hires over Zoom.
April
There's no doubt that the building and construction industry was affected by the many challenges presented by the pandemic, but projects continued to fill up the pipeline and jobs were in full demand. We found out how the industry dealt with the disruption and why leaders remain optimistic that things will continue trending upward even as the threat of the virus continues to linger. Other topics of interest that we covered this month include a look at the much-debated Glassboro-Camden Light Rail, Camden's ongoing economic resurgence and why working from home may suit some businesses just fine, but for others it could become problematic over the long haul.
May
Look around South Jersey and you'll find a bevy of young, talented professionals that are proving to be a driving force. Case in point, our annual 20 under 40 showcase, a collection of the best and brightest folks from various backgrounds and industries who are helping shape the future of what it means to do business in South Jersey. These inspiring and brilliant young minds have been able to forge a path that embraces technology, builds relationships and gives back to the community—and they have no plans to rest on their laurels. Our May issue was also particularly handy as it contains our Book of Lists, a thorough informational guide to the region's top companies.
June
From the doctors on the front lines to the executives helping make vital decisions that will have an impact for generations to come, our Who's Who in Health Care was a celebration of terrific medical minds helping transform the sector in South Jersey. This month, we were also proud to speak with more than a dozen local female business leaders who have burst through the glass ceiling to find out more about their rise to the top and why they are so eager to set an example for the next generation of women. And while the pandemic has created many new opportunities with companies looking to fill crucial roles, business owners faced a new COVID-related issue: a shortage of prospective employees.
July
Our Power 50 list was full of the movers and shakers who know how to get things done. From heads of industry to powerful political leaders and other visionaries, this influential group are recognized as the linchpins of the South Jersey business world and because of their efforts our future looks brighter than ever. As things slowly crept back to a sense of normalcy with more events popping up on the calendar, business executives were once again connecting regularly—both in-person and virtually—but it's clear the pandemic has likely changed the future of networking. Furthermore, we took a deeper look at the ever-evolving world of cryptocurrency, the rise of cyber threats in an increasingly digital world and detailed why having a proper succession plan in place is of the utmost importance.
August
We recognized 79 businesses—everything from banks and engineering firms to real estate developers and top law firms—in our Best of Biz. The amazing fortitude and resiliency that these companies have shown in the face of the pandemic has made our business community that much stronger. The heads of area colleges and universities spoke with us for special roundtable discussion on the future of their institutions and how they are engaging students on new levels. Meanwhile, we also found out how several area nonprofits were managing the economic fallout of COVID-19 and why the support of the public has never been more essential in order to allow them to continue to offer their crucial services to the surrounding community.
September
When the pandemic first struck and businesses shifted their operations to become remote, there was a lot of talk that many owners would rethink their need to have a physical office location and that there could potentially be a lot of vacant commercial space around South Jersey. Thankfully, that hasn't been the case and our Who's Who in Real Estate introduced readers to a dozen industry leaders who are guiding the commercial sector into its next phase. But for those who were starting to welcome their employees back into the office, lingering COVID-19 concerns remained an obstacle in formulating a steadfast return-to-work plan.
October
For our "money issue," we talked with various bankers, accountants and others with financial expertise to gauge South Jersey's economic trajectory as things start to rebound. While they all agreed we are still on the road to recovery, there was shared optimism that things were on the right track as we head into 2022 and that the robust economy we had experienced pre-pandemic was right around the corner. We also compiled our list of the area's Leading Business Attorneys, consisting of 46 top legal advocates chosen for their overwhelming commitment to the industry. We also explored what the disruption in the supply chain has meant for local business and why crisis management should be top of mind for every executive in this day and age.
November
In this issue, we celebrated the notables who help make South Jersey a great place to do business. Our Executives of the Year have not only illuminated the path to recovery, but also shown what it means to thrive in a post-pandemic landscape. We also shined a light on 21 local nonprofits for the amazing work they are doing and the lasting impact their efforts produce. And with recreational marijuana for adult use now legal in New Jersey, we delved into the many nuances that business owners need to be cognizant of with regard to their eights and employee protections. And all across South Jersey, office buildings are being transformed to address COVID-19 concerns and become more modernized to both attract and retain employees.