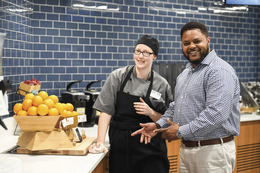 A Lasting Impact
These 21 organizations continue to go above and beyond to make a difference in the lives of South Jersey residents.
Say what you will about South Jersey, but there is no question that we take care of our own. That becomes evident when looking at the various nonprofits that call this area home, and the compassionate, strong-willed individuals who make up the teams behind these organizations. Whether their mission is to help veterans achieve self-sufficiency, gives kids with cancer an enjoyable week of camp or preserve the natural beauty of the Garden State, they continue to strengthen our communities and allow our residents to pursue noble causes. We are honored to once again to shine a light on their contributions with the Nonprofit Stars of 2021.
Animal Welfare Association
Founded in 1948 by four animal lovers who were spurred into action by the horrific conditions at local pounds, the Animal Welfare Association has evolved into one of the largest and busiest organizations in South Jersey dedicated to our furry friends. Offering adoption services, a spay/neuter clinic and a no-kill shelter, it is in the midst of moving into a brand-new, 25,000-square foot facility that will double the space for both adoption and medical care for ill and injured animals.
An Opportunity's Knockin'
South Jersey natives Pete Mauro and Pete Eobbi instantly hit it off upon meeting as students at Drexel University in the early 1990s and realized they shared a common outlook on life—that it's more important who you become rather than what you become. They turned that idea into An Opportunity's Knockin', which focuses on the positive development of children between the ages of 5 and 18. The nonprofit's signature event is the Gift for Giving campaign every December, which allows more than 200 children the ability to provide presents for their families at Christmas.
ArtPride New Jersey
The arts have a number of positive influences on a society, from cultural to economical, and it is the mission of ArtPride to promote and advance that impact while also advocating for nearly 200 different institutions across the state, including large performing arts centers, mid-sized theaters and intimate neighborhood spaces. The creative community has benefited from ArtPride's support in various ways since it was formed in 1986, most recently as it strives to return to normalcy and revive performances following the pandemic.
BookSmiles
It is no surprise that Larry Abrams became a high school English teacher, considering he grew up in a house that fostered his love for reading. Recognizing that not everyone in this area has the same access to books that he did as a child, he started BookSmiles in 2017 to provide new and gently used books to students and their siblings, helping to set them on a path to academic success. In the short time since its founding, BookSmiles has distributed over 630,000 books.
Camp No Worries
All children—especially those battling cancer—deserve a chance to just be a kid once in a while, a time when they can focus on making friends and engaging in fun activities rather than heading to the next doctor's appointment. That is the idea behind Camp No Worries, which gives cancer patients and their siblings between the ages of 6 and 16 the traditional summer camp experience, including swimming, arts and crafts, sports, zip lining and more in a safe environment built on acceptance and camaraderie.
Cross County Connection
The brainchild of a group of local business leaders, government officials and representatives from the New Jersey Department of Transportation and New Jersey Transit, this nonprofit was formed in 1989 to provide transportation-related services throughout South Jersey. It helps to address mobility issues and reduce the number of vehicles on area roads by promoting, facilitating and even rewarding alternative options for commuting, such as car/vanpooling, public transportation, bicycling and walking. For those driving, it also offers traffic and road construction alerts.
Family Promise of Southwest New Jersey
With homeless numbers rising in New Jersey, even before the pandemic, organizations like Family Promise are more important than ever. Its team not only offers help in the short term by providing shelter, food and case management services to families in need, but gets them on track toward a long-term solution of finding permanent housing and a more stable life for their loved ones.
The Friends of the Black Run Preserve
Approaching the 10th anniversary of its founding, this volunteer organization was started to protect the unique natural beauty of the Black Run Preserve, a 1,300-acre parcel in Evesham Township consisting of Pine Barrens forest, wetlands, streams and bogs, which is home to many endangered plant and animal species. It encourages community members to responsibly enjoy the land through hiking, dog walking, bird watching and school field trips while coordinating educational programs and activities throughout the year.
Gloucester County Habitat for Humanity
Driven by the belief that everyone deserves a safe place to live, Gloucester County Habitat for Humanity combines the sweat equity and hard work of volunteers with important relationships in the community to deliver low-cost housing for needy families at a price they can manage. In addition, its team provides the knowledge and skills necessary for recipients to become successful homeowners. The organization is planning its 50th build in the area and shows no signs of slowing down.
Go4theGoal
Started to honor Richard Stefanacci—a Merchantville teen who bravely battled a rare bone cancer called Ewing's sarcoma before passing away at the age of 14 in 2007—Go4theGoal endeavors to improve the lives of kids fighting cancer. It makes an impact in numerous ways, including funding innovative research, making donations to improve hospital services and environments, and offering financial assistance to families. Go4theGoal even grants personal wishes to sick children, helping them create lasting memories during a difficult time in their lives.
Goodwill Industries of Southern New Jersey & Philadelphia
Although primarily known as an organization that accepts clothing and other donations, Goodwill actually does so much more to transform lives. The local chapter was founded in 1948, and since then has empowered thousands of individuals to succeed in the workplace by providing education, job training and career services. Goodwill's Helms Academy allows adults 18 and older to receive a high school diploma while simultaneously earning college credits through partnerships with Camden County College, Rutgers and other universities.
The Joseph Fund of Camden
Committed to transforming lives in the city of Camden, The Joseph Fund accomplishes this goal in numerous ways, particularly through education. Its Child Development Center provides a safe environment year-round for the physical, emotional, spiritual and intellectual development of the city's youth, and it serves children through Saint Joseph Pro-Cathedral Elementary School and with high school scholarships as well. The Joseph Fund has also ramped up its assistance for those facing financial hardships since the pandemic began.
LUCY Outreach
LUCY Outreach—which stands for "Lifting Up Camden's Youth"—was started to address the challenges that many of the city's children face, including gang involvement, delinquency, substance abuse and teen pregnancy. It offers multi-lingual services to those between the ages of 7 and 25, such as college prep and tutoring, social justice workshops, local service days and much more. The ultimate goal is to empower youth to form healthy relationships, make good decisions and develop into compassionate and socially responsible adults.
Occupational Training Center of Burlington County
Back in 1964, a group of parents motivated to provide employment opportunities for their adult special needs children was inspired to start the Occupational Training Center (OTC). Today, the organization helps 700 individuals per year reach their full potential, providing a safe haven after they have aged out of the school system to pursue vocational training, paying jobs, day programs and residential services. The young men and women learn crucial skills and the value of hard work, and take pride in holding steady jobs where their contributions are appreciated.
Sanctuary Foundation for Veterans
There are approximately 19 million U.S. veterans living in this country, and most people would agree they deserve to be supported on a daily basis considering the sacrifices they've made. Locally, that assistance is provided by the Sanctuary Foundation, a nonprofit in Willingboro that elevates veterans and their families to self-sufficiency through help with affordable housing, mental health services and counseling, medical needs and more.
South Jersey Dream Center
Founded in 2011 by Rev. Joe Fortunato and his wife Natalie as an extension of the charitable work they were doing through their church, this faith-based nonprofit is devoted to breaking the cycle of poverty in South Jersey from the inside out. Not only does it provide food, clothing, household and hygiene items for those in need, but it also helps those individuals discover their value and reach their full potential by offering personal, spiritual and professional training.
St. John of God Community Services
Since 1965, St. John of God has been a safe space for children and adults with special needs, creating peace of mind for families by treating their loved ones with dignity and respect. Multi-dimensional services are offered for individuals at every stage of life, from early intervention to adult job training and day services, adult therapeutic recreation, religious education and employment opportunities.
The Tender Adult Day Center
A respite program for people with Alzheimer's or dementia and other seniors, The Tender has been serving the community since 1977. Its mission is twofold: to offer older adults a safe and welcoming place to gather and receive mental and social stimulation, while simultaneously giving caregivers a much-needed break to focus on themselves. Various activities include arts and crafts, Bingo, card games and musical entertainment.
The Unforgotten Haven
Founded by Michele Gambone in 2014 after she helped a family living in their car, The Unforgotten Haven has since grown to assist anyone who has been forgotten, from those suffering from financial hardships to cancer patients, victims of natural disasters and fires and even pets left in shelters. It partners with churches and community organizations and provides all of its services free of charge, and while its main focus is on making an impact locally, it will go wherever help is needed, such as hurricane relief missions in various states.
Volunteer Center of South Jersey
Originally founded in 1996 as the Volunteer Center of Gloucester County, this organization expanded its reach throughout South Jersey in 2013 and became known by its current name. Part of its mission is promote volunteerism by connecting individuals and businesses with nonprofits they would like to align with and giving them opportunities to serve. The Volunteer Center also supports nonprofits with resources and education and looks to improve communities with service projects and impactful initiatives.
The Volunteer Center manages a mobile-friendly platform that connects volunteers to local nonprofits. The organization recently launched its nonprofit capacity building initiative, offering professional development opportunities in volunteer engagement, board development and service enterprise certification. In 2020, the Volunteer Center worked with Jersey Cares to respond to critical community needs throughout the state. The programs and the partnership created continue today and include shopping for seniors, collections drives (coats, diapers, school supplies, etc.) and a robust Corporate Service Program, just to name a few.
Woodford Cedar Run Wildlife Refuge
South Jersey residents understand the natural beauty that this area is blessed with, and organizations like Woodford Cedar Run Wildlife Refuge aim to keep it that way. The nonprofit is dedicated to preserving the state's wildlife and habitats through education, conservation and rehabilitation. Its 171-acre property, located in Medford on the edge of the New Jersey Pinelands, features the Woodford Nature Center, the Wildlife Housing Area and the Wildlife Rehabilitation Hospital, which sees more than 6,000 wild animals each year.