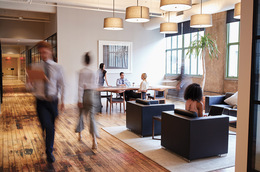 Making it Work
How modern upgrades spurred by the pandemic are changing the look of the traditional 9-to-5.
The phrase "going to work" doesn't quite mean what it did five or 10 years ago, or even two years ago before the world knew what the coronavirus was. The typical work pattern of driving to the office, sitting in an impersonal cubicle all day before clocking out had already been seeing disruption as forward-thinking companies started introducing open-concept layouts, comfortable spaces where employees could take breaks, and some even allowed remote work. This shift was only accelerated by the pandemic as many people became comfortable with working from home, achieving a healthy work/life balance. With offices reopening, there is a sense that commercial property owners and business leaders need to respond with workspaces that will meet employee expectations in a post-pandemic world.
Offices Reimagined
"Prior to the pandemic, business owners were already making spaces more comfortable for their employees to use during break times," says Joseph Riggs, senior vice president for NAI Mertz, a commercial real estate agency. "This encourages employees to use time to exercise and stay on location during lunch breaks. Open outdoor spaces are also perceived to be more beneficial as an alternative to indoor lounges."
These amenities may become a prerequisite if companies want to remain attractive to talent. "Corporate headquarters and trophy office space have been ahead of the curve, offering living room type lounge areas, fitness centers, etc.," Riggs continues. "We expect landlords will need to get creative in how they configure their space to become more attractive to tenants using improvements as an incentive to create a work environment that helps those tenants attract and retain talented staff and to make daily operations efficient."
Companies also want to accommodate those who grew accustomed to the comforts of home during the pandemic, while still offering the essential things needed to do business as usual. Regan Young, founder/president of RYEBREAD Architects, says over the last decade, many U.S. corporations have been moving to remote work, "while reconfiguring their office spaces to enhance flexibility, group interaction, reflective thinking, innovation and privacy, when needed."
Industrial, warehouse or civic spaces may become more attractive for their potential creative use, says Young. "Businesses need to reimagine their buildings and interiors to make their employees and clients/customers want to come back. This means design-forward, healthy, productive environments."
While there is much talk nationally of companies going all remote, that doesn't seem to be the case in South Jersey. No one is quite ready to do away with their brick-and-mortar office, but they are reallocating the space.
"We've certainly seen firms adjust their footprints as they return to work. Upon lease expirations, many landlords and tenants are renegotiating their options to renew and/or adjust their square footage accordingly," says Riggs. "We expect that firms will be pushing new leasing decisions into 2022 as additional waves of the coronavirus continue to keep segments of the workforce strictly working from home."
Michael McGuinness is CEO of the New Jersey chapter of NAIOP, the Commercial Real Estate Development Association, whose members include owners, developers and related professionals in office, commercial, industrial and mixed-use real estate and logistics. He says when it comes to considering downsizing, companies in the state are in a "wait-and-see" mode. "I think it varies depending on the size of the company. Larger companies like consulting, accounting and law firms are more likely to be downsizing space needs, but they haven't done anything yet," McGuinness says.
Hybrid schedules will afford the ability to reallocate their existing space, however. "For smaller companies, with up to 20 people in the office, it's business as usual in terms of being back in the office almost every day. Larger companies though are not going to insist every employee be there at once and will likely offer a staggered schedule so it's not as crowded," he says.
Spreading out will be easier in this model, says Young. "The 'extra space' provided by some employees coming in part-time means an opportunity for in-house staff to spread out, creating greater social distancing, as well as comfort and privacy. With some companies still Zooming even for in-office meetings, conference rooms may become wellness centers, break rooms or storage."
John Sartor is presently encountering this scenario. As president and CEO of PS&S, a design and engineering firm, the company was in the midst of relocating its headquarters just before COVID, with a design reflecting the open floor plan trend that had been popular. The pandemic changed a lot of those plans.
"We ended up eliminating seating, from 225 to 175, and we created enclosed smaller spaces in response to the need for Zoom and Teams rooms and also more areas for breaks where employees could take time to themselves," Sartor says.
And while much of his staff can accomplish their responsibilities in a hybrid schedule, there are also plenty of people who wanted to come back to the office, he continues. "We had new college graduates who were looking forward to being in an office environment because they never experienced it and other senior people who wanted to be here as mentors. … We're all going to see as a society over the next number of years a change in behavior and how the office is used, who is using it. We're embracing that change as a company and it's an interesting opportunity to culturally change and adapt."
Not embracing these changes could be to building owners' and employers' own detriment, adds McGuinness. "It's become popular for companies to incorporate the amenities that were previously only found in small startups, such as collaborative neighborhoods in the office. Building owners who don't feel like changing and leave things the way they are may be jeopardizing who they can get into those spaces, versus those who are more proactive and in tune with what the younger generation wants. … We're approaching a workforce retirement phase in the next few years as baby boomers leave and employers need to think ahead about solutions to cater to the next generation."
Infrastructure Needs
Couches for coffee breaks and outdoor picnic tables won't be the only items on the wish list for office spaces moving forward; technology and employee health are also top of mind.
McGuinness reports that for well over a year, the building owners he knows within the organization have undertaken upgrades to HVAC and air filtration systems. "That's something you'd want the universe to know to attract even more people if you can offer a 99% virus-free environment, which is possible with some of the ultra-high-tech air filtration systems on the market," he says.
It's been a similar experience for Sartor, who says his contacts in commercial property management have been responsive to the need for these upgrades. "They've enhanced HVAC and filtration to bring in more outside air. Going into winter, the hygiene and health of employees is a big focus not just for COVID, but the typical cold and flu season as well."
Sanitizing shared work stations and common spaces will also continue, if not become more rigorous.
"Restrooms will require stalls to be more enclosed, with individual ventilation and exhaust. … Restroom interiors may even be bathed in UV radiation after hours," Young suggests. "Solid toilet lids will reduce aeration, and hands-free fixtures and airport-style entries eliminate surface contact. Antimicrobial finishes will produce a more hygienic environment."
Maintaining the highest levels of health and safety is paramount, says Sartor. "If employees don't feel it's safe, they won't come in."
A company's ability to invest in new technology will also influence its future success. "Those that are thinking ahead long-term are taking the necessary steps and investing in higher broadband like 5G and wireless technology," McGuinness says. "More companies have pushed up their time table on spending money on connectivity and digital investments to make sure they can have access to information quickly and seamlessly."
The virtual environment is the other piece, says Sartor. "There are going to be more demands on a business' hardware and software not just in the office, but for those working from home. Cybersecurity, WiFi and broadband are going to be incredibly important."
McGuinness says those in commercial real estate can take some cues from the hospitality industry in order to succeed post-pandemic. "The winners will be those who treat their tenants and employees like they are running an entertainment or hospitality business. Think of the Disney principles of putting the customer first. Treat your employees and tenants in that same frame of mind."