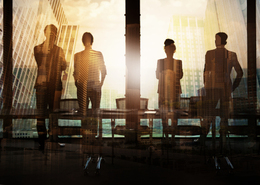 Executives of the Year 2021
Teamwork makes the dream work, but every team needs a leader guiding the way as they find innovative ways to serve customers and the community alike.
Teamwork makes the dream work, but every team needs a leader guiding the way as they find innovative ways to serve customers and the community alike. This year's notable executives have been beacons illuminating the path to not only recovery but also thriving in a post-pandemic landscape as South Jersey emerges from 20 months of uncertainty. Read on to find out how 2021's Executives of the Year have pivoted, found optimal work/life balance, gave back and shared some personal insights.
Lee Watson, COO, Geoscape Solar
Since starting Geoscape at the end of the Great Recession, Watson has worked on or supervised well over 400 residential and commercial solar installations. He brings more than 20 years of experience in management, finance and construction to the Geoscape Solar team, where he leads the marketing department and the commercial, nonprofit and residential sales teams. Watson also oversees each installation through to completion, including site supply and customer service, as well the coordination of residential promotion, company events and advertising.
On why he's especially proud of his company…
Geoscape was created at the tail end of the last major recession, when risks were high and the future was uncertain. My partners and I built a thriving solar company through business acumen, unrelenting determination and people. It continues to be my proudest career achievement.
One place he can't wait to visit…
I'd love to see Australia.
Lynn Spence, Senior Vice President and Chief People Officer, T&M Associates
Spence develops and executes HR strategies to support organizational goals, as well as oversees T&M's marketing group. She provides leadership and expertise in resource management and business strategy, helping to drive the firm's success and modernization. Spence also promotes changes in policies and practices that have yielded significant growth, geographic expansion and an improved corporate culture. She leads the Diversity and Inclusion Committee, whose mission is increasing awareness and fostering a culture of acceptance and equality throughout T&M.
On her proudest career achievement…
My proudest career achievement was in 2016, when I became the first female and, at that time, the youngest person appointed to T&M's board of directors in the company's 50-year history.
Her biggest guilty pleasure…
Eating a piece of dark chocolate candy with sea salt before bed. It's even better when you dip it in peanut butter.
William G. Doyle, President and CEO, Allied Experts
Doyle has more than 12 years of experience in the home performance industry and is one of the first approved contractors of The Home Performance with Energy Star Program. Doyle, who's a board member of the Building Performance Institute, has received The National Contractor of the Year Award, while Allied Experts has been awarded the Home Performance with Energy Star Century Award for 10 years in a row. The company has helped more than 12,000 New Jersey homeowners and businesses improve their energy efficiency.
His biggest guilty pleasure….
Playing chess games online.
On how he measures success….
It's all about the positive impact I am able to have on other people's lives.

Raymond Felix, General Manager, BELFOR Property Restoration
A fixture in the local and national property restoration community for more than 20 years, Felix has been assisting BELFOR for nearly a decade through his management and business-development contributions throughout the tristate area, with an emphasis on the South Jersey market. His main objective is to assist businesses and people in their times of greatest need to help them navigate the process of getting their business back up and running with as little disruption as possible.
On his proudest career achievement…
Having a front-row seat as our South Jersey team continually exceeds expectations, whether it's working long hours after Hurricane Ida came roaring through our area or always doing the right thing, even when nobody's watching. I have the best team a manager could ask for!
How he relaxes…
Spending time with family and friends, telling stories and having fun … and maybe a cocktail or two.
John E. Harmon Sr., Founder, President and CEO, African American Chamber of Commerce of New Jersey
Harmon advocates for the state's 1.1 million Black residents and its 70,000+ Black-owned businesses to ensure fairness in municipal, county and federal policies. Before founding the chamber, Harmon was president and CEO of the Metropolitan Trenton African American Chamber of Commerce, substantially growing membership and forging strategic alliances in the public and private sectors to benefit African American businesses. He serves on numerous boards and is frequently recognized for his work, including being named a Center of Influence for the United States Army.
One place he can't wait to visit…
I would love to attend a safari in Africa.
On his recipe for success….
Quite simply: Establish a goal, then accomplish it! In other words, do what you say. Excuses are not acceptable.
Kathleen Heid, SVP Chief Talent Officer, First Harvest Credit Union
Heid brings a wealth of knowledge and practical experience to First Harvest Credit Union, with two degrees from Monmouth University, Society for Human Resource Management (SHRM) certification and 35 years in human resources management for large financial institutions, community banks and credit unions. In her current role, Heid focuses on talent development, employee engagement and strategic initiatives. A past president of the Human Professionals of Central New Jersey, she has served on various boards and held board positions for local SHRM chapters.
Her biggest guilty pleasure…
My biggest guilty pleasure is walking down to the beach and watching the sunrise when no one else is around.
On how she measures success…
When I see someone that I had the opportunity to mentor grow and succeed in their career journey, then I know I was successful.
Bryan Hornung, CEO, Xact I.T. Solutions
Hornung is a recognized cyber security expert who has been featured by CNN, Fox Business, Fortune Magazine and more, and has also co-authored two best-selling cybersecurity books. His award-winning business is one of only 30 firms throughout the world to earn the CompTIA Security Trustmark Plus Certification. It's a distinction that demonstrates Xact I.T.'s commitment to securing its own business as well as their clients' by being successfully audited against the United States government's rules for cybersecurity practices.
On succeeding despite COVID's challenges…
I look at the pandemic as a significant turning point for our business and myself professionally. We decided as a team to attain an industry-recognized company cybersecurity certification that few firms have. Our team skilled up individually, and our people stepped up.
One place he can't wait to visit…
Santorini. There is something about the pictures I've seen that make it look magical.
Kevin Roche, CEO and Founder, LHT Consultants
Prior to launching LHT—a registered investment advisory firm helping families, institutions, nonprofits and business owners build and maintain wealth—Roche was an analyst and senior portfolio manager at Penn Capital Management, where he launched the firm's institutional bank loan strategy. He was elected as commissioner for Haddonfield earlier this year, also serving as the borough's deputy mayor. Additionally, Roche is an adjunct professor at Drexel University's LeBow College of Business and an advisory board member with Community Foundation of South Jersey.
His biggest guilty pleasure…
Back Door Pizza in Cherry Hill. We're empty-nesters with both kids at college, and I will order a pie for myself. It's the best crust and sauce—I could eat it a few times a week!
On how he measures success…
It's the impact you have on those around you. Former interns, students and co-workers have reached out to thank me for making a difference in their lives. Helping others reach their goals fills me with pride, knowing I was part of something bigger than myself.
Chuck Romanoli, Principal Partner, New Road Construction
With more than 35 years' experience in public construction projects, Romanoli is a recognized leader in construction project management. He serves on the Construction Management Association of America Board of Directors and is a past president of its Mid-Atlantic chapter. He has a strong reputation for both exceptional owner representation services and completing projects successfully, on time, under budget and free of claims or litigation. Romanoli's public and private project history includes infrastructure, environmental and building projects ranging from $1 million to $300 million.
One place he can't wait to visit…
I love travelling abroad and hope to visit the Amalfi Coast of Italy.
On how he measures the team's success…
Our success is measured one project and one satisfied client at a time.
Anthony Welch, Vice President and Chief Government Relations Officer, Cooper University Health Care
A former director of policy and strategic planning for the New Jersey Department of Health and onetime senior policy advisor to former Gov. Chris Christie, Welch is a well-recognized and highly regarded voice for health care industry. Since joining the Cooper nearly five years ago, Welch has been a key voice on public policy issues as they relate to the health care sector and works with local, state and federal government leaders on legislative, policy and regulatory initiatives.
On his proudest career achievement…
For my entire adult life, I have been a student of, and amateur historian of, the Civil Rights Movement. I have had the wonderful opportunity to learn directly from several leaders of the Civil Rights Movement. And I've had the good fortune over the years to work professionally on projects with one of Dr. King's sons and Cesar Chavez's granddaughter.
His biggest guilty pleasure…
Watching Hallmark Channel movies with my wife. We even watch repeats!
Kristi Howell, President and CEO, Burlington County Regional Chamber of Commerce (BCRCC)
A fixture in the local business community, Howell has been leading BCRCC for nearly two decades and continuously displays a tremendous zeal for fostering growth. Not only is she a staunch advocate for her organization's hundreds of members, but Howell is equally passionate about making sure the South Jersey region is properly recognized for all it has to offer. A tireless worker, Howell is well-known for getting things done, thanks in part to the countless meaningful relationships she's formed over the years.
The one place she can't wait to visit…
Paris; hopefully we will pull off our girls trip in 2022 for my 50th!
How she measures success…
Happiness. Am I happy? Are the people around me happy and thriving because of what I am doing?
Bill Davey, Chief Technology Officer, PCH Technologies
Having worked for more than 20 years in the field of technology, Davey is a trusted expert with vast knowledge on how to protect companies' infrastructure and support systems. His expertise has proven especially critical during the pandemic, with more employees working remotely and businesses looking to bolster their cybersecurity capabilities. During his tenure, PCH Technologies has grown from a three-person operation run out of a basement to one of the region's most reputable technology companies.
His latest obsession…
Spending lots of time learning blockchain technology and it will save and improve humanity for all by providing a fair, transparent and accountable society for all.
How he measures success…
I measure success by setting goals for yourself and facing those challenges head-on whether successful or not. Before one can succeed you must fail and learn from those failures to allow yourself to progress further.

Amanda Buckley, Associate Executive Director, Penn Medicine Cherry Hill
A veteran of the health care industry, Buckley began her career with the University of Pennsylvania Health System back in 2003. A handful years later, she moved on to join Temple University Health System as the associate director with Temple Physicians, Inc. Then in 2009, she returned to become Penn Medicine's practice administrator for the department of surgery. She would go on to become the department's business director before taking on her current role in 2019.
On finding the right work/life balance…
I attribute all of my achievements to my village—family and& friends both at home and at work. Some days it looks nice and tidy, some days I'm running all day from one place to another—you make it work because it's important.
Her biggest guilty pleasure…
Good beer and spicy almonds.

Marge Della Vecchia, Vice President, PS&S
Della Vecchia's 30 years of high-level government administration and leadership background has served her well since she joined PS&S in 2016. As principal of the architectural, engineering and environmental consulting firm's Cherry Hill office, this versatile executive regularly works directly with clients to bring together partnerships and find effective ways to solve any number of challenges. Della Vecchia also specializes in government relations and affordable housing, development and redevelopment.
The one place she can't wait to visit…
Israel. I know it will be an incredible journey on many levels, and therefore, is on my must-do list.
How she measures success…
Success for me is defined by my relationships. From early on in my career, the people I met along the way were, and continue to be, what drives me to work hard to get the job done. I am proud to say many in my business network have become personal friends—which makes my life fuller and sweeter.
Lori Herndon, President and CEO, AtlantiCare
Back in 1983, Herndon began her career in the health care industry—and with AtlantiCare—as a registered staff nurse, a position she held for nearly 13 years. She now leads more than 6,000 AltantiCare staff, providers and volunteers who serve the community across five Southern New Jersey counties. With a $75 million expansion of AtlantiCare's Mainland Campus announced earlier this year, Herndon is eagerly involved in helping the health care system enter into a new phase of growth.
The one place she can't wait to visit…
Israel. I know it will be an incredible journey on many levels, and therefore, is on my must-do list.
How she measures success…
Success for me is defined by my relationships. From early on in my career, the people I met along the way were, and continue to be, what drives me to work hard to get the job done. I am proud to say many in my business network have become personal friends—which makes my life fuller and sweeter.
Jeremy Shackleford, Senior VP, Regional Manager, WSFS Bank
While helping oversee operations at 15 banking office locations in the region, Shackleford plays an integral role in supporting the financial needs of both consumers and small businesses while also developing, managing and building high-performing teams. During the pandemic, he helped implement several useful strategies, including WSFS' drive-thru only model, and later assisted with the phased reopening of banking lobbies. Also an active member in the community, Shackleford volunteers with several organizations and participates in delivering wellness sessions for private companies and nonprofits alike.
The one place he can't wait to visit…
New Zealand. It has always appealed to me and seems to have this magical allure to it. Friends of mine that have been there say there is nowhere else like it on the planet.
On his proudest career achievement…
If I had to choose one career achievement that I am most proud of, it would be the opportunity to join WSFS Bank. WSFS is wired to serve the community, serve our customers, and serve and support our associates. My role as a senior leader at WSFS affords me many opportunities to help customers and fellow associates grow and actualize potential.
Stephen Dougherty, Executive Director, South Jersey Transportation Authority (SJTA)
After working for former U.S. Congressman Rob Andrews for more than a decade, Dougherty joined SJTA in early 2010 as its chief of staff. Five years later, he stepped into his current role and is responsible for SJTA'S management of transportation services in Atlantic, Camden, Cape May, Cumberland, Gloucester and Salem counties. Whether dealing with the Atlantic City Expressway, the Atlantic City Airport or other notable projects—like the proposed Glassboro-Camden light rail line—Dougherty's guidance has helped SJTA continue its mission of providing the traveling public with safe and efficient transportation.
On his proudest career achievement…
While there have been a few experiences that have truly tested my professional abilities (the most unique being a plane full of Russian nationals that made an emergency landing at the Atlantic City International Airport in 2018), I am truly most proud of the day-to-day progress my team and I have made serving the public for the past 19 years on both the federal and state levels.
His biggest guilty pleasure…
Every year I secretly count down the days until the Discovery Channel's Shark Week. I try to watch as many shows as possible and am amazed at the cinematography, especially of those brave filmmakers who capture breathtaking footage while submerged in shark-proof cages and sometimes without any protection at all.
Joe Sigle, Executive Director, Region Head, Mid-Atlantic Commercial Banking, Santander Bank
Sigle is responsible for managing Santander's commercial banking business in Pennsylvania, Southern New Jersey, Delaware and Maryland. He has been with Santander for over 15 years and has developed deep expertise in all facets of commercial banking including business development, underwriting, portfolio management and structured finance. He also spent time at Wells Fargo where he was regional sales manager overseeing the Greater Pennsylvania region. Sigle is an active member of the community and is involved in the boards of the Caron Foundation, Berks Encore, and the Salvation Army.
His biggest guilty pleasure?
Collecting watches and cufflinks. I have too many of each to count. I see them as easy ways to show my personality when wearing a traditional suit!
How he measures success…
Professionally, I measure success by having a great reputation, being able to build strong relationships and being recognized as a trusted advisor by our clients. Personally, success means my wife, Kelly, and I raising our three children, Riley, Connor and Quinn to be thoughtful, well-rounded and grounded with a sense of purpose.