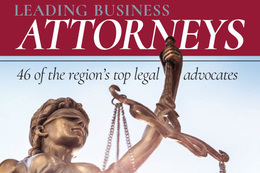 LEADING BUSINESS ATTORNEYS
46 of the region's top legal advocates
Whether running a large company or a small business, there's plenty of things that keep business owners up at night. And not having the right representation in place can only add to the stress when legal matters suddenly arise. We polled the region's top law firms along with our readers to find South Jersey's Leading Business Attorneys, and the result is this list of highly regarded professionals recognized for their overwhelming commitment to the legal services industry.

Bankruptcy
Arthur Abramowitz
Moorestown
Lee Perlman
Cherry Hill
Stephen Packman
Haddonfield
Ellen McDowell
Maple Shade
Business Law
Kevin DiMedio
Haddonfield
Dan Posternock
Moorestown
Howard Sobel
Voorhees
Ronald J. Cappuccio
Cherry Hill
Jacqueline Vigilante
Mullica Hill
Patrick J. Hughes
Connell Foley
Cherry Hill
(856) 317-100
A skilled litigator and business advisor, Hughes serves as managing partner of the firm's Cherry Hill office. He represents clients in significant commercial, product liability and mass tort litigation in state and federal courts across the region.
Sam Fineman
Cherry Hill
Business Litigation
Ahmed Soliman
Cherry Hill
Business Succession Planning
Yasmeen S. Khaleel
Capehart Scatchard
Mount Laurel
(856) 234-6800
Khaleel is an executive committee member and chair's Capehart Scatchard's Business & Tax and Trusts & Estates groups. She represents clients in the areas of business succession planning, estate planning, estate and trust administration, transactional and tax planning.
Cannabis Law

William Caruso
Haddonfield
Sheila Mints
Capehart Scatchard
Mount Laurel
(856) 234-6800
As chair of Capehart Scatchard's Cannabis Law Group, Mints focuses her practice in cannabis law and policy, regulatory compliance and how this new, highly regulated industry intersects business, real estate, government, social justice and public policy.
Chris Macchi
Swedesboro
Commercial Litigation
Francis X. Manning
Cherry Hill
Mark A. Schiavo
Cherry Hill
Andrew J. Luca
Marlton
Corporate Law
Nikitas Moustakas
Haddonfield
Alan Zuckerman
Cherry Hill
Creditors Rights
Sergio Scuteri
Capehart Scatchard
Mount Laurel
(856) 234-6800
Scuteri is a Shareholder in Capehart Scatchard's Business and Tax, Commercial, Banking and Bankruptcy and Litigation groups. He represents national and regional lending institutions and other credit issuing entities in several areas, including collections, commercial litigation and bankruptcy.
Employment Law
Stephen Console
Console Mattiaci
Moorestown
James Bucci
Genova Burns
Camden
(937) 533-0777
A partner in the firm's Camden office, Bucci has represented business of all sizes in various employment matters. He has served as lead counsel in numerous business-related disputes and tried many cases to verdict in state and federal courts.
Susan Hodges
Mount Laurel
Estate & Tax Planning
Thomas D. Begley III
Cherry Hill
Gaming
Frank A. DiGiacomo
Cherry Hill
Immigration Law
Shereen Chen Gray
Moorestown

Intellectual Property
Mark Sever
Haddonfield
Y. Jae Kim
Voorhees
Labor & Employment Law
Albert Mezzaroba
Camden
Michael J. Wietrzychowski
Cherry Hill
Real Estate Law
Lloyd Birnbaum
Lauletta Birnbaum
Sewell
(856) 232-1600
In addition to serving as outside general counsel for several companies, Birnbaum represents clients throughout the region in nearly every aspect of real estate law, including acquisitions, sales, commercial leasing, development and finance.
John D. Rothamel
Haddonfield
Rhonda S. Feld
Moorestown
Jeff Appell
Moorestown
Kevin D. Sheehan
Mount Laurel
Sam Dhaliwal
Moorestown
Tax Law
Barry Yellin
Marlton
Technology
Frank Lauletta
Lauletta Birnbaum
Sewell
(856) 232-1600
Lauletta focuses heavily on representing and counseling a broad array of emerging and established companies in both the public and private sectors, including a number of software, telecommunications and high technology companies across the country.

Douglas Nelson
Haddonfield
Workers' Compensation
Charles I. Coant
Vineland
Marci Hill-Jordan
Marlton
Jeffrey Newby
Mount Laurel
Brian Budic
Florio Perrucci Steinhardt Cappelli Tipton & Taylor
Cherry Hill
(856) 853-5530
A partner with the firm, Budic focuses his practice in the areas of civil litigation, family law and workers' compensation. He is well-known for finding creative solutions to help his clients reach favorable outcomes.
Jordan Goldberg
Cherry Hill