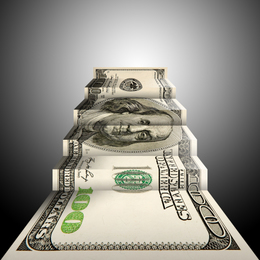 On the Right Track
South Jersey's economy is on an upward climb as the pandemic wanes, but there is still work to be done.
Ever since the COVID-19 pandemic took hold of the globe in the spring of 2020, the world was left to grapple with two crises simultaneously—the threat to public health and the resulting financial fallout.
With the economy shaken, unemployment rates skyrocketing and businesses in desperate need of federal, state and municipal support to stay afloat, the news seemed to worsen every day. But, as the year came to a close and vaccines became available, hope and optimism began to return and consumer confidence seemed to be once again on an upward trajectory.
That momentum continued through the first part of 2021, with crucial funding being doled out, companies determining the best practices to move forward in the pandemic era and employees trickling back into the office. Though variants of the coronavirus have slowed a full-fledged rebound, things are beginning to operate as normal—at least the new normal as we will know it to be. Government leaders appear committed to avoid mass shutdowns again in favor or mitigating measures on a more controlled, regional basis and with the distribution of vaccines for younger children and antiviral drugs seemingly right around the corner, there is further hope that this most recent devastating wave of COVID-19 could be the last major obstacle standing in the way.
In South Jersey, most experts point to the resiliency of business owners who have weathered the storm and they remain bullish that the return to the robust economy that existed prior to the pandemic is within reach.
"South Jersey's economic climate is starting to rebound from the heights of COVID-19. Consumers are becoming increasingly comfortable with conducting business in the way that they used to before the pandemic," says Angela Moultrie, Santander Bank's region president for Pennsylvania and Central New Jersey. "As we continue to learn how to live and function amidst COVID-19, the focus has shifted for business owners. Businesses are now planning on how to effectively utilize their Paycheck Protection Program funds and invest in their futures."
Nick Pantle, vice president of financial planning services with Masso Torrence Wealth Management, feels similarly when gauging the current economic climate and what lies ahead in the coming year.
"We feel South Jersey is in a very good economic state," Pantle says. "There are many businesses that are doing exceptionally well and there are also many that survived the pandemic that we feel are ready to get back to business as usual. Additionally, we think the overall consumer is very well positioned to help spur economic growth in [the region]."
CHANGING WITH THE TIMES
While businesses are undoubtedly still juggling the pandemic, the lessons learned are not only helping them navigate the current situation in real time, but also better prepare them for future unforeseen circumstances.
"I think the pandemic provided many of us with a unique opportunity to further strengthen already-strong consumer relationships in a time of uncertainty," says John Herring, New Jersey market president, Liberty Bell Bank. "I've spoken about the importance of having a 'plan B,' and those folks that had alternative strategies to succeed in the pandemic seem to have fared pretty well."
The "need to pivot" has become a common refrain during the pandemic and Joe Tredinnick, market president at Republic Bank, says successful business owners recognized this need early on as a means of survival.
"During the pandemic, the businesses that pivoted aspects of their operations such as reducing staff, accommodating remote work and shifting scheduling based on demand, fared far better than those that tried to remain the same despite the circumstances," Tredinnick says. "Making tough decisions like this—knowing the effects they may have—is a lesson that will endure throughout the pandemic and beyond.
"From a financial perspective, in any downturn cycle—pandemic-induced or otherwise—business owners realize the need to manage debts to allow them to not only survive, but to thrive when things turn back around," he adds.
But not everyone was as prepared to handle such a shock to the system, particularly small businesses. In a survey conducted of small business owners across the country, TD Bank found that 81% of respondents did not have an emergency or contingency plan in place prior to the spread of COVID-19. The eye-opening experience has forced many to recalculate their approach.
"The pandemic clearly showed how essential local businesses are to our economy—and how tenuous small business operations can be," says Rob Curley, South Jersey market president with TD Bank. "Smaller businesses run on tight margins typically, but I think this extended crisis has also helped business owners think seriously about what they need to do to withstand tough times, whether they last two months or two years."
THE TAX LANDSCAPE
Advanced thinking will prove critical as business owners look to handle the uncertainty of the future tax landscape as well, according to Sean Balliet, partner with Baratz & Associates. "[President] Biden's tax law proposals would increase the tax rate for corporations. Flow-through entities, which are established by most closely held businesses, will not see change at the entity level, but the individuals who own these companies could potentially see an increase in the capital gains rate to 25%," he says.
Balliet adds those same business owners may be impacted by a compressed income tax rate and a return to a top tax rate of 39.6% (up from 37%). "This is a squeeze felt by small business rather than large corporations. Tax planning [for 2021] will be more important than many recent years and business owners should not wait. … The changes in policy and debate over tax rates makes it difficult for business owners to plan and CPAs to predict the future," he says.
CHALLENGES AND THE ROAD AHEAD
As business owners have been forced into an unthinkable situation over the past 20 months of the pandemic, if they are to further protect their operations, they will be faced with more difficulties.
"South Jersey businesses continue to face various challenges including recruiting employees, supply chain impediments and changing purchasing behaviors. But my hope is that some of these challenges will resolve in 2022 and create a stronger economic climate," says Tredinnick.
While employment rates have been on the rise, Curley says it will likely be several more months before the country is on par with pre-COVID levels. "The local economy is in a recovery period, though there have been setbacks along the way. Now that cases from the Delta variant are starting to decline and more people are vaccinated, that bodes well for more economic activity. Most industries in New Jersey, especially transportation and logistics, are rapidly recovering after facing a major decline."
Pantle says that while the pandemic forced businesses to firm up their processes and take a hard look at their finances, favorable interest rates will entice some to consider various investments in growth.
"Interest rates are exceptionally low, and we anticipate them to remain low for some time," he says. "This is a good time for expansion, either organically or also through mergers and acquisitions. As long as the growth opportunity is there for the business, it can add serious value to expand."
Despite that advantageous position, Moultrie warns that companies, as always, need to fully weigh if the risk outweighs the reward. "Businesses need to look ahead to plan and understand where they want to take their businesses in one year, three years and five years. There is a strong need for businesses to take very methodological steps to get there. … As businesses face the dilemma of efficiency vs. expansion, business owners need to avoid overstretching themselves so they can fully reap the benefits of their work and customer support. … Business owners need to be nimble to navigate another unexpected economic pivot."
Herring feels optimistic things will continue trending in the right direction, giving business owners a reason to be confident as the calendar flips to the new year.
"Given the resilience of our region, I'm optimistic as we head into 2022. There are still some potential headwinds, but generally speaking the Delaware Valley looks primed for another very good year," Herring says. "The South Jersey market continues to be an outstanding place to do business. It's filled with great people, a skilled and talented workforce, and successful businesses of every size and shape."
Click here to subscribe to the free digital editions of South Jersey Biz.
To read the digital edition of South Jersey Biz, click here.

Published (and copyrighted) in South Jersey Biz, Volume 11, Issue 10 (October 2021).

For more info on South Jersey Biz, click here.
To subscribe to South Jersey Biz, click here.
To advertise in South Jersey Biz, click here.