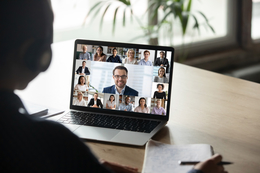 Continuing the Difficult Climb
COVID-19 concerns remain an uphill battle for business owners as they weigh vaccine mandates and safely returning to the office.
When the coronavirus sent everyone into lockdown in March 2020, it was supposed to be for two weeks. Two weeks to slow the spread turned into three, then four, before everyone found themselves adjusting to a new life of wearing masks and working from home. Now, a year-and-a-half later, just as more and more businesses are starting to bring their employees back into the office, the lingering pandemic is forcing employers to once again take a longer look at their return-to-work plans.
"Some are delaying their return to the physical workplace, while others have made their pandemic pivot to a remote workforce more permanent," says New Jersey Business & Industry Association President and CEO Michele Siekerka. "Whether they should rethink their recovery process is up to them.
"We understand the need and want for vaccines for the greater good and encourage them ourselves," she continues. "But every employer has a different situation in terms of number of staff they have, where their staff falls in terms of opinions about vaccines, what the physical capacity of their workplace is and how much and what kind of interaction they have with themselves and with the public."
Vaccine mandates are one of the biggest hurdles employers seem to be facing when considering the return to work, with so many opinions both for and against. Though President Joe Biden's mandate that private businesses with 100 or more employees require vaccines or negative testing may make the decision for those businesses, it still leaves smaller businesses in limbo.
"For smaller businesses, to this point, it's been a mixed bag of those who are voluntarily requiring vaccines or tests, those who are thinking about it and those who are reluctant to do it," Siekerka says. "The challenges some businesses may face, whether mandated to require vaccinations or requiring them on their own accord, is with staffing. We're still in the throes of a hiring crisis. Many businesses are short staffed. Take away employees who don't comply with the mandate and those employers could have further difficultly filling those positions."
Siekerka adds that while the government mandate may bring a sense of relief for larger employers who may have been on the fence about making their own directives, there is still plenty to consider.
"What's important to realize is not every employer of 100 or more is a huge corporation," she says. "There could be some real impacts for those in the health care and child care industries, or with nonprofits, where staffing is typically a challenge anyway.
"We're asking policymakers to recognize the potential fallout on those businesses that provide very important services to the public," Siekerka continues. "There may also be costs to businesses in terms of providing tests to their employees. So, there may indeed be a need for them to apply federal recovery dollars to those employers to help them maintain appropriate staffing or to address any added costs."
With so much to consider, it's no wonder many companies are considering a hybrid approach to return-to-work. AmeriHealth, for example, is taking new information into consideration as it develops a plan while keeping the wellbeing of its associates and their families a key priority, says Mike Munoz, senior vice president and market president, AmeriHealth New Jersey.
"We have committed to our associates that we will return when it can be done safely," he says. "We continue to evaluate conditions surrounding COVID-19 and the emerging variants, and we are looking at the safety precautions needed."
As such, Munoz says AmeriHealth is planning a voluntary, phased re-entry in September, when company officers are invited to return to its facilities.
"Later this fall, all other associates will be invited to voluntarily participate in the early phases of the return to our workplace locations," he notes. "Anyone entering our facilities is required to be fully vaccinated.
"In addition, the last 18 months have demonstrated that remote working is effective," Munoz continues. "As we transition to workplace re-entry, we are implementing a hybrid workplace model that will blend in-person and remote working for most of our teams. This new hybrid workplace model positions our company for continued success while also prioritizing our unique and collaborative corporate culture."
As Munoz suggests, many companies have found the work-from-home solution to be an effective one, so many will continue to stay the course. However, this may mean safety precautions that had been quickly put into place 18 months ago should be updated, so that important, private company information is protected.
David Suleski, founder and president of #TechStarters, says there are a number of technology solutions available to ensure proprietary data is secured and protected, while also providing employees the flexibility and safety of remote work.
"Microsoft's Mobile Device Management (MDM) and Mobile Application Management (MAM) platforms centralize cybersecurity in a decentralized world," he says. "Microsoft's Endpoint Manager is also one such service that ensures business data is only accessed using secure employee devices. Endpoint Manager's license provides your organization the ability to monitor devices accessing company data by creating policy rules, created by your company, that must be met before a user's access is authorized."
Suleski says Endpoint Manager also allows companies to remotely wipe lost or stolen devices to ensure sensitive company information doesn't fall into the wrong hands.
"Conditional access policies are another security feature available on Microsoft platforms that allow rules to be created dictating when, where and how users can access company information," he adds. "For most organizations it's safe to assume that someone trying to login with one of your employees' accounts from an IP address located in North Korea is probably illegitimate. Conditional access policies allow for this type of activity to automatically be denied."
Uncertainty is one of the biggest obstacles facing a business owner, and COVID-19 has made it even more so. As we head into the fall and winter, when larger indoor gatherings can mean increased COVID-19 cases, business owners will likely continue to find themselves unable to commit to a single solution as to where the workplace best fits.
"There's still a degree of uncertainty of how the virus will impact business, but I think at this point many employers have figured out how to pivot," Siekerka says. "Most of the challenges we're hearing about are not about having to cut back staff, but rather about not having enough staff.
"There still isn't a day that goes by where you don't see in the press that some establishment was forced to close or cut back their operating hours because they don't have enough staff," she concludes. "The federal and state benefits that fed into this issue have been discontinued; however, there are other factors driving short-staffed employers and we still have a big hill to climb."
Click here to subscribe to the free digital editions of South Jersey Biz.

To read the digital edition of South Jersey Biz, click here.

Published (and copyrighted) in South Jersey Biz, Volume 11, Issue 9 (September 2021).

For more info on South Jersey Biz, click here.
To subscribe to South Jersey Biz, click here.
To advertise in South Jersey Biz, click here.