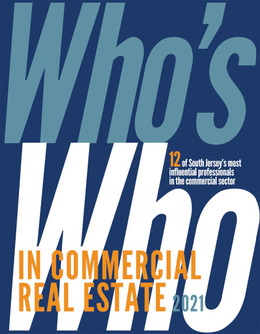 Who's Who in Real Estate
12 of South Jersey's most influential professionals in the commercial sector.
Challenges continue to mount in the commercial real estate industry, not only from the pandemic but also from shifts in working models along with technological changes. Fortunately, South Jersey is blessed with a number of dedicated professionals willing and able to rise to the occasion for their clients by adapting to the times and finding creative solutions to their problems. South Jersey Biz is once again proud to shine a light on those individuals with our annual Who's Who in Real Estate List.

Todd Monahan

Executive Vice President, Managing Director, Wolf Commercial Real Estate (WCRE)

With nearly three decades in the industry, Monahan has a multi-layered background in developing strategies and completing transactions from all sides. He has represented owners and occupiers and worked directly for several REITs and private equity ownership firms. Monahan joined WCRE in May at an exciting time for the company as it continues to expand in the region approaching its 10th anniversary, and his role includes implementing effective growth strategies.

"Wayne Fisher, formerly of Grubb & Ellis and Newmark, had a big influence on me early in my career [and] that still affects me today. He taught me to focus on what was right for the client, not the commission. That if you work hard for your clients and give them the best advice, you will earn their trust and loyalty, [and] then money will follow. … Tom Bakke from Equity Office was also a key mentor for me. Tom is not as well-known in the Delaware Valley but is known nationally and influenced many office leasing brokers, especially on the agency side."

Gary Wnek

Vice President, Colliers International

A graduate of St. Joseph's University, Wnek is a dynamic commercial real estate professional who has 15 years of experience and serves as a vice president in Colliers' Mount Laurel office. He specializes in the sale and leasing of manufacturing, warehousing and distribution properties, working closely with both investors and owners or occupants of industrial real estate in South Jersey. He resides in Haddonfield with his wife Jennifer and daughter Sloane, and cites his father's influence with helping to guide his professional and personal decisions.

"I enjoy being around people. What successful salesperson doesn't? That has been one of the setbacks of COVID. Whether it's playing golf, tennis or enjoying dinner out with friends, I am looking forward to things returning to normal, especially with the winter months approaching."

Julie Kronfeld

Vice President — Office Division, NAI Mertz

Kronfeld began her commercial real estate career in 2006 as an office specialist at NAI Mertz, joining Rebecca Ting to grow the Office Division as a team. They've had great success representing multi-tenanted office and flex parks in South Jersey, leasing them up and then selling the portfolios. The majority of Kronfeld's work is owner representation, but her knowledge of the market makes her a valuable resource for prospective tenants as well.

"I am lucky enough to have two tremendous mentors, both from NAI Mertz—Rebecca Ting and Fred Meyer. In our business, where relationships are currency, Rebecca introduced me to everyone and then some. Fred is a process-driven guy who took me out my first month at work when I had nothing to contribute and toured me on a tenant rep deal and shared the commission. Both Becky and Fred are incredibly generous with their time and knowledge."

Jon Sarkisian

Executive Vice President, CBRE

Sarkisian has more than 25 years of commercial real estate experience under his belt and, since joining CBRE with the acquisition of Insignia/ESG in 2003, has been a key figure for the company throughout the Philadelphia region. A department head of the firm's local office in Mount Laurel, he serves as a tenant and landlord representative and has formed meaningful relationships with a number of national clients, including American Water and Lockheed Martin. He credits his father with encouraging his ambition and lives by the motto, "The harder I work, the luckier I get."

"At CBRE, I specialize in the leasing and selling of office space in Southern New Jersey. The pandemic has forced corporations to reevaluate how they use office space and as a result, most are taking a hybrid approach (two-three days in the office). I believe this will cause an increase in office space availability by 15-20%."

Rick Widerman

Executive Vice President, National Director, Jones Lang LaSalle (JLL)

For the past four decades, Widerman has served a number of roles in various commercial real estate disciplines, including landlord and tenant representation and office development. His diverse background allows him to provide clients a unique perspective and can be valuable when analyzing proposed transactions. Fourteen years ago he joined JLL, where he oversees brokerage operations for the South Jersey region from the Cherry Hill office and has worked as the lead broker on transactions for AT&T and GlaxoSmithKline.

"For the most part, I have returned to normal [post-COVID] for the things that are most important to me. We have resumed regular get-togethers with extended family and friends which has made for a wonderful summer. Business has also become relatively close to normal with the resumption of face-to-face meetings and tours. That said, I remain reluctant to attend ballgames, concerts or other large gatherings and am minimizing air travel. The one item I look forward to most is the resumption of international travel. I got the travel bug for Europe a few years back and have a short list of places we plan to visit. I definitely look forward to resuming overseas travel when the time is right."

John Krauser

President, COO, Vineland Construction Co.

A veteran of 36 years in the real estate business, Krauser began his career in 1985 at Strouse, Greenberg & Company in Philadelphia. In 1993, he accepted the position of president and chief operating officer at Vineland Construction Co., a privately owned, multi-faceted real estate company with a focus on acquisition, development and management of a real estate portfolio.

"Bernie Brown, who recently passed, was an amazing entrepreneur and salesman who grew a trucking business into a national logistics company, now known as NFI Industries, a legacy that his three sons continue to successfully build upon. He had a prodigious memory, an uncanny business mind and an eagerness to take on challenges and risks, which were the foundation of his business career and life. I had the privilege of working for him; his and Mrs. Brown's outlook, values and humanity shaped my life professionally and personally. He is missed."

Brett Davidoff

Senior Vice President, Rose Commercial Real Estate (RCRE)

A graduate of Muhlenberg College, Davidoff started his career as an account executive at two different companies before joining RCRE in 2008 as a sales associate. He eventually worked his way up to senior vice president and his responsibilities include acquiring new commercial listings, managing landlord/tenant negotiations and searching properties for investors. A Cherry Hill native, he now lives in Upper Dublin, Pennsylvania, with his wife, son and family dog, where the family has supported the ASPCA and For Pete's Sake Cancer Respite Foundation.

"I definitely reduced my time at the gym over the past year. Whether shooting hoops or working out, I really enjoyed it but the pandemic certainly had me scale back. Also, I have missed the interaction with people—having dinner with friends, attending gatherings to celebrate special occasions and the like. It will be nice to slowly and safely get back to socializing more regularly."

Gina Cotton

Executive Vice President, CFO, Metro Commercial

Cotton gained more than 25 years of corporate real estate financial experience as a senior level executive at multiple organizations before joining Metro in 2015. As CFO, she is responsible for managing the finance staff and leading the day-to-day property management accounting function for over 6.5 million square feet of retail properties. Now that her daughter has moved on to college and her busy days as a "dance mom" are over, Cotton is embarking on a long list of personal interests, starting with learning how to speak Italian.

"For all the good the internet brings, it is one of the biggest threats to physical/brick-and-mortar spaces that the entire industry is facing. The pandemic has only compounded the reliance on online shopping for everything, even our basic needs. The ways in which people use the internet directly impacts the ways they view and use physical space. When the internet disburses goods and services, which a physical space once offered, it has a negative impact on that real estate, specifically in the office and retail sectors. To counter, owners and investors need to bring diverse uses to their spaces and build in flexibility to accommodate these new uses."

Keith Langan

Principal, Executive Vice President, Surety Title Company

A native of Medford who earned his degree from the University of Delaware while playing quarterback on the football team, Langan has been in the title insurance industry for 25 years, specializing in sales, refinances, commercial property transactions and large developer sales. He joined Surety Title in 2011, where his hands-on approach and ability to create lifelong personal relationships have proven crucial to coordinating client orders and handling closings. He resides in Haddonfield with his wife Tracy, son Zachary and daughters Emerson and Kinley.

"Joe Ryan has been my mentor literally from day one of my professional career, having hired me right out of college. He was leading Congress Title at the time and remains part of our team 25 years later. Known as 'The Rock,' Joe impressed upon me the importance of always 'being there,' whether for my family, the Surety team or our clients. His strength, dedication and character helped make me who I am today."

Erin Warwick

Asset Manager, Nessel Development

A graduate from the University of Rhode Island and a licensed real estate agent in New Jersey, Warwick has more than 12 years of experience in leasing, dispositions, marketing and property management in the area. In her role at Nessel, she oversees the firm's real estate portfolio, utilizing a combination of problem-solving and relationship-building with partners, vendors and tenants. A mother of five, outside of work she can often be found cheering on her children in a variety of sports, and she is also an accomplished athlete herself who competes in triathlons and marathons.

"When I first started at Liberty Property Trust, I was in property management. It was then that Mark Goldstein, my regional manager at the time, recognized that with my skill sets I was a better fit for the leasing side of the business. He not only encouraged me to make the shift but from that day forward, he took me under his wing and showed me what it took to be successful in commercial real estate over the long term. Through all the ups and downs, the crazy market cycles and of course the pandemic, I still hold onto everything he instilled in me."

Thomas Johnson

Executive Vice President, Principal, Conifer

A certified public accountant, Johnson started his career as an auditor at KPMG and eventually became the chief financial officer of United Franchise Group before assuming the same role at Conifer in 2008, a position he held until 2016. Now an executive vice president, he is responsible for the strategic asset management of Conifer's portfolio of nearly 15,000 multi-family units in New Jersey, Pennsylvania, New York and Maryland. Johnson helps develop and implement strategies that will maximize the financial performance and value of the portfolio. He credits his father, an educator, for instilling in him the values of integrity, humility, empathy and commitment.

"I'm looking forward to doing more traveling and attending college football games this fall. My kids attended the University of Florida and the University of Pittsburgh, so a few of those games are on my schedule."

Justin Steinberg

Vice President, CoreTitle

Steinberg has spent the large majority of his life in the South Jersey/Philadelphia region, having been raised in Voorhees. After graduating cum laude from Hunter College in New York City, he found his way back home and became involved in different aspects of the local real estate industry. He was a residential real estate appraiser before learning the ropes of title insurance at a firm in Cherry Hill. In 2011, he helped found CoreTitle with the goal of creating the premier settlement experience in the region.

"I'd say managing clients' expectations and effectively communicating amongst all the entities involved in a transaction is most crucial. These things have always been paramount, but now more so than ever. Working with limited resources and government record constraints in the past 18 months has been a great challenge, for sure. Keeping [everyone] abreast of all of these changes in a timely manner has allowed us to keep a steady hand, though."

Click here to subscribe to the free digital editions of South Jersey Biz.


To read the digital edition of South Jersey Biz, click here.

Published (and copyrighted) in South Jersey Biz, Volume 11, Issue 9 (September 2021).

For more info on South Jersey Biz, click here.
To subscribe to South Jersey Biz, click here.
To advertise in South Jersey Biz, click here.