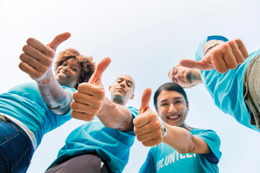 Bouncing Back
The region's nonprofits may have struggled throughout the pandemic but they never wavered from their missions to serve South Jersey.
At this point, it's neither a secret nor a surprise that countless organizations, businesses, programs and services have absorbed hit after hit throughout the pandemic.
We've heard about companies' struggles to go remote if they could, or quickly accommodate social distancing and stringent sanitation procedures if they couldn't. We've felt how the worker shortage has disrupted hours of operation, staffing levels and service quality. We've seen vacant storefronts' proof that COVID has ravaged our communities in more ways than one.
Those struggles aren't just felt by the for-profit sector, though. The nonprofit organizations that make the most difference in person, that rely on fundraisers to stay fiscally afloat and that rush in to provide assistance have faced not only the pandemic's well-known shared challenges but also a bevy of them unique to philanthropic organizations.
"The pandemic was nothing short of a torpedo," says Keith Maynor of the Salvation Army, which also operates the Kroc Center in Camden, where everyone is welcome to utilize its multipurpose facilities and programs. "Especially in the beginning, there was so much fear, there was so much uncertainty over how it could be transmitted, and to couple that with the blow … of trying to retain a workforce just made it that much more difficult."
While not all of the region's nonprofits rely on fundraisers, supply drives and charitable donations, many of them do. And suddenly being cut off from those reliable and often much-needed revenue streams and items—to say nothing of the very demographics they've set out to assist, serve or support—was an abrupt shift met with an understandable degree of initial panic.
"We were absolutely terrified when the pandemic hit, as most nonprofits were," recalls Rosemarie Parker, CEO of Family Promise of Southwest New Jersey, a Glassboro-based organization offering numerous avenues of support and temporary housing to local families with children 18 years and younger. "Being that we provide services to the homeless population, we were obviously feeling extremely vulnerable."
"It's nothing that we've had to deal with before," adds Special Olympics New Jersey's CEO Heather Anderson. "There's no playbook for this, there's no history to look up and say 'OK, how did nonprofits deal with this before?' because the last time anything like this happened was the early 1900s, so it's a very different world now."
With literal lives on the line in many cases, nonprofits' decision-makers, leaders and teams didn't have much time to worry. They had to figure out how to pivot their operational models, address the additional challenges accompanying a global health crisis that turned society upside down as they navigated a previously unknown operational landscape through trial, error and sheer dedication to their missions.
"We have a lot of essential services that could not stop just because of the pandemic, like our children's residential services and domestic violence shelters," says president and CEO of Camden's Center for Family Services Richard Stagliano, who spearheads an organization that has been uplifting individuals and families through an innovative continuum of care since 1920. "We're driven by a mission to meet community needs, and those needs have increased."
The nonprofits existing to help their neighbors find support in dire times have been keenly aware it's a bad sign when a need for their services is on the rise. With job loss, furloughs, pay cuts and other financial blows pummeling South Jersey residents, food insecurity reared its ugly head throughout the region, and many who were historically accustomed to providing support and supplies to their local food pantries suddenly found themselves relying on that generosity from others.
"Forty percent of our lines were made up of people brand-new to food insecurity," says president and CEO of the Food Bank of South Jersey Fred Wasiak, noting that the height of COVID left nearly 55 million Americans with the threat of food insecurity. "The pandemic showed that anyone can have the rug pulled out from under them—you see all these high-end vehicles in line for food and people in tears because they're so grateful."
The food bank has been teaming up with countless community leaders, residents, clubs and other nonprofits to zero in on food deserts and other local areas most in need of their support. One of those partners was the Salvation Army, which also dealt with the complex issue of meeting increased demand despite a dwindling volunteer force.
"Everything has just exacerbated the level of difficulty we faced in holding everything together through a workforce shortage—we all just hustled," says Maynor. "We remobilized the Kroc Center as a no-contact food-distribution warehouse, locking arms with partner agencies like the Food Bank of South Jersey, Campbell Soup and soaking up the support of so many nonprofits in South Jersey to fight food insecurity and fear of going to the grocery store."
While every nonprofit has its own unique needs and challenges, many of the same options were available to them as they fought to stay active and do as much as they could in COVID's limbo. Grants, emergency funding like the Payroll Protection Program and generous donors were among the avenues of relief available to charitable organizations. The Community Foundation of South Jersey, for example, provided $155,000 to the area's nonprofits through its COVID-19 response fund alone, and over $848,000 to more than 1110 nonprofits throughout the pandemic.
Those emergency funds and programs have been a godsend to nonprofits, providing everything from financial support to personal protective equipment for their teams.
"So much money became available to support nonprofits, and we simply had to take advantage of it," says Parker. "What was amazing was the resources we had access to just from our relationships with our corporate partners, our foundations and our banking institutions—that was a huge, huge bonus."
Creative solutions have been the hallmark of surviving the pandemic and remaining as hands-on as possible as philanthropic teams doggedly pursue their missions in the face of unprecedented challenges. Some dialed down their operations and refocused their energy, time and resources on ensuring their top priorities were still able to come to fruition, modifying what they had to in order to deliver what the people who rely on them the most need.
An Opportunity's Knockin' is a Sewell-based organization facilitating the positive development of both children and young adults. Founder and president Pete Mauro says that the charity's biggest event is its Gifts for Giving program, where it typically spends upward of $30,000 to make some area families' holidays a little brighter.
"The money and the fundraising shrunk: We lost those five to 10 days where we take 20 to 30 kids out shopping for their loved ones and spend that day with them," he says. "We spent half as much as we usually do and focused on 50 families instead of 300, but we spent $600 on those families instead of the usual $100 or $200. We really tried to concentrate on those families who were the most in need."
Others saw taking their in-person events and fundraisers to a virtual platform as an opportunity to bring their operations into a more modern mindset.
"We do a 5K run to bring awareness to issues surrounding sexual assault and substance abuse, which we're doing virtually," Stagliano says.
"COVID really forced nonprofits to completely alter and shift how they operate," says Cody Miller, director of the Rowan College of South Jersey–Gloucester Campus Foundation, which provides financial support to the students. "For us, the challenge was with the events that we do and the ways we raise funds. We really had to move into the technological age to redevelop our donor outreach."
Despite everything, a combination of strategic partnerships, emergency preparedness and a team that wasn't going to relent in their pursuit of the organization's mission helped countless nonprofits weather the storm.
"Our parents and the community of childcare centers rallied around each other," says Glassboro Child Development Center Executive Director Joan Dillon. "If I couldn't find hand sanitizer, someone was right there sharing their resources."
"We learned we can trust our team more than we ever thought," says Jean-Pierre Issa, MD, president and CEO of the Coriell Institute for Medical Research in Camden, a biobank and research facility. "Financially, we are fortunate. We have decades-long relationships with the federal agencies that we work with and have multi-year contracts that dictate most of our incoming revenue."
Jeff Haines is the executive director for The Occupational Training Center (OTC) of Burlington County, which helps create employment programs for adults with disabilities. He estimates that a combination of outside support and anticipating the worse ultimately saved organization more than $100,000.
"We got a lot of supplies, like masks and gloves, from different sources. The county gave us a number of supplies, and so did some of the agencies that we work with," he says. "We were anticipating a much greater outlay of capital to pay for those things, and we were very lucky to not even come close to spending that."
Regardless of their specific community niche, charitable endeavors have all learned something from the pandemic that they'll carry with them into the future. And many of those lessons doubled as unexpected silver linings, pleasant surprises and gratefully received blessings, all of which ensured that those who rely on South Jersey's philanthropic outfits will not go unsupported in a turbulent, terrifying time.
"Our country realized that hunger is real in America, and there's just story after story proving that the South Jersey community really responded to help," says Wasiak.
"One thing the pandemic did for nonprofits is that we found out we could lean on each other in ways that, in the past, we wouldn't have even considered," Dillon adds.
A prevailing commonality nonprofits share is a gratitude for their teams.
"We decided a long time ago that we needed to be as self-sufficient as possible," Haines says. "We are really lucky to have a great staff."
"I'm a firm believer that if I take care of my people, then they'll take care of our clients—and that has been a successful model for us," says Dillon. "All through the pandemic, our team hasn't been saying that they have to go to work, they're saying that they get to go to work."
No matter how much a community rallies around its nonprofits, though, more help is always needed—these challenges won't go away when the pandemic finally does, and nonprofits urge individuals to keep supporting those organizations striving to make a positive impact.
"We're all in this together," Issa says. "Public financial support, in any amount, means the world to us. We don't interface with the public as much as some nonprofits. That makes it all the more rewarding when we talk to someone who has never heard of Coriell, share with them our mission and for them to contribute their hard-earned money to our cause."
"You don't even have to give money to support your favorite nonprofits; you can give your time, and even just spreading the word of our missions goes a long way," Mauro says.
Even when COVID's seemingly endless waves do finally recede, the impact of a massive societal disruption lasts much longer than the event itself. As Wasiak notes, the 2008 recession's lingering troubles lasted for nearly a decade.
"It took 10 years for food-insecurity numbers to return to their pre-2008 numbers," Wasiak notes. "And COVID has been the greatest instance of food insecurity since the Great Depression."
No matter what the future holds, though, South Jersey's nonprofits are absolutely certain the best is yet to come—and they'll still be around to help everyone get there together.
"Nonprofits have to find creative ways to connect with people, to deliver services that work toward the betterment of our communities," says Miller. "That requires us to pool our resources and cover a larger area because, at the end of the day, we all have the same goal of serving our community—and we can do even greater things when we all join together."
"The comeback is stronger than the setback," Anderson adds. "We are going to come back stronger than ever." Click here to subscribe to the free digital editions of South Jersey Biz.

To read the digital edition of South Jersey Biz, click here.

Published (and copyrighted) in South Jersey Biz, Volume 11, Issue 8 (August 2021).

For more info on South Jersey Biz, click here.
To subscribe to South Jersey Biz, click here.
To advertise in South Jersey Biz, click here.