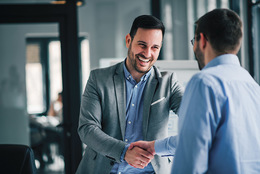 Standing Out in a Crowd
With the job market heating up, employers must find creative ways to attract and retain the top candidates.
A majority of employees may have been content to stay in their current jobs during the early days of the pandemic, opting for the comfort of stability as they were dealing with upheaval in so many other facets of their lives.
But in recent months the tide has turned, and many people are actively looking for new opportunities or at least considering a change, whether they're seeking more work-life balance, the flexibility of remote employment or a more stimulating career.

With this added supply has also come great demand, as businesses across the board are hiring. The challenge, from an employer's perspective, becomes selling their company and attracting the best candidates to fill their positions.

"Every industry that I speak to is currently looking to hire and it's a very competitive market right now," says Chrissy Magnotta, director of client engagement at Katz/Pierz. "Whether the company is in manufacturing or business services or sales, and definitely in hospitality, everyone is trying to hire and it's really difficult to find those people."

Business owners and executives are thinking outside the box and getting creative in finding productive employees to join their teams. We spoke to three local experts to find out more about the current job market and how companies can rise above their competitors.

How to attract the top talent…
Laura Powers, president, Human Resource Association of Southern New Jersey: If you're not looking at [the salary and benefits you offer] as an employer, you really ought to be, because right now there's almost going to be a bidding war over who's paying more. Employers are offering bonuses and there's talk about flexibility with working schedules, because there's a lot of employees who have been working from home and are looking to continue working from home. People need that flexibility because they may have to stay home and take care of their child. Looking at your compensation, looking at the benefits and the flexibility that you offer could make you more attractive to a candidate.

CM: I'm seeing a lot of companies offering sign-on bonuses or retention bonuses, trying to entice people financially. … With the pandemic, it really changed the environment and the mentality around a lot of people with how they view their jobs and work-life balance in general. Employers have definitely had to pivot in their mindset, creating those flexible hours, putting a little more focus on remote work or some kind of hybrid version of it. Employers need to adapt to the changes that were set forth. … Another thing the pandemic has brought on is a more open discussion around stress and mental health. Some conversations we've had with clients are about putting a focus on resources to bring to employees to help them navigate through some difficult times, whether that be something like an employee assistance program or connecting them virtually with therapy sessions and things like that. … There's also financial wellness; we're having a lot of discussions around bringing tools to employees to help them navigate some financial stressors.

Relying on networking and referrals from trusted clients and colleagues…
Frank Plum, president, Workplace HCM: Networking is a great way to find good people. If you're just putting posts on job boards, that's one way of doing it but you don't know those people and you're not able to check the references until later. When you go to somebody at a networking [event] and say, 'I'm looking for a salesperson,' you're going to get a qualified person with already a good reference because the person who referred them to you is vouching for them. They're not going to send you somebody they don't like. I always recommend you network with other businesses and maybe your clients, and vendors as well if you have a good relationship with them. You can email them, too, and say, 'We're hiring and looking for XYZ, please keep your eyes open.' You'd be surprised, you'll get some resumes from that.

CM: I think employers are doing anything they can to get the word out there that they're trying to fill positions, whether that be referral bonuses for current employees or reaching out to clients and saying, 'If you know anybody, keep us in mind.' They're also going to networking events; I belong to some HR organizations and there's constantly talk of, 'We're looking to hire, do you know anyone?'

LP: It's huge now. It used to be that someone would come in and say, 'I'm interested in a job,' and maybe you wouldn't have a job right then but you would take that person's name and number and start building a recruiting pipeline. Referrals are a really good way of doing that too. Offer your employees an incentive or bonus for referring their friends or family, people looking for a job, to keep that pipeline going and to keep a fresh mix of candidates. Networking is also big—join your local chamber of commerce, for example. Join your local human resources association. Make those connections and find out who's hiring, which people are looking. … That will put your name in front of prospective employers and put your business in the forefront of their minds.

Move quickly when you find the right candidate…
LP: Obviously, there is due diligence you have to do in terms of how many candidates you have and going through that process and making sure you're not disparately hiring a particular protected category or not hiring a particular category. But if you see someone you like, you have to get on top of it, because right now it is a job seekers' market. The job seeker has many opportunities out there, so it's to the employer's advantage to be quickly responsive and to be amenable to the schedule of the candidate. If they want to have a Zoom interview at a certain time, accommodate that, because you want to be quick with the process. Nothing is more frustrating for a candidate than waiting for two or three weeks for someone to get back from vacation or someone to approve [an offer]. Streamlining that process, being responsive and checking up on all the different things that you need to do in your organization in order to process that hire quickly [is important].
FP: We've had it happen where we've gotten people to final interviews and they say, 'Another offer came down the line.' It's actually happened to us a couple of times this year, and it's because we weren't moving quickly enough, maybe because our process was a little longer. Our average cycle right now is 70 days from resume to hire. That could be too long, but we still need to do our due diligence and be thorough. The nice part about the way we do it is, if the person we make the final offer to bails, we still have two or three people we did not make an offer to who are right there. Part of our philosophy is that we might not get the first candidate we wanted, but we're going to still get a high-caliber person. That's my philosophy, but if you find someone who's really good who you know is going to be a rock star, that process might come back and bite you.
CM: If we are talking to someone about an open position we might have within our organization, they've already had multiple companies reaching out to them. It's difficult as an employer to bring somebody on board when they have multiple offers out there, so you really have to make decisions around how you attract that person to come work for you versus a competitor or a completely different industry.
The immediate future for the job market…
LP: Right now, I think the biggest thing that has been affecting it, at least from what's being reported here in South Jersey, is the expanded unemployment benefits that were offered federally. Those are set to expire in September, so if they're not extended it might cause a change, because right now employers are having a hard time competing with unemployment benefits plus the federal benefit. The other thing that could change it is companies of course are going to do what they have to do to remain solvent. So as they see that they're getting less and less applicants and the minimum wage is increasing, especially here in New Jersey, a lot of companies are looking at automation. I keep telling job seekers that I talk to, it's time to hustle now when there are a lot of jobs available and you can kind of have your pick, because as companies right themselves in this new economy, they're going to start doing things to automate their services.

FP: There are a lot more people staying at home and working remotely. That pool wasn't there before. The stay-at-home mom and stay-at-home dad were part-timers, because they had to get their kids on and off the bus. They can work full-time now, so there is a lot of supply. They're also demanding higher salaries. I'm starting to see salaries go up from my perspective. We have the average pay scale for different positions across the country. People are asking for the high end of those pay scales or outside of that pay scale. You don't hear people saying, 'I'll take anything.' It could be because of the unemployment [benefits]. They're saying, 'If you want me to work, you need to pay me, because I can sit home and collect unemployment and do just as good.' Until that goes away, I don't know if we're going to see rates go down from an employer's perspective. That can hurt the bottom line of any business. Don't get me wrong, I'm pro-employee too. Employees should absolutely get their value. But when you budget for X in your business plan and they're asking for Y, that can change your plan and you have to be ready to pivot.

CM: I think it's been tough for everybody. It's interesting to see the fallout from everything over the past year and a half, and I'm very interested to see how things develop in the future.
Click here to subscribe to the free digital editions of South Jersey Biz.

To read the digital edition of South Jersey Biz, click here.

Published (and copyrighted) in South Jersey Biz, Volume 11, Issue 8 (August 2021).

For more info on South Jersey Biz, click here.
To subscribe to South Jersey Biz, click here.
To advertise in South Jersey Biz, click here.